2020 Tour de France stage 21 highlights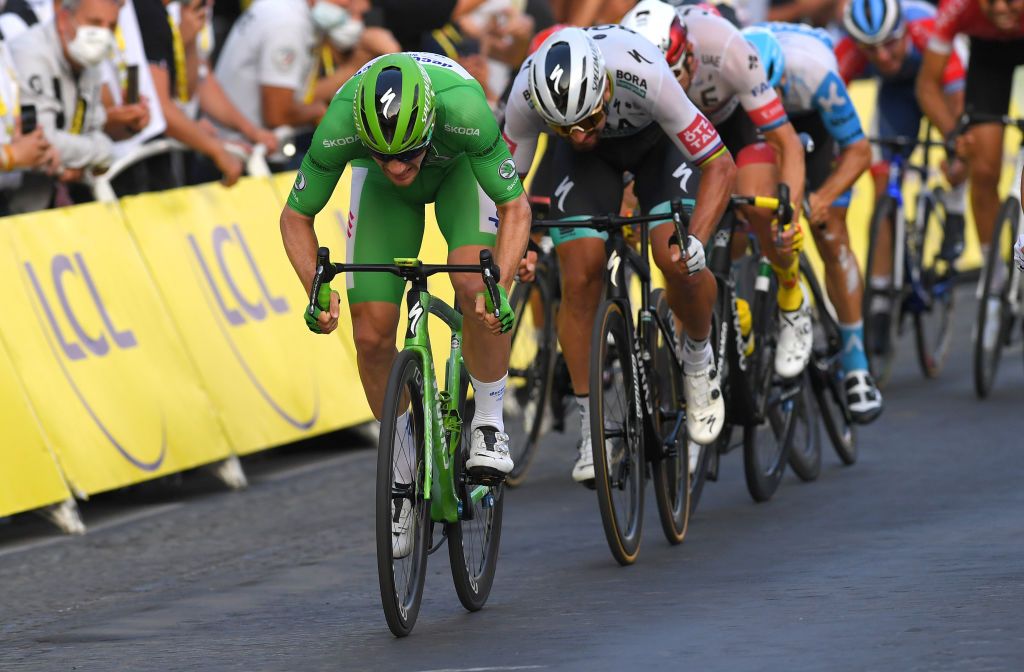 The peloton rolled out of Mantes-la-Jolie and into Paris for the final stage 21 of the Tour de France on Sunday with Tadej Pogačar (UAE Team Emirates) celebrating his overall victory and Sam Bennett (Deceuninck-QuickStep) claiming the sprint win on the Champs-Élysées.
B&B Hotels-Vital Concept's Kévin Reza, who is from Yvelines, started the final stage on the front of the race in support of the Black Lives Matter movement. The riders of the peloton come together in solidarity with the Reza, who was the only Black rider in the race, to denounce racism by wearing masks with "no to racism" written across them during the pre-stage ceremony.
Pogačar rode into Paris with an all-yellow kit surrounded by his UAE Team Emirates teammates and received congratulatory wishes from the riders in the peloton before the racing then turned toward the final sprint stage.
Greg Van Avermaet (CCC Team) led a four-rider breakaway that included Max Schachmann (Bora-Hansgrohe), Connor Swift (Arkea-Samsic), and Pierre-Luc Perichon (Cofidis), onto the circuits but they were brought back in time for Deceuninck-QuickStep to set up Bennett for the stage win.
Source:- Cyclingnews.com
Dodgers' Justin Turner lifted from Game 6 after testing positive for COVID-19 – Sportsnet.ca
Los Angeles Dodgers third baseman Justin Turner was lifted from Game 6 of the World Series after being informed he had tested positive for COVID-19.
Commissioner Rob Manfred confirmed the diagnosis that Fox first reported.
"It's a bittersweet night for us. We're glad to be done. I do think it's a great accomplishment for our players to get the season completed," Manfred said after presenting Corey Seager with the World Series MVP award. "But obviously we're concerned when any of our players test positive. We learned during the game that Justin was a positive. He was immediately isolated to prevent spread."
Turner was replaced by Edwin Rios defensively in the top of the eighth inning. No reason was immediately given for the change but Turner was spotted by cameras celebrating with teammates on the field after the game, sometimes wearing a mask and sometimes not.
After the game, Turner tweeted that he was feeling "great" and wasn't experiencing any symptoms.
"Thanks to everyone reaching out! I feel great, no symptoms at all," he wrote. "Just experienced every emotion you can possibly imagine. Can't believe I couldn't be out there to celebrate with my guys! So proud of this team & unbelievably happy for the City of LA #WorldSeriesChamps."
ESPN's Jeff Passan reports that MLB was notified during the second inning of Game 6 that Turner's COVID-19 test on Monday had come back inconclusive. According to Passan, Turner's test taken Tuesday morning then came back positive shortly after, at which time MLB notified the Dodgers that Turner needed to be lifted from the game.
MLB opted to use bubble sites for its playoffs after the success the NBA and NHL had with the format earlier this year. The World Series was played at Globe Life Park in Arlington, Texas in front of 11,000 fans. MLB last issued an update on its daily COVID-19 testing on Oct. 23, saying that it had been COVID-19-free among all teams for 53 consecutive days.
The Dodgers defeated the Tampa Bay Rays 3-1 Tuesday night to win the World Series for the first time since 1988.
2021 Draft: Power among Central Scouting's players to watch – NHL.com
Owen Power, a candidate to be chosen among the top 10 in the 2021 NHL Draft, was one of three players from the University of Michigan to earn an A rating on NHL Central Scouting's preliminary players to watch list released Tuesday.
The list is a compilation of top prospects from all the major development leagues throughout North America and Europe. It will be updated throughout the season as scouts evaluate the players.
"At this point in the evaluation process and considering the lack of a summer scouting season, it's much too early to identify a strength for the 2021 draft class other than to state that there are a number of good prospects at every position," director of NHL Central Scouting Dan Marr said. "There is no Alexis Lafreniere-type prospect with a clear lead as a consensus No. 1."
Lafreniere was selected by the New York Rangers with the No. 1 pick in the 2020 NHL Draft and signed his three-year, entry-level contract Oct. 12. The forward was the projected top choice from start to finish last season while playing for Rimouski of the Quebec Major Junior Hockey League.
[PDF: NHL Central Scouting 2020-21 Preliminary Players to Watch list]
"There are a number of prospects with a head start to compete for the top prospect based on past performance, but until we can get viewings to evaluate the entire draft class, the projection for No. 1 consideration is an open field," Marr said.
The 31 players on the preliminary list with A ratings are considered potential first-round picks. Players with B ratings are considered possible second- or third-round choices, and those with C ratings are potential fourth-, fifth- or sixth-round selections.
Power (6-foot-6, 214 pounds), a defenseman who turns 18 on Nov. 22, became the second player for Chicago to win United States Hockey League Defenseman of the Year last season. The Mississauga, Ontario, native led USHL defensemen with 40 points (12 goals, 28 assists) in 45 games and tied for first with five power-play goals.
"He can put up points, and is very mobile for how big he is," NHL Central Scouting senior manager David Gregory said. "He runs the power play, has elite hockey sense and is going to be a highly sought-after player."
Power entered the USHL as a 15-year-old in 2018-19 and set a league record by scoring 11 goals as a 16-year-old defenseman.
Forwards Matthew Beniers (6-1, 174) and Kent Johnson (6-0, 166), who each will join Power at Michigan in the Big Ten this season, also received an A rating. A 24-game conference schedule is tentatively set to begin Nov. 13.
Beniers scored 41 points (18 goals, 23 assists) in 44 games for the USA Hockey National Team Development Program under-18 team last season.
"He's a kid that's been on the radar for a couple of years now with the program," Marr said. "He has the skills and the smarts, but it's his intangibles with his compete and how he gets things done and makes things happen that make him so appealing."
Johnson, 18, scored 101 points (41 goals, 60 assists) in 52 games for Trail of the British Columbia Hockey League last season. He scored 147 points (61 goals, 86 assists) and averaged 1.31 points per game in 112 BCHL games.
"He's an elite point producer," Gregory said. "When you see a 17-year-old put up 100 points, that's something special. He plays with pace and skill, is crafty with the puck and can snipe it as well. He's going to score a lot of goals."
Among the A-rated skaters considered likely to be selected in the first round are forwards Xavier Bourgault (6-0, 172) of Shawinigan and Zachary Bolduc (6-1, 175) of Rimouski in the QMJHL, and Dylan Guenther (6-0, 166) of Edmonton in the Western Hockey League; and defensemen Luke Hughes (6-2, 176) of the NTDP under-18 team, Brandt Clarke (6-1, 180) of Barrie (OHL) and Daniil Chayka (6-3, 187) of Guelph (OHL).
Hughes, the youngest of the three Hughes siblings (Vancouver Canucks defenseman Quinn Hughes and New Jersey Devils center Jack Hughes) scored 28 points (seven goals, 21 assists) and three power-play goals in 48 games for the NTDP under-17 team last season. He has four assists in seven games for the under-18 team this season.
"Luke does things so quickly," Gregory said. "You wouldn't see him skate it up as much as Quinn, but he can do it and does. He can snap a pass, stretch a pass. He's got this veteran's poise as a young guy. It's very tough to compare [Luke and Quinn Hughes] but you see some similarities like you did with Jack and Quinn. They have that quickness, that escape ability, that all three of them have."
Bourgault has scored five points (three goals, two assists) in four games and Bolduc two goals in four games.
"He's one of these dynamic offensive players that just come at you every game; he just pops," Marr said of Bourgault. "Every time he's on the ice, he's a scoring threat when the puck is on his stick."
The A-rated players to watch on the International side include center Aatu Raty (6-1, 177) of Karpat in Liiga and goalie Jesper Wallstedt (6-2, 214) of Lulea in the Swedish Hockey League.
Raty has no points and two shots on goal in 9:34 of ice time this season. Wallstedt is 1-1-2 with a 1.92 goals-against average and .929 save percentage in four games.
"[Wallstedt] was always a difference-maker," Marr said. "He's got the skills and attributes with his athleticism, reflexes, and mental toughness. Just like Iaroslav Askarov (chosen No. 11 by the Nashville Predators in the 2020 draft) had his following prior to the 2020 draft, Wallstedt does as well this season."
Photos courtesy of Chicago Steel / USHL and Daryl Marshke / USA Hockey's NTDP
Players, fans rip Rays for Blake Snell's quick hook in Game 6 – Sportsnet.ca
Heading into the sixth inning, Blake Snell was holding the Los Angeles Dodgers offence in check.
Then Tampa Bay Rays manager Kevin Cash decided to take the ball from his ace after he gave up his second hit of the game. Unfortunately, that pitching change provided the spark the Dodgers needed as they would score two runs including one off a wild pitch to take the lead in Game 6.
Many took to social media to question Cash's decision to pull Snell after just 73 pitches.
73 pitches… I'm hella mad for him

— Taijuan Walker (@tai_walker) October 28, 2020
I would have kept @snellzilla4

— Steven Stamkos (@RealStamkos91) October 28, 2020