A man took over an airport monitor to play video games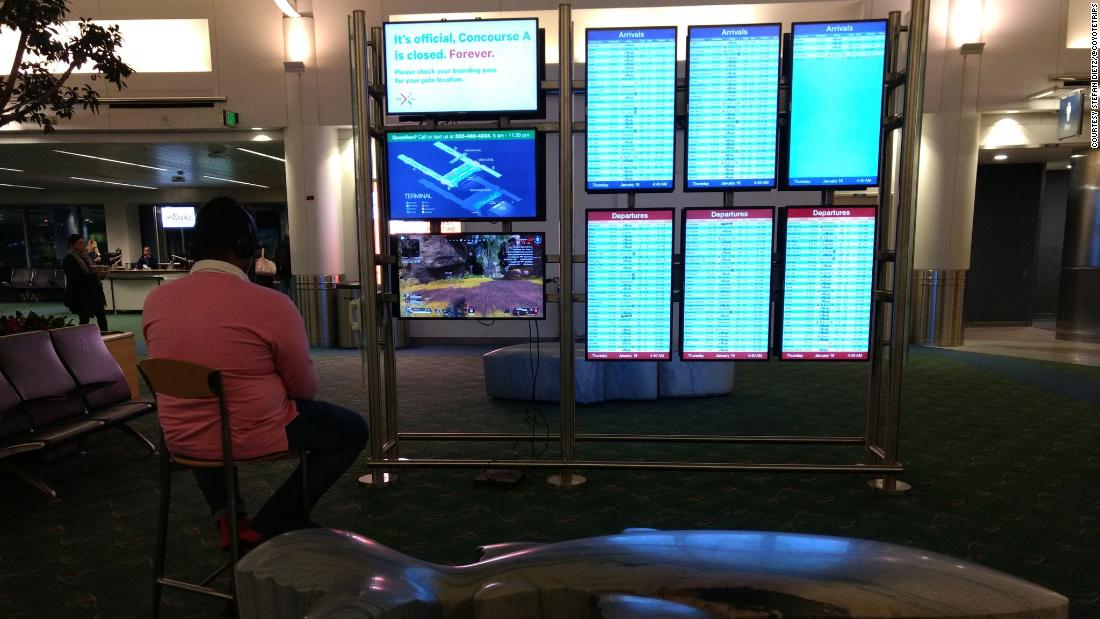 A man traveling through Oregon's Portland International
Airport
on Thursday was caught playing a video game on one of the airport's video monitors.
"I couldn't believe it. You've got all these monitors there and he's playing a video game," said Stefan Dietz, who captured the moment and tweeted it. The gamer even appeared to be talking on a headset to other players, according to Dietz.
The monitor typically displays a map of the airport, assisting travelers with the locations of restaurants and bathrooms. But at 4:30 in the morning it was instead overtaken by the man and his PlayStation 4, according to airport spokeswoman Kama Simonds.
The game he appeared to be playing, after plugging into the monitor outlet, was the popular battle royale game Apex Legends. CNN has not been able to identify the passenger.
Airport officials approached the man and asked he unplug the game from the monitor. They received an answer they weren't quite expecting. "He politely asked personnel if he may finish his game," Simonds said.
The airport officials said no, so it was game over for the passenger, who complied.
"We would love travelers to plug into our power outlets, but just ask that they don't plug into anything else," Simonds said.
Armored Core VI Announced, Which Isn't A Souls Game
ARMORED CORE VI FIRES OF RUBICON – Reveal Trailer
I have not played an Armored Core game in a very long time, and even then I was never the biggest fan. But this looks cool as hell. It's coming in 2023 for Xbox One, Xbox Series X|S, PS4, PS5 and PC.
Here's some official words:
ARMORED CORE VI FIRES OF RUBICON will offer a game experience based on the mech game know-how FromSoftware cultivated over 25 years of developing games in the series, but now introducing groundbreaking gameplay found in the developer's recent action games. The new ARMORED CORE title will combine these elements into thrilling action that only mechas can provide. The game promises to be a unique entry in the mech action game genre.

In ARMORED CORE VI FIRES OF RUBICON, players will be able to freely move through massive three-dimensional environments with rapid maneuverability while experiencing visceral vehicular combat. Signature to FromSoftware's carefully crafted game design, the game will feature challenging and memorable battles along with a fulfilling progression system and deep gameplay, all of it now powered by assembling mechs and going into combat with massive bosses. Players will recognize the sense of satisfaction and achievement when they overcome a difficult situation and relish momentary victory, and perhaps a boost to their standing, before encountering the next challenge.
After Heated Battle, Genshin Impact Wins Player's Voice at The 2022 Game Awards
Genshin Impact has won the Player's Voice award at The Game Awards 2022, following an intense battle against Elden Ring and Sonic Frontiers.
Unlike other awards bestowed at The Game Awards, which are primarily determined by members of the press and other influential individuals in the industry, the Player's Voice category is 100% fan-voted. Earlier this week, ahead o the show, the results projected that Genshin Impact would edge out both Sonic Frontiers and Elden Ring. Other nominees for the Player's Voice category include God of War: Ragnarok and Stray.
Although Elden Ring, in particular, did not get selected, FromSoftware's latest project did go home with a few awards, including Best Art Direction and Best Game Direction. For more on the winners from this year's Game Awards, check out our roundup that features the nominees and winners of each category.
Taylor is the Associate Tech Editor at IGN. You can follow her on Twitter @TayNixster.
Super Mario Bros. Movie "Mushroom Kingdom" Official Reveal
When he's not paying off a loan to Tom Nook, Liam likes to report on the latest Nintendo news and admire his library of video games. His favourite Nintendo character used to be a guitar-playing dog, but nowadays he prefers to hang out with Judd the cat.