Alleged Leaked 'iPhone 12' Schematics Show Speaker Integrated into Bezel to Achieve Slimmer Notch – MacRumors
Twitter leaker Jon Prosser has shared a pair of images that appear to be schematics of Apple's unreleased "iPhone 12," showing a smaller notch than the one currently found on iPhones with Face ID.
The first image looks like a photo of a CAD illustration, which are sometimes leaked from Apple's supply partners. The second image appears to be based on the first schematic, and draws out the details of the hardware housed within the notch.

To achieve a more compact package, the redesigned hardware layout has the TrueDepth camera's ambient light and proximity sensors in a more central position within the array, with the iPhone speaker sitting above them in the bezel of the handset instead of between them.
Unlike Apple's marketing images of the hardware in the notch, the microphone is not pictured in either image. Prosser says it hasn't been labelled in order to emphasize the other hardware, and that it's actually housed next to the speaker.
Earlier this month, another leaker shared images said to depict the ‌iPhone 12‌ with a notch that is approximately 1/3 smaller than the current notch, but the images didn't reveal details of the hardware arrangement inside.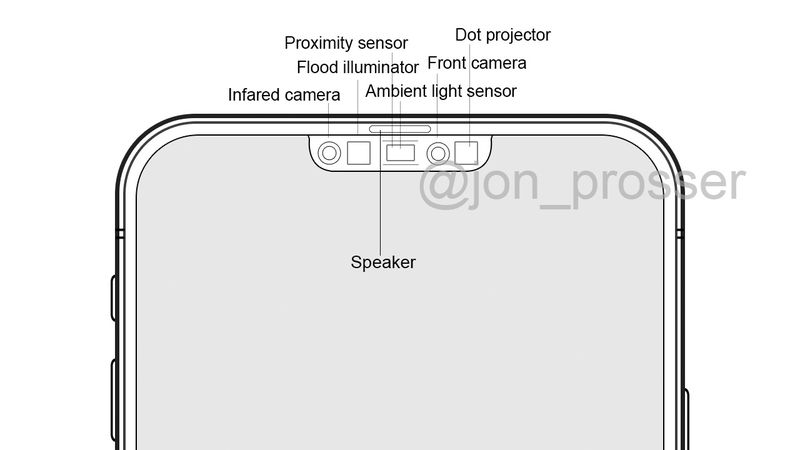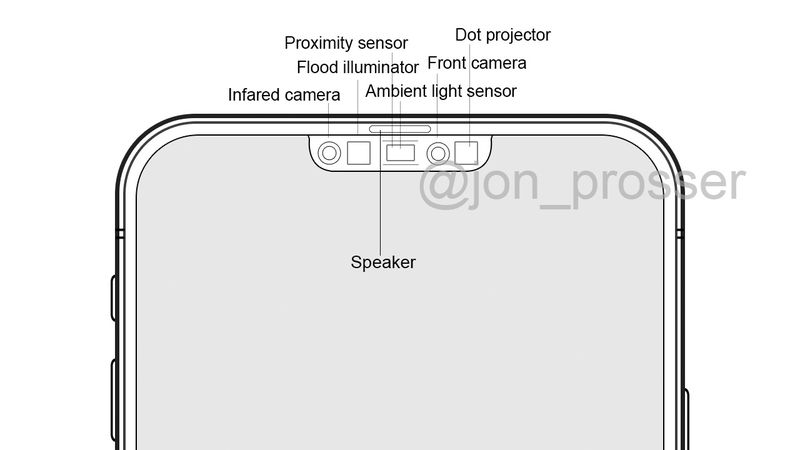 Apple analyst Ming-Chi Kuo was first to suggest that at least one new ‌iPhone‌ in 2020 will feature a smaller front camera lens for an improved screen to bezel ratio, ultimately resulting in a smaller notch at the front. More recently, sources close to well-connected Bloomberg reporter Mark Gurman have corroborated rumors of a slimmer notch.
We've heard rumors suggesting Apple eventually plans to debut an ‌iPhone‌ design that eliminates the notch entirely, but it's not entirely clear just how that would work as the front-facing camera still needs to be able to function even with some sensors under the display.
Apple supplier AMS last year announced new camera sensor technology that allows the RBG light and the IR proximity sensor used for the front-facing TrueDepth camera system to be embedded under an OLED display. It was thought that Apple could potentially introduce the new sensor tech in its 2020 iPhones to achieve the smaller notch, but that's not what today's alleged leaked schematics suggest.
Here you go, internet. 😏 pic.twitter.com/REfSw28KSX

— Jon Prosser (@jon_prosser) April 20, 2020
Last June, one analyst with investment firm Credit Suisse in Asia said that Apple plans to offer notch-less iPhones with full-screen fingerprint authentication in 2021. However, the same analyst said Apple will launch one notch-less ‌iPhone‌ this year, and the rumor mill hasn't swung in that direction and it's unlikely to do so at this late stage in the yearly cycle. Regardless, Apple removing the notch on the ‌iPhone‌ is almost certainly its end goal.
Apple is expected to offer four iPhones in three different sizes this year: A 5.4-inch ‌‌iPhone‌‌, a 6.7-inch ‌‌iPhone‌‌, and two 6.1-inch iPhones. One 6.1-inch model and the 6.7-inch model will be higher-end iPhones, while the other 6.1-inch ‌‌iPhone‌‌ and the 5.4-inch ‌‌iPhone‌‌ will be lower-end models and successors to the ‌iPhone 11‌. Apple is expected to launch the new models in the fall.
Google facing $5bn lawsuit for tracking in 'private' mode – The Irish Times
Google surreptitiously amasses billions of bits of information – every day – about internet users even if they opt out of sharing their information, three consumers alleged in a proposed class action lawsuit.
"Google tracks and collects consumer browsing history and other web activity data no matter what safeguards consumers undertake to protect their data privacy," according to the complaint filed Tuesday in federal court in San Jose, California.
Even as it scoops up information, the search-engine giant assures users – falsely – that they're in control of what they share with the company, according to the suit, which includes claims for invasion of privacy and violations of federal wiretapping law.
The case was filed by Boies Schiller Flexner, a high-profile litigation firm that previously defended Uber when the ride-hailing company was accused three years ago by Alphabet's self-driving unit of stealing trade secrets.
Google didn't immediately respond to a request for comment.
According to the suit, the company collects information, including IP addresses and browsing histories, whenever users visit web pages or use an app tied to common Google services, such as Google Analytics and Google Ad Manager. This makes "Google 'one stop shopping' for any government, private, or criminal actor who wants to undermine individuals' privacy, security, or freedom," the consumers allege.
A consumer suit accusing Google of illegally tracking and storing geolocation data with its mobile apps and operating system was thrown out by a California federal judge in December. Arizona's attorney general filed a similar complaint last month. Google disputed the claim and said it's looking forward to setting the record straight. – Bloomberg
Remove China Apps Removed From Google Play for Violating Its Deceptive Behaviour Policy – Gadgets 360
Remove China Apps has been pulled from Google Play. According to Google's Deceptive Behaviour rules, an app cannot encourage users to remove third party apps, and do it was suspended, as the app was designed to help users uninstall Chinese apps from their Android smartphones. It was published on Google Play on May 17, and came into the limelight last week. The Remove China Apps even emerged as the top trending app on Google Play and crossed over 50 lakh downloads.
The app notably came to its existence at a time when anti-China sentiment is at peak in the country, for reasons including the coronavirus outbreak and India-China border dispute.
This is the second high profile app to be removed from the Google Play store this week. Just a few hours before Remove China Apps was removed, the Mitron app was also removed from the store. The app was removed for violating the store policies, after surging past 50 lakh downloads fuelled by anti-China sentiments.
The Indian Express first reported about the removal of the Remove China Apps app, but since then more details about the reasons for the removal have come to light. The makers of the Remove China Apps, OneTouch AppLabs, confirmed its suspension from Google Play through a tweet posted on late Tuesday. The Jaipur-based company claims on its website that while a large number of people were using the app to remove apps made by Chinese developers, it wasn't aimed to "promote or force people to uninstall any of the application(s)" and developed "for educational purposes only."
Google confirmed to Gadgets 360 that it took the decision to pull the Remove China Apps for violating Google Play's Deceptive Behaviour Policy that doesn't allow apps that "encourage or incentivise users into removing or disabling third-party apps" and "mislead users into removing or disabling third-party apps".
However, Google declined to provide further comment on the suspension.
Received public praise
The Remove China Apps received a large amount of positive reviews on Google Play, with an average rating of 4.9 stars. Its downloads also reached new levels shortly after getting popular on social media. The quick growth of the app suggested how a large number of smartphone users in India are looking for a solution to stay away from Chinese offerings. It's clearly coincided with the ongoing measures by the government to cut off its ties with Beijing due to cross-border tensions.
Apps including TikTok have already faced a public outrage for being a Chinese platform. In contrast, the rise of the anti-China sentiment helped TikTok alternative Mitron that was initially believed to be an Indian app, though a recent report highlighted its link with Pakistan. The latter was, however, also recently pulled from Google Play for violating spam and repetitive content policies.
---
In 2020, will WhatsApp get the killer feature that every Indian is waiting for? We discussed this on Orbital, our weekly technology podcast, which you can subscribe to via Apple Podcasts or RSS, download the episode, or just hit the play button below.
Google takes down Indian 'Remove China' app – Nikkei Asian Review
PALO ALTO/NEW DELHI — Google has moved to cut access to an app that became hugely popular in India after it promised to help users identify and remove smartphone services linked to China, at a time of escalating tension between the Asian rivals.
The U.S. search giant took the app — called Remove China Apps — from its Google Play Store on Tuesday. Google acted over violation of its deceptive behavior policy, the Nikkei Asian Review has learned.
Remove China Apps, which claimed to be "educational," had briefly been the most popular in India's store, being downloaded more than 1 million times within 10 days of launch.
The app enabled users to detect where any apps on their phones were from and delete them if desired, according to its developer, Jaipur-based OneTouch AppLabs.
OneTouch AppLabs announced that the app had been suspended from the Play store on a tweet Wednesday morning but did not confirm why the app was removed.
Remove China Apps gained popularity in India amid rising anti-China sentiment after Chinese soldiers moved into what India sees its territory along the disputed Himalayan border between the two countries.
The latest tensions appear to be the worst since the 2017 standoff at the Doklam plateau, which lasted 73 days and was the longest such confrontation in decades between the two nuclear-armed countries. They share a 3,500 km border over which they fought a war in 1962.
India has also grown increasingly concerned at the prevalence of Chinese companies in the economy. In April, New Delhi moved to tighten rules that allow it to block "opportunistic" investment from its neighbor.
The hashtag #BoycottChineseProducts is trending on Twitter, with many Indians, including Bollywood celebrities, pledging to stop using Chinese goods.
On its website OneTouch AppLabs cited Indian Prime Minister Narendra Modi's call last month for India to become "self-reliant".
It said its app would help people to support the policy by identifying the origin country of apps installed on their phones.
Google prohibits apps that "attempt to deceive users or enable dishonest behavior," according to the Play Store website. Google also prohibits apps from encouraging or incentivizing users into removing or disabling third-party apps unless it is part of a verifiable security service. It also bans apps in Google Play Store from making changes to a user's device settings or features outside of the app without the user's knowledge and consent.
According to the TechCrunch website, some users of Remove China Apps found that it flagged content with no clear China link, including U.S. videoconferencing app Zoom.
OneTouch AppLabs published a disclaimer on its website that Remove China Apps was "being developed for educational purposes only … we do not promote or force people to uninstall any of the application(s)."
Meanwhile, Google Play Store also appears to have removed another popular app, Mitron, a video sharing platform that was touted as an answer to TikTok. It became instant hit in India after being launched in April and reportedly had over 5 million downloads.
Mitron, which means friends in Hindi, is a word Modi uses often to address countrymen in his speeches.