Apple Distributing New Heated Display Removal Machine for iPhone 12 Repairs
Apple is providing Genius Bars and Apple Authorized Service Providers with a new heated display removal fixture for iPhone 12 and iPhone 12 Pro repairs, according to information obtained by MacRumors from a reliable source.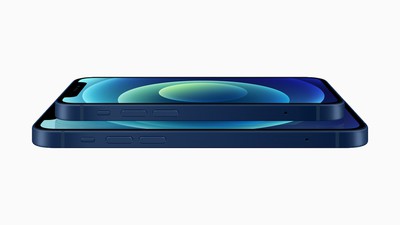 To open iPhone 12 models, technicians will be required to slide the device into a specialized tray, and then place the tray into the high-temperature fixture for two minutes to warm up the adhesive below the display. Once the adhesive is loose, technicians will be able to remove the display by twisting an arm with a suction cup at the top of the machine.
It is unclear why Apple is requiring that heat be used to remove the display on iPhone 12 models, but it could be due to the devices having a new flat-edge design with a display that sits flush with the frame. iPhone 12 models also have improved IP68-rated water resistance up to a depth of six meters, which could mean the devices have stronger adhesive.
Apple's standard display removal tool for previous-generation iPhones is a relatively basic arm with a suction cup, with no heat involved.
Given that teardowns of iPhone 12 models have already surfaced online, it clearly remains possible to open the devices without using Apple's new heated fixture, but it will be a requirement for Genius Bars and Apple Authorized Service Providers nonetheless.
Apple recently disclosed its out-of-warranty repair pricing for iPhone 12 models, including $69 for a replacement battery and $279 for a screen repair. For all other damage, such as cracked rear glass, the repair fee is $449 for the iPhone 12 and $549 for the iPhone 12 Pro. To obtain service, visit the Get Support page on Apple's website.
Update: In response to this news, MacRumors received the following statement from Kyle Wiens, founder of electronics website iFixit.com: "iPhone owners should have the ability to repair their own phones. If the new iPhone design requires a fixture to repair, Apple should sell it to their customers."
Source: 
Best Cyber Monday Sceptre Monitor Deals – WePC – PC Building Community
Whatever your budget, buying a monitor usually makes up a big portion of the overall cost of any PC build. Shopping for a monitor on Cyber Monday 2020 is a great chance to secure the biggest reduction possible on a potentially expensive item.
Sceptre as a brand typically focuses on budget monitors, either for non-competitive gaming and also more general office use depending on the model. Though some of the features and the build quality may be not up to the standard of premium offerings, the prices offered can be very tempting to the budget consumer.
Cyber Monday Sceptre Monitor deals offer the potential for even greater savings and we will be bringing you all the best discounts on Sceptre monitors for Cyber Monday 2020 on this page. Make sure to keep the page bookmarked and refreshed so you don't miss out on the latest deals and updates. Also be sure to check out our other page for the best Cyber Monday monitor deals around for all brands.
Best Cyber Monday Sceptre Monitor Deals
Samsung's 98-inch 8K TV is $50,000 off right now, down from $100,000 – TweakTown
If you've got a spare $50K laying around then you might want to take a gander at Samsung's gigantic and life-changing and living room changing and everything changing 98-inch 8K TV for $50,000 — down from its original prrice of $100,000.
VIEW GALLERY – 2 IMAGES
Yeah, a $50,000 discount on Samsung's 98-inch Q900 HDR 8K QLED TV and its regular price of $100,000 right now on B&H. Samsung has one of the biggest and best TVs on the market with its 98-inch Q900 HDR 8K QLED TV, so imagine what it would be like plugged into a grunty gaming PC.
I think it would be blasphemy to hook up an Xbox Series X or PlayStation 5 to it, but I guess if you had the money for this TV then a handful of Benjamins for a next-gen console is nothing.
Best Buy Cyber Monday 2020: Here Are The Best Early Deals – Forbes
Best Buy delivered a knock-out Black Friday with some of the biggest smartphone savings of any store. And the good news is the Best Buy Cyber Monday sale delivers again and it is already live. Here are the deals you need to know about. Tip: deals on this page are updated regularly, so bookmark it.
Note: this article does not use affiliate links. Every deal recommendation is made based on its own merits.
Best Buy Cyber Monday Biggest Smartphone Savings
Best Buy Cyber Monday Biggest Laptop Savings
Best Buy Cyber Monday Tablet Biggest Savings
Best Buy Cyber Monday Headphones Biggest Savings
Best Buy Cyber Monday Speakers Biggest Savings
11/28 Samsung HW-Q60T 5.1ch Soundbar with 3D Surround Sound and Acoustic Beam (2020) – Black – $279.99 (save $220) – shop deal now
11/28 Samsung – HW-Q70T 3.1.2ch Soundbar with Dolby Atmos / DTS:X (2020) – Black – $399.99 (save $300) – shop deal now
11/28 Sony – 3.1 Ch Hi-Res Sound Bar with Wireless Subwoofer – Black – $699.99 (save $200) – shop deal now
Best Buy Cyber Monday Biggest TV Savings
Best BuyCyber Monday Black Friday Biggest Smart Device Savings
To track my daily Cyber Monday guides, leaks and recommendations hit the Follow button on my author page. You will also find my store-by-store guides below, all of which are updated daily.
___
Follow Gordon on Facebook
My Cyber Monday Guides on Forbes
Apple Cyber Monday 2020: AirPods Pro, iPad, iPhone, New MacBook Pro Deals
Apple Cyber Monday 2020: Here Are The Best AirPods, AirPods Pro Deals
Amazon Cyber Monday 2020: Here Are The First Deals
Best Buy Cyber Monday 2020: Here Are The Best Early Deals
Costco Cyber Monday 2020: Here Are The First Deals
Apple Cyber Monday 2020 iPhone Deals: Amazon, Best Buy, Costco, Walmart And More
Walmart Cyber Monday 2020: Here Are The First Deals