Apple Updates Platform Security Guide, Says Kernel Extensions Won't Be Supported on Future Apple Silicon… – MacRumors
Apple today shared an updated version of its Platform Security Guide [PDF], providing a comprehensive overview of the latest security advancements across iOS 14, iPadOS 14, macOS Big Sur, tvOS 14, watchOS 7, and more.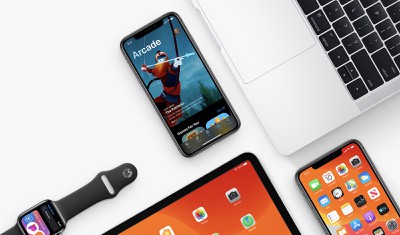 For example, the guide provides security details about Safari's optional Password Monitoring feature on iOS 14 and macOS Big Sur, which automatically keeps an eye out for any saved passwords that may have been involved in a data breach. Apple also outlines the security of its new digital car keys feature on the iPhone and Apple Watch.
Apple updated its "commitment to security" preamble, touting the security advantages of Apple-designed chips across the iPhone, iPad, Apple Watch, and Mac:
Apple continues to push the boundaries of what's possible in security and privacy. This year Apple devices with Apple SoC's across the product lineup from Apple Watch to iPhone and iPad, and now Mac, utilize custom silicon to power not only efficient computation, but also security. Apple silicon forms the foundation for secure boot, Touch ID and Face ID, and Data Protection, as well as system integrity features never before featured on the Mac including Kernel Integrity Protection, Pointer Authentication Codes, and Fast Permission Restrictions. These integrity features help prevent common attack techniques that target memory, manipulate instructions, and use javascript on the web. They combine to help make sure that even if attacker code somehow executes, the damage it can do is dramatically reduced.
New sections have been added for Macs with Apple silicon, outlining the security of the boot process, boot modes, startup disk, Rosetta 2 translation process for running Intel-based Mac apps, FileVault, Activation Lock, and more.
As expected, the guide confirms that kernel extensions will not be supported on future Macs with Apple silicon (emphasis ours):
In addition to enabling users to run older versions of macOS, Reduced Security is required for other actions that can put a user's system security at risk, such as introducing third-party kernel extensions (kexts). Kexts have the same privileges as the kernel, and thus any vulnerabilities in third-party kexts can lead to full operating system compromise. This is why developers are being strongly encouraged to adopt system extensions before kext support is removed from macOS for future Mac computers with Apple silicon.
macOS Catalina was the last version of macOS to fully support kernel extensions. Apple says kernel extensions are no longer recommended for macOS, noting that they pose a risk to the integrity and reliability of the operating system.
Starting with macOS Catalina, developers have been able to use system extensions that run in user space rather than at the kernel level. System extensions running in user space are granted only the privileges necessary to perform their specified function, which increases the stability and security of macOS, according to Apple.
Apple includes a document revision history section in the Platform Security Guide with a list of all new and updated information.
Apple also has a new Security Certifications and Compliance Center.
AJAC announces six finalists for its 2021 Car and Utility Vehicle of the Year awards – Inspired Traveler
Here is Shopicar! All models of the year and all current promotions.
In the "Canadian Car of the Year" category, the three finalists are the Genesis G80, Kia K5 and Mazda3. Note, this last model is the reigning champion in this category.
The models still in contention for the Canadian Utility of the Year award are the Genesis GV80, the Kia Telluride and the Nissan Rogue.
The Canadian Car of the Year and Canadian Utility Vehicle of the Year awards are normally held during the opening ceremonies of the Toronto Auto Show, an event which of course was canceled this year in due to the pandemic.
AJAC has announced that this year's awards ceremony will be broadcast live on television for the first time. The winners will be revealed on the Global Network's Morning Show on Tuesday, March 30, 2021, between 9 a.m. and 10 a.m. EST.
Quebec reports 749 new COVID-19 cases, 10 deaths as province expands vaccine access – The Daily Courier
Quebec continued to escalate its vaccination drive over the weekend, reporting Saturday that the past 24 hours had seen it deliver a single-day high of nearly 20,000 shots to its growing list of eligible residents.
The 19,865 jabs administered on Friday mark the most the province has reported in a single day and come as vaccine shipments ramp up across Canada following numerous international shipment delays.
To date, provincial figures show 532,012 doses of vaccine have been administered out of a total of 638,445 received from the federal government.
Provincial health minister Christian Dube highlighted the upward trend in a tweet on Saturday.
"Vaccinations have [increased] over the last few days and will continue to [increase], with other regions in addition to Montreal beginning mass vaccination next week," Dube wrote.
Until recently, Quebec has concentrated its vaccination effort on particular groups such as health-care workers, people living in remote regions and seniors in long-term care facilities.
The government began allowing members of the general public to schedule appointments to receive their vaccines recently, with eligibility varying by region. In Montreal and Laval, for example, people over the age of 70 can book appointments, while slots are restricted to people over 80 in other regions.
More regions are scheduled to expand vaccine access to those in different age groups starting next week.
In addition to the vaccine numbers, Quebec reported 749 new cases of COVID-19 on Saturday along with 10 new deaths linked to the virus.
Hospitalizations across the province declined by 16 to 601 over the past 24 hours, while the number of patients in intensive care declined by two to 109.
Quebec's case numbers have stabilized in recent weeks, prompting officials to relax restrictions in some regions.
Starting on March 8, areas such as Estrie and Capitale-Nationale will be designated as "orange zones," meaning the provincewide curfew will be extended until 9:30 p.m. rather than 8 p.m. More businesses, including restaurants, will also be allowed to open at limited capacity.
Quebec premier Francois Legault has said that Montreal and the surrounding areas will not see any imminent changes in public health restrictions, warning that more contagious variants of the virus could prompt a sharp uptick in the number of cases in the region.
This report by The Canadian Press was first published March 6, 2021.
Functioning cellphone returned to owner after nearly 6 months at bottom of Harrison Lake – CBC.ca
Fatemeh Ghodsi was skeptical at first when she got a text from someone saying they found her phone nearly six months after she lost it in Harrison Lake.
Ghodsi, who lives in Vancouver, was confused and thought one of her friends might be playing a prank on her. But she was soon convinced and made the trip to Chilliwack to collect the phone, which amazingly still works.
Clayton Helkenberg and his wife Heather found the lost iPhone 11 during a sweep of the lake bottom under the water park at Harrison Lake — part of a hobby that includes the odd treasure find, but mostly just lots of garbage clean up.
Ghodsi dropped the phone in the water in early September, during a ride on the bumper boats — photos recovered from the phone show her still smiling moments before the mishap.
"I was in a situation where I kind of lost balance and dropped it in the water," she said, adding that the water park staff convinced her it would be impossible to find the phone in the deep water.
"Distressed and in tears, we went back to Vancouver just kind of hopeless," said Ghodsi.
She soon bought a new phone, and came to terms with the lost photos, contacts, and other personal information that hadn't been backed up.
YouTubing diver
Helkenberg has been snorkeling, swimming and diving for years, but at the start of 2020 — with extra time on his hands after being laid off — he started putting more effort into searching for lost items in the water, as well as doing trash cleanup missions.
Sometime he goes on his diving missions with friends and his wife. He even started a YouTube channel to document his finds.
[embedded content]
Last year, he found more than a hundred pairs of sunglasses, 26 cellphones and two GoPro cameras. This year, he's already counted 35 pairs of sunglasses, five phones and one GoPro.
His underwater work has even attracted some media attention, including a report of 359 kilograms of trash he and friends pulled from Cultus Lake earlier this year.
This week, he was at Harrison Lake — the water is much shallower now than it was in the summer, and according to Helkenberg, it's quite clear. He found a severely damaged flip phone, but Heather Helkenberg noticed Ghodsi's iPhone.
'It just turned right on'
Clayton Helkenberg said he usually puts phones in a container of silica to dry them out, but he's had good luck with iPhone 11s.
"I took it home, cleaned the dirt off of it and it just turned right on, so it was pretty amazing," he said.
He pulled out the SIM card, put it in another phone to figure out the phone number and got in touch with Ghodsi.
"I was in complete shock, initially to start with. It was kind of like a zombie phone coming back to me, because I'd totally made peace with it being gone," she said.
Ghodsi said the microphone is broken and the speaker sounds weird, but everything else is in perfect shape; the battery health is still at 96 per cent.
She's thankful for the phone's recovery and inspired that Helkenberg makes the effort to reunite people with lost valuables, asking nothing in return. But the experience has left Ghodsi even more impressed by his trash cleanup work, saying it's a reminder to keep our water clean.
"It gives me so much hope for the good that's out there," she said.
As for the next time she takes a ride on the bumper boats? Ghodsi said she'll either leave her phone and valuables on the shore or keep them securely stowed in a pocket.
---
Do you have more to add to this story? Email rafferty.baker@cbc.ca
Follow Rafferty Baker on Twitter: @raffertybaker