Art Beat: Coast artist Dean Hunt honoured by B.C. Achievement Foundation – Coast Reporter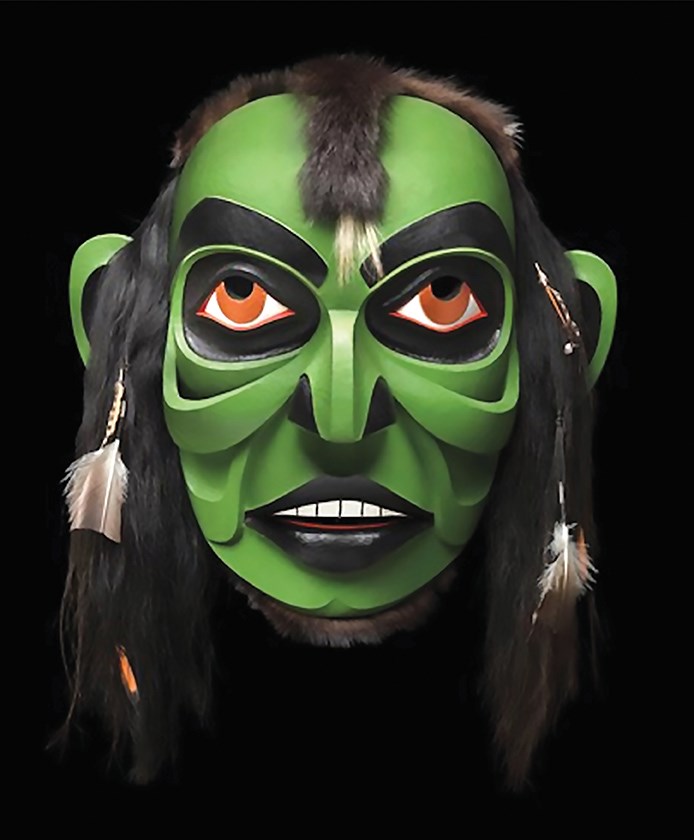 The B.C. Achievement Foundation has named Sechelt-based carver and visual artist Dean Hunt as a recipient of the 2021 Fulmer Award in First Nations Art. The annual award goes to as many as five B.C. Indigenous artists "who have demonstrated a commitment to their art practice, have accumulated a body of work, and who are recognized in their communities as artists." Hunt is a member of the Heiltsuk Nation in Bella Bella. In a release, the foundation said Hunt is "constantly pushing the evolution of Heiltsuk art forward," and is "a part of the movement to modernize the art form." Hunt undertook a five-year apprenticeship with his father, Bradley Hunt, and older brother, Shawn Hunt, "using the tools and techniques his ancestors fought to hold onto through times of hardship and oppression." Check out Hunt's website for a look at some of his outstanding work.
MushrooMania
The Canada West Mushroom Fest is on from Friday, Oct. 29 to Sunday, Oct. 31, featuring "speakers and workshops at Gibsons Public Market, Shaggy Jack's Wild Mushroom Foraging class and forest foraging walks, a mushroom products vendor market at Gibsons Public Market, a mushroom treasure hunt for kids and more." Part of the festival is a presentation on Friday of the documentary film Dosed, at the Heritage Playhouse in Gibsons. It tells the story of one woman's struggle with addiction and who was cured by therapies that included supervised use of "magic mushrooms," or psilocybin. Doors at 7 p.m. Learn all about the festival at mushroomania.ca.
A Christmas Sail
The annual run of TV movies with a Christmas theme has begun, many of them produced by the company that makes Hallmark greeting cards, and some of which were filmed on the Sunshine Coast. You might see some familiar faces among the extras in A Christmas Sail, shot recently in and around Gibsons Harbour. The movie airs on the W Network at 5 p.m. on Sunday, Oct. 31 and again at 12:30 a.m. Monday. Don't worry if you miss it this time, as W will repeat its showings often over the next few months.
Halloween weekend music
The Grateful Dead tribute band GDBC presents "A GDBC Halloween" at Roberts Creek Legion at 7 p.m. on both Friday, Oct. 29 and Saturday, Oct. 30. Tickets are $25-$35 and can be booked through the website rclegionevents.com.
Get creative with your Halloween costume and maybe win a prize at Halloween Quiplash at Tapworks in Gibsons on Friday, Oct. 29 starting at 8 p.m.
The Clubhouse Restaurant in Pender Harbour has a Rocky Horror Picture Dinner Show from 5 to 8 p.m. on Saturday, Oct. 30, with a screening of the cult classic film Rocky Horror Picture Show starting at 6 p.m., a three-course meal, and prizes for best movie-character costumes.
Take your pick from two of the best cover bands on the Coast playing Halloween bashes in the same building on Saturday, Oct. 30 from 7:30 to 11 p.m. The Sofa Kings play the lounge at the Gibsons Legion, while Playback performs in the banquet hall. It's going to be "monsterous," the Legion assures us. No matter how you dress up, bring a health-protocol mask, too, to wear when you're up and moving around inside.
At the Clubhouse in Pender on Friday, Oct. 29 from 5 to 8 p.m. you can hear the four-piece traditional Celtic folk band from Victoria, Clanna Morna.
On Sunday, Oct. 31, the Steve Hinton Band plays the Clubhouse from 2 to 5 p.m.
Celebs, fashion, 24k chicken wings at Miami Art Basel – BradfordToday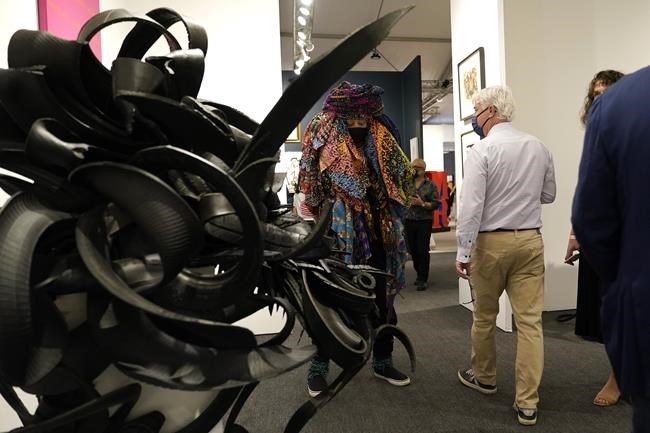 MIAMI (AP) — After a pandemic hiatus, the official Art Basel show is back in Miami with all its eccentric glory, a dizzying list of celebrity attendees and dozens of spin-off shows that are already generating a buzz, including a phenom child painter and a $4 million Banksy sale.
Ten-year-old contemporary artist Andres Valencia's gallery has already nearly sold out at Art Miami. The San Diego-based artist simply saw a cubist painting in his living room two years ago and declared, 'I can do that'.
Actress Sophia Vergara bought one of his pieces this week and Channing Tatum, Jordan Belfort, and artist Shepard Fairey stopped by his booth at the Art Miami fair to check out his work, according to a spokesperson for Chase Contemporary.
Proceeds from Valencia's works are going to the Perry J. Cohen Foundation, which supports the arts, and environmental and wildlife education and preservation.
Maddox Gallery is also showing at Art Miami, selling Banksy's Charlie Brown for $4 million dollars on Tuesday. A spokeswoman for the gallery said this is the first year they've had a profound collection of Banksy canvases including many original works.
Basel's annual prestigious December art fair draws collectors, socialites and celebrities from around the world. But fashion has also played a prominent role in recent years with Christian Dior hosting its first ever U.S. show in 2019 as a sort of unofficial kick-off to Miami's art week.
Louis Vuitton did the same on Tuesday night, with its first ever U.S. fashion show. But the sudden death of its 41-year-old legendary designer Virgil Abloh turned the show into a somber yet whimsical celebration of life attended by Rihanna, Kim Kardashian West and her daughter North, Ye, the rapper formerly known as Kanye West, model Bella Hadid, Joe Jonas, Maluma and Pharrell. Kid Cudi and Erykah Badu performed at an after-party. Ivanka Trump and hubby Jared Kushner were also in the crowd.
And Chanel collaborated with artist Es Devlin for a monumental sculptural installation to celebrate its iconic fragrance. The fashion house is taking over Jungle Plaza to create a multi-sensory experience using hundreds of plants and trees. The installation is open to the public, but several big name celebs are expected to attend Friday's VIP dinner with a top-secret performance.
Gucci is hosting a party Thursday night to celebrate Mickalene Thomas' Monograph.
Alicia Keys, Lizzo and Cardi B are also among those performing around town this week. The rapper is launching a new line of Vodka infused whipped cream on Saturday. After-party performances at various clubs this weekend include Migos, Meek Mill, Diplo and Marshmello.
While Miami's art week is a draw for serious collectors, it is also full of the absurd, including diamond and gold chicken wings. Yep, Miami's DJ Khaled dropped "bling wings" topped with 24-karat gold dust and edible diamonds to promote his restaurant Another Wing.
There's also an 18 carat gold bagel avocado toast on sale for $2.9 million at Galerie Rother at Art Miami.
Celebrity sightings included Martha Stewart in a gold coat and walking cane at Komodo restaurant and the Denver Nuggets and Venus Williams popped bottles all night at Pharrell and David Grutman's restaurant Swan.
Hailey Bieber, Olivia Rodrigo, Brooklyn Beckham, Nicola Peltz were spotted loading up on cocktails and caviar at Papi Steak and singer Camila Cabello was spotted in the trendy art district of Wynwood on Monday for an unveiling at Wynwood Walls to celebrate 14 new artists with murals and sculptures.
Kelli Kennedy, The Associated Press
Light Up the Hospital! Online Art Auction – The Nelson Daily
Kootenay Lake Hospital Foundation is excited to announce our Online Art Auction & 50/50 Raffle.
As part of the Foundation Light Up The Hospital! campaign, Ivan and Mary Smith have graciously donated 13 prints by Carl Brenders, Stephen Lyman and Daniel Smith.
"Prior to his passing last year, my husband Ivan made arrangements to donate these prints from his collection to Kootenay Lake Hospital Foundation," Mary Smith explained when asked about this generous donation.
"It was his wish that funds raised from his donation would help support the medical services that helped him so much."
"I have no words to express my appreciation for every staff member in every department in our wonderful hospital, with special thanks to Dr. Malpass," Smith added.
"I hope that this small gesture will help to support our hospital and our community."
The Online Art Auction and Raffle runs from December 1-15. Visit www.klhf.org now to link to the event.
All proceeds from this event will be directed to the Light Up the Hospital! campaign to purchase priority diagnostic equipment for the Lab at Kootenay Lake Hospital.
For more information, please call the Foundation office at 250-354-2334.
Northern Ireland art group wins Turner Prize – Museums Association
A group of 11 artists who create collaborative actions in response to social and political issues affecting Northern Ireland has won this year's Turner Prize.
The Array Collective, which received £25,000, was presented with the award at a ceremony in Coventry, home to the UK City of Culture 2021. This year's Turner Prize exhibition is being held at Coventry's Herbert Art Gallery & Museum (until 12 January).
A further £10,000 was awarded to each of the other nominees, which consisted entirely of artist collectives and artist-run projects. The others on the shortlist were Black Obsidian Sound System, Cooking Sections, Gentle/Radical and Project Art Works.
The jury awarded the prize to Array Collective for their "hopeful and dynamic artwork, which addresses urgent social and political issues affecting Northern Ireland with humour, seriousness and beauty". They were impressed with how the group was able to translate its activism and values into the gallery environment.
The jury commended all five nominees for their socially engaged artworks, and how they work closely and creatively with communities across the UK.
The members of the Turner Prize 2021 jury were Aaron Cezar, director, Delfina Foundation; Kim McAleese, programme director, Grand Union; Russell Tovey, actor; and Zoé Whitley, director, Chisenhale Gallery. The jury is chaired by Alex Farquharson, the director of Tate Britain.
The Turner Prize, which is run by Tate, was established to promote public debate around new developments in contemporary British art.