Art Beat: Visual arts, performances launch Sechelt Arts Festival – Coast Reporter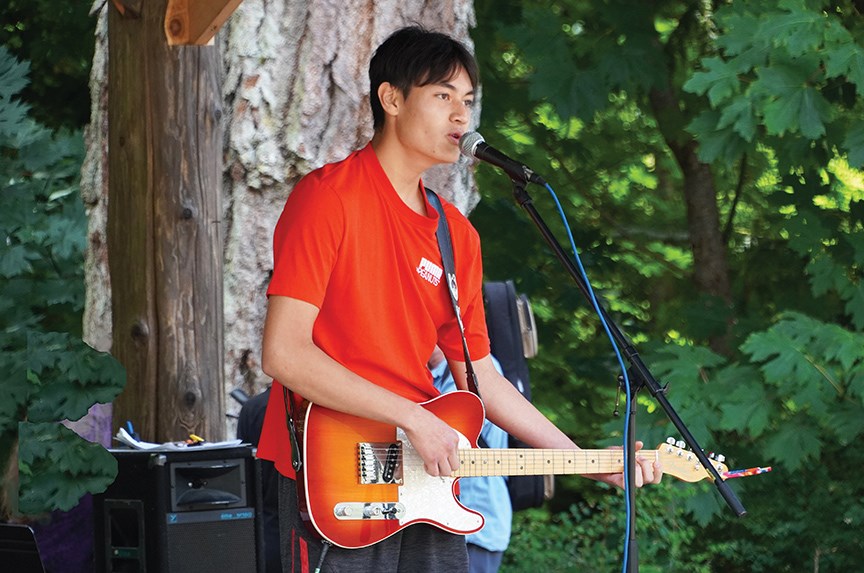 The Sechelt Arts Festival, with its 2021 theme of Unity, is now underway with visual art by seven Coast artists celebrating gender diversity on display downstairs at the Seaside Centre. Upstairs, take in Canoe Culture, "an experiential journey through the history of the canoe." The Seaside Centre exhibits are on view from 11 a.m. to 5 p.m., Thursdays through Sundays for just the next few weeks.
Festival performances kick off on Saturday, Oct. 9 with Dances from Home, where "our multi-cultural community will share their stories, culture, and dance traditions. A family-friendly afternoon featuring local shíshálh, Métis, East Indian, Latin, Japanese, Hawaiian and Filipino dancers coming together in harmony, bright costumes, and fun." At the Seniors Activity Centre from 2 to 4 p.m. with doors at 1:30. Admission is "pay what you can."
On Sunday, Oct. 10, Music Arising showcases some of the Coast's young performing talent with performances by Kaishan, Ashley Hautala, and Gingersnaps & Shortbread. The show at St. Hilda's Chapel starts at 4 p.m. Seating is limited. Tickets at the festival website.
GPAG meet-up
The creators behind the new shows at Gibsons Public Art Gallery will be part of a meet-the-artists session at Gibsons Public Art Gallery from 2 to 4 p.m. on Saturday, Oct. 9. Graphite drawings by Charles Keillor are featured in the main gallery in his exhibit, Drawing the West Coast. In the Eve Smart Gallery are photographs from Robert Keziere's intriguingly titled show, The Means of Making: Documenting Geoffrey Smedley's Gambier Island Machine Room. The exhibits are on until Oct. 31.
Callout to sing out
Coastal Lights Choir (formerly Music Makers) has started meeting again on Wednesdays at 7 p.m. at Faith Lutheran Church in Davis Bay, and has issued an invitation to join in. "We are preparing an engaging program of winter and Christmas music in anticipation of a winter concert Dec. 11," the choir said in a release. "New director Kenneth Norman Johnson brings a wealth of experience, carefully chosen music, and some beautiful original compositions that will delight singers and audiences." Email kenneth@kappaarts.com for more info.
Virtual studio drop-ins
Sunshine Coast Elder College is offering a chance to visit four artists in their studios over a four-week period, starting Oct. 15. "Participants will engage virtually in art appreciation and creative activities on four Friday mornings [10 a.m. to 12 p.m.] with a Sunshine Coast painter, carver, digital artist, and quilter/fabric artist. The sessions encourage thinking about art and, if you wish, creating your own art." The artists taking part are Lynda Mason, Paula O'Brien, Dennis Gobeil, and Karen Biddlecombe. The visits are via Zoom, so a digital device and Wi-Fi connection are required. Full information is available on the SC Elder College website.
Let us know about your event by email at arts@coastreporter.net.
Del Mar unveils five new pieces of public art – Del Mar Times
The city of Del Mar's temporary outdoor sculpture program has opened with five new works in downtown Del Mar, along a one-mile art stroll.
The Del Mar Foundation is providing approximately $15,000 in funding for the program over the first two years and the pieces will remain on display for up to 23 months.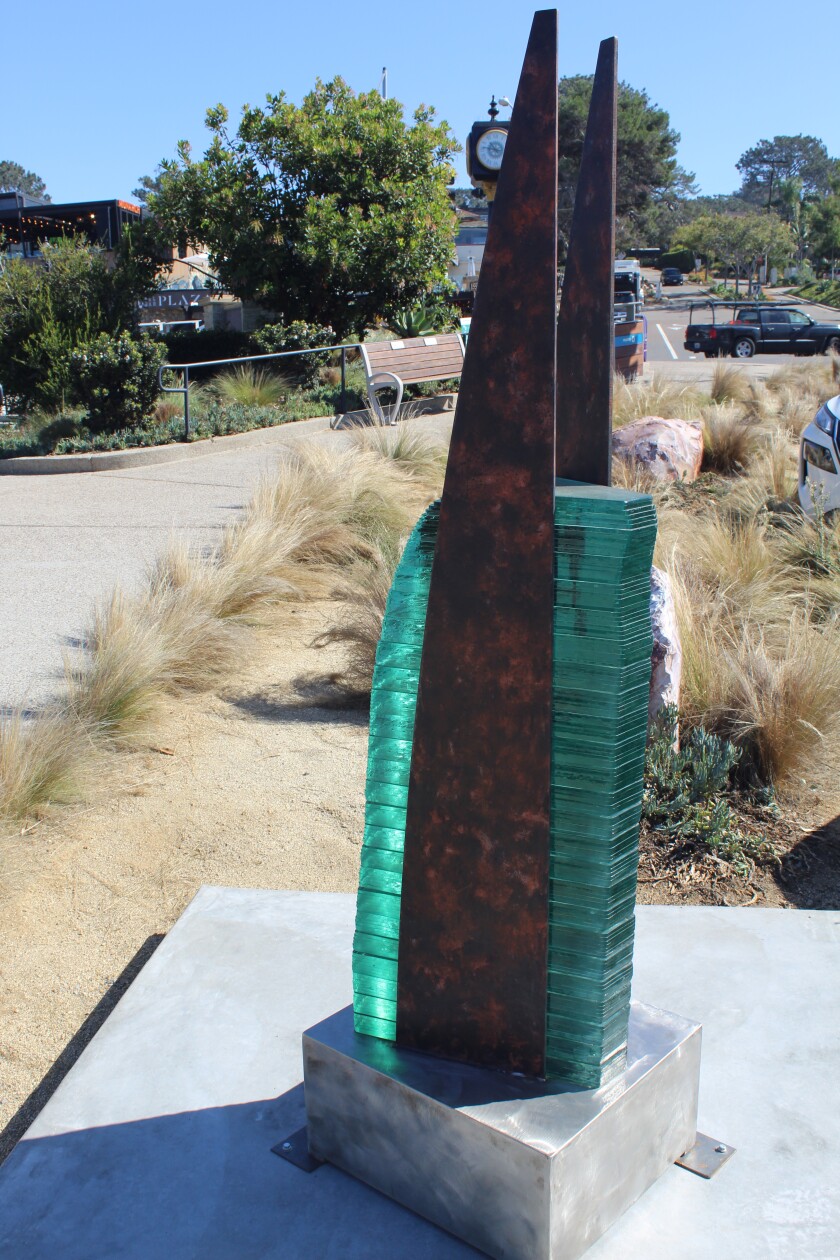 Take the Del Mar art walk:
Hanging Out by Maidy Morhous at 15th Street and Stratford Court
Birds Eye View by Petrello and Graham at the southeast corner of 14th Street and Camino del Mar
Terpsichore by David Beck Brown at the southeast corner of 12th Street and Camino del Mar
Moonshadow by Jeffery Laudenslager and Deanne Sabeck at the northeast corner of 9th Street and Camino del Mar
Pasaje a lo Infinito by Hugo Heredia at 5th Street and Camino del Mar
Before There Were Pockets: A Métis Youth Art Series – Métis Nation of Ontario – Metis Nation of Ontario
Before There Were Pockets
A Métis Youth Art Series
Part 1 – TOBACCO BAG
Thursday, November 18, 6-9 PM ET
Thursday, December 16, 6-9 PM ET
Part 2 – SASH BAG
Thursday, January 13, 6-9 PM ET
Thursday, February 10, 6-9 PM ET
Thursday, March 10, 6-9 PM ET
The Métis Nation of Ontario is excited to be hosting Before There Were Pockets- Métis Youth Arts Series this year across the province virtually through the Zoom platform.
This will be a once a month gathering of youth to learn a variety of traditional arts through the construction of a sash bag and tobacco bag. It is an informal opportunity for youth to connect with each other and work one-on-one with knowledge holders and staff. It will also be an opportunity to bring in special guests to speak about their artwork and journey. These workshops will allow participants to explore different skills and gain a deeper understanding of their Métis heritage. In order to receive the supplies for their session, all forms must be completed and participants are expected to attend all sessions. Access to technology and reliable internet is required to participate in the camp.
Space is limited, so please register and complete the application as soon as possible. Participants can access the Metis Nation of Ontario Application Portal at metisnation.smapply.io/.
Before there were pockets Poster ENG
Before there were pockets Poster FR
Vancouver Island art councils work together on regional impact study – Parksville Qualicum Beach News – Parksville Qualicum Beach News
The Arts Council of Ladysmith is leading the way on a project that aims to get arts recognized as a significant industry on Vancouver Island and the Gulf Islands. With funding from the Canada Council for the Arts, it partnered with other councils in the region to conduct an impact study to show the value art brings to communities.
"Itis larger than many industries, like the lumber industry and the fishing industry in our community and it's probably not recognized because many of them are individuals," said Kathy Holmes, president of the Arts Council of Ladysmith and District. "People don't think of them as a business and really, artists are their own business."
The arts council partnered with the Digital Innovation Group (DIG), a collective of island arts councils, to bring together nearly 1500 artists and art supporters in the spring to assess the economic, social, cultural and health impacts of arts in the region.
"No other art council has even attempted to do this. It's been a huge project, we are exhausted and what's coming out now is really important," Holmes said.
DIG will present the study's findings at this year's Vancouver Island Economic Alliance Summit this month. The study found one in 20 people in the region is an artist and over 90 per cent of respondents felt arts are foundational to economic, community and individual wellness, according to DIG's summary of findings.
"We were looking for meaningful data to quantify the contribution of the arts sector to our region and are thrilled to learn that there are over 35,000 artists and that our sector generates almost one billion dollars in direct economic outputs," said Ora Steyn, vice president of the Ladysmith Arts Council.
The Ladysmith Waterfront Gallery has been operating out of the old school on Parkhill Terrace for the last two years and Holmes said it has had a large impact on the volume of visitors.
"The Membership is still being very faithful. We worked very hard at keeping them but the public is not coming in droves so we are trying to build that capacity again but it took us a long time to get to 13,000 people a year," Holmes said.
The gallery will be hosting Yael Wand, a Salt Spring Island musician on Friday (Oct. 22.) Tickets are on sale now on the art council's website.
---
@_hay_tyler
editor@ladysmithchronicle.com
Like us on Facebook and follow us on Twitter.