As 'finfluencers' spread through social media, beware the pitfalls – The Guardian
NBA Media Day Live Blog: Updates As 2021 Training Camps Get Underway – Sports Illustrated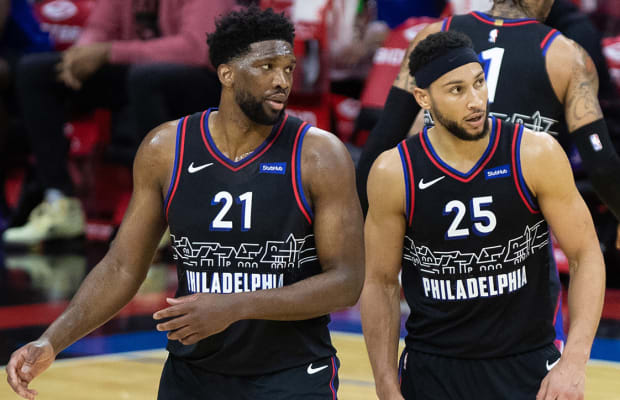 The 2021–22 NBA season is just around the corner with almost every team holding its Media Day activities on Monday. A lot has happened since the Bucks defeated the Suns in the NBA Finals. Russell Westbrook is now a Laker (as are a number of other veterans, including Carmelo Anthony, Dwight Howard and DeAndre Jordan). Kyle Lowry left the Raptors for the Heat. His former Toronto teammate, DeMar DeRozan, is now a member of the revamped Bulls. And uncertainty is very much still swirling about Ben Simmons's future with the 76ers.
The NBA's first preseason game is Sunday, Oct. 3 at 3:30 p.m. ET as Kevin Durant and the Nets travel to the Staples Center to face LeBron James and the Lakers. The regular season then opens Oct. 19 with those very same Nets traveling to the defending-champion Bucks.
But before any of that can get underway, players and coaches will face the media. We're keeping track of the highlights:
Kyrie Irving Declines to Comment on Vaccination Status, Preferring to 'Keep That Stuff Private'
Nets guard Kyrie Irving declined to comment on his vaccination status on Monday during Nets Media Day saying that he "prefers to keep that stuff private."
Irving did not attend Nets media day in person Monday due to New York City health and safety protocols, according to Sports Illustrated's Chris Mannix. However, according to ESPN's Zach Lowe and Brian Windhorst, Irving will accompany the team to training camp in San Diego.
Instead, he addressed reporters virtually on Monday.
"Living in this public sphere, there's a lot of questions about what's going on in the world of Kyrie, and I would love to just keep that private and handle that the right way with my team and go forward with a plan," Irving said, via Zoom.
He added, "I'm not able to be present there today but it doesn't mean I'm putting any limits on the future."
When asked, though, about what not "putting any limits on the future" meant for his upcoming availability, Irving again declined to elaborate, citing his desire to keep his vaccination status private.
Irving's vaccination status has not been officially confirmed, though Fox Sports' Yaron Weitzman reported last week that Irving is unvaccinated. A story from Rolling Stone over the weekend noted Irving's distrust of the coronavirus vaccine, reporting that Irving started to like Instagram posts and follow an account that claims "secret societies" are implanting vaccines in a plot to connect Black people to a master computer for "a plan of Satan."
Irving's status for home games has also come into question as New York City, along with San Francisco, is requiring proof of vaccination to enter large indoor events, including basketball games unless a player obtains an exemption of some kind.
"There are so many other players outside of him who are opting out; I would like to think they would make a way," Irving's aunt Tyki Irving, who runs his family foundation and is one of his advisers, told Rolling Stone. "It could be like every third game. So it still gives you a full season of being interactive and being on the court, but with the limitations that they're, of course, oppressing upon you. There can be some sort of formula where the NBA and the players can come to some sort of agreement."
Kevin Durant declined to comment on Irving's vaccination status when asked about it Monday.
KD Not Concerned About Kyrie's Availability This Season:
David Letterman Makes His Presence Felt at Nets Media Day
A certain "Dave from Basketball Digest" peppered Kevin Durant with a series of hard-hitting questions, including asking why people call the Nets star "KD," and what percentage he plans on giving this season.
Devin Booker to Miss Media Day After After Entering Health and Safety Protocols
The Suns announced Sunday that two-time All-Star Devin Booker will miss Monday's Media Day and won't be available for the start of training camp on Tuesday after entering the league's health and safety protocols.
It is not known whether Booker is vaccinated, but he confirmed on his Twitch channel that he has tested positive for COVID-19. He said that he feels well but has no sense of taste or smell.
Ben Simmons's Status Hovering Over 76ers
The Athletic reported over the weekend that while Philadelphia players wanted to travel to Los Angeles to meet with Simmons, in hopes of getting the All-Star to remain with the team, Simmons told them not to come and that he would not change his mind about wanting to be traded.
That report came after 76ers coach Doc Rivers spoke publicly about the Simmons trade rumors last week and confirmed that the three-time All-Star requested a trade during an August meeting. However, Rivers told ESPN's First Take that he wants the guard back in Philadelphia.
"We're going to go through it," Rivers said last week. "We're going to always do what's best for the team, but I can tell you upfront we would love to get Ben back. And if we can, we're going to try to do that."
Certainly much will get asked—and perhaps answered—about Simmons on Monday.
Morey 'Disappointed' Simmons Not at Media Day
Daryl Morey confirmed Monday at 76ers Media Day that Ben Simmons asked for a trade from the franchise, saying, in part, "We are disappointed he's not here." Morey added that he is excited about the players on the roster and said that whatever the team does or doesn't do about Simmons will be in what he believes is the best interest of the franchise.
He also appeared not to rule out Simmons's return to the team.
Embiid Says 'Of Course We Want' Simmons Back
76ers center Joel Embiid echoed a similar sentiment to coach Doc Rivers and president Daryl Morey on Monday saying that he still hopes Simmons returns to Philadelphia.
"Of course we want him back, he's a big piece of what we've been building the past few years," Embiid said.
The team's star center also confirmed that he was among the members of the organization who tried to see Simmons in California but was rebuffed by the All-Star guard.
A Number of Teams Are at 100% Vaccination
Spurs coach Gregg Popovich addressed his team's vaccination status, saying that the entire team has been vaccinated.
Rockets general manager Rafael Stone also said Monday his team is 100% vaccinated as did Jazz general manager Justin Zanik when speaking about his team.
Knicks general manager Scott Perry recently said the entire New York roster is vaccinated. Yahoo Sports' Vincent Goodwill reported on Friday the Pistons are also fully vaccinated.
Kemba Excited to Get Going at 'Home'
Kemba Walker seems to be enjoying being a member of the Knicks. "I'm from here. Born and raised. And it feels like it. Getting a lot of love from the fans everywhere I go. Really just embracing me."
Kyle Lowry Rocking His New Heat Uniform, and Already Poking Fun at His Teammates
Zion Not Expected to Miss Time After Offseason Foot Surgery
Pelicans star Zion Williamson had surgery this offseason to repair a fractured right foot, executive vice president of basketball operations David Griffen said at Media Day.
Per Griffen, the injury occurred before NBA Summer League while Williamson was working out.
Griffen noted, however, that Williamson should be ready for the start of the regular season and that his recovery has been in "lockstep" with the team.
"I think I was overdoing it when I was training because I felt like I had this whole chip on my shoulder, this huge boulder that I was just getting after it, overly, every day," Williamson said.
Despite entering just his third season, Williamson has dealt with multiple injuries throughout his career, including having surgery on his meniscus in the fall of 2019 and having a fracture in a finger on his shooting hand last May.
Meanwhile, Williamson also reiterated his passion for the city of New Orleans.
Horford Returns to Boston With 'Bigger Appreciation'
After spending the past two seasons on the 76ers and Thunder, respectively, Celtics big Al Horford is grateful to be back in Boston.
"For me, it's a bigger appreciation of being here," Horford said. "I'm so happy to be back in Boston. I appreciate even more what it means to be a Celtics and to represent Boston. And looking at the group we have here, I'm even more excited."
Horford spent three seasons in Boston before leaving via free agency ahead of 2019-20.
Celtics Coach Ime Udoka Conducting Media Day Virtually After Positive COVID-19 Test
Celtics first-year coach Ime Udoka is conducting Media Day virtually after testing positive for COVID-19.
The team said Udoka, who is vaccinated, tested positive for coronavirus 10 days ago and is currently in isolation. He has been asymptomatic for at least four days, per the team, and is expected to return to in-person workouts on Tuesday.
Udoka took over for Brad Stevens— who replaced Danny Ainge in Boston's front office—as head coach in June. He previously was an assistant coach with the Nets, 76ers and Spurs.
LaMelo Ball Says Wearing 'No. 2 Don't Feel Right'
LaMelo Ball has not had any success in getting the NBA to change his number. The Hornets guard and reigning Rookie of the Year missed the deadline last year to submit a number change request to the league that would allow him to switch from the No. 2 that he currently wears to the No. 1 that he prefers. (Malik Monk wore No. 1 last year for the Hornets.)
"Man, I feel No. 1 is just me," Ball said at the Hornets media day. "And I just want to be me out there. Playing in No. 2 just doesn't feel right. Last year was cool because [Lonzo], I said I would be No. 2 for him. …But [No. 2] don't feel right."
Klay Thompson to Have 'Patient Ramp Up,' GM Says
Warriors wing Klay Thompson will have a "patient ramp up" back to action as he recovers from an Achilles injury, general manager Bob Myers said Monday.
Myers said that Thompson can do a lot in training camp, but not contact and five-on-five. Myers mentioned Thompson being involved in high-intensity G League practices and other scrimmaging and alluded to January as a possible return date for Thompson.
Thompson tore his Achilles in November and missed his second consecutive season. He had missed all of the 2020 season after suffering a left ACL tear during the 2019 NBA finals against the Toronto Raptors.
Clippers Not Rushing Kawhi Leonard Back to Action
Clippers coach Tyronn Lue didn't want to put an exact timeline on when the team's star forward Kawhi Leonard could return to action.
"We don't want to force him or put any pressure on him. We want to make sure he's rehabbing and doing everything he can to get back as soon as possible," Lue said. "If that's next season, it's next season."
In July, Leonard underwent surgery to repair a partial tear in his right anterior cruciate ligament. While he opted out of his past contract with Los Angeles, Leonard signed a new four-year deal that includes a player-option this offseason.
Wizards Star Bradley Beal Currently Unvaccinated For 'Personal Reasons'
Wizards guard Bradley Beal told reporters Monday that he is unvaccinated for COVID-19, citing "personal reasons." Beal did not elaborate further on his status.
Beal was supposed to play in the Tokyo Olympics for Team USA but did not make the trip after being put in USA Basketball's health and safety protocols. At the time, it had not been publicly confirmed whether he had tested positive for COVID-19. But Beal said Monday he tested positive for COVID-19 prior to the Olympics.
Beal averaged 31.3 points per game this season with the Wizards and was set to make his Olympic debut this summer.
Now, back with the Wizards, he is losing to lead the franchise to the postseason for the second consecutive season.
Jason Kidd Compares Luka to a 'Young Picasso'
New Mavericks head coach Jason Kidd had some high praise for his star guard Luka Dončić on Monday, calling him "a young Picasso."
"I don't know if anybody ever told Picasso that he had to use all the paints, but I just want to remind him that he can rely on his teammates, that his teammates will be there to help him," Kidd said.
Dončić and the Mavericks agreed to a five-year, $207 million supermax rookie extension this offseason. He was the first player to ever be eligible for a supermax rookie extension because he's already been selected first-team All-NBA twice.
Last season, he averaged 27.7 points, eight rebounds, 7.7 assists and 34.3 minutes per game.
Jalen Green Ready For Rookie of the Year Battle
Jalen Green, the No. 2 pick in last summer's NBA draft, is ready for the season, and prepared to be in the Rookie of the Year conversation.
Andrew Wiggins Refuses to Clarify Vaccine Status
Warriors wing Andrew Wiggins was asked by reporters to clarify his vaccination status but refused and said "it's none of your business." The NBA denied Wiggins's request to get a religious exemption for the vaccine on Friday.
"I'm just going to keep fighting for what I believe and for what I believe is right," Wiggins said. "What's right to one person, isn't right to the other and vice versa.
"I don't ask you guys your beliefs, I don't you guys what you believe is right or wrong. We're different people. Who are you guys where I have to explain what I believe?"
The Warriors play in San Francisco, one of the cities that's requiring pro athletes to show proof of vaccination to enter large indoor events. Wiggins's vaccination status could keep him from playing in front of the home crowd this upcoming season if there's no change.
"I'll say something when I'm ready," he said. "The only thing the media has done is kind of make it bigger than it has to be."
More NBA Coverage:
OKC Thunder Media Day Themes And Final Training Camp Roster – Forbes
The Oklahoma City Thunder begin training camp on Tuesday with just over three weeks until the start of the 2021-22 season. Prior to the season kicking off, they'll carry 20 players through training camp and four preseason games.
At some point, the Thunder will have to make roster cuts, finalizing their 15-man roster heading into the season. They'll also have the ability to carry both of their two-way players into the season as well.
With media day taking place on Monday, several key themes stuck out as players gave updates on their summer activities and what to expect in the upcoming season. Additionally, the training camp roster itself gave insight into what type of team Oklahoma City wants to be moving forward.
Final Roster
In the 24 hours leading up to media day, the Thunder made several moves to finalize their 20-man training camp roster.
They started by waiving Charlie Brown Jr. before signing Mamadi Diakite, Rob Edwards and DJ Wilson.
These were the final three additions to the team to round out the roster. They'll each have opportunity to earn a roster spot over the next few weeks as they showcase their skills in practice and in preseason matchups.
Positionless Play
It becomes more clear as the season approaches that the Thunder are committed to playing a positionless style of basketball. Over the past few drafts, Oklahoma City has used their first-round draft capital on players that are versatile enough to play multiple positions.
Most recently, this has included a 7-foot wing in Aleksej Pokusevski and a 6-foot-9 point guard in Josh Giddey.
Even Thunder Head Coach Mark Daigneault alluded to playing this way last season when talking about the positionless players on the OKC roster.
"Traditional positions don't apply to a lot of the players on our team," said Daigneault in January.
Just a month later, Daigneault reflected on the success of the Golden State Warriors with the amount of versatility they had on their roster.
On Monday at media day, Daigneault doubled down on the positionless style of play when talking about the benefits of having a roster full of players who are able to handle the ball.
"One of the things that is evident is the teams that are the most formidable in the NBA are the teams with multiple ball handlers," said Daigneault.
As Oklahoma City continues to build their roster over the next few seasons around Shai Gilgeous-Alexander, it's fair to assume they'll be targeting players who have a high basketball IQ and can play multiple positions. This will result in them being able to throw a variety of different lineups on the floor depending on who they're matched up against.
No Shortcuts
When it comes to rebuilds, the Thunder are going to do it the right way. If there's one thing the front office has emphasized over the past year, it's that they're going to be patient and take no shortcuts.
"We aren't looking to short-term solutions to a long-term project," Thunder GM Sam Presti said last week in a press conference.
Daigneault echoed this just a few days later at media day, saying the rebuild won't be easy, but shortcuts will not be taken.
"There is no shortcut, it's nothing going to be easy and we don't want it to be easy," said Daigneault at media day.
At the end of the day, Oklahoma City is looking for long-term, sustained success rather than just a short stint of being a playoff team. Especially in a small market, they've got to build through the draft, trades and player development.
"There's only one thing to win in the NBA and it's a championship," said Presti during the offseason. "The longer you want to be good, the more patience it sometimes requires."
The Thunder will be a championship contender again at some point in the near future, but they're going to do it the right way.
Ja and Jaren, the North Star, and more Media Day takeaways – Grizzly Bear Blues
It's good to be back.
After 18 months of virtual interviews, NBA Media Day returned to an in-person hybrid format. Ja Morant and De'Anthony Melton both expressed how happy they were to see the media, with an obvious pep in their energy in the press conference room.
Though extension talks with Jaren Jackson Jr. and the NBA's league-wide effort for full vaccinations loomed large, everyone seemed jovial about the work that they all put in this summer and how it'll all manifest this season.
The vibes were immaculate within this young Memphis Grizzlies squad.
What were some of the big takeaways from yesterday's Media Day?
Desmond Bane is an awesome person
Before we get into more of the media day takeaways that reflect the on-court product, can we just take a moment to recognize how awesome of person Desmond Bane is?
The players that have opposing thoughts about the COVID-19 vaccine dominated yesterday's media day discourse around the league. Though the league is at 90% vaccinated at the moment, some of the remarks yesterday showed the reality that we still have a long way to go — not just in the league, but countrywide.
While some people will tend to focus and stress on the negative remarks — and rightfully so— don't overlook the pro-vaccine comments that Desmond Bane, among others, made in yesterday's media festivities.
Desmond Bane had no problem getting vaccinated against Covid-19 since he grew up getting vaccines for other viruses.

"Whatever happens down the road, I'll be fine knowing that I was one of those people that was at least trying to save the other people"

— Evan Barnes〽️ (@evan_b) September 27, 2021
Given the divisiveness of this topic, and Sunday's quote-worthy Rolling Stones article on the NBA's "anti-vaxxers," it was refreshing to see comments like these from one of the NBA's young players. Bane demonstrated great thoughtfulness and maturity when addressing his thoughts on the COVID-19 vaccine, a pressing topic and question across the league in yesterday's annual media day.
Aside from that, Bane also mentioned that he got to use this lengthier offseason to not only explore the city, but to get involved in the community by hosting camps and events. He's done that to get "intertwined" with the city, while introducing himself to the community. With a lot of this team being new-ish to the story, and with the limited outside events they've had due to health and safety protocols, it's nice to see a young player like Bane be proactive in the community.
The Grizzlies got a good one with Desmond Bane.
All eyes on the Ja Morant and Jaren Jackson Jr. partnership
Unprompted, Zach Kleiman let the media know that Ja Morant is going to be an All-Star. He also referred to Jaren Jackson Jr. as a "franchise cornerstone."
They also had a bunch of individual praise. Ziaire Williams referred to Ja as a "generational point guard." Dillon Brooks told everyone that we're going to see a lot more of the Jaren Jackson that we saw from year 2 with his shooting, fearlessness, and agility. Taylor Jenkins also has high expectations for both players, while indicating the importance of that duo in relation to the team's success.
What really stuck out, at least to me, is how Ja Morant and Jaren Jackson Jr. worked out together and stayed in sync a lot this summer.
We got the idea that Ja and Jaren did some workouts together this season, as there were some highlights that circulated of them two playing at the same open run. However, as Ja Morant was "in the dark" and low-key about his work this offseason, this bit of information came as a pleasant surprise — given the limited social media activity.
The magnitude of their leaps this season will go a long way into determining the team's success this year. The West is tough, per usual, and the Grizzlies will be looking to build on last year's playoff run to achieve sustainable success towards the front office's vision.
That vision is centered around Ja Morant and Jaren Jackson Jr. It's a good sign to see they're on the same page as they enter a big 3rd year together.
Zach Kleiman is very aware of his team's standing towards the "North Star"
Zach Kleiman has mentioned the objective of winning a championship many times during his Memphis tenure, and yesterday's Media Day was no different.
He was excited about last season's playoff push, and their performance in the postseason as well. For this season, he emphasized the importance of internal development — particularly with players like Ja Morant, Jaren Jackson, Desmond Bane, and Dillon Brooks.
At the same time, he wanted to stress that there is an urgency towards reaching his goal of bringing a championship here, as he didn't want to place a cap on the team's ceiling. There was one thing in particular that stood out in Kleiman's availability yesterday:
Kleiman says they've got to find the right blend of being disciplined but aggressive when making moves to grow into that championship contender. Says they'll continue to make moves when there are growth opportunities to bring in players to help them with their goal

— Grizzly Bear Blues (@sbnGrizzlies) September 27, 2021
As many fans and analysts love trade speculation, especially when there's an All-Star like Ben Simmons on the market at the moment, there's always that question of the right time to strike. Kleiman was very transparent on that front — highlighting this level of urgency as well as the 3 potential picks in next year's draft, the Warriors' 2024 pick, all its own picks, and the clean books at the moment. He knows they're in a good spot to strike whenever.
Now it's out there. As these incoming picks turn into actual players, and their loaded depths turn into expiring contracts and exit rookie deals, the chatter of the big trade will only grow.
Knowing that Zach Kleiman and his front office have built towards this and are aware of the balance between discipline and aggressiveness, it's a promising sign that a blockbuster sign is more of a when than if. That's a great sign towards Kleiman's "North Star" of building a title contender around Ja Morant and Jaren Jackson Jr.
Good vibes around Ziaire Williams
We've heard the positive buzz from Zach Kleiman and Taylor Jenkins on Grizzlies' top-10 pick Ziaire Williams in the introductory and post-draft press conference. In yesterday's Media Day, we heard what his teammates thought of the rookie.
There's optimism about him and his fit with this team.
Morant, Bane, Brandon Clarke, and De'Anthony Melton had great things to say about his two-way impact at his size, his shooting and scoring, and his ability to play in transition. They were also praising his willingness to learn and soak in as much information as possible.
It's going to be a process with Williams, especially with his age and raw skillset. However, it was good to hear his teammates give him good reviews on his work ethic and his hunger to learn and get better.
Other Takeaways
The Steven Adams experience is going to be fun. Steven Adams stole the show at media day. He was charming and hilarious — from talking about Shelby Farms trips with his dog, giving a thumbs-up of approval for the league being 90% vaccinated, to jokingly calling a beat writer a "bastard" for referring to him as the old guy. He also demonstrated a great level of thoughtfulness with his answers, especially when it comes to this season and being the veteran in the locker room. Lots of players spoke highly of "Steve-O" — as his teammates refer him to — and it leads me to think he's going to become a fan favorite quite soon.
Brandon Clarke is the best player he's ever been. Brandon Clarke did not have a good close to the season last year. He was aware of that, and it ate at his confidence as well. After an offseason of working on his perimeter skills, and getting a lot of that work with Jaren Jackson Jr. as well, Clarke feels like he's playing the best he ever has. That's a very positive development towards a potential bounce-back season for him.
Dillon Brooks looking to extend his creation. Many people aren't thrilled with Dillon Brooks' shot selection, primarily the amount of 2-pointers in his shot portfolio. However, he mentioned that he's watched film on guys like Donovan Mitchell, Devin Booker, and Paul George on how to create from the 3-point line — as those 3 in particular experienced success in that regard in last postseason. It's going to be interesting to see that unfold, but it could pay dividends for his evolution as 3-and-D wing with All-Defense potential.
These storylines will be cool to monitor, as they progress towards tangible evidence over the coming months. As Jaren Jackson Jr. said yesterday — "Next Gen is back!"
Stick with Grizzly Bear Blues for more Media Day and Training Camp coverage.
For more Grizzlies talk, subscribe to the Grizzly Bear Blues podcast network on Google Podcasts, Apple Podcasts, Stitcher, Spotify, and IHeart. Follow Grizzly Bear Blues on Twitter and Instagram.