Canada delivers more armoured vehicles to Haiti as police try to pushing back gangs
The Canadian Armed Forces airlifted more armoured vehicles to Haiti as police in Port-au-Prince struggle to contain a gang crisis.
Prime Minister Justin Trudeau also said Wednesday that Canada is working with countries in the region to plan possible responses if the situation further deteriorates.
Port-au-Prince has been held hostage for months by violent, feuding gangs who have shut down roads and essential services, leading to a resurgence of cholera.
The armoured vehicles were purchased by the Haitian government. It is the second such shipment since October, when both Canada and the U.S. sent some armoured vehicles to Haiti.
The federal government release on the second shipment did not say which companies made the armoured vehicles, how much they cost or how many were sent.
However, a government official, who was granted anonymity because they were not authorized to speak publicly about the matter, said there were three armoured vehicles, including two of the same model.
Foreign Affairs Minister Mélanie Joly and Defence Minister Anita Anand said in a statement that the equipment will help the Haitian National Police.
Haiti's unelected Prime Minster Ariel Henry has previously requested an international military intervention to regain control of the capital, a move controversial among Haitians.
Trudeau told reporters Wednesday in Mexico City, where he was attending a Canada-U.S.-Mexico leaders' summit, that the armoured vehicles are part of Canada's response, which also includes humanitarian aid.
In addition, Ottawa is trying to coax Haitian leaders to form a political consensus on how the West can best support the country so it can hold a credible election.
Part of that includes sanctions on high-profile Haitians alleged to have helped gangs thrive, which Trudeau claimed "have caused real response from the country's elites in terms of allowing for greater stability."
The U.S. has said Canada would be an ideal country to lead a military intervention but Trudeau would not specify what Washington has asked Ottawa to do.
"We're all very aware the things could get worse in Haiti, and that's why Canada and partners, including the United States, are preparing various scenarios if it does start to get worse," Trudeau said.
"Right now, what is effective is empowerment of the Haitian National Police to solve the situation themselves, and support for the Haitian people," he said.
This report by The Canadian Press was first published Jan. 11, 2023.
Canada province experiments with decriminalising hard drugs – BBC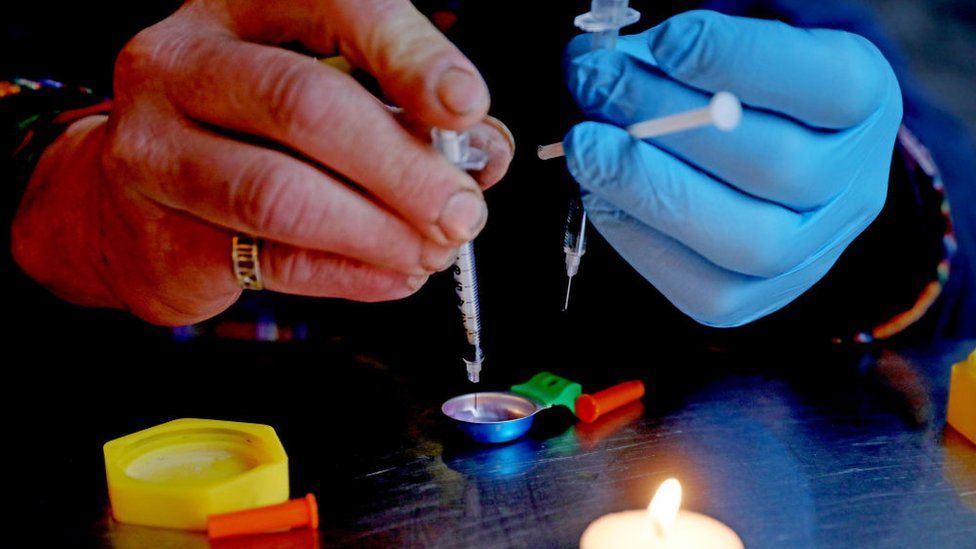 Canada's province of British Columbia is starting a first-in-the-nation trial decriminalising small amounts of hard drugs such as cocaine and heroin.
From Tuesday, adults can possess up to 2.5g of such drugs, as well as methamphetamine, fentanyl and morphine.
It follows a similar policy in the nearby US state of Oregon, which decriminalised hard drugs in 2020.
Ahead of the pilot's launch, British Columbia and federal officials outlined the rules under the federally approved exemption from the Controlled Drugs and Substances Act.
While those substances will remain illegal, adults found in possession of a combined total of less than 2.5g of the drugs will not be arrested, charged or have their substances seized. Instead, they will be offered information on available health and social services.
Federal minister of mental health and addictions Carolyn Bennett on Monday called the move "a monumental shift in drug policy that favours fostering trusting and supportive relationships in health and social services over further criminalisation".
Some 10,000 residents have died from drug overdoses since British Columbia declared drugs to be a public health emergency in 2016, officials said.
"Decriminalising people who use drugs breaks down the fear and shame associated with substance use and ensures they feel safer reaching out for life-saving supports," said Jennifer Whiteside, the British Columbia minister for mental health and addictions.
Thousands of police officers in the province have been offered training on the rule change, including those in Vancouver, the largest city in the province.
The programme will run from 31 January 2023 until 31 January 2026, unless it is revoked by the federal government.
Some experts have questioned the 2.5g limit, saying that it is not enough to account for the habits of many addicts.
There are some exemptions to the scheme.
The sale of drugs remains illegal. It is also illegal to possess drugs on the grounds of schools, childcare facilities and airports.
Canada legalised the use of recreational cannabis for adults nationwide in 2018.
But the four drugs now allowed in small quantities remain prohibited, meaning there are no plans to sell them in stores, unlike marijuana. Trafficking them across borders also remains illegal.
You may also be interested in:
Health Canada reviewing safety of controversial breastfeeding drug – CBC.ca
Health Canada has launched a safety review of the psychological withdrawal symptoms associated with stopping or reducing use of a drug commonly prescribed to help women breastfeed.
The agency confirmed the review in an email to CBC News.
"A safety review is currently under way for domperidone and drug withdrawal symptoms after stopping or reducing the dose of domperidone used to stimulate lactation," the statement said.
Domperidone is approved in Canada to treat gastrointestinal disorders. Health Canada has never authorized its use as a lactation aid, but it is widely prescribed off-label for this purpose.
The Health Canada review follows a CBC News investigation into severe psychological effects that can occur when some women stop taking the drug. Women who spoke to CBC described anxiety, lack of sleep and thoughts of self-harm severe enough that in some cases they became incapable of caring for their children or returning to work. One woman described multiple attempts to take her own life.
CBC's investigation also found domperidone is prescribed by some doctors to stimulate lactation at doses three to five times higher than what is recommended by both Health Canada and the drug manufacturer. Because this is not an approved use or dosage anywhere in the world, there are no large-scale clinical trials that shed any light on how often these side effects occur.
This makes it challenging for regulators like Health Canada to evaluate the safety of a drug for an off-label purpose, said Mina Tadrous, an assistant professor at the Leslie Dan Faculty of Pharmacy at the University of Toronto who specializes in drug safety.
"The company may not have intended it for that, so the original clinical trials were not designed for that. And so it means that they have to look at different mechanisms to be able to evaluate the safety of these drugs," he said.
That can include looking at data from other countries with larger populations, according to Tadrous.
Case studies document concerns
There are, however, case studies documenting the withdrawal effects, including three published in November 2022 in the peer-reviewed journal Breastfeeding Medicine. Domperidone blocks dopamine receptors in the brain, which stimulates the release of prolactin. This causes lactation, the authors note, but can also cause domperidone to act as an antipsychotic. The authors also noted withdrawal symptoms are typically less severe when women taper off the drug slowly.
The most recent case studies are from the United States, where domperidone is not approved by the Food and Drug Administration for any purpose. CBC's investigation found some American women get the drug from doctors in Canada.
Health Canada will review "all relevant domestic and foreign case reports," the statement said.
Reviews can result in Health Canada requesting more information, studies or monitoring by the manufacturer. They can also result in warnings to patients and health care providers, changes to how a drug is labelled or, if necessary, the withdrawal of a drug from the market "if the benefits no longer outweigh the risks of the product," according to the statement released by the department.
"The decision to take action, including issuing a warning, is not based solely on the number of case reports, but on a comprehensive assessment of the information contained in these case reports," Health Canada's statement said.
"Should new safety risks be confirmed, Health Canada will take appropriate action and continue to keep Canadians informed."
WATCH | Women report alarming withrawal effects after taking domperidone as a lactation aid:
WARNING: This story contains distressing details about suicidal thoughts and attempts. Correction: A previous version of this video included inaccurate Health Canada data about the number of domperidone prescriptions that were filled in 2020. That publicly available data has since been updated to show that 1.7 million prescriptions were filled that year.
The distinction between quantity and quality of reports is important, Tadrous said, because large numbers of reports, especially from non-clinicians, may only indicate people believe there's a connection between a drug and a reaction.
"That's the lesson we've learned with vaccines, for example, where these adverse event systems are flooded," he said.
"And so if you base something just on the number of reports without doing a thorough investigation and a different type of study design that reduces bias … you might reach a false conclusion."
Health Canada has conducted multiple safety reviews of domperidone, most recently in 2021. Previous reviews confirmed the risk of serious abnormal heart rhythms and sudden cardiac death related to domperidone use. These reviews resulted in Health Canada introducing a maximum daily dose recommendation of 30 mg and restricting its use in patients with certain cardiac conditions or taking other drugs.
The Holocaust strikes our very being
To be a Jew is not something special,
being a human being is normal.
Dealing with prejudice, hatred, and oppressive action,
now that's something special for the Jewish Nation.
Oppression, hatred, and genocide besides,
is not just a Jewish person's situation.
Armenian, Cambodian and Jewish Peoples deal,
with a national eradication event.
People of the world unit,
genocide is an international delight.
Oppress your people, crush opposition too.
The elites of the world are making exceptions for you.
Don't be weak, allowing excuses to be made,
but lift your hands in justice's cruel wave.
Hatred knows no reasonability, it knows no mercy.
Hatred, oppression, and prejudice need no exception.
Long ago Jews were murdered by the millions,
Cambodians died at the hands of their neighbors.
Palestine still walks within the borders of other nations,
and peace is nowhere to be found, my friend.
If your arms are in righteous ways demand justice for all,
for the people who hate will not see our peaceful ways.
A gun, a bayonet, and a saber be brought,
for the right to justice begins today,
and ends with blood if the opposition has any say.
Gandhi spoke of peaceful ways,
while Martin Luther Jr surrendered his life. to the cause.
Young blacks die each and every day,
while the power of prejudice wins the day.
My first lifts in anger that is for sure,
while the average person just shrugs this day.
But the goose-stepping troops may one day march on,
and the ignorance that prevails will let them carry on.
Open our eyes to the wrongs before us,
clear our minds and accept what bothers us.
Injustice is a prevailing horrid thing,
and ONLY YOU CAN BRING IT TO AN END.
Steven Kaszab
Bradford, Ontario
skaszab@yahoo.ca