Trudeau launches China election meddling probes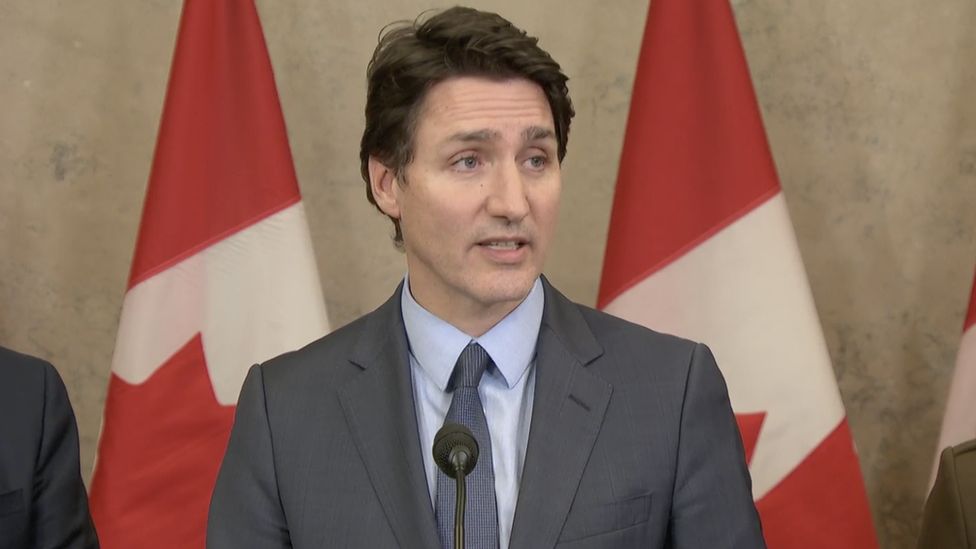 Canadian Prime Minister Justin Trudeau has said that an independent special rapporteur will probe alleged Chinese interference in their recent elections.
The appointed investigator will review classified reports about the 2019 and 2021 federal elections and will make recommendations for future contests.
Rival political party leaders have called for a public inquiry.
Speaking to reporters on Parliament Hill in Ottawa on Monday, Mr Trudeau said the reports challenging Canada's "sovereignty" are alarming, and "strike us to our very core as Canadians".
"I will be appointing an independent special rapporteur, who will have a wide mandate and make expert recommendations on combating interference and strengthening our democracy," Mr Trudeau said.
The rapporteur has not yet been chosen, he said, adding that the appointment will be made in the coming days.
Mr Trudeau also said he would ask members of parliament and senators in the National Security and Intelligence Committee of Parliamentarians (Nsicop) to begin a review of foreign interference and to report its findings to parliament.
He added that Canada has long been aware of meddling attempts by China, as well as Iran and Russia.
The countries, as well as several other non-state actors, "have attempted to interfere not only in our democracy, but our country in general".
"This is not a new problem," he said
A series of reports in the Globe and Mail newspaper and broadcaster Global News in recent weeks, based on leaks from Canadian intelligence sources, detailed alleged attempts by China's Communist Party to interfere in the last two federal elections.
Chinese officials have dismissed the reports as "purely baseless and defamatory" and as "hype".
Conservative politicians have said publicly they were aware of interference in 2021 race, and believe it had cost them several seats – though not enough to change the election result, which Mr Trudeau's Liberals won with a 41-seat lead.
A federal public report last week found that efforts to meddle in the 2021 federal election did not affect the results.
Federal opposition parties – the New Democrats and the Conservatives – have been pushing for an "independent and public" inquiry into the accounts.
In response to Mr Trudeau's announcement, the New Democrats criticised the Nsicop committee probe, arguing it was not an "acceptable substitute for a public inquiry".
"The way to stop foreign actors from acting in secret is to refuse to keep their secrets," said New Democrat MP Peter Julian.
The leader of the Conservatives, Pierre Poilievre, called Mr Trudeau's announcement a "cover up" by Liberals "to avoid accountability".
The rapporteur will have the authority to recommend a public inquiry, Mr Trudeau said in response to critics.
"We will abide by their recommendation," he said, calling the decision one of the official's first tasks after being appointed.
"I know there are people out there who don't believe this is enough," Mr Trudeau continued. "I get that. This is why we're entrusting further work to someone impartial."
Also on Monday, the federal Royal Canadian Mounted Police said they had opened an investigation into how information about the alleged meddling was leaked to Canadian news outlets.
A poll released last week by the Angus Reid Institute found that around 65% of Canadians say they believe that Beijing attempted to meddle in both recent federal elections.
Two-thirds of Canadians also said that the federal government should do more to combat election meddling.
Canada's carbon pricing is going up again. What it means for your wallet – Global News
Canadians in some provinces and territories will soon be paying a little bit more at the gas station as a federal carbon price is set to go up starting Saturday.
The fuel charge is rising by 30 per cent from $50 per tonne of emissions to $65 on April 1. This will translate to an increase of roughly three cents per litre for gas, reaching a total of 14 cents per litre.
The scheduled increase will apply in Ontario, Manitoba, Saskatchewan, Alberta, Yukon and Nunavut.
Meanwhile, the carbon price jump will go into effect in Newfoundland and Labrador, Nova Scotia, and Prince Edward Island on July 1.
Canada began pricing carbon pollution in 2019.
The move is part of Ottawa's commitment to tackle climate change with a goal to reach net-zero carbon emissions by 2050.
1:31
Canadians will see high oil and gas prices through 2023
While Canadians will see an increase at the pumps, the carbon price increase is not expected to have a huge impact on their gas expenses, said Hadrian Mertins-Kirkwood, a senior researcher with the Canadian Centre for Policy Alternatives.
"It's an incremental increase, but it's not actually going to be a huge change year-over-year that people will notice ," he told Global News.
For individuals, it could mean a $1 jump per tank depending on how big the vehicle is, Mertins-Kirkwood estimated. For businesses too, it's "not a major expense," he said.
Mertins-Kirkwood said things like oil market fluctuations and gas taxes have a much bigger impact on energy costs.
"Those swings are way bigger than the carbon price."
The carbon price increase comes amid some temporary relief for Canadians with lower gas prices reported in February after record-high costs last year. Gas prices in Canada surpassed $2 per litre for the first time ever last year.
On a monthly basis, Canadian drivers paid one per cent less for gas in February, Statistics Canada said in its latest report released on March 21. Overall, gas prices dropped by 4.7 per cent in February – which was the first yearly decline since Jan 2021, StatCan reported.
The agency said the year-over-year decline is partially attributed to the significant jump in prices seen in February 2022 amid Russia's invasion of Ukraine.
The Canadian national average for gas prices stood at 150.8 cents per litre on Friday morning, according to GasBuddy. The CAA's estimate for Friday was 149 cents per litre.
The carbon tax will not only raise gas prices, but could make its way into Canadian pocketbooks in other ways too.
2:18
Federal budget increases airport security fees
For instance, aviation gasoline in the four provinces is also going up by roughly 3.5 cents a litre to a total of almost 16 cents per litre, which could potentially mean higher airfares down the line.
However, the rates for aviation gasoline and aviation turbo fuel will remain unchanged in the territories due to the "high reliance" on air transportation, the federal government says.
Light fuel oil, which is used in household equipment, is increasing to 17 cents per litre – an increment of nearly four cents.
Carbon pricing can have also ripple effects on food prices, other grocery items and shipped goods experts say, as Canada's truck-based transportation industry will be spending more money to fill up the tank.
"It's possible it could have an impact on things like shipping, but it's a relatively minor impact," said Mertins-Kirkwood.
Will rebates make a difference?
Ottawa has claimed that eight out of 10 Canadian families will get more money back than they pay under the federal carbon pricing plan because of the Climate Action Incentive.
Canadians can claim CAI payments by filing annual federal taxes.
0:44
Prime Minister Trudeau urges Alberta to contribute to carbon-capture incentives
Mertins-Kirkwood said most households, except those earning a high income, are "better off" from the carbon pricing due to the government rebate which recycles revenue back to families.
However, the Parliamentary Budget Officer (PBO), an independent watchdog, said in a report last year that a bulk of Canadian households over the long term will see a "net loss" from the federal carbon pricing by 2030-31.
The PBO said that Albertans in the top income quintile would pay the largest net cost from the carbon tax, while the lowest-income quintile households in Saskatchewan stand to see the largest net gain via the rebate.
— With files from Global News' Craig Lord
&copy 2023 Global News, a division of Corus Entertainment Inc.
Two families found dead trying to enter US from Canada: Police – Al Jazeera English
Authorities have launched an investigation following the discovery of eight bodies in a marshy area of the St Lawrence River in Quebec near Canada's border with the United States.
The Akwesasne Mohawk Police Service said six bodies were found about 5pm (21:00 GMT) on Thursday in the marsh in Tsi Snaihne, Akwesasne. Two more were discovered on Friday.
At a news conference on Friday, deputy police chief Lee-Ann O'Brien said the dead belonged to two families — one of Romanian descent with Canadian passports, the other Indian. One child under the age of three was among the fatalities, she said.
"All are believed to have been attempting illegal entry into the US from Canada," O'Brien said at the press conference.
Later that day, the chief of the Akwesasne Mohawk Police Service, Shawn Dulude, said that one of the two additional bodies recovered was that of an infant from the Romanian family.
The deaths came one week after the United States and Canada announced the expansion of a border agreement granting them the authority to expel asylum seekers who cross the nations' shared border at unofficial points of entry.
O'Brien said the bodies were found near a capsized boat belonging to a missing man from the Akwesasne Mohawk community, which stretches along both sides of the St Lawrence River, with land in Ontario and Quebec on the Canadian side, and in New York state.
Authorities were awaiting the results of post-mortem and toxicology tests to determine the cause of death.
Marco Mendicino, Canada's minister of public safety, said the Canadian Coast Guard and the Quebec provincial police force were assisting Akwesasne police in their investigation.
[embedded content]
"The news coming out of Akwesasne is heartbreaking," the minister wrote on Twitter. "I've reached out to Grand Chief Abram Benedict to express our condolences. As we await more details, my thoughts are with the loved ones of those lost."
Canadian Prime Minister Justin Trudeau also expressed his condolences to the families. "This is a heartbreaking situation, particularly given the young child that was among them," he told reporters.
"We need to understand properly what happened, how this happened and do whatever we can to ensure that we're minimising the chances of it happening again."
Last month, the Akwesasne Mohawk Police Service and the Saint Regis Mohawk Tribal Police reported a recent increase in undocumented entries through their lands and waterways. The statement said some people required hospitalisation.
In January, the police force noted that people involved in human smuggling had attempted to use shorelines along the Saint Lawrence River in the area.
'Put human lives at risk'
Trudeau unveiled the expanded border deal, known as the Safe Third Country Agreement (STCA), last week during US President Joe Biden's first official visit to Canada since taking office.
Since 2004, the STCA has forced asylum seekers to make claims for protection in the first country they arrive in — either the US or Canada, but not both.
That has meant that people already in the US could not make an asylum claim at an official port of entry into Canada, or vice versa, and allowed border authorities to uniformly turn people back at official land crossings.
The expanded agreement unveiled on March 24 closed a loophole in the STCA that previously allowed asylum seekers who crossed into Canada at unofficial points along the border to have their protection claims assessed once they were on Canadian soil.
The White House said last week that the restrictions would now also be applied "to migrants who cross between the ports of entry".
Advocates slammed the move, saying applying the STCA to the entire 6,416km (3,987-mile) land border between the US and Canada would not prevent people from seeking to cross, but would only force them to take more dangerous routes.
The news coming out of Akwesasne is heartbreaking.

I've reached out to Grand Chief Abram Benedict to express our condolences.

As we await more details, my thoughts are with the loved ones of those lost.

— Marco Mendicino (@marcomendicino) March 31, 2023
Migrant justice advocates laid the blame for the most recent deaths on policymakers.
"The Safe Third Country Agreement (STCA) and other immigration laws are meant to deter migration from the global south by making border crossing deadly," Nazila Bettache, a member of the Caring for Social Justice Collective, said in a statement on Friday.
"Let's be clear, these deaths were predictable and predicted — and in that sense they are intentional."
Samira Jasmin, spokesperson for the Solidarity Across Borders advocacy group, added that "these immigration policies put human lives at risk! We cross borders for a better world and instead face death".
Local authorities disputed the idea that the closure played a role in the most recent deaths.
"Right now what I can tell you is this has nothing to do with that closure," O'Brien said. "These people were believed to be gaining entry into the US. It's completely opposite."
The STCA applies in both directions, however, and US Border Patrol processed 3,577 people who crossed into the US irregularly from Canada last year, CBS News recently reported, citing government data.
Earlier this year, a family of four from India — including two children — were found frozen to death in the central Canadian province of Manitoba near the border with the US.
Authorities said they had attempted to cross over the border by foot on January 19 during severe winter weather and died from exposure.
A Haitian asylum seeker who came to Quebec via a popular, informal border crossing known as Roxham Road was also found dead at the frontier in late 2022 after attempting to go back to the US to rejoin his family.
Terrible – and just days after the US/Canada deal.

Again and again, we see punitive + deterrence-based asylum policies have horrifying and tragic consequences.

Consequences borne by migrants fleeing persecution. Consequences that are getting harder to describe as unintentional. https://t.co/mouezQ6cRF

— Danilo Zak (@DaniloZak) March 31, 2023
Police recover 2 more bodies from St. Lawrence River near Ontario-Quebec border – CBC.ca
Eight people are dead after they tried on Thursday to cross the St. Lawrence River into the United States near Akwesasne — a community which straddles Quebec, Ontario and New York state — according to officials. One other person is still missing.
Police recovered two more bodies from the river Friday, after discovering six bodies and an overturned boat during a missing person search Thursday afternoon.
The bodies are those of six adults and two children: one under the age of three who had a Canadian passport, the other an infant who was also a Canadian citizen, according to Shawn Dulude, the police chief for the nearby Kanien'kehá:ka community of Akwesasne. Dulude spoke to reporters at a Friday news conference.
They were found in a marsh on the riverbank.
They are believed to have been an Indian family and a Romanian family who were attempting to cross into the U.S., according to police.
Casey Oakes, 30, an Akwesasne resident, remains missing, police said. Oakes was last seen on Wednesday around 9:30 p.m. ET boarding a small, light blue vessel, leaving Cornwall Island. He was dressed in black, wearing a black face mask and a black tuque.
WATCH | Dulude speaks about the victims:
Shawn Dulude, the chief of the Akwesasne Mohawk Police Service, says eight bodies have now been found after an overturned boat was spotted in the water on Thursday afternoon.
He was later reported missing, leading to the search efforts that found the bodies. Oakes is a person of interest in the case, said Dulude.
Police located Oakes's vessel near the bodies, Lee-Ann O'Brien, the deputy chief of police for the Akwesasne Mohawk police service, said on Friday morning. Akwesasne is about 120 kilometres west of Montreal.
The IDs of the victims have not yet been released, pending notification of their next of kin.
A storm brought high winds and sleet into the area on Wednesday night. "It was not a good time to be out on the water," O'Brien said.
"It could have been anything that caused this tragedy," he said. "It could have been a faulty boat, it could have been human error and that the investigation will determine."
Kevin Sturge Lazore, captain of the Akwasasne Fire Department's Station 3, sent 15 volunteer firefighters to search the river on Thursday after Oakes's family reported him missing. Another dozen or so volunteers from other stations in the community joined the effort.
The firefighters recovered the boat, its hull dented on the bottom as if it had hit ice or a rock, Lazore said.
WATCH | 80 illegal crossings this year:
Akwesasne Mohawk police Chief Shawn Dulude says they have intercepted 80 attempted illegal crossings into the U.S. through their territory since January.
He and O'Brien said the boat was small, and wouldn't have been able to safely carry seven or eight people.
"What that boat could handle and the amount of people in it, it doesn't make a pretty picture," Lazore said, standing by the fire department dock on the water.
Friday morning, the water was calm and mirror-like. "It can change in the blink of an eye," Lazore said, noting waves were more than a metre high Wednesday night.
"The river is always the major concern…. Our elders tell us, always be careful, especially in the spring, with the runoff, the current is stronger and the water is freezing."
Other attempted crossings
The volunteer firefighters were only searching for one person when they discovered the first six bodies.
"It's hitting them now," Lazore said, adding they had begun a debrief Thursday evening to process what they had seen, but were interrupted by a call for a structure fire.
Thursday wasn't the first time Lazore's team has been called on to search for missing people who have tried to cross the border.
He said they rescue people attempting to enter the U.S. or Canada over the river and its tributaries about three or four times a year.
"It gets hard. It wears the guys down."
Almost exactly a year ago, they rescued a group of six Indian nationals who had just made it into the United States on the river when the boat they were in hit a shallow bank and got stuck.
They were able to stand up in the boat and were rescued by the volunteers and Akwasasne Police Department — which received $6.5 million from the Quebec government last year to help it deal with the increased flow of human smuggling in the area.
"They were lucky. It could have been a lot worse," Lazore said.
WATCH | Police search waters near Akwesasne:
Police continued the search for two people missing on Friday after the bodies of six people were recovered from the St. Lawrence River near Akwesasne, on the Ontario, Quebec and New York borders.
The fire station is next to a recreation centre where community members gathered Friday afternoon. They sit across a road from the Tsi'Snaihne River.
A police helicopter circled above.
Next to the fire station, a group of men lit a sacred fire early that morning and kept it going throughout the day. Lazore said the fire was to honour the families and Oakes.
Smuggling on the rise
O'Brien, the deputy police chief, said the community has seen an uptick in human smuggling into the U.S. There have been 48 incidents so far this year, she said.
But the recent deaths had nothing to do with the closure of the Roxham Road illegal border crossing, she added.
"That closure was people seeking refuge, leaving the U.S. to Canada. These people were believed to be gaining entry into the U.S. It's completely the opposite."
Most of those who try to enter the U.S. through the area are Indian and Romanian families, she said, but she said she "had no idea" why that was the case.
Ryan Brissette, a public affairs officer with U.S. Customs and Border Patrol, says the agency had seen a "massive uptick in encounters and apprehensions" at the border.
The agency saw more than eight times as many people try to cross from Canada into the U.S. in 2022 compared to previous years, he said. Many of them — more than 64,000 — came through Quebec or Ontario into New York.
"Comparing this area in the past, this is a significant number," Brissette said.
"There's a lot of different reasons as to why this is happening, why folks are coming all of a sudden through the northern border. I think a lot of them think it's easier, an easy opportunity and they just don't know the danger that it poses, especially in the winter months."