Canadian dollar gains as investors favor commodity-linked currencies
The Canadian dollar strengthened against its U.S. counterpart on Thursday, adding to its gains the day before, as investors bet that commodity producing economies will take up the slack left by disruptions to Russia's exports.
The loonie rose 0.3% to 1.2760 per greenback, or 78.37 U.S. cents, after trading in a range of 1.2751 to 1.2841. On Tuesday, the currency touched its weakest intraday level in 2-1/2 months at 1.2901.
The only other G10 currencies to gain ground on Thursday were the Australian and New Zealand dollars. Canada, Australia and New Zealand are major producers of commodities.
"Many people see the commodity story as a key driver right now," said Marc Chandler, chief market strategist at Bannockburn Global Forex LLC.
"Going forward, countries are going to need to replace the huge supply that Russia and Ukraine and maybe even Belarus have."
Russia is one of the world's biggest energy producers, and both it and Ukraine are among the top exporters of grain.
Oil, a key export for Canada, settled 2.5% lower at $106.02 a barrel but other commodities, such as gold and copper gained ground.
Gains for the loonie came despite losses on Wall Street, as data showed U.S. inflation climbing to a four-decade high, all but assuring the U.S. Federal Reserve would hike key interest rates at the conclusion of next week's monetary policy meeting.
The Bank of Canada raised interest rates last week for the first time in three years. Canada's jobs report for February, due on Friday, can help guide expectations for further tightening next month.
Canadian government bond yields were higher across the curve, tracking the move in U.S. Treasuries. The 10-year touched its highest since Feb. 25 at 1.968% before dipping to 1.948%, up 4.5 basis points on the day.
(Reporting by Fergal Smith; editing by Jonathan Oatis)
Opinion: Waves of sanctions were supposed to crush the Russian economy, but it is still showing signs of resilience – The Globe and Mail
Near the start of the war, as the sanctions piled up, the Russian economy was thought to be doomed, possibly forcing President Vladimir Putin to sue for early peace. Almost three months later, there is no sign that a peace deal is about to be negotiated, nor is there much sign that the Russian economy is collapsing. The two may be related.
Yes, the Russian economy is hurting and no doubt in recession. But the economy is also showing annoying signs of resilience, in good part because oil and natural gas revenues are climbing even as Europe tries to wean itself off Mr. Putin's hydrocarbons as punishment for having launched an unprovoked war that is killing an alarming number of civilians and triggering war crimes investigations.
Last week, the International Energy Agency said that Russia's oil revenues are up 50 per cent this year even though some refiners are refusing to take Russian shipments. But other refiners are buying as much as they can – China and India are gobbling up the cargoes no longer wanted in Europe and North America. Moscow has been earning about US$20-billion this year – money that is used to fund the war – from the sale of crude and refined products.
At the same time, the sanctions, coupled with the proposed embargo on Russian oil exports to Europe, are putting the Europeans into a low-grade panic that is intensifying by the day as energy prices soar and across-the-board inflation takes off – always a popularity-shredding recipe for any ruling politician.
This week Italian Prime Minister Mario Draghi, calling for a ceasefire and the start of peace talks, indicated that the country's support for the war is waning. Italy was one of the European countries most dependent on Russian energy and one of the biggest exporters to Russia – until the war began. Recent polls say nearly half of Italians now oppose sending arms to Ukraine and a similar proportion say that Russia should be handed Crimea and the eastern parts of Ukraine it now occupies, if doing so is what it takes to end the war. The figure is double the level of those who think Ukraine should fight to reclaim the territories lost to the Russians.
Sanctions and embargoes are tricky, often hazardous, pursuits. The working idea is that those on the receiving end should suffer far more than those delivering them. In this case, the pain is shared by both sides, though Russia is suffering more. Still, as energy writer Irina Slav points out, Europe's assumption – that Russia needs to sell Europe its hydrocarbons more than Europe needs to buy them – may not hold true.
Take Hungary. The European Union is struggling to ban oil imports from Russia because Hungary is completely dependent on Russian oil; its economy would shut down without them, all the more so since most of its refineries are incapable of processing non-Russian oil. About two-thirds of Hungary's oil, and more than 80 per cent of its gas, come from Russia.
And because much of the rest of Europe is addicted to Russian hydrocarbons too, the sanctions are taking on a two-sided flavour. Finland revealed Friday that Gazprom, the Kremlin-controlled gas giant that holds a monopoly on Russian gas exports, will cease gas supplies to Finland on Saturday (since Russia supplies only 5 per cent of Finnish gas, the move won't hurt much but will act as a warning to the European heavyweight economies far more reliant on Russian gas, notably Germany and Italy).
The sanctions and embargo wars, like the war in Ukraine itself, are getting ugly, with no obvious winners or losers. The West is still waiting for the Russian economic implosion.
In March, shortly after war started, JPMorgan predicted a 35 per cent fall in second-quarter Russian GDP over the same period in 2021. Earlier this month, the Wall Street bank said the GDP hit would likely be less severe than it had forecast. They wrote that the data "do not point to an abrupt plunge in activity, at least for now."
One of the reasons for Russia's relative rude health is the country's oil and gas export revenues are not only intact – they're rising – even as the EU tries to curtail, and ultimately stop, imports of those fuels (the United States and Canada have already banned Russian oil and refined oil products).
Russia was making fortunes from oil and gas revenues even before the war started as global demand rose. Oil began to surge about this time last year as pandemic restrictions eased off and economies bounced back to life. Brent crude, the international benchmark, is up 73 per cent in a year; OPEC undershooting its oil production target is certainly adding to the upward price pressure, much to the irritation of the Americans. Mr. Putin is not complaining.
As Russia's hydrocarbon revenues rise, its current-account surplus, which includes trade and some financial flows, is hitting record levels. The Institute of International Finance recently estimated that Russia's surplus could hit US$250-billion this year, about double the figure recorded in 2021. Meanwhile the Russian ruble, which got slaughtered in the early days of the war, has rallied and is one of the top performing currencies in the world, in part due to capital controls and Moscow's insistence that Gazprom be paid in rubles, not dollars or euros.
To be sure, Russia is suffering. Various Russian and international forecasts predict Russian GDP will shrink by 10 per cent this year. Russia's central bank is hobbled by the sanctions on its foreign exchange reserves and Western companies are leaving in droves (though Russian companies are picking up some of those discarded assets at fire sale prices). But the country is not suffering enough to be motivated to end the war to save its economy. That may change, but probably not anytime soon.
Roadshow offering free activities while boosting local economy – My North Bay Now
If you're looking for a free outing that's good for all ages, the Great Northern Ontario Roadshow is in the city this weekend.
The event is taking place Saturday and Sunday from 10 am to 4 pm outside the North Bay Museum.
Ryan Land, Director of Education and Northern Programs with Science North, says the two-day event features demonstrations and activities with the Science North bluecoats, a staycation expo, and so much more.
"We'll have activities for, we like to say, kids of all ages 0-99, there will be food vendors and we have a big stage set up where we'll have local entertainment. It'll be MC'd by northern comedian Ron Kanutski, and we'll also have local musicians performing," he says.
Land says the roadshow, which is touring across 50 communities, will attract 70,000 visitors.
"It really is all about re-energizing the local economy and tourism, inviting out makers, growers and vendors to just supercharge the local economy a little bit as we all start to recover on the back end of the pandemic," he says.
The event will also highlight some of the private and public tourist attractions and natural wonders around the North.
Cargojet CEO says inflation, labour shortages suggest 'almost recessionary economy' – Financial Post
2022 'very different picture' for freight carrier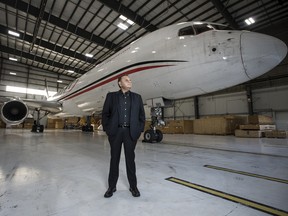 Article content
Cargojet Inc. chief executive Ajay Virmani said fuel prices and labour challenges suggest a recession is looming.
Article content
"All the challenges that you see out there [are] pointing towards almost a recessionary economy," he said in an interview with the Financial Post's Larysa Harapyn.
Virmani has a unique sightline on what's happening in the economy. Cargojet had a good crisis, as the Mississauga, Ont.-based airline tripled its loads as consumers started ordering goods for delivery that they typically would have purchased at a store. Year-over-year revenue growth increased by 46 per cent in the quarter ended March 31, rising to $233.6 million from $160.3 million in the first quarter of last year.
Despite beating earnings expectations, Virmani said that business has levelled off since 2021. "That was a bit of a different story," he said. "Today, it's a very different picture."
Article content
The once-fluid supply chain has faced numerous disruptions, including blockades, floods, and shortages. The chaos of the past couple of years has generated debate about whether supply chains will be shortened, as manufacturers and retailers seek suppliers closer to home to reduce the risk of being left with empty storerooms in the future.
Virmani said he isn't seeing that yet. But he is seeing firsthand the extreme labour shortages that have come with the recovery from the COVID recession.
"Our biggest challenge right now is making sure that we can have people on the ground," said Virmani. "Inflation is a big factor, especially when you have wage rates go up 20 to 30 per cent to find any decent people to work."
Canada's inflation rate hit a new 31-year high of 6.8 per cent in April from a year earlier. Wages have also jumped as firms try to retain staff in the country's tight job market.
Article content
"Everybody's increasing prices," said Virmani. Examples of recent price hikes in the airline industry include airport landing and parking fees, NAV Canada navigation charges, and jet fuel prices.
Passing on inflationary costs has been tricky for Cargojet because many of its customers have locked-in contracts.
"You're not able to pass on 100 per cent of those charges," said Virmani. "It's kind of hard to jam through every area of increase to your customers because there's no ability for them to pass [it] on either," said Virmani."
Cargojet has been branching out into the international market as part of its growth strategy in the post-pandemic world.
"I've always said that Cargojet needs to diversify," said Virmani. "We have the infrastructure in place, we have the resources in place, so basically we had to get some planes and people to fly them."
Article content
The airline used to be primarily domestic – 80 to 90 per cent of its business, Virmani said – when it launched in 2001. Its business has since evolved, and domestic orders now account for only 50 per cent of business, the CEO said.
"It's like McDonalds. They used to serve you lunch and dinner and they added breakfast to their menu," said Virmani. "We have added sort of our version of breakfast which is international to the menu."
Air Canada recently expanded its fleet with the acquisition of new freighter aircrafts. But Virmani said it has done little to change the playing field for Cargojet.
Article content
"International is a big market," he said. "We've got a business plan and we're going to execute it."
At home, Virmani said Cargojet is shielded from Air Canada and other competitors because few have been in the business for as long as he has. Cargojet has taken over 20 years to build its network in the Canadian market, and that has value, the CEO said.
"There's a cargo pedigree. There's a cargo system in place. Minutes matter and I don't think that anybody who wants to expand in that market field will have great luck," said Virmani. "You have got to spend a lot of money, or you have got to spend a lot of time on it – and we've done both."
• Email: novid@postmedia.com