Canadian version of iPhone 12 series doesn't feature mmWave 5G antenna on its side – MobileSyrup
Though it's been rumoured for several months, it's now clear that Apple's iPhone 12 series will only be able to use mmWave 5G in the United States.
Only U.S. version of the smartphone series, including the iPhone 12 mini, iPhone 12, iPhone 12 Pro and iPhone 12 Max, features a special mmWave antenna on its side. The Canadian iterations of the smartphone series lack this additional antenna. It's worth noting that the mmWave antenna can only be seen on iPhone 12 marketing images on Apple.com and not Apple.ca.
However, according to PCMag lead analyst Sascha Segan, who spoke to iPhone in Canada, Canadian iPhone 12 smartphones are capable of the n78 5G band (TD 3500), which will likely launch across the country at some point in the next few years.
The Canadian government's auction for the 3500MHz spectrum band is set for mid-2021 after being delayed roughly six months due to the ongoing COVID-19 pandemic.
What this means is that despite being positioned as offering a massive jump in network speed, it's unlikely that Apple's iPhone 12 series — just like every 5G smartphone currently available in Canada — will actually feature that significant a leap in data speeds.
To be clear, the current Sub-6GHz 5G networks currently offered by Rogers, Bell and Telus will still feature faster speeds, but only expect a 10 to 15 percent increase depending on where you're located.
That said, the iPhone 12 series won't be capable of the far faster, sometimes gigabit and faster mmWave 5G speeds available in limited areas of the United States.
I'll have more on the iPhone 12 series' 5G performance in my upcoming review of the smartphones.
Galaxy S21 Ultra: Samsung's upcoming flagship will allegedly come with two telephoto lenses, support for S Pen inputs, and more – Notebookcheck.net
The torrent of Galaxy S21 series leaks that we've seen in the past few weeks almost certainly confirm that Samsung plans on releasing it early (mid-January 2021, by some estimates) this time around. Several leakers have emphasized that the devices will come with a flat display, with the notable exception of the Galaxy S21 Ultra, which will feature a 'slightly' curved screen, if a new leak is to be believed.
Twitter leaker @not_koh suggests that the Galaxy S21 Ultra's display will be more or less identical to that of the Galaxy Note 20 Ultra with marginally better color accuracy and support for Dolby Vision. As foretold by several reports, the Galaxy S21 Ultra will be the first of its kind to support S Pen inputs. Whether or not it will ship with an S Pen out of the box remains to be seen. The screen might even be able to run at 1440p 120Hz, but that remains unconfirmed. Support for variable refresh rate operation is allegedly in the books, too. Another leaker weighs in stating that it will have a diagonal length of 6.8-inches. Both tipsters agree that the Galaxy S21 Ultra will cost around US$1,300.
Samsung appears to have taken a page or two from Huawei's playbook while designing the Galaxy S21 Ultra's cameras. The primary 108MP ISOCELL HM2 Bright sensor will be assisted by a 16MP ultra-wide-angle lens, a 10MP (2x optical zoom) telephoto lens, and a second 10MP (5x optical zoom) periscope telephoto lens. Unfortunately, we have to wait a bit longer for an under-display camera, as the Galaxy S21 will use the tried-and-tested hole-punch approach to house the 40MP selfie shooter. As is the case with new Samsung releases, the entire Galaxy S21 series will come with some new camera features such as the ability to capture 4K video at 60 FPS on all cameras, WDR support along with HDR, and more. The features will eventually make their way to older devices via the One UI 3.1 update.
Not much seems to have improved on the storage/memory front. The Galaxy S21 Ultra will come in three variants with 128GB, 256GB, and 512GB of storage coupled with 12/16GB of RAM. Much like its predecessor, the smartphone will come with a 5,000 mAh battery. The smartphone will come with a 25W charger out of the box and support fast charging up to 45W. Despite one report stating otherwise, Samsung doesn't plan on bringing back the headphone jack with the Galaxy S21 series.
Prima facie, the Galaxy S21 Ultra seems like a marginal upgrade over its antecedent. Most of the specifications are identical across the board, with minimal improvements in the camera and battery department. However, the phone's Exynos 2100 SoC promises to deliver a significant performance boost over last year's Exynos 990. The leaker rounds things off by saying that that the upcoming Galaxy Z Fold series is where the real upgrades will be at.
All hopes of Apple's AirPower charging mat are lost, yet again
If you haven't heard of the AirPower charging mat, it was a product that Apple announced in 2017 along with the drastically redesigned iPhone X which would let you wirelessly charge AirPods, an Apple Watch, and the iPhone, wherever you placed them on the mat. Apple eventually announced it was abandoning the project, reportedly due to complications with overlapping charger coils overheating.
Apple shows off the AirPower charger during its September 2017 keynote
Some time passed after the initial cancellation and new reports from reliable Apple leaker @JonProsser claimed that the AirPower charging mat had re-entered development and even managed to get the Apple Watch to charge (which was a reported issue within the first round of development.
All AirPower prototyping / testing has been removed from the schedule for 2021.

Sources doubt that it'll ever be picked back up again.

Seems like once again, AirPower is dead.

— Jon Prosser (@jon_prosser) October 26, 2020
On Monday, the same leaker refutes his own reports stating that Apple has once again cancelled the AirPower mat. According to Prosser's sources, they doubt that Apple will ever get the AirPower into development again. This would coincide with a shift in Apple's recently announced MagSafe, which has created a new ecosystem for iPhones and accessories. MagSafe seems to be a lower-risk alternative to AirPower for Apple and besides, other third-party OEMs have already invented a similar three-product wireless charging pad without the overlapping coils.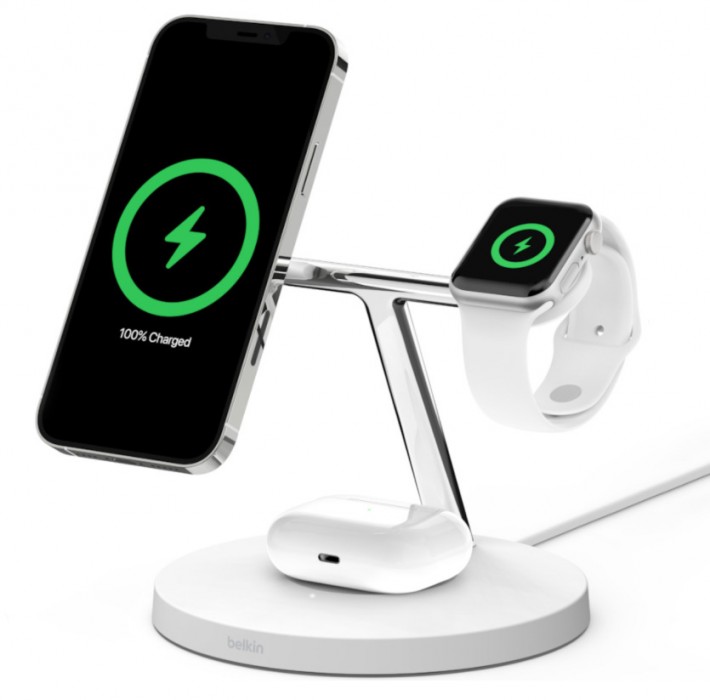 The spirit of the AirPower mat unofficially lives on with the new 3-in-1 Wireless Charger with MagSafe made by Belkin. It has the magnetic mounts for the iPhone 12's MagSafe with up to 15W wireless charging speeds and supports AirPods and an Apple Watch, all simultaneously. This Belkin charger retails for $150 in the US.
Via Twtiter
Source:- GSMArena.com news – GSMArena.com
iPhone 12 can act as 5GHz Wi-Fi hotspot, boon for 5G
Apple's iPhone 12 series sports an upgraded hotspot mode that supports 5GHz Wi-Fi connectivity, greatly expanding the handsets' utility amid a worldwide buildout of 5G cellular networks.
As noted by multiple reports on Twitter, including Zollotech's Aaron Zollo, iPhone 12 devices include the new Personal Hotspot ability that serves as an upgrade over previous iPhone models. Prior to iPhone 12, Apple's smartphone was able to connect to both 2.4GHz and 5GHz bands, but limited hotspot duties to the 2.4GHz band.
The capability is not spelled out in Apple's marketing materials, nor is the feature explained in iOS. Zollo, however, has confirmed a new "Maximize Compatibility" option manages switching between the two bands.
"Internet performance may be reduced for devices connected to your hotspot when turned on," according to the feature's description.
While the disclaimer is vague, Zollo says the setting moves Personal Hotspot to the 2.4GHz band to enable compatibility with a wider array of devices. Switching the option off presumably locks iPhone 12 handsets into a 5GHz Wi-Fi mode for faster data transmission.
The addition should prove beneficial to users in areas where 5G cellular connectivity is rolling out. Currently, most locations with 5G are limited to sub-6GHz bands with speeds comparable to existing 4G LTE networks. Some urban locales, however, are getting a taste speedy mmWave bands and will be able to take advantage of iPhone 12's faster hotspot.
Apple's iPhone 12, iPhone 12 mini, iPhone 12 Pro and iPhone 12 Pro Max support mmWave, but only in the U.S. To enable access to the protocol, domestic iPhones integrate a special mmWave antenna window that resides in a cutout below the side button.
Source:- AppleInsider