COVID-19: Canada expecting to receive 3.3M vaccine doses this week – BarrieToday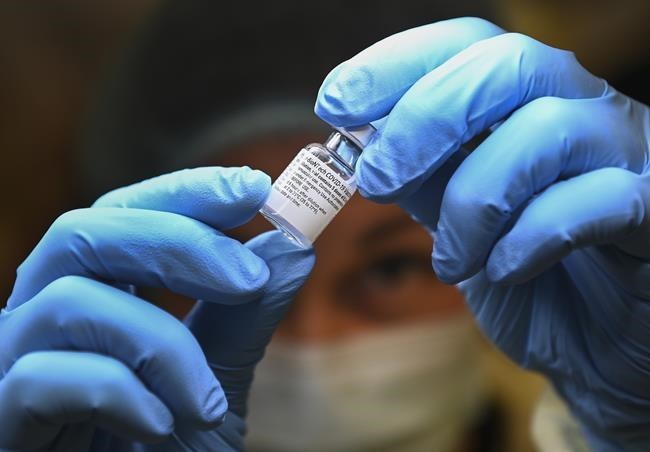 OTTAWA — Canada is scheduled to receive a flood of new COVID-19 vaccine doses this week, with around 3.3 million shots due for delivery from different pharmaceutical companies over the coming days.
The expected influx would mark the single-largest week of deliveries into Canada since the start of the pandemic, thanks to planned shipments from three different sources.
The Public Health Agency of Canada says Pfizer and BioNTech are scheduled to ship nearly 1.2 million doses this week, as the two companies continue pumping out shots at a rapid pace.
The federal government is also expecting around 1.5 million doses of the Oxford-AstraZeneca vaccine from the United States on Tuesday, which will arrive by truck and represent the first to come from south of the border.
Canada's vaccines to date have all come from Europe, with the exception of 500,000 AstraZeneca doses from India earlier this month.
The government also says Moderna will make good on its promised delivery of 600,000 shots this coming Thursday, which is about a week later than expected.
Moderna was supposed to have shipped around 846,000 shots to Canada last week, but only a fraction was actually delivered due to what the company and government have described as a backlog in its quality-assurance testing.
The anticipated flood of new vaccine doses comes as the federal government reported Canada having received more than six million doses as of last week, which was several days earlier than anticipated.
Of those, more than five million had been administered as of Sunday afternoon, according to covid19tracker.ca. More than 11 per cent of the population has now received at least one dose.
The vaccination campaign is continuing amid mounting concerns about a deadly third wave of the COVID-19 pandemic, as variants of the virus continue to spread through different parts of the country.
The federal government is also watching as the European Union and India look at restrictions on exporting vaccines produced within their borders.
"We are closely monitoring the global environment, including export restrictions in a number of jurisdictions," Public Procurement Minister Anita Anand said on Friday.
"Our officials across numerous departments as well as our suppliers are working ahead of time to ensure that Canada's vaccines continue to arrive in our country."
This report by The Canadian Press was first published March 29, 2021.
Lee Berthiaume, The Canadian Press
Exclusive-Canada's Ontario to expand use of AstraZeneca COVID vaccine as epidemic rages
By Allison Martell
TORONTO (Reuters) – The Canadian province of Ontario will begin offering AstraZeneca's COVID-19 vaccine on Tuesday to people turning 40 or older this year, according to a government source.
The change will broaden access to vaccines as a third wave of infections threatens to overwhelm hospitals in Canada's most-populous province, and should make it easier to use doses that in some cases have been accumulating at pharmacies.
The change will be announced on Monday and go into effect across the province on Tuesday, according to the source. The vaccine has already been distributed to pharmacies but currently can only be given to people turning 55 or older this year.
Ontario announced new public health measures on Friday, promising checkpoints at provincial borders, new police powers and closing outdoor amenities, while leaving many workplaces open. The measures were widely criticized by doctors and public health experts, and the province quickly reopened playgrounds and modified the new police powers.
On March 29, Health Canada said it would review reports of serious blood clots and bleeding in a small number of people who had received the AstraZeneca vaccine in other countries, and an independent panel called the National Advisory Council on Immunization (NACI) recommended that it only be given to people 55 and older. All provinces followed that advice.
But NACI's recommendations are not binding. Last week, Health Canada, the country's drug regulator, said it had reviewed all available evidence and would not restrict the use of the vaccine, because its benefits outweigh its potential risks. Health Canada said at the time that NACI was reviewing its recommendations.
On Sunday, NACI's chair told Reuters that the panel would make a new recommendation on Tuesday.
Health Canada said regulators in the UK had estimated the risk of clots to be very small, roughly four in a million people who receive the vaccine. It also said the complication was treatable. Two people have developed it in Canada, and both are recovering.
Several other countries have limited the use of the vaccine to older people. Denmark has withdrawn the shot, and Norway said on Thursday it would take more time to decide whether to resume use.
Ontario reported 4,250 new cases of COVID-19 on Sunday. The Ontario Hospital Association said 59 patients were admitted to intensive care on Saturday, bringing the number of COVID-19 patients in ICUs to 737.
Health Canada says those who receive the vaccine should seek medical attention immediately if they experience shortness of breath, chest pain, leg swelling, persistent belly pain, neurological symptoms like severe headaches or blurred vision, or skin bruising or tiny blood spots under the skin beyond the site of the injection.
(Reporting by Allison Martell; Editing by Diane Craft and Peter Cooney)
Trudeau mobilizes federal workers to battle COVID-19 in Toronto and rest of Ontario
OTTAWA (Reuters) – Canadian Prime Minister Justin Trudeau said on Sunday he would send federal healthcare workers to help Toronto and the province of Ontario battle a third wave of COVID-19 infections that has forced shutdowns of schools and businesses.
"We are mobilizing federal healthcare workers from across government departments to deploy on the front lines in Ontario and specifically the Greater Toronto area where the situation is most critical," Trudeau said in a video posted on Twitter.
Other provinces, especially on the Atlantic coast, are working "to determine what human resources and equipment they could free up over the coming days," Trudeau said, adding that the federal government would cover the costs of that help.
The government will also seek to boost rapid testing, especially for essential workers, Trudeau said.
The government of Ontario, Canada's most-populous province and industrial powerhouse, has moved schools online and announced more stringent public health measures on Friday, including shutting the provincial borders to non-essential travel.
On Saturday, federal Public Safety Minister Bill Blair deployed two mobile health units to set up more hospital beds in Toronto and Hamilton, Ontario, and the prime minister said he stood ready to send the Red Cross to staff mobile vaccination clinics in Ontario if help is requested.
Canada's seven-day average of new infections was 8,669, the chief medical officer said on Sunday, a 26% increase compared with the previous seven days. Ontario reported 4,250 new cases on Sunday.
Canada has been ramping up its vaccination campaign but still has a smaller percentage of its population inoculated than dozens of other countries, including the United States and Britain.
More than 48 million doses are to be delivered by the end of June, which is enough for all of Canada's population of some 38 million to receive at least one shot, with a total of 100 million doses expected by the end of September.
(Reporting by Steve Scherer; Editing by Peter Cooney)
Canada has second case of rare blood clots after AstraZeneca vaccin
(Reuters) – Canada on Saturday reported a second case of rare blood clots with low platelets after immunization with AstraZeneca's COVID-19 vaccine in a week, while it said it still recommended the use of the shot.
The person who experienced the very rare event has been treated and is recovering, Canada's health ministry said in a statement, adding that the person lives in the province of Alberta.
Based on the evidence available, Canada still maintains that the benefits of the AstraZeneca vaccine outweigh the potential risks, the statement said.
Canada health authorities "will continue to monitor the use of all COVID-19 vaccines closely and examine and assess any new safety concerns," the statement said.
Canada reported a first blood clotting associated with the vaccine on Tuesday, and a day later, after a review, health authorities said they would not restrict use of the AstraZeneca vaccine.
A separate advisory council had earlier recommended Canada stop offering the vaccine to people under 55. That panel is in the process of reviewing its advice.
Canada has been ramping up its vaccination campaign, but still has a smaller percentage of its population inoculated than dozens of other countries, including the United States and Britain.
Amid a spiking third wave of infections, Ontario, Canada's most populous province, announced new public health restrictions on Friday, including closing the provinces borders to domestic travelers.
(Reporting by Kanishka Singh in Bengaluru and Steve Scherer in Ottawa, writing by Steve Scherer; Editing by Cynthia Osterman)