Decade Deals: How other 10-year NFL contracts panned out – theScore
The Kansas City Chiefs are locking up Patrick Mahomes for the next decade, as the parties agreed Monday to a 10-year extension worth up to $503 million.
While such instances are rare, Mahomes isn't the first recipient of a contract spanning 10-plus years. Here's how the other decade-long deals panned out:
March 2001: Brett Favre gets 10 years, $100M from Packers
Favre didn't anticipate playing beyond 2006 but took a 10-year deal at 31 to help Green Bay massage the salary cap. Though his best days were behind him, Favre still led the NFL in passing touchdowns once and gave the Packers four Pro Bowl seasons after signing the deal. The club made the playoffs five times over the next seven years, and Favre broke the NFL career passing touchdowns record in a Packers uniform.
Favre didn't finish the contract in Green Bay, though, as he was traded to the New York Jets in 2008 after ending a brief retirement. The Jets released him in 2009 after he retired again, and he signed a fresh contract when he made a second comeback as a member of the Minnesota Vikings.
March 2001: Drew Bledsoe gets 10 years, $103M from Patriots
Bledsoe was already regarded as the greatest quarterback in Patriots history by the time he signed his deal. And at 29, it appeared he was signing up to spend the rest of his career in New England. But Bledsoe played only two more games for the Patriots, as an injury in Week 2 of the 2001 season spelled the beginning of the Tom Brady era.
Bledsoe helped the Patriots reach the Super Bowl that year after relieving an injured Brady in the AFC Championship Game and collected a ring as Brady's backup. Bill Belichick and Co. traded him to the Buffalo Bills that offseason with nine years left on his contract. While Bledsoe got off to a hot start with his new team, he fizzled the following season and was released after the 2004 campaign.
September 2002: Donovan McNabb gets 12 years, $115M from Eagles
McNabb owns the record for the longest contract in NFL history. At 26, he agreed to a 12-year pact with Philadelphia. The deal quickly paid dividends, as McNabb led the Eagles to a Super Bowl berth two years after signing. The Eagles were perennial contenders with McNabb, though they never hoisted the Lombardi Trophy or returned to the Big Game after the 2004 season.
Shockingly, the Eagles traded him to the Washington Redskins in 2010 with four years remaining on his contract. Though only 34, McNabb's game fell off quickly in Washington, which made the five-year extension he received midway through the 2010 campaign a head-scratcher. He was relegated to third-string duties late in the season and was traded to the Vikings in July 2011. McNabb spent less than one miserable season in Minnesota before he was released, and he retired soon after.
May 2003: Daunte Culpepper gets 10 years, $102M from Vikings
One of the most exciting young quarterbacks in football at the time, Culpepper was 26 when he inked his extension. He immediately rewarded the Vikings with two of his best seasons. In 2004, Culpepper established a new NFL record for total yards by a quarterback, racking up 5,123. He led the league in passing that year with over 4,700 yards.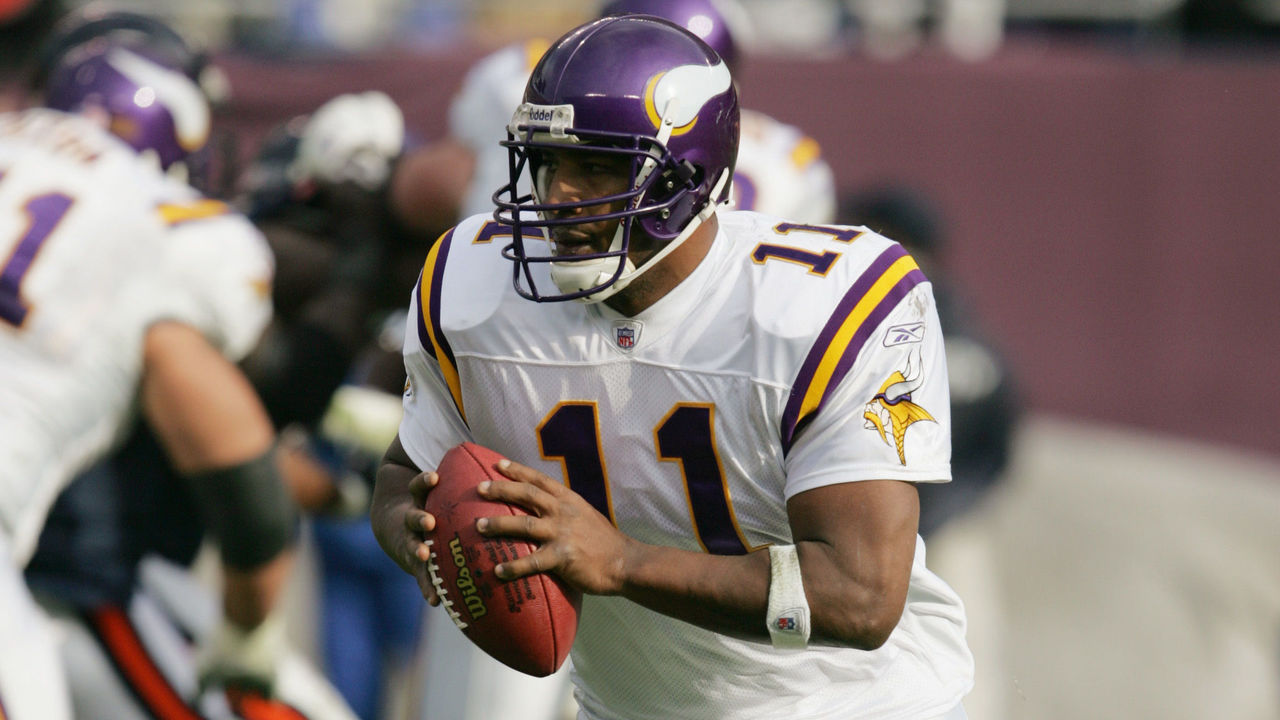 But he got off to a horrid start in 2005, and in late October, he tore his ACL, MCL, and PCL. The Vikings shipped him to the Miami Dolphins, who were more encouraged by his injury outlook than that of Drew Brees. Culpepper struggled with the Dolphins and was released after one year, with six seasons remaining on his contract. The three-time Pro Bowler had forgettable stints with the Oakland Raiders and Detroit Lions before exiting the NFL for good.
December 2004: Michael Vick gets 10 years, $130M from Falcons
Atlanta gave a 24-year-old Vick, perhaps the most electrifying quarterback the NFL had ever seen, the richest contract in league history. Vick steered the Falcons to the NFC divisional round that year and appeared to be ascending, but he plateaued. While he became the first quarterback to rush for 1,000 yards in a season in 2006, his lack of progress as a passer kept him from joining the top echelon of quarterbacks and the Falcons from becoming a Super Bowl threat.
Everything came crashing down in the summer of 2007, as Vick was arrested for his role in a dogfighting ring and spent most of the next two years in prison. The Falcons recovered nearly $20 million in arbitration, and the signal-caller signed with the Eagles upon returning to professional football.
Monday Habs Headlines: Can the Habs count on their third defence pairing? – Habs Eyes on the Prize
In today's links, is the third line pairing up to the challenge, praise for Suzuki and Kotkaniemi, Game 1 hits, and more.
Share this story
Jets F Scheifele's injury not believed to be long term; remains doubtful for Game 2 – TSN
Winnipeg Jets forward Mark Scheifele's injury is not believed to be long term, TSN's Sara Orlesky reports.
Scheifele remains doubtful for Monday's Game 2 against the Calgary Flames.
The 27-year-old appeared to suffer a left leg injury when he went awkwardly into the boards after getting tangled up with Calgary Flames forward Matthew Tkachuk in the first period of Saturday's Game 1.
Following the game, Jets head coach Paul Maurice called the hit an attempt to injure his player.
"It was intentional, it was a filthy, dirty kick to the back of the leg." Maurice told the media. "You can't see it on the program feed, but take the blueline feed and you zoom in, he went after the back of his leg. Could've cut his Achilles, could've ended the man's career. It's an absolutely filthy, disgusting hit."
When asked about his involvement in the play, Tkachuk denied that he had any intentions to hurt Scheifele.
"No, absolutely not," Tkachuk said after the game. "You know what, I'm back-checking on him and it's such an accident and I felt terrible."
Jets forward Patrik Laine is also doubtful for Monday's contest.
Maple Leafs left searching for identity after Game 1 loss to Blue Jackets – Sportsnet.ca
TORONTO – If we are billing the Toronto-Columbus elimination series as a tug-o-war between two distinct identities — and best believe we are — then the first 60 minutes was textbook Blue Jackets.
Even in diagraming his plan and readying a mindset to defeat the more talented offensive outfit, John Tortorella could not have drawn up a better Game 1 than the one that unfolded at Scotiabank Arena Sunday night.
Wearing their "above the puck" mantra like a second crest on their sweaters, the Blue Jackets gave up nary an odd-man rush, only committed a single minor penalty, and patiently waited around a scoreless seesaw until one costly Maple Leafs' mistake made enough of a difference.
The Tortaterrific result: 2-0 Blue Jackets and the first shutout victory in Columbus playoff history.
Livestream the Maple Leafs in the Stanley Cup Qualifiers, plus every game of the 2020 Stanley Cup Playoffs on Sportsnet NOW.
"They did what they do best," Leafs coach Sheldon Keefe had to admit post-loss. "You can't win when you don't score."
"That's the way we have to play," said Jackets forward Cam Atkinson. "A greasy, in-your-face defensive style."
To that end, Tortorella's first smart move was selecting the right starting goaltender.
In his first-ever post-season game after four seasons in the shadow of Sergei Bobrovsky, Joonas Korpisalo turned aside all 28 shots he faced. Most prominent was a 10-bell save on an Auston Matthews one-timer, a rare Leafs chance from the slot.
"The save on Matthews is probably one of the best of the night," Blue Jackets defenceman Seth Jones said. "He's done his time behind Bob for years now, and it's finally his chance."
Looks like Torts finally picked the right goalie #heritageclassic

— Eddie Lack (@eddielack) August 3, 2020
Tortorella's second wise choice was drilling discipline into his troops.
Well aware that Keefe's Leafs want to feast on the man-advantage, Columbus has elected to win the special-teams battle by avoiding it altogether.
Tortorella took note of the frequency of whistles Saturday in the bubble (the Rangers and Hurricanes combined for a silly 42 penalty minutes in their first outing, for example) and reinforced the need to stay out of the box.
"There's been a lot of penalties called in these games here. We've really put an emphasis on playing the right way — skating, keeping our sticks down and just checking the right way," Tortorella said.
"It's a dangerous power play we're playing against. We can't give them that many opportunities."
In the two minutes the Leafs did have 5-on-4, they registered just one shot.
The primary focus of Maple Leafs' camp was improving defensively, and that they did, particularly in the affair's conservative first half. But on Sunday the steady defence came at the cost of what got them into the post-season to begin with.
The highest-priced forward corps in the bubble couldn't weasel through the layers of frustration Columbus stacks up.
So, after a hemmed-in start, Keefe abandoned his fourth line almost immediately. (Deadline rental Kyle Clifford skated all of 3:21.) He ran out his most dangerous weapon, Matthews, more than Mike Babcock ever did in a regulation playoff game (24:38). And he flashed his All-Star Game line.
And yet? Nada.
It's difficult to win a track meet when the other guy won't even give you a second to tie your shoes.
"They play playoff hockey. This is playoff hockey," Zach Hyman said. "Not much out there. It's tight."
"We'll learn from this."
Each member of the Leafs' top-six forwards finished with a dash in the plus/minus column. Mitch Marner did not register a shot on net.
The new-look third unit, featuring teenage sniper Nick Robertson, was built to produce. Yet after Robertson's Grade-A chance on his first shift, they went quiet.
"That would be by far the hardest game he's ever played in, I imagine," Keefe said.
Credit Tortorella's game plan, and the Jackets' commitment to it, for drawing first blood in what could well be the series with the thinnest margins for error.
Knotted at 0-0 heading into the third period is where Columbus is comfortable.
This season the Jackets had 12 wins when tied after two. They celebrated 20 one-goal wins. Both marks are the most in the NHL.
Just give them a window.
Ask Frederik Andersen, who was fantastic all night but made one third-period gaffe. The goalie guessed high on an Atkinson wrister from the right wing that zipped far-side over his pad and under his blocker.
"I closed my eyes," Atkinson said. "I knew where I wanted to shoot. I wasn't really expecting it to go in, but obviously one of those I'll take."
After Alexander Wennberg thumped the empty net, Keefe stood by Andersen.
"As far as I'm concerned, he did his job. He kept them to one goal. We have to find a way to get him some help."
One day at training camp, we asked Keefe if he was ready for this chess match with Tortorella, and the former player assured he was.
Columbus has knocked over the first significant piece and taken a firm step towards planting its own identity all over this best-of-five.
"We can't lose sight of who we are as a team," Keefe had reminded in the lead-up. "We need to be really good offensively."
Tuesday, Game 2, would be a fine time to start.
Everyone thinking this Leafs-Jackets series will be a fun high scoring series has never met Torts.

He's looooooving this game!

— Eddie Lack (@eddielack) August 3, 2020