Drugmakers rush to test whether vaccines stop coronavirus variant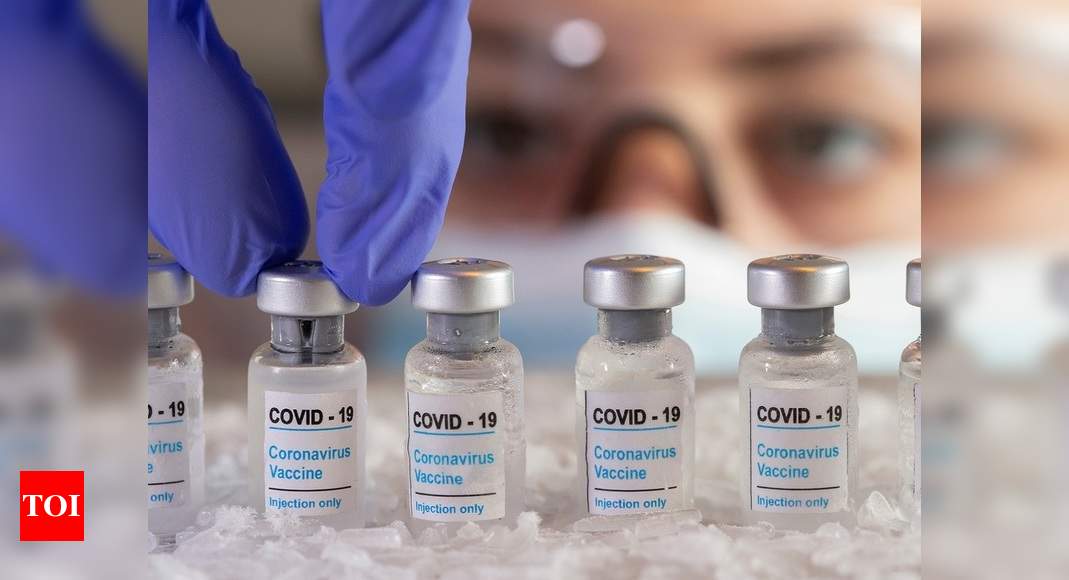 ZURICH/FRANKFURT: Drug makers including BioNTech and Moderna are scrambling to test their COVID-19 vaccines against the new fast-spreading variant of the virus that is raging in Britain, the latest challenge in the breakneck race to curb the pandemic.
Ugur Sahin, chief executive of Germany's BioNTech , which with partner Pfizer took less than a year to get a vaccine approved, said on Tuesday he needs another two weeks to know if his shot can stop the mutant variant of the virus.
Moderna expects immunity from its vaccine to protect against the variant and is performing more tests in coming weeks to confirm, the company said in a statement to CNN. Moderna did not immediately respond to Reuters' requests for comment.
The mutation known as the B.1.1.7 lineage may be up to 70% more infectious and more of a concern for children. It has sown chaos in Britain, prompting a wave of travel bans that are disrupting trade with Europe and threatening to further isolate the island country.
Sahin said there are nine mutations on the virus.
While he does not believe any are significant enough to skirt the protection afforded by BioNTech's mRNA vaccine, which was approved by the European Union on Monday, he said another 14 days or so of study and data collection are needed before offering a definitive answer.
"Scientifically it is highly likely that the immune response by this vaccine can also deal with this virus variant," he said on a call with reporters.
"The vaccine contains more than 1,270 amino acids, and only 9 of them are changed (in the mutant virus). That means that 99% of the protein is still the same."
Germany's CureVac said it does not expect the variant to affect the efficacy of its experimental shot, which is based on the same messenger RNA (mRNA) technology used by Pfizer-BioNTech.
It started late stage clinical trials on its vaccine candidate last week and is constantly reviewing variants, which the company said are common as viruses spread.
Even though there are multiple mutations, BioNTech's Sahin said, most of the sites on the virus that are recognised by the body's T-cell response are unchanged, and multiple antibody binding sites are also conserved.
MRNA ADVANTAGE
In the event that the variant presents vaccine developers with an unexpected challenge, an advantage of mRNA is that scientists can quickly re-engineer genetic material in the shot to match that of the mutated protein, whereas modifying traditional vaccines would require extra steps.
"In principle, the beauty of the mRNA technology is we can directly start to engineer a vaccine which completely mimics this new mutation," Sahin said.
"We could be able to provide a new vaccine technically within six weeks. Of course, this is not only a technical question. We have to deal with how regulators… would see that."
Britain's chief scientific adviser Patrick Vallance said on Saturday vaccines appeared to be adequate in generating an immune response to the variant of the coronavirus.
The World Health Organization (WHO) said on Tuesday it will convene a meeting of members to discuss strategies to counter the mutation.
Source: – Times of India
TD Bank CFO Ahmed to head securities unit, move seen as CEO succession play
TD Bank Group on Thursday named Chief Financial Officer Riaz Ahmed chief executive of its securities unit and head of wholesale banking, a move some investors interpreted as a sign he will succeed CEO Bharat Masrani.
For Ahmed, 58, the change marks a return to his TD roots. He began his career at the bank in 1996 as an investment banker in the securities division, following which he served as its CFO and chief administrative officer. He has been part of TD Bank's executive team for nine years, and CFO for over five.
"Cross-training in the capital markets role … increases the likelihood of (Ahmed) succeeding Masrani when he retires, but I doubt it would be soon, as that would create unnecessary turnover atop TD Securities," said Brian Madden, portfolio manager at Goodreid Investment Counsel.
"Maybe Masrani announces his retirement next year (or the following) and leaves early in 2023" or 2024.
Masrani's compensation arrangements anticipated his retirement in 2020, TD said in its 2019 shareholders meeting proxy circular. But he was granted stock options worth C$1.9 million ($1.5 million), vesting in five years, on the condition that he remain available to serve as CEO throughout that period.
Ahmed replaces Bob Dorrance, who will retire on Sept. 1 after about 16 years at the bank, Canada's second-biggest lender by market value said in a statement.
When asked about TD's succession plans, a spokesperson said: "Today we are celebrating Bob Dorrance's incredible career and accomplishments, and the appointment of top executives to critical, leadership roles."
At a time when diversity, particularly in executive and board ranks, has come under increased scrutiny, Ahmed's appointment as CEO would mean TD, the only one of Canada's six biggest lenders to have a non-Caucasian at its helm, would retain that aspect.
Ahmed's appointment comes after TD's wholesale banking unit recorded an 8% revenue decline in the second quarter from a year ago, contributing to the bank's overall underperformance versus some rivals.
Kelvin Tran, currently executive vice president for enterprise finance, will replace Ahmed as finance chief.
Dorrance, who has headed TD Securities since 2005, will stay on as chairman of TD Securities and serve as special adviser to Masrani.
TD shares were flat at C$87.12 on Thursday afternoon, compared with a 0.2% gain in the Toronto stock index. The shares are up 21% this year, versus a 15% gain in the benchmark.
($1 = 1.2303 Canadian dollars)
(Reporting by Nichola Saminather in Toronto; Additional reporting by Noor Zainab Hussain in BengaluruEditing by Nick Zieminski and Matthew Lewis)
AIB agrees to life and pensions joint-venture with Canada Life
Allied Irish Banks on Wednesday said it would form a joint venture with Canada life as it seeks to plug gaps in its life, savings and wealth products.
The joint venture will be equally owned by Canada Life, a subsidiary of Great-West Lifeco Inc.
"The move to create this joint venture is aligned with AIB's stated ambition to complete its customerproduct suite and diversify income," AIB said in a statement.
"Through this strategic initiative AIB intends to offer customers a range of life protection, pensions, savings and investment options enhanced by integrated digital solutions withcontinued access to our qualified financial advisors."
The Irish lender highlighted Canada Life's "deep experience" of the Irish bancassurance market through Irish Life Assurance, which is also a subsidiary of Great-West Lifeco.
AIB currently operates under a tied agency distribution agreement with Irish Life, and will enter into a new distribution agreement with the new joint venture company.
Chief Executive Colin Hunt highlighted the need to plug gaps in AIB's life, savings and wealth products when he set out the bank's medium-term targets last December.
AIB expects its equity investment in the joint venture will be around 90 million euros ($107.51 million), equating to around 10bps of CET1.($1 = 0.8372 euros)
(Reporting by Graham Fahy;Editing by Elaine Hardcastle)
Interac: Canada's Latest Payment Solution Phenomenon
Few can argue that digital payment methods aren't central to modern-day society. In recent times, increasing numbers of payment solutions have come to the forefront, offering consumers more choice regarding their transaction preferences. Canada, in particular, has embraced a wide-ranging selection of secure, forward-thinking options. Of those available throughout the country, Interac has piqued the interests of local consumers the most. So, let's look at why this payment solution is an especially popular option throughout Canada.
Usable Across Various Markets
It speaks volumes about Interac's versatility in that it's usable across a variety of different industries. Since being founded in 1984, the Canadian interbank network has become integral to numerous markets, including local air travel. Air Canada, which has been operating since 1937, has expanded their accepted payment methods, and now passengers can pay for their flights using Interac. According to the airline's official website, the Interac Online service lets consumers pay for their tickets via the internet directly from their bank account.
Not only that, but Interac is also available at Walmart. In November 2020, the two organizations partnered together to expand in-store and online payment options. Walmart has adapted well to the digital trend, with American Banker reporting that they've opened Interac Flash sale points throughout their stores.
Aside from the above, Interac has also taken the digital world by storm. Following its rapid rise to prominence, the solution has also altered the online casino industry, with platforms like Genesis Casino now accepting the transaction type. The provider, which features Interac Canadian casino options, uses the popular payment method to enhance transaction speeds of deposits and withdrawals, as well as security. Players can use Interac Online and Interac e-Transfer to make deposits or withdrawals from their desktops or mobiles as the platform is fully optimized.
A Reflection of Modern-Day Society
In recent times, Interac recorded a 55 percent increase in transactions between April and August 2020 compared to the same period the previous year, as per BNN Bloomberg. These figures somewhat reflect the current state of e-Commerce and modern consumerism. Following the rise of Interac and other payment methods, it's now less troublesome for consumers to complete in-store and online purchases.
There's an ever-growing perception that land-based businesses need to adapt within the digital era and accept forward-thinking payment methods. According to Cision, Interac is of utmost importance to the Canadian economy, and a year-on-year increase in Interac Debit payments of 333 percent reflects that. Not only that, but Interac e-Transfer payments are growing at 52 percent each year. This Interac-oriented trend appears unlikely to fade over the coming years, with the network being selected as the country's provider for a new real-time payment system, as per Lexology.
Consumer Habits are Changing
There can be no doubt that consumerism has changed drastically over the past decade. The popularity of Interac suggests that a cashless future may be on the horizon, with increasing numbers of shoppers enjoying the security of online payment methods. While it's currently unclear if that will happen, Interac appears to be prevalent for the long run.