Former NASA Engineer Builds Squirrel Ninja Warrior Obstacle Course And The Wipeout Replays Are Epic – Hot Hardware
There's no question that former NASA engineer Mark Rober a gift from the geek gods, and a person that no one should EVER cross. We've seen his science- and tech-filled hijinks against porch pirates on multiple occasions, and now he's going after another class of pirates – only these thieves aren't human.
We're talking about squirrels, of course, who are known for their aerial acrobatics, devious nature, and never-ending quest to ravage bird feeders for tasty seed. Although there are a number of bird feeders on the market that are "designed" to be squirrel-proof, nearly all of them are no match for a wily squirrel. Rober found this out the hard way after buying a number of these bird feeders from Amazon, only to watch the squirrels time and time again find a way to either break the devices or simply knock them off their perch to raid the bird seed goodness.
I think you know where this is going… Rober used his engineering skills to devise an obstacle course that makes it hard as heck for the squirrels to get to their golden ticket at the end – a delicious prize of bird seed and walnuts (a squirrel favorite). It's an epic combination of part American Ninja Warrior and part Wipeout.
There are a number of challenges including the "Bridge of Instability," which is a foot bridge that is only attached via one point at both ends. There are a number of other delightful obstacles like the pitchfork tumblers, and pressure sensors that either drop the squirrels to the ground or launch them into the air.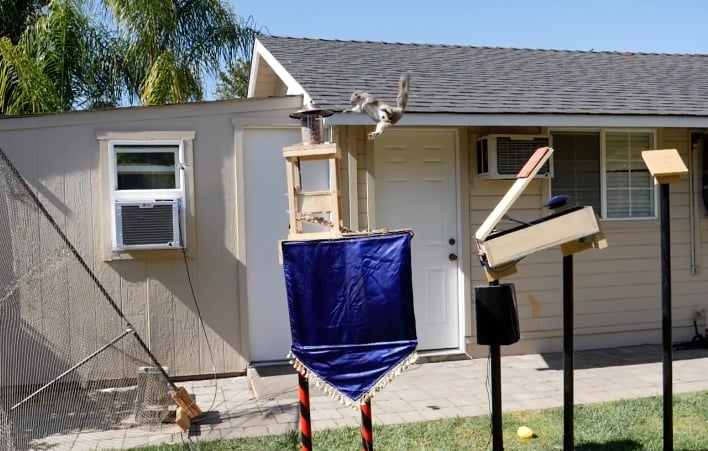 We're not going to give everything away, but we suggest that you watch the ENTIRE 21-minute video, because it's absolutely hilarious from start to finish (just like Rober's previous videos). And for those that make it all the way from the early bird feeder trials, to the explanation of the obstacle course, to the eventual squirrel "contestants" that show off their skills to bust that final nut, the payoff is tremendous.
With that being said, kudos to you, Mark Rober, you are a gentleman and a scholar. "Good Night, and Big Balls!"
Owner of Ford Mustang says angry neighbour filled his exhaust with foam
The owner of a Ford Mustang in Ohio recently woke up to an angry letter from his neighbour, complaining the exhaust on his vehicle was too loud.
But besides the note, the neighbour also left Aaron Robinson a nasty surprise: when he checked his Mustang's exhaust, he'd found it had been filled with expanding foam.
The note dares Robinson to call the police or install video cameras to try and catch the people responsible, claiming nothing will work and that the only solution is to fix his too-loud muffler.
Robinson himself made some threatening comments toward the perpetrator, but it's understandable why he's angry. His muffler has been destroyed and now he's been forced to fix it, and while the note demands he put the stock mufflers back on, it's likely the system was already stock.
Ford introduced a "Good Neighbor Mode" on the Mustang a short while ago, which allowed the driver to quiet their exhaust on start-up, then turn it back up once they were on the highway or outside of their cul-de-sac.
WE WANT TO KNOW ABOUT YOUR CAR-SHOPPING EXPERIENCE
It seems like Robinson might've neglected to choose or use that option, but that doesn't mean he deserves to have his vehicle ruined.
Hopefully Robinson installs security cameras and files a police report to catch the people responsible. According to his Facebook post, it seems like he has some good friends in the car community who would be more than happy to make a lot more noise in front of the angry neighbour's house.
Edited By Harry Miller
PlayStation Plus' June 2020 lineup includes Call of Duty: WWII, going free this week – MobileSyrup
PlayStation has revealed that Call of Duty: WWII will become free on PlayStation 4 for PlayStation Plus subscribers starting May 26th.
Interestingly, PlayStation says WWII counts as one of June's free PS Plus games, despite it launching in late May. PlayStation promises to share more details on the June PS Plus lineup "later this week."
Traditionally, PS Plus offers two free PlayStation 4 games per month, but given the unique release situation with WWII, it's currently unclear if PlayStation is planning something a little different for the service in June.
PS Plus members: Call of Duty: WWII is part of the monthly games lineup for June, and will be available for download starting May 26.

We'll share additional details of our monthly lineup later this week. Enjoy! pic.twitter.com/ECVwca1cXq

— PlayStation (@PlayStation) May 25, 2020
In the meantime, PS Plus subscribers will be able to download WWII from May 26th to July 6th.
When it released in 2017, WWII marked a return to the Call of Duty series' World War II-era roots. The campaign follows a squad in the U.S.' 1st Infantry Division in the European theatre during the events of Operation Overlord. WWII also features Call of Duty's signature competitive multiplayer and cooperative Zombies modes.
Image credit: Activision
New overdose prevention app available in Interior Health region – iNFOnews
May 25, 2020 – 2:30 PM
The Provincial Health Services Authority has launched a new app aimed at preventing those who use illicit drugs while by themselves from overdosing.
"The launch of this new resource couldn't have come at a better time," Minister of Mental Health and Addictions Judy Darcy said in a news release. "As we face down two public health emergencies – the overdose crisis and the COVID-19 pandemic – we must ensure that people who use drugs have the resources they need, when and where they need them."
"Knowing the majority of people who use drugs use alone in shelters, hotels or at home, in addition to the challenges of physical distancing, the Lifeguard App is a new and innovative approach that can directly link people to emergency responders if an overdose does occur," she said.
The app is activated by the user before they take their dose. After 50 seconds the app will sound an alarm. If the user doesn't hit a button to stop the alarm, indicating they are fine, the alarm grows louder. After 75 seconds a text-to-voice call will go straight to 9-1-1, alerting emergency medical dispatchers of a potential overdose, the ministry said.
Interior Health had the second-highest rate of overdoses deaths out of any health authority in the province in 2020, according to data collected from January to April.
The app is being launched in regional health authorities in a phased approach between now and early June and is available in the Interior Health region as of today, May 25.
READ MORE: Overdoses 'sadly normalized' in British Columbia: addictions minister
The Provincial Health Services Authority, B.C. Emergency Health Services, Vancouver Coastal Health, Overdose Emergency Response Centre and other regional health authorities have been working with Lifeguard Health for the (past two years) to test and pilot the app.
The Lifeguard App can be downloaded at both the App Store here and Google Play here.
---
To contact a reporter for this story, email Carli Berry or call 250-864-7494 or email the editor. You can also submit photos, videos or news tips to the newsroom and be entered to win a monthly prize draw.
We welcome your comments and opinions on our stories but play nice. We won't censor or delete comments unless they contain off-topic statements or links, unnecessary vulgarity, false facts, spam or obviously fake profiles. If you have any concerns about what you see in comments, email the editor in the link above.
News from © iNFOnews, 2020