Frenzy expected for Terry Fox 40th anniversary shoe release – CBC.ca
Remarkably, when the Terry Fox 40th anniversary commemorative sneakers go on sale Wednesday morning, Fred Fox will be like thousands of others, hovering over his computer, credit card in hand, trying to score a pair of the sweet blue kicks amid what is sure to be a full-on buying frenzy.
It's not that Terry's older brother doesn't have the connections to bypass the madding crowd. He is, after all, a spokesman for the Terry Fox Foundation, which is receiving 100 per cent of the net proceeds.
It's just that the Fox family has always insisted that every possible penny raised in Terry's name go to cancer research.
"It's just the way we've always done things. We we don't think we're any different or any more special than anybody else across the country," said Fox.
Before setting out on his Marathon of Hope in April of 1980, Terry Fox sent impassioned letters to shoe companies asking for support.
'Crawl every last mile'
"We need your help. The people in cancer clinics all over the world need people who believe in miracles," he wrote. "The running I can do, even if I have to crawl every last mile."
Fox was hardly a household name when he sent the letter, the opposite really. A freckle faced 21-year-old amputee from Port Coquitlam, B.C., cold calling businesses he hoped might help fund his cross country campaign for cancer research.
Adidas responded, sending 24 pairs of their blue Orion running shoes and launching a relationship that has lasted to this day.
The 40th anniversary replica shoe comes with a copy of Terry's letter, shoelaces emblazoned with his quotes, and "Terry Fox" tastefully printed in gold above one of the signature Adidas stripes.
The sportswear giant is also releasing a limited edition T-shirt. The campaign is expected to raise $1 million for the Terry Fox Foundation.
In 2005, when Adidas released the 25th anniversary shoe at Sport Chek, people lined up and cleaned out the stores in four hours.
'Probably crazy'
Fred Fox believes with online sales, the entire 40th anniversary run will be snapped up in minutes.
"I think it's going to be amazing and probably crazy.," he said.
Uniting a nation through the power of hope.<br><br>On May 20th, to celebrate the 40th anniversary of Terry Fox's Marathon of Hope, we will be releasing a commemorative collection dedicated to Terry and his remarkable journey.<br><br>Learn more at <a href="https://t.co/toTJTAORwb">https://t.co/toTJTAORwb</a>.<a href="https://twitter.com/hashtag/ThanksTerry?src=hash&amp;ref_src=twsrc%5Etfw">#ThanksTerry</a> <a href="https://t.co/eijvo4HrUN">pic.twitter.com/eijvo4HrUN</a>

&mdash;@adidasCA
"There's going to be a few disappointed people for sure and I'm going to be on there like everybody else trying to get myself a pair of shoes."
Terry Fox 40th anniversary sneakers retail for $130 and are available in men's sizes only. T-shirts go for $40. Online sales open at 7 a.m. PT Wednesday.
Terry Fox's Marathon of Hope began April 12, 1980, in St. John's, Newfoundland.
Three years earlier, his right leg had been amputated above the knee after the discovery of a malignant tumour.
Fox ran the equivalent of a marathon, 42 kilometres, every day for 143 days before discovering the cancer had spread to his lungs. The Marathon of Hope ended Sept. 1, 1980 in Thunder Bay.
Terry Fox died in Royal Columbian Hospital in New Westminster on June 28, 1981, one month shy of his 23rd birthday.
To date, over $750 million has been raised in his name for cancer research.
NHL Rumors: Canadiens, Maple Leafs, Red Wings, Sharks, Awards, More – The Hockey Writers
In today's NHL rumor rundown, the NHL has officially honored a few stars with awards, putting any debate to rest about where the play-in points might go. In Montreal, the Montreal Canadiens got good news and potentially bad news. The Toronto Maple Leafs are adding a prospect to their playoff roster, and the San Jose Sharks have questions they aren't quite ready to answer.
Montreal Gets One Player Back, Another Questionable

Montreal Canadiens GM Marc Bergevin revealed on Twitter today that forward Jonathan Drouin will be healthy and active for the team's playoff series. Drouin missed most of the season due to a variety of injuries, and if he's back and healthy, and anywhere close to the 2018-19 version of himself, this could be a huge boost for the Habs.
Unfortunately, the availability of forward Max Domi is in question. Bergevin spoke to media and noted that there are questions about whether or not Domi will play because he's a diabetic, and team doctors may determine it is unsafe for him to join the team during the pandemic. Medical testing has shown that diabetics are 25% more likely to require hospitalization and while Domi has had no prior issues with his Type 1 diabetes during his NHL career, the Canadiens don't want to take any unnecessary risks.
Bergevin also explained to Renaud Lavoie of TVA Sports this week that the team will not be issuing contract offers to prospects Allan McShane, Cole Fonstad and Samuel Houde.
Related: The Maple Leafs and the Legacy of the Muskoka Five
Red Wings to Keep Blashill
Detroit Red Wings GM, Steve Yzerman noted on a conference call with media that he is not planning on making a coaching change at this time. Helene St. James of the Detroit Free Press, explained that Blashill signed a two-year contract extension in 2019 that carries him through the 2020-21 season. While his 153-194-52 record isn't glowing, he's not being held responsible for the failures of the team.
She adds:
When he met with the media following the February trade deadline, Yzerman backed Blashill, saying it was unfair to judge him on the team's record because of various factors, most notably the number of injuries (Larkin and Bertuzzi were the only Wings not to miss a game this season).

source – 'Detroit Red Wings GM Steve Yzerman will keep Jeff Blashill as head coach' – Helene St. James – Detroit Free Press – 05/27/2020
Maple Leafs Will Add Robertson to Roster
Toronto Maple Leafs GM Kyle Dubas announced on social media that 2019 top pick Nick Robertson will join the team for their playoff run. Dubas had previously noted he expected Robertson to battle for a position on the team next season but the situation surrounding the NHL now has changed things.
Robertson, 18, recorded 86 points in 46 games for the OHL's Peterborough Petes and also starred for Team USA at the World Juniors. He may not play much with the Maple Leafs, but the thought is that he'll get an opportunity.
Related: Every Stanley Cup Winner Since 1960
Sharks Coaching Situation
Amalie Benjamin of NHL.com noted that San Jose Sharks GM Doug Wilson said on Tuesday that interim head coach Bob Boughner isn't guaranteed a job with the organization next season. Wilson notes, "We are still in the process."
He added:
"I've talked to all our players. I've been talking to Bob quite a bit lately, talking about just how we want to play and some adjustments, and some things that were learned through not only our team this year, but around the League, what works and what doesn't.

"So it's a process that's ongoing. Very difficult to come in and coach a team halfway through the year. You don't necessarily have all the ingredients in your staff that you want around you. … I think he came in and did a very good job."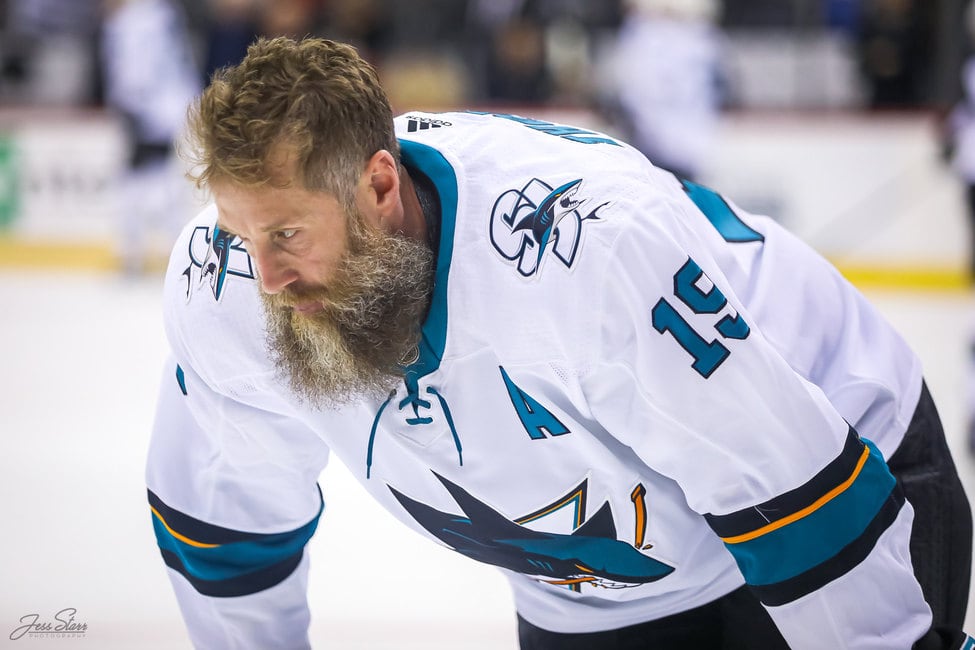 Wilson noted that he also talks to Joe Thornton almost daily and they are continually in communication about their future plans. It sounds like Thornton will be back with the team next season.
NHL Awards Handed Out
The league officially announced the winners of the Art Ross, Maurice "Rocket" Richard, William M. Jennings, and Presidents' Trophy today. Leon Draisaitl takes home the 2019-20 Art Ross, Alex Ovechkin and David Pastrnak will share the Rocket Richard Trophy, and Tuukka Rask and Jaroslav Halak take home the Jennings as the goaltending duo with the lowest goals-against-average.
Catch up on all the latest NHL Rumors
At least two CFL teams unsure about playing games in 2020: report – 3downnation.com
It appears that not all nine CFL teams are in agreement regarding the 2020 season.
Sportsnet's Arash Madani reported on Thursday afternoon that at least two privately-owned teams are unsure about playing a shortened season.
Per #CFL sources: There are at least two privately-owned franchises in the league unsure at the moment on whether or not they want to proceed with playing games at all this year. All three community-run teams are in favour of a shortened season. Story coming…

— Arash Madani (@ArashMadani) May 28, 2020
Playing games would allow the league to draw revenue from its television contract, but it remains unclear if fans will be able to attend games. Paying player salaries and travel expenses without gate revenue could lead to big losses for private owners, which could explain why some teams may prefer not to play a shortened season.
Madani also reported that all three community-owned teams — Edmonton, Saskatchewan, and Winnipeg — are in favour of playing a shortened season.
CFL chief financial officer and head of football operations Greg Dick believes a decision regarding the 2020 season must be made by August. Commissioner Randy Ambrosie hasn't specified a timeframe, though he told TSN 1290 that the "drop dead date" is his to decide. He has also stated that the earliest games could be played is September.
The league recently allowed teams to reopen their training facilities, though there are a number of restrictions in place regarding usage.
A statistical look at the Toronto Maple Leafs vs. Columbus Blue Jackets play-in series – TSN
The National Hockey League's Return to Play format is official, and assuming all goes to plan, we are about six weeks away from watching hockey once again.
The new format – in the event you live under a rock – will feature 24 teams in total, and will open up with a 16-team qualifying round. The opening best-of-five series offers new life to eight teams that were below the original playoff cutline, and should create waves of excitement for eager sports fans.
With such a significant layoff, there will be ample questions about preparedness for every team. But the good news is with 70 or so regular-season games logged, we do have a rather strong understanding of each team's strengths and weaknesses.
To shake off the rust here, I will preview each qualifying round series over the next few weeks. Today we will start in the Eastern Conference, with the eight seed Toronto Maple Leafs taking on the nine seed Columbus Blue Jackets.
Regular Season Performance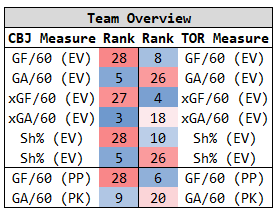 One of the things that I think makes a Toronto-Columbus matchup so intriguing is that the teams are polar opposites.
The Maple Leafs are a high-flying offensive team with loads of superstar talent up front, and carried one of the league's more prolific offences through the regular season. Toronto's 3.4 goals per game was actually third in the league, trailing only Tampa Bay (3.5) and Washington (3.4). Despite the wondrous offensive production, Toronto is still just an eighth seed – in large part because only five teams gave up more goals per game (3.2). Elite offensive team, shaky defensive team
The Blue Jackets live on the other end of the spectrum. Their 2.6 goals against per game was fourth best in the league – a surprisingly strong performance considering the exodus of talent from Columbus last summer. In many ways, it's a classic John Tortorella team: incredibly disciplined in the defensive zone, with five-man units that show very capable in pushing opposing forwards well into the perimeter.
It's also a classic Tortorella team because scoring was a problem all season long. 5-on-5 scoring and power-play production – which has been an area of concern for a few years now in Columbus – are ineffective, in large part because the team cannot create offence from the low slot: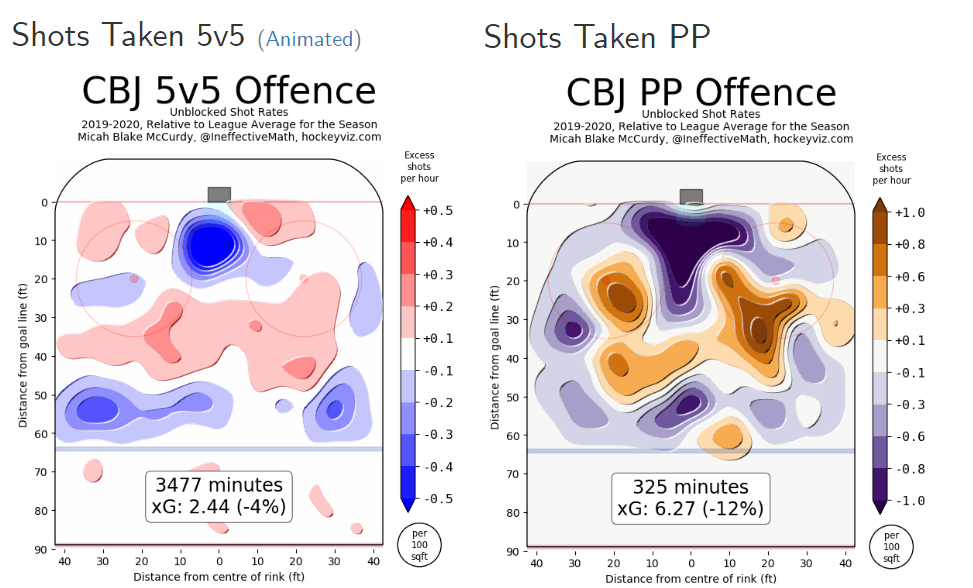 Skater Overview (Goals Above Replacement)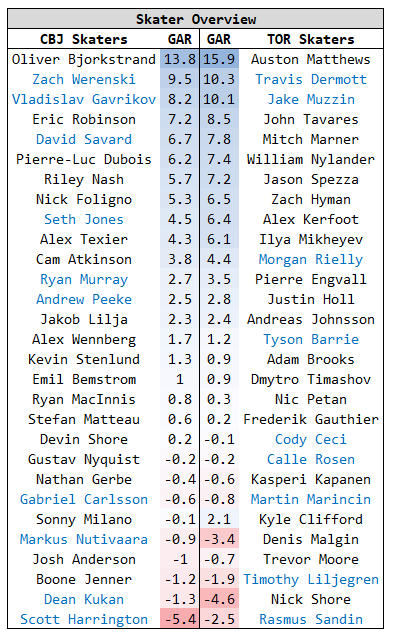 There is no doubt that Toronto's Auston Matthews is the best skater heading into this series. Matthews' fourth professional season was absolutely electric, with 47 goals and 33 assists in 70 games played. The season stoppage ultimately barred him from chasing down the Rocket Richard Trophy, finishing just one marker back of Boston's David Pastrnak and Washington's Alexander Ovechkin.
What differentiates Matthews from a number of other prolific scorers in Toronto is that the Maple Leafs showed a semblance of defensive competency with him on the ice. Toronto was a full goal better than its opponents for every 60 minutes of even-strength play with Matthews on the ice – a number that compares to the likes of Mark Stone and Evgeni Malkin.
Consider some of the other Leafs attackers, and you have a very different story. Mitchell Marner (+0.0 goals per 60 minutes), Kasperi Kapanen (-0.2 goals per 60 minutes), and John Tavares (-0.4 goals per-60 minutes) are just a handful of examples of productive offensive players who traded off those goals because of leaky defensive play behind them.
Matthews isn't the only player in the series to drive such an impressive on-ice goal differential, though. Oliver Bjorkstrand – the 25-year-old Columbus forward in the midst of his own breakout season – also finished a goal better than his opponents per 60 minutes, coming into his own with linemates Gustav Nyquist and Pierre-Luc Dubois.
But the story of Columbus ultimately centers on their blueline. The team's top pairing of Zach Werenski and Seth Jones has become one of the most formidable defensive duos in the league, and Toronto's top-six forwards are going to see an ample amount of both in this series.
The Jones/Werenski pairing is strong on both sides of the ice, and over the years it has led to some incredible goal rates. By season:
– 2016-17: +9 goals
– 2017-18: +16 goals
– 2018-19: -10 goals
– 2019-20: +14 goals
For Toronto to prevail in this series, neutralizing Columbus' best units – anchored by the Jones/Werenski pairing – will be critical.
Goaltender Overview (Goals Saved Above Average)

The questions about how porous the Maple Leafs defence has been this season has been quite tough to answer, if only because the goaltending has been comparatively abysmal. For every scoring chance where the blueline left a Toronto goalie out to dry, you had another lifeless shot from the point that somehow found its way in the back of the net.
Frederik Andersen did improve as the season progressed, and the acquisition of Jack Campbell from Los Angeles did prove to be a major upgrade over Michael Hutchinson. Andersen will be the guy in this series, but it's probably fair to say he doesn't have the longest leash of goalies in the qualifying round.
In Columbus, Tortorella had tough decisions to make in the post-Sergei Bobrovsky world. His tandem of Elvis Merzlikins (33 games) and Joonas Korpisalo (37 games) proved more than capable, and were one of the biggest reasons the Blue Jackets stayed in the hunt this season.
But in a short series, the value of a rotational goaltender system is diminished – Tortorella ultimately has to pick one. The games played edge would seemingly give it to Korpisalo, but on performance, Merzlikins was a definitively better goalie. I would be surprised if the Latvian isn't given the Game 1 start.
Prediction
If anyone is still counting out Columbus after last season's unbelievable sweep of the Tampa Bay Lightning, they are foolish. This is a strong, defensively disciplined team that's going to scratch and claw for every inch of the ice.
But this Toronto lineup just has too much firepower in the forward ranks, and there are serious concerns about where the scoring will come from on the Columbus side.
The pick is Toronto in five.
Data via Natural Stat Trick, HockeyViz, Evolving Hockey, NHL.com