Half-Life: Alyx Is Not Receiving the Mainstream Recognition It Deserves – The Escapist
Half-Life: Alyx, Valve's surprise VR return to the series that established the company, has picked up a number of "Best in VR" awards from major establishments. However, most critics have overlooked it for more mainstream recognition, like FPS of the Year or the all-important Game of the Year, and in many cases it's not even made the nominations.
To some extent this is understandable. The December 2020 Steam hardware survey shows that Steam users with VR headsets still account for less than 2% of the overall Steam user base. And while Alyx has been optimized to run well on a number of different headsets, it requires a powerful PC, so it's unclear how many of that 2% can actually run it. So why give mainstream recognition to a game that only an extreme minority of players can enjoy?
Let's start with the ideological reason. Half-Life: Alyx was supposed to be a "killer app" for a nascent platform, something that shifts VR headsets the way Halo shifted the original Xbox. And it did. Sales of VR headsets jumped dramatically following the surprise announcement of Alyx in November 2019. Even the Valve Index, with its $1000 price tag for the full system, sold out globally by January 2020, two months ahead of Alyx's release.
More than merely a sales pitch for VR headsets, Half-Life: Alyx was also supposed to be a transformative moment for the games industry. It was meant to demonstrate that it is possible to tell an engaging full-length story in VR with AAA fidelity, interactivity, polish, and minimal discomfort. And it managed all of this as well. Even at the lowest graphical settings, the scale, attention to detail, and interactivity are jaw-dropping and free of motion sickness for the full 15-hour campaign.
Valve has also released modding tools for Alyx, which is generating swathes of user-created content that is easily accessible through Steam Workshop, including some genuinely brilliant custom levels. This is a democratization of VR like we've not seen before, allowing users to tell their own VR stories with relative ease. Granted, it's a democratization for the 2%, but it's an important step forward in making VR content more accessible all the same.
However, none of this is worth very much if Half-Life: Alyx is recognized only for its qualities as a VR game. By failing to acknowledge that Alyx can go toe to toe with non-VR titles, the industry is undermining Alyx's potential. It's hindering the exact thing that it was hoping Alyx would achieve – the move of VR games from the VR space into the mainstream. Indeed, given the tiny install base for VR, it is much easier to dismiss Alyx as "just another VR game" than it is to dismiss something like The Last of Us Part II as "just another action adventure game."
Of course, ideological reasons can quickly turn to dogma. If Alyx is no good as a game, then what does it matter how nice it looks and feels, or how important it is for the industry? Why consider it for mainstream recognition if it's just a glorified tech demo?
Thankfully, Half-Life: Alyx is an excellent game in its own right. The story is heavily backloaded, but it's fascinating, with a provocative and possibly ingenious (I still haven't made up my mind.) take on existing Half-Life lore. And the game compensates for its slow start with brilliant world-building, art direction, characters, and more than a touch of Portal 2's humor.
Alyx does make obvious concessions to VR that, in terms of scope, put it closer to Half-Life 2: Episode 1 or Half-Life: Opposing Force than to other games in the series. The Gravity Gloves place the majority of Alyx's surroundings within comfortable reach, but they lack the punch of Gordon Freeman's Gravity Gun. Combat encounters are limited to a handful of enemies at a time and focused on cover. And the game revels in variants of join-the-dot puzzles more than the physics-based fare we got accustomed to in Half-Life 2. But none of this hurts it. With the headset on, the combat and exploration feel visceral without being overwhelming and carry Valve's trademark eye for balance and pacing.
That does mean Half-Life: Alyx almost certainly would not translate well to a flat screen, but that is precisely the point: It is a VR exclusive attempting to prove a concept to a mainstream audience. As such, in its design, writing, and gameplay, it deserves to compete with the rest of them. In its grander ambitions, it needs to compete with the rest of them. Without that, I am not sure we will ever see VR leave its niche.
OnePlus partners with Hasselblad to develop cutting edge camera tech – MobileSyrup
OnePlus is bringing Hasselblad's expertise into its camera development fold for the next three years to improve its mobile photography.
Starting with the OnePlus 9 series on March 23rd, OnePlus will reveal a revamped camera system that will hopefully put more eyes on its rather underrated camera system.
If you're unfamiliar with Hasselblad, the company makes high-end cameras and is notable for creating the first camera used on the moon.
On top of the Hasselblad partnership, OnePlus says it will invest around $150 million USD (roughly $190 million CAD) to ensure it's delivering the best camera experience possible to its customers. This includes two new imagine labs and other tech improvements that will be announced over the next few years.
OnePlus calls the OnePlus 9 Series camera system "vastly improved." It goes on to mention that the partnership started with colour tuning and sensor calibration and that it will extend to other parts of the camera in the future.
One of the interesting improvements that OnePlus is teasing for the OnePlus 9 series is a new 'T Lens' that removes edge distortion in ultrawide photos.
Further, OnePlus has revamped the Pro camera mode on its new devices to make them look more Hasselblad-like and to include 12-bit RAW image files.
The OnePlus 9 series uses a Sony IMX789 sensor that's touted as featuring great low-light performance, as well as 4K 120fps and 8K 30fps video recording.
I've been a fan of OnePlus' camera colour science over the last few years. Still, I had issues with consistency between lenses, so hopefully, by partnering with a camera company like Hasselblad, OnePlus can really hone its camera tech to be better.
B.C. woman's anxiety app featured in Apple's International Women's Day promotion – CTV News Vancouver
VANCOUVER —
This International Women's Day, a Vancouver Island woman is being recognized for a smartphone app she developed to help people who experience anxiety and panic attacks.
Ania Wysocka's app Rootd will be featured in Apple's App Store on International Women's Day as part of a celebration of app developers who are women.
The Victoria resident told CTV News Vancouver she developed the app, which has been downloaded more than 600,000 times, in response to her own struggles with anxiety.
Wysocka had her first panic attack during her fourth year as an undergraduate student at the University of British Columbia.
"I really had no idea what (panic attacks) were beforehand, and I was really caught off guard," Wysocka said. "I was far away from home, I had no family doctor, I was on a student loan budget, so I really relied on things I could find in textbooks and different resources online to figure out what was happening."
Years later, she would look back on the experience and think about how much better it could have gone if she had known what to expect.
"That's what inspired me to start Rootd," she said.
The app has everything from guided meditations to an actual panic button, and Wysocka said users tend to embrace the features that help them with their specific needs.
"People really use it differently depending on what they are experiencing," she said.
At the centre of all the app's features is Ron, a little monster who serves as Rootd's mascot. He's a visual representation of anxiety, but he's also friendly and supportive, Wysocka said.
"He was really a representation of how I felt at the time," she said. "Through learning cognitive behavioural therapy, you kind of realize that you have to befriend some of these emotions that are otherwise really overwhelming, and so Ron became the symbol for that."
Some of Rootd's users really relate to Ron, Wysocka said.
"They talk about him like he is a person," she said. "There's reviews that come in along the lines of, you know, 'Ron is the only one there for me,' 'I feel so alone, but then I have Ron and Ron gets me through the night.'"
Wysocka said she's happy that the app has been a success and that Apple has decided to feature it for International Women's Day.
That said, the stories of everyday people who use the app are more important to her than how many downloads it gets.
"(People) use Rootd to go back to school, they use Rootd to go back to work, they use Rootd to rebuild confidence that panic attacks and anxiety have taken away from them," Wysocka said.
The app is available in the App Store and on Google Play, and more information is available on the Rootd website.
With files from CTV News Vancouver's Nafeesa Karim
Japanese billionaire Yusaku Maezawa looks for volunteers for SpaceX flight around the moon – Time Bulletin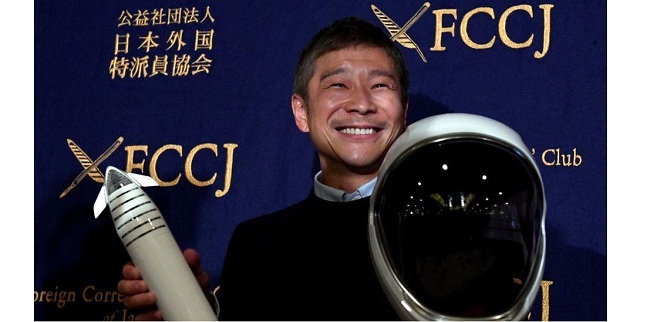 Eccentric Japanese billionaire Yusaku Maezawa is searching for eight civilian volunteers to take off to the Moon with him on the first-ever private commercial space trip.
The week-long journey, at first declared in 2018 and named "dearMoon" is set for 2023 onboard Elon Musk's SpaceX Starship and Super Heavy Rocket, once known as the SpaceX Big Falcon Rocket.
Albeit the next-generation Starship is as yet in testing, a few runs finishing off with fiery crashes, Musk has guaranteed it will be prepared to leave two years and has said he accepts the mission will "make a real difference."
It will require three days to get to the lunar planet. The Starship will loop behind it and afterward start its three-day journey back home, making it the farthest distance any human has at any point gone from Earth.
In a video posted on Tuesday, the Zozo originator clarified that the full traveler list will incorporate 10 to 12 group individuals. The 45-year-old will bankroll the expedition, however, how stays unclear.
Even though Maezawa had initially indicated that candidates be specialists, that arrangement has since "evolved."
"Every single person who is doing something creative could be called an artist…and that is why I wanted to reach out to a wider, more diverse audience," he said.
Presently, the Start Today Co. Chief has only two necessities: to have the option to push the envelope to help the "greater society" somehow or another and a have the willingness to help other team individuals who "share similar aspirations."
Each picked member will wear an especially custom-tailored SpaceX suit that is made to give a compressed climate to all individuals and route communications and cooling systems to the astronauts during regular flight.
Outstandingly, in January of a year ago, Maezawa additionally launched a weird campaign to locate a "female partner" who might go with him, accepting 27,722 applications from single women older than 20 years of age.
The selectee would co-star in a reality show about the interaction on Japanese streaming service AbemaTV.
Nonetheless, following analysis, he immediately canceled the search and issued an apology.
At this moment, pre-applications for the selection process are expected by March 14 at 6:59 p.m. PT and beginning screening will start a week later. The last interviews and medical checks are planned for late May.
Inspiration4, another civilian mission in support of St. Jude's Children's Research Hospital, means to take off in SpaceX's Dragon – which is now affirmed for human flight – when the year's end.