Here are the new features to check out on Apple's iOS 14 (PHOTOS) | Venture
While many waited for Apple to announce its newest iPhone during its event on Tuesday, it was clear the wait was going to be a little longer.
But for those looking to do more with their current iPhones, Apple did announce the release of iOS 14.
As of September 16, Apple's new iOS brings its users a new home screen, new Translate app, and new ways to text your group chats.
"Together with iPhone, iOS is central to how we navigate our lives and stay connected, and we are making it even more powerful and easier to use in iOS 14, with the biggest update ever to the Home Screen," said Craig Federighi, Apple's senior vice president of Software Engineering.
"We are thrilled to see the incredible ways developers are taking advantage of widgets and App Clips to create new experiences that we think customers are going to love."
So what's new on iOS 14? Here's a quick rundown of some of Apple's new features:
Home Screen
You can now customize your Home screen. According to Apple, with redesigned widgets in iOS 14, you can see more information at a glance and surface just the right information when you need it.
And at the end of the Home Screen pages is the App Library, a space that organizes all the user's apps into an easy-to-navigate view.
FaceTime and Messaging
Get ready for a new way to FaceTime, as Apple now enables users to be on other apps with its "picture to picture" feature. You can continue a call while watching a video, checking iMessages, or just reading the news. You will also be able to resize the photo by pinching on the video and dragging it.
And speaking of messages, you can now pin your favourite conversations in iMessage.
"With iOS 14, you can pin up to nine conversations that sync across iPad and Mac. And if a group conversation is pinned, you'll see up to three participants circle around the pin where there are unread messages," said Apple.
Not only that, you can direct message that one person in your group chat who doesn't reply. By using the @ symbol and typing their name, you will be able to mention that person specifically in the chat. You can now also customize your group chats to only receive notifications when you are mentioned.
Along with these features, you can also send an inline reply in a group chat.
An additional feature is Siri can now send audio message. So when you want to be more expressive in your messages, you can easily send audio messages with Siri, said Apple.
Apple Maps
Enjoy the remainder of summer and fall around town on your bike with cycling directions in Apple Maps.
The new iOS 14 directs cyclists along bike lanes, bike paths, and bike-friendly roads, where available.
The new Maps will also soon have a feature to let you know when you're approaching speed cameras and red-light cameras along your route and displays where individual cameras are located on the map.
Translate App
Through the new Translate app, users will now be able to easily translate voice and text between 11 languages. According to Apple, just tap the single microphone button to speak, and automatic language detection transcribes the original and translated text on opposite sides of the screen, followed by the translated audio.
Other new features
The new Wind Down shortcut allows users to relax before bed, by either turning on a Home scene, or using a meditation app.
You can get notified when the sound of a fire alarm or doorbell is detected with Sound Recognition.
And finally, you can assign tasks to people in Reminders. "With iOS 14, you can assign reminders to people you share lists with and they will be reminded. It's great for splitting up tasks and knowing who is responsible for what so nobody forgets," said Apple.
On Tuesday, Apple unveiled its latest products including Apple Watch Series 6, Apple Watch SE, the iPad Air, and the new Apple One subscription service.
Source: – Daily Hive
Apple Launches AirPods Pro Repair Program Over Sound Issues – iPhone in Canada
Apple has launched an 'AirPods Pro Service Program' on Friday afternoon, to address a problem with sound issues on its wireless earphones.
"Apple has determined that a small percentage of AirPods Pro may experience sound issues. Affected units were manufactured before October 2020," reads the company's support bulletin.
Apple says affected AirPods Pro may see one or more of the following behaviours:
Crackling or static sounds that increase in loud environments, with exercise or while talking on the phone
Active Noise Cancellation not working as expected, such as a loss of bass sound, or an increase in background sounds, such as street or airplane noise
"Your AirPods Pro will be examined prior to any service to verify that they are eligible for this program. AirPods Pro (left, right or both) with a confirmed issue will be replaced. The AirPods Pro case is not affected and will not be replaced," says Apple.
The program covers affected AirPods Pro for 2 years after the first retail sale of the unit.
Apple says it can fix this issue at no cost for customers, with the program also available at Apple Authorized Service Providers. Your AirPods Pro (left, right or both) will be fixed says Apple, free of charge. The program is available for Canada.
To start a repair, start a chat with Apple Support. You will need the serial number of your AirPods Pro (found via the Bluetooth menu on your iPhone or iPad when they are connected). If you are eligible, Apple will send you replacement AirPods Pro and you send back the old ones (the charging case stays with you).
Bose and Beats headphones get early Black Friday deals from $120 on Amazon – BGR
If you purchase an independently reviewed product or service through a link on
our website, we may receive an affiliate commission.
---
We're all anxious for Black Friday 2020 to arrive, but Amazon is apparently even more anxious than any of us because it decided to launch a slew of early Black Friday deals. We've already told you about a bunch of them, including all-time low prices on 36 different Amazon devices and bundles, Apple's AirPods Pro for Prime Day's price of $199, and Bose's best-selling soundbar ever for just $149 instead of $250. Now, there are two more early Black Friday deals we want to tell you about.
First and foremost, Bose QuietComfort 35 wireless noise cancelling headphones are on sale at an all-time low of just $199. These beloved ANC headphones normally sell for $350 and they're worth every penny at that price. The new Sony WH1000XM4 noise cancelling headphones are a steal while they're on sale for $278 at Amazon, but the $199 Bose QC35 deal is even better.
Bose QuietComfort 35 II Wireless Bluetooth Headphones, Noise-Cancelling, with Alexa voice contr… Price:$199.00
Available from Amazon, BGR may receive a commission Buy Now
If you want to spend even less cash and you don't need noise cancelling (seriously, is anyone flying anywhere anytime soon?), there's a terrific one-day deal on Beats Solo3 wireless headphones that slashes them to just $119.95. There are other Beats headphones deals available today at Amazon, but this is probably the hottest one.
Beats Solo3 Wireless On-Ear Headphones – Apple W1 Headphone Chip, Class 1 Bluetooth, 40 Hours O… List Price:$177.99 Price:$119.95 You Save:$58.04 (33%)
Available from Amazon, BGR may receive a commission Buy Now
Bose QuietComfort 35 wireless noise cancelling headphones – $199
---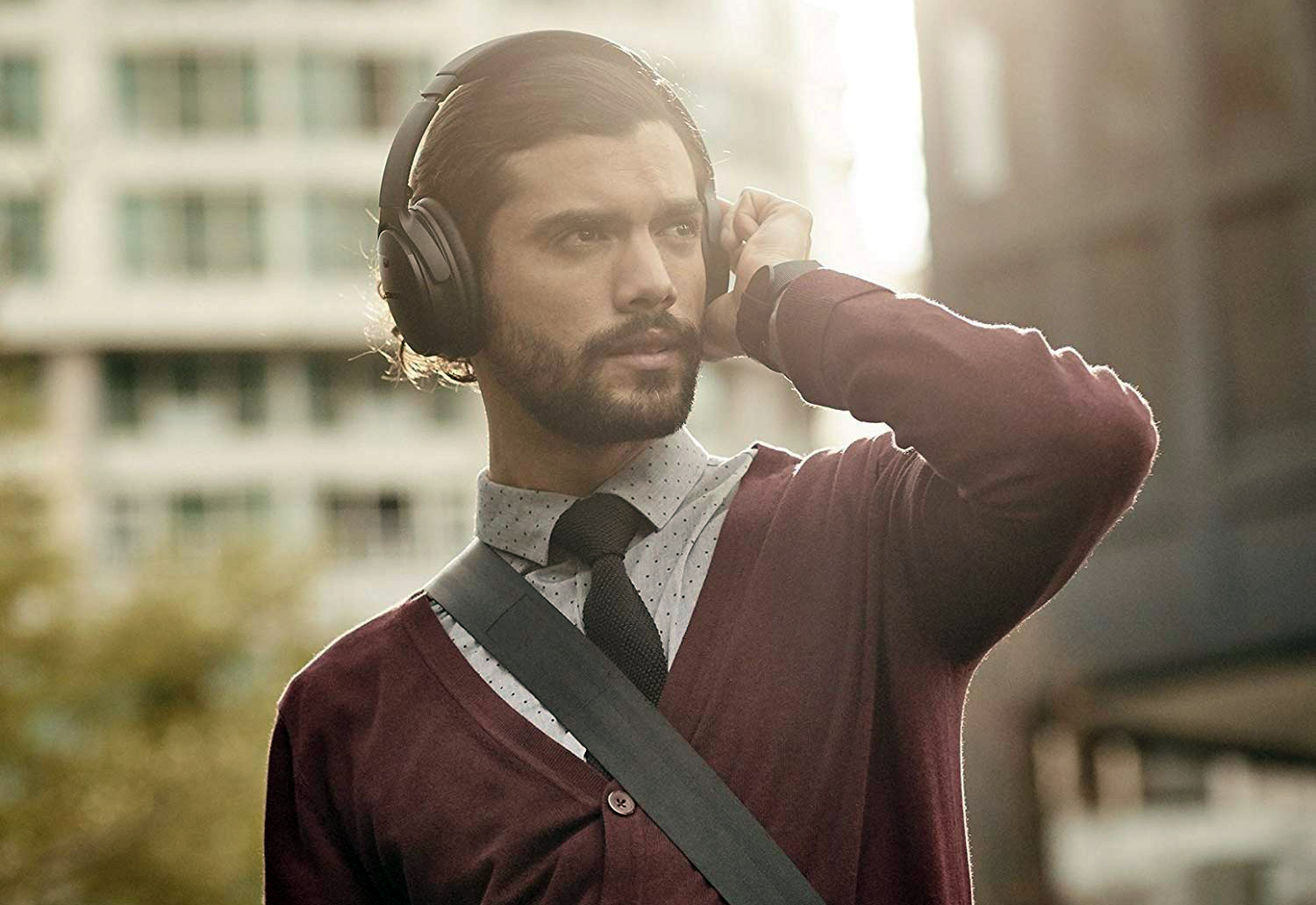 The noise-rejecting microphone system means you don't need to take your headphones off to make a phone call. The noise cancelling technology offers you up to three levels of quiet. You can even control this pair with your voice.
Three levels of world-class noise cancellation for better listening experience in any environment

Alexa-enabled for voice access to music, information, and more

Noise-rejecting dual-microphone system for clear sound and voice pick-up

Balanced Audio performance at any volume
Bose QuietComfort 35 II Wireless Bluetooth Headphones, Noise-Cancelling, with Alexa voice contr… Price:$199.00
Available from Amazon, BGR may receive a commission Buy Now
Beats Solo3 wireless headphones – $119.95
---
You won't have any problems connecting this with Bluetooth devices. You won't even have to charge these every day, as they offer up to 40 hours of battery life. Your phones will sync with this quickly.
High-performance wireless Bluetooth headphones in satin silver

Features the Apple W1 chip and Class 1 wireless Bluetooth connectivity

With up to 40 hours of battery life, Beats Solo3 wireless is your perfect everyday headphone

Compatible with iOS and Android devices
Beats Solo3 Wireless On-Ear Headphones – Apple W1 Headphone Chip, Class 1 Bluetooth, 40 Hours O… List Price:$177.99 Price:$119.95 You Save:$58.04 (33%)
Available from Amazon, BGR may receive a commission Buy Now
---
Follow @BGRDeals on Twitter to keep up with the latest and greatest deals we find around the web. Prices subject to change without notice and any coupons mentioned above may be available in limited supply.
Best Buy's three-day sale on OLED TVs, headphones, and more ends Saturday – The Verge
Saturday is your last chance to get in on Best Buy's multi-day sale, but don't worry if you miss out. Black Friday is a few weeks away, and this year, retailers are offering very good sale prices almost every day. Wherever those deals come from, we'll be putting them in deal posts for you to check out. What follows are the best deals that have made the rounds on The Verge earlier this week, as well as some new inclusions we think you'll enjoy.
Sony's WH-1000XM4 wireless noise-canceling headphones come recommended if you want a comfy over-ear model with excellent sound quality and long-lasting battery life. Normally $350, they're down to $278. This matches the lowest price yet.
There are some big discounts happening on LG and Vizio OLED TVs at Best Buy. Their design and feature set vary slightly, but with both you'll get great picture quality and rich contrast. They're still very expensive compared to LED TVs, but it's a good investment if you watch a lot of movies and play games. Both TVs have HDMI 2.1, so they can display compatible PS5 and Xbox Series X games at 4K resolution and up to a 120Hz refresh rate.
If having a bigger TV is more important than the kinds of features it has, Samsung's 70-inch 4K TV is just $530 at Best Buy through Saturday.
Amazon discounted most of its Echo and Fire TV devices earlier this week, and those deals are still going strong. You should definitely expect most of these to remain somewhat constant throughout the holiday shopping season. But if you want to shop early, here are the standout deals from its sale.