Here's When 'Halo Infinite' Is Getting Slayer, SWAT And FFA Playlists – Forbes
343 continues to move quickly to address player concerns about Halo Infinite's multiplayer mode. While nothing changed for the launch of the campaign this past week, this upcoming week, they're back to making some changes.
Halo Infinite will now be getting four new playlists, joining Quick Play and Big Team Battle. They are:
Slayer
FFA
Tactical Slayer (SWAT)
Fiesta
Originally, 343 said they weren't going to be able to get a dedicated Slayer playlist done in time for 2021, but that changed. Here's community manager ske7tch:
"As I noted last week, the team's original plans for a Slayer playlist included a variety of new variants that weren't going to be ready in time to deploy before the holiday break. To address player feedback for Slayer in the near term, we'll be releasing a basic Slayer offering to start and will look to bolster and expand with more variants in a future update."
What I'm not quite clear on is if Slayer has been taken out of Quick Play, and that's now a purely objective-based mode, but there's no word on that either way. Halo Infinite has already debuted Fiesta as part of its Fracture: Tenrai event, but now it's a permanent addition, along with SWAT and FFA, both classic Halo modes. A common complaint was that Halo was launching with far fewer modes than its predecessors, but again, in about a month, that's mostly being resolved. 343 is working fast.
These are not the only changes coming in the update this week. There are also further tweaks to the challenge system:
They're removing some of the most frustrating mode-specific challenges
Some challenges are getting their requirements reduced, including the weekly ultimate challenge
New challenges are coming for the new playlists
There's a new challenge category based on accumulating score, which is on the road to "performance-based XP," a common request.
All of that sounds good to me, and pretty much every change Halo Infinite has made since launch has been a good one. I maintain they could avoided a ton of these problems with a little more playtesting or more extensive alphas, but at least these fixes are coming in fast.
These additions and changes are coming on Tuesday, December 14 for weekly reset, so that's when you'll get to try everything out. Halo Infinite continues to evolve and change quickly, and that seems like it's going to be a common occurrence as 343 manages it going forward as the new Halo "platform" for this generation. Stay tuned.
Follow me on Twitter, YouTube, Facebook and Instagram. Subscribe to my free weekly content round-up newsletter, God Rolls.
Pick up my sci-fi novels the Herokiller series and The Earthborn Trilogy.
You can reserve a Galaxy S22 or Tab S8 now and get $50 store credit – GSMArena.com news – GSMArena.com
Today, Samsung confirmed that it will announce its Galaxy S22 series in February, but you can reserve a pre-order spot for a Galaxy S22 series phone or a Galaxy Tab S8 now.
You need to follow this link and give your details to reserve a spot in the pre-ordering queue for one of Samsung's upcoming devices. Samsung is giving those who reserve a unit $50 store credit towards a purchase of other Galaxy products during the pre-order period and you could get your Galaxy S22 or Tab S8 device delivered earlier than other people.
Samsung is also promising other exclusive offers once the Galaxy S22 and Tab S8 devices begin their pre-order phase.
Samsung will unveil three phones – the Galaxy S22, Galaxy S22+, and the Galaxy S22 Ultra, as well as the Galaxy Tab S8 series.
The Galaxy S22 Ultra, in particular, will be an interesting device – it will blend the Galaxy S Ultra series' camera and large battery with the Galaxy Note series' built-in S Pen and body aesthetic.
You can reserve a Galaxy S22 or Galaxy Tab S8 right here.
Vergecast: Microsoft to acquire Activision, Google building a headset, and the 5G battle with airlines – The Verge
Every Friday, The Verge publishes our flagship podcast, The Vergecast, where we discuss the week in tech news with the reporters and editors covering the biggest stories.
The biggest news in tech this week was Microsoft acquiring game publisher Activision Blizzard for $68.7 billion. On today's Vergecast, Verge editor-in-chief Nilay Patel talks with games reporter Ash Parrish and senior reporter Alex Heath about the acquisition, the issues behind the culture at Activision Blizzard, and what this means for the gaming space in the future.
The crew also discusses Alex's scoop this week that Google is building an AR headset, internally codenamed Project Iris, that it hopes to ship in 2024.
Later in the show, Verge policy editor Russell Brandom joins to discuss the ongoing battle between the FAA, AT&T, Verizon, and airlines over activating 5G towers around airports, as well as the tech antitrust bills developing in Congress this week.
You can listen to the show here or in your preferred podcast player for the full discussion.
Further reading:
Photos of Samsung Galaxy A53 5G's components confirm four rear cameras, one selfie – GSMArena.com news – GSMArena.com
The Samsung Galaxy A53 5G will reuse the bump design of the A52 trio for the quad camera on its back. This was seen in speculative renders from last year, but now we have real-world confirmation as well from spy photos of A53 5G's frame and rear panel that were shared by 91Mobilies.
The panel appears black, though this could be prior to painting. Either way, black is one of the rumored color options for this model, alongside white, light blue and orange. This same color palette will be used for other Ax3 phones as well, including the Galaxy A13 and A33 5G.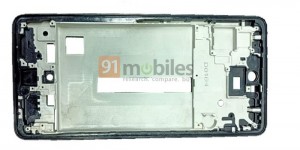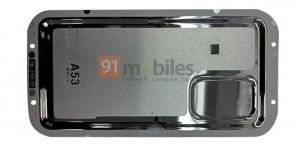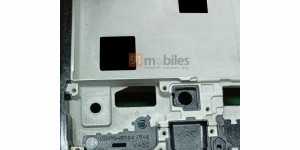 Samsung Galaxy A53 5G rear panel and mid-frame
As for the cameras, it will indeed have four modules, despite TENAA listing only three. The main camera is expected to have the same 64 MP resolution as the A52 models, but the ultra wide may be getting an upgrade to 32 MP (up from 12 MP).
We wouldn't put too much stock in the TENAA specs, though, they also listed two selfie cameras, and we haven't seen any evidence of that, not even in TENAA's own photos of the phone. And if you look at the photo of the phone's mid-frame, there is only one centered punch hole for a selfie camera.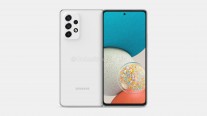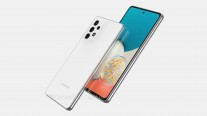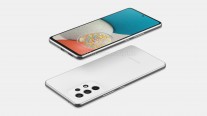 Samsung Galaxy A53 5G speculative renders (image credit)
The Samsung Galaxy A53 5G will use two different chipsets, one of which is expected to be the Exynos 1200. Note that there isn't going to be an A53 4G, the two different chips will both power 5G units. Other than that, they should share the same hardware.
The A53 is expected to be announced in the first quarter of this year, likely alongside other Ax3 models.