Insider Trading: All-Canadian division could be in jeopardy – TSN
TSN Hockey Insider Pierre LeBrun and TSN Senior Hockey Reporter Frank Seravalli join host Gino Reda to discuss the 2020-21 Canadian division possibly being in jeopardy, whether or not it will be mandatory for players to get vaccinated once available and an update on a pair of two key restricted free agents?
---
What's the latest on Canadian teams as the NHL looks to start its season?
We may have at least part of the answer as to why the NHL hasn't finalized its start to the 2020-21 season yet.
Seravalli: We've reached a delicate stage in the Return to Play process. The NHL and its seven Canadian clubs have been going back and forth with the provincial health authorities trying to nail down protocols that work for all of the stakeholders involved. And the provincial health authorities have not signed off yet. They've run into some difficulties. These protocols have been changing by the hour and daily. So, moving forward, the NHL's preference continues to be to open the season in all 31 buildings including all seven Canadian arenas. But what if that can't happen? Well, they'd have to resort to some other alternatives. One could be playing the season in a hub city, or the other less desirable option would be to move all seven Canadian clubs south of the border for the 2020-21 season. Now, the NHL remains optimistic at this point that they can sort all of this out, but we'll see where this goes because this is a significant development.
LeBrun: Frank, call me a cynic but it's probably not the worst thing as far as a tactic goes for the NHL to have this out in the public domain because, as you say, it is a possibility for the seven Canadian teams to play south if they can't figure this out with Canadian health authorities. But it also puts a little public pressure on the Canadian provincial governments as well, so let's see how the next 24 to 48 hours play out. In the meantime, if the worst does come to pass and the Canadian teams have to play south, it goes without saying, but I'll say it anyway, that a league source confirms the all-Canadian division would probably be no longer and that the NHL would have to look again at more realignment for the 31 teams. But again, let's hope that the seven Canadian teams are playing at home.
What about vaccination?
As vaccines slowly become available and expect to be in wide circulation at some point next year, players are going to have a decision to make on whether or not to get vaccinated.
Seravalli: They do, and the NHLPA has made sure that is their choice to make. That vaccines will not be mandatory. They can be recommended to players to take by the NHL and their teams but it's going to remain a choice for the players. This was a non-starter for the NHLPA in discussions, they realize how cautious players are with what's entering their bodies. Moving forward, it's going to be their choice whether they want to take it or not.
What about the remaining free agents?
After the usual busy first few days of the off-season, signings have fallen off a cliff. What's going on there, particularly concerning a couple players in need of extensions?
LeBrun: Well two key RFAs – Pierre-Luc Dubois in Columbus and Mathew Barzal with the Islanders – those two guys need new deals. And, on the one hand with Dubois, his agent Pat Brisson, who was on our podcast this week, said that talks suddenly over the last little while here started to pick up with the season looking like it was going to return. I spoke with Blue Jackets' general manager Jarmo Kekalainen on this day and he said it's a priority to get Dubois signed before training camp started and he was confident he would do so. And certainly, it seems like there are a lot of positive vibes in that negotiation. Meanwhile, Barzal and the Islanders, the agent is veteran J.P. Barry, they've had constant communication between the two sides throughout all this, they've talked short-term, medium-term, long-term deals. Again, getting a positive vibe out of that negotiation and we'll see where that goes.
Jets trading Laine, Roslovic to Blue Jackets for Dubois in blockbuster – Sportsnet.ca
Two teams with disgruntled superstars have completed one of the more significant blockbusters in recent NHL history.
On Saturday morning, the Winnipeg Jets traded star winger Patrik Laine and centre Jack Roslovic to the Columbus Blue Jackets for star centre Pierre-Luc Dubois and a third-round pick in 2022. Laine, Roslovic and Dubois had all requested a trade in recent months.
"Pierre-Luc has been an important part of our team the past four seasons, but this was the right time for both parties to move in a different direction," said Blue Jackets general manager Jarmo Kekalainen in a statement. "Strengthening our lineup offensively has been a priority for us and the additions of Patrik Laine and Jack Roslovic accomplish just that."
#NHLJets have acquired forward Pierre-Luc Dubois and a third-round pick in the 2022 #NHLDraft in exchange for forwards Patrik Laine and Jack Roslovic.
DETAILS https://t.co/nh9a2XK00Z pic.twitter.com/xQAYVAysWb

— Winnipeg Jets (@NHLJets) January 23, 2021
It's no exaggeration to say this trade will define these franchises for years to come. In Laine, the Blue Jackets get a perennial 40-goal scorer still coming into his prime while Dubois gives the Jets one of the best one-two punches down the middle behind Mark Scheifele.
The 22-year-old Dubois requested a trade shortly after signing a two-year, $10-million bridge contract just days before the season started and teams have been aggressive in their pursuit of him. Trade negotiations hit a fever pitch on Friday after Blue Jackets head coach John Tortorella benched Dubois in Thursday's overtime loss to the Tampa Bay Lightning.
According to Sportsnet's Elliotte Friedman, the Calgary Flames and Montreal Canadiens were some of the other teams who pitched trade offers to Blue Jackets GM Kekalainen.
In Dubois, the Jets get a six-foot-three centre with smooth hands and a nose for the net. Originally drafted third overall in 2016, Dubois has yet to hit his prime but still managed to score at least 48 points in each of his first three NHL seasons. His best season came in 2018-19, when he had 27 goals and 61 points.
Laine, also 22, had a long contract negotiation before the 2019-20 season and then found himself playing much of the season on the second line. Entering this season, the final year on his current contract, Laine's representatives floated the idea that a change of scenery might be mutually beneficial.
When a trade didn't come together during the off-season, Laine reported to the Jets and had a massive performance in the season opener, scoring twice – including the overtime winner – and adding an assist. Since breaking into the league in 2016-17, only eight players have more than Laine's 140 goals.
Laine and Dubois were the second and third picks, respectively, in the 2016 NHL Draft. The Jets will retain 26 per cent of Laine's contract to balance the money with Dubois's salary.
Roslovic, 23, was a restricted free agent who agreed to a two-year contract with the Blue Jackets on Saturday. A native of Columbus, Roslovic returns home seeking a bigger opportunity after not being able to crack the top-two lines in Winnipeg over the past two-and-a-half seasons.
Buffalo hopes rising as Bills turn back clock – The Globe and Mail
On Saturday morning, Terry and Kim Pegula will board the Bills' charter flight to Kansas City, he with lucky socks and her with cookies she baked for players and coaches. This has become a routine for the couple who own Buffalo's beloved football franchise.
Terry has worn the same argyle socks every game day since Nov. 29 and since then the Bills have won eight straight. Kim started baking on Sunday mornings to burn off nervous energy, posting pictures on social media. Since this is Buffalo, hundreds of others began to do the same, sending her photos of their own pregame Oreo truffles, Snickerdoodles and white chocolate blondies.
This is something you have to understand about Bills fans. There is almost nothing they won't do to celebrate their team, even leaping onto flaming folding tables after drinking too much beer.
The devotion is born from a few things. Buffalo exudes the closeness of a small town, and is also a place where sports teams have mostly failed. The Bills last won a league championship in 1965 when they were in the old American Football League. Does that count? The Sabres have been in the NHL a half-century but haven't won a Stanley Cup. Buffalo was also home to an NBA team that never won there or in the other two cities to which it has moved.
So it is understandable that the city and the NFL team's followers – they call themselves the Bills Mafia – are delirious. With a victory over Kansas City on Sunday night, they will be the nearest they have been to winning a Super Bowl since January, 1994, when they lost a fourth consecutive NFL championship game. Most infamously when the field-goal kicker missed what would have been the game-winner with eight seconds left.
The Pegulas, who also own the Sabres, two professional lacrosse teams and an American Hockey League franchise, have lived in Buffalo since 1993 and bought the Bills in October, 2014. Kim was installed as their president.
"When you own a team, there is no manual," she says cheerfully. "What we were taking on was completely unknown. We owned the Sabres, but with the NFL we were elevated to such a bigger stage."
The season had already begun, so for the first year she went to games and tried to learn the inner workings of the league. She has since taken a more active approach, even sitting in on the pre-draft interview the team conducted with its star quarterback, Josh Allen.
Ms. Pegula has spent the past two weeks making plans in the event the Bills reach the Super Bowl. It has heightened her anxiety. All she wants is for Sunday's game to be over, and for the city to be rocking afterward.
The Bills Mafia formed in 2011, when three friends started a fan club as a joke. There are legions of followers now, but since this is Buffalo, they are no ordinary fans.
When quarterback Josh Allen's grandmother died late last year, they raised $675,000 and donated it to a children's hospital in her name. A week ago, when Baltimore quarterback Lamar Jackson suffered a concussion during a loss to the Bills, one Mafia member started a movement to donate to a charity of Jackson's choice. Almost $500,000 has already been raised.
Dan Kanopski, the fellow who chipped in the first $25, says if he hadn't done it someone else would have. He lives in Niagara Falls, and lost his job last year as part of the fallout from COVID-19.
"For the last year, the shining light for me has been the Bills," Kanopski says.
Win or lose, Bills fans are irrepressible. Wolf Blitzer, the CNN anchor, grew up in Buffalo. On Jan. 6, the night of the elections in Georgia, he opened a segment with, "This just in. Go Bills!" Last week, he appeared on a Buffalo sports radio talk show and talked about the perils of being a fan.
"We have known some winning, but we have known a lot of losing, too," he said.
Dan Mitchell grew up Buffalo, but has lived in Myrtle Beach, S.C., the past 26 years. He recalls having his heart ripped out by the Bills when he was a kid. And later as an adult, too.
Last year after a few drinks he started a Bills fan podcast that now has more than 11,000 subscribers.
"No matter how hard the Bills are performing, my PTSD from them kicks in and I wonder when everything is going to go down the drain," he says. "This is the culmination of everything I wanted this team to be. It's a swan song of my fantasy."
Greg Tranter was eight years old when he went to his first Bills game on Oct. 24, 1965. As he and his father watched from Row 28 in Section 14 at War Memorial Stadium, Jack Kemp threw two touchdowns and Wray Carlton ran for two others in a 31-13 romp over the Denver Broncos.
The youngster went home with a bobblehead and a program that day, his romance with the team under way. He is 64 now and has been a Bills season-ticket holder since 1984, even though he's lived in Boston the past 35 years.
In that time he's missed three home games – one when his mother had cancer surgery, another when his wife had pneumonia, and the last for an important business meeting.
A former insurance executive, Tranter donated more than 100,000 Bills artifacts he had collected since childhood to the Buffalo History Museum, for which he serves as president of the board of managers. An appraiser estimated the items' combined value at more than US$1-million.
It includes the bobblehead and $4.50 ticket stub from that first game, the helmet that Scott Norwood wore when he missed the 47-yard field goal that would have won Super Bowl XXV, a box of Doug Flutie Flakes, a garden gnome, hand puppets, a snow blower and lapel pins shaped like footballs that Secret Service agents wore during the 1996 presidential campaign while protecting Kemp, the vice-presidential nominee to Robert Dole.
Tranter has programs from every Bills game played dating from their inaugural campaign in 1960 in the AFL and says he caused a ruckus watching from home this season as the Bills won 15 of 18 games.
"I am so excited, I am just blown away," he says.
Tranter has been to every Bills Super Bowl, and he and three friends have tickets to the game on Feb. 7 in Tampa.They bought them early, without knowing if the Bills will be there, just in case.
If the Bills lose on Sunday, Tranter says he will probably sell his ticket, which cost him upward of US$7,000. The matchup he dreams about is Buffalo against Tampa Bay.
"If we beat Tom Brady, it would make up for 20 years of misery," Tranter says.
How the NFL averted a quarterback crisis – theScore
The NFL has always been a quarterback-driven league. Yet five seasons ago, even as the league experienced an unprecedented boom in passing volume, it also faced the possibility of a quarterback crisis.
"As the 2015 NFL season begins," then-Wall Street Journal reporter Kevin Clark wrote, "the league's decision-makers say they are daunted by what they see as a widening gulf between the college game and the pro game, one that has existed for a while but is now starting to affect the quality of the league's most cherished commodity: Quarterbacks."
More than ever, quarterbacks in the 2010s were putting up big numbers, with Clark noting in 2015 that "the five most productive individual passing seasons in history have happened since 2011." But many QBs were increasingly relying on short, quick throws while taking advantage of rule changes designed to protect quarterbacks and pass-catchers, changes that, in turn, hindered defenses.
At the same time, a yawning talent gap developed. While several quarterbacks who entered the league before 2006 were still thriving into the late 2010s and even winning championships, the younger cohort was mostly bereft. Chase Stuart of Football Perspective ran the numbers in 2020, going so far as to dub the group of QBs who turned pro from 2006-15 "the missing generation." It was a period that featured a staggering number of first-round busts, and the best quarterback of that draft era – the Seattle Seahawks' Russell Wilson – had slipped all the way to the third round.
Fast forward to 2021. Remarkably, oldsters like Drew Brees, Philip Rivers, and Ben Roethlisberger all led their teams to the playoffs once again, though Rivers just retired while Brees and Roethlisberger have noticeably declined. Tom Brady of the Tampa Bay Buccaneers (drafted in 2000) and Aaron Rodgers of the Green Bay Packers (2005) are still here, though, and they're set to meet Sunday in the NFC Championship Game.
But the AFC title matchup between the Buffalo Bills and Kansas City Chiefs features Josh Allen (2018) and Patrick Mahomes (2017), providing a stark reminder that the NFL is now stocked with a solid core of young quarterbacks. The QB crisis has been averted, and the future of the position is in good hands, in large part because coaches and front offices have adapted.
For far too long, NFL decision-makers were wedded to the idea that quarterbacks had to primarily operate from the pocket or play in a "pro-style" offense instead of the spread systems that were proliferating at the lower levels. There were occasional exceptions over the years, with certain mad scientists allowing dual threats like Fran Tarkenton, Randall Cunningham, Kordell Stewart, Robert Griffin III, and Colin Kaepernick to play a more wide-open game. But these experiments were often quickly abandoned or dismissed as finesse or gimmickry. The stubborn thinking at the pro level was that football had to be about brawn and power.
"According to coaches, general managers, and players I spoke to over the course of training camp, teams spend too much time on what the offense looks like and far too little on how the quarterback is processing it," Clark wrote for The Ringer in a 2017 piece about the NFL's collectively declining ability to evaluate QBs.
More than any other coach, the Chiefs' Andy Reid changed this kind of thinking. It was Reid who figured out how to make do with the sort of offensive player the game's lower levels were producing, as opposed to trying to pigeonhole those players into "pro-style" systems. If college QBs are playing the spread, Reid's thinking went, why shouldn't we incorporate the spread into what we do?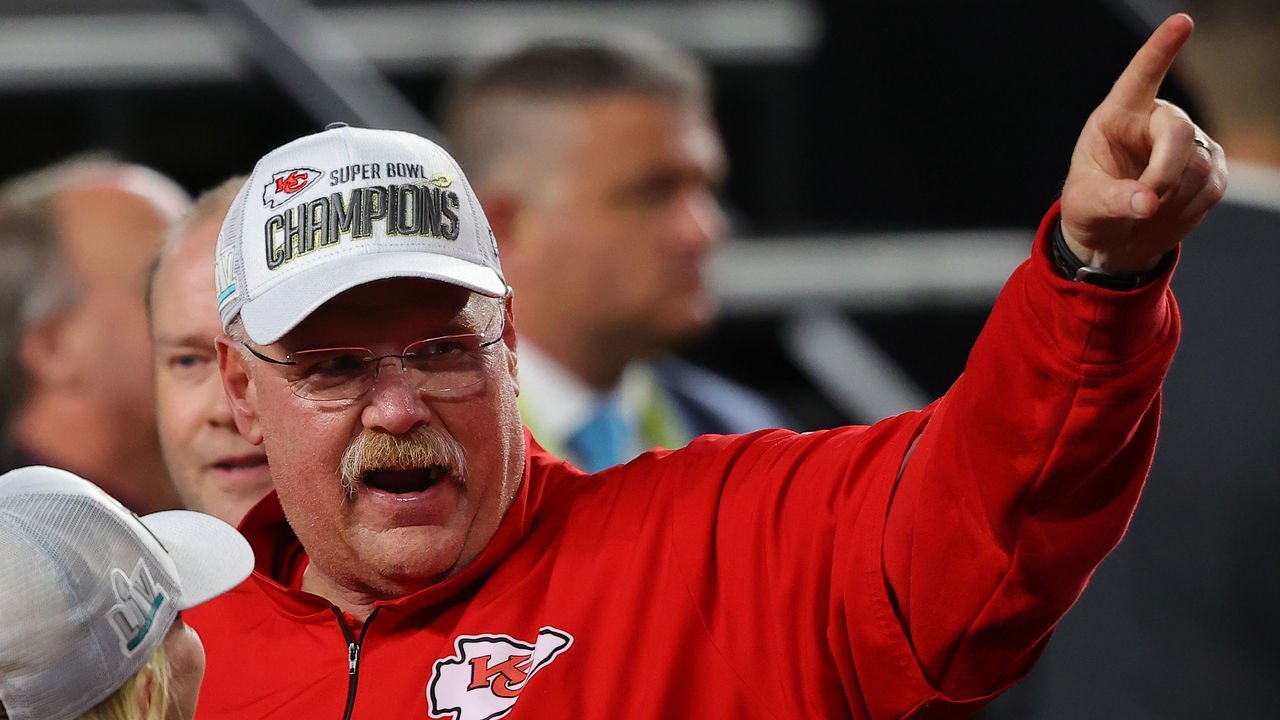 Reid had long been a tinkerer and an innovator who looked to the college game for inspiration. But he leaned fully into adapting his thinking in 2017 when the Chiefs decided to trade up from No. 27 to No. 10 to draft Mahomes. The draft consensus was that Mahomes had boom-or-bust potential and would likely be selected toward the end of the first round. The Chiefs saw something other teams didn't.
Kansas City already had Alex Smith, but then-co-director of player personnel and current general manager Brett Veach had become smitten with Mahomes. And so a plan was hatched to trade up and get him, as Jayson Jenks, Dan Pompei, Mike Sando, and Nate Taylor of The Athletic detailed this week. Mahomes sat behind Smith that first season, but Reid signaled to the world in the 2017 season opener his willingness to adapt. He rolled out a game plan heavy on college concepts: at-the-snap motion, jet sweeps, read-options, and myriad wide-open formations, including the pistol. Kansas City, behind Smith, steamrolled the mighty New England Patriots 42-27. A new day had dawned in the NFL.
It was also in 2017 that wunderkind head coach Sean McVay took over the Los Angeles Rams and inherited quarterback Jared Goff. The No. 1 pick of the 2016 draft had endured a rookie season under the stodgy Jeff Fisher that had put him on a path to become just another draft bust. But McVay tailored his offense to Goff's strengths as an accurate passer, relying heavily on play-action, motion, and run-pass options while getting Goff out of the pocket by design. Goff would reinvent himself, and the Rams made the playoffs.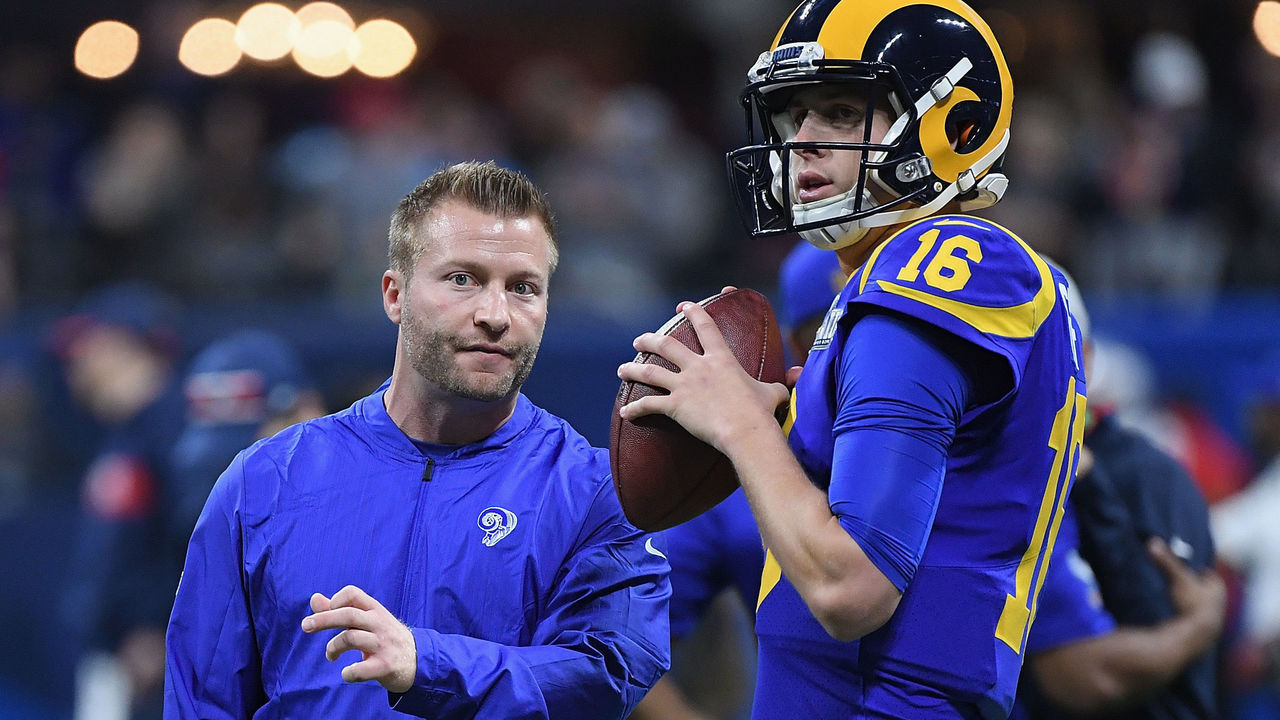 But it wasn't just the Chiefs and Rams. Beginning in 2017, coaches around the league stopped fretting about the hands they were dealt – which included collectively bargained limitations on padded practices and on offseason practice time – to instead work with what they had. That season's Super Bowl saw the Philadelphia Eagles upset the Patriots 41-33 in what looked like a video game.
The Chiefs handed Mahomes the keys to their offense in 2018; he promptly went on to become league MVP, and a year later, he won the Super Bowl. Sunday will mark his third straight AFC Championship Game appearance, all at home. His potential seems limitless.
Allen, meanwhile, looked like a missed opportunity for the Bills during his first two seasons. He was a big-armed quarterback with accuracy issues and the potential to make game-breaking mistakes – exactly the kind of QB who traditionally struggled to adjust in the pros. But the Bills went all-in on Allen by trading for star wideout Stefon Diggs, and offensive coordinator Brian Daboll – a journeyman who's bounced around the NFL's coaching ranks – cooked up a system that exploits Allen's scrambling ability while also scheming him into easy throws. It should be noted, as The Athletic's Robert Mays recently wrote, that Daboll's own evolution as a play-designer and play-caller really took root after he spent the 2017 season working with Nick Saban at Alabama.
Lamar Jackson, selected with the final first-round pick of the 2018 draft, has guided the Baltimore Ravens to the playoffs in all three of his pro seasons, and in 2019 he was named league MVP. Kyler Murray, Joe Burrow, and Justin Herbert have all displayed high-ceiling ability, too.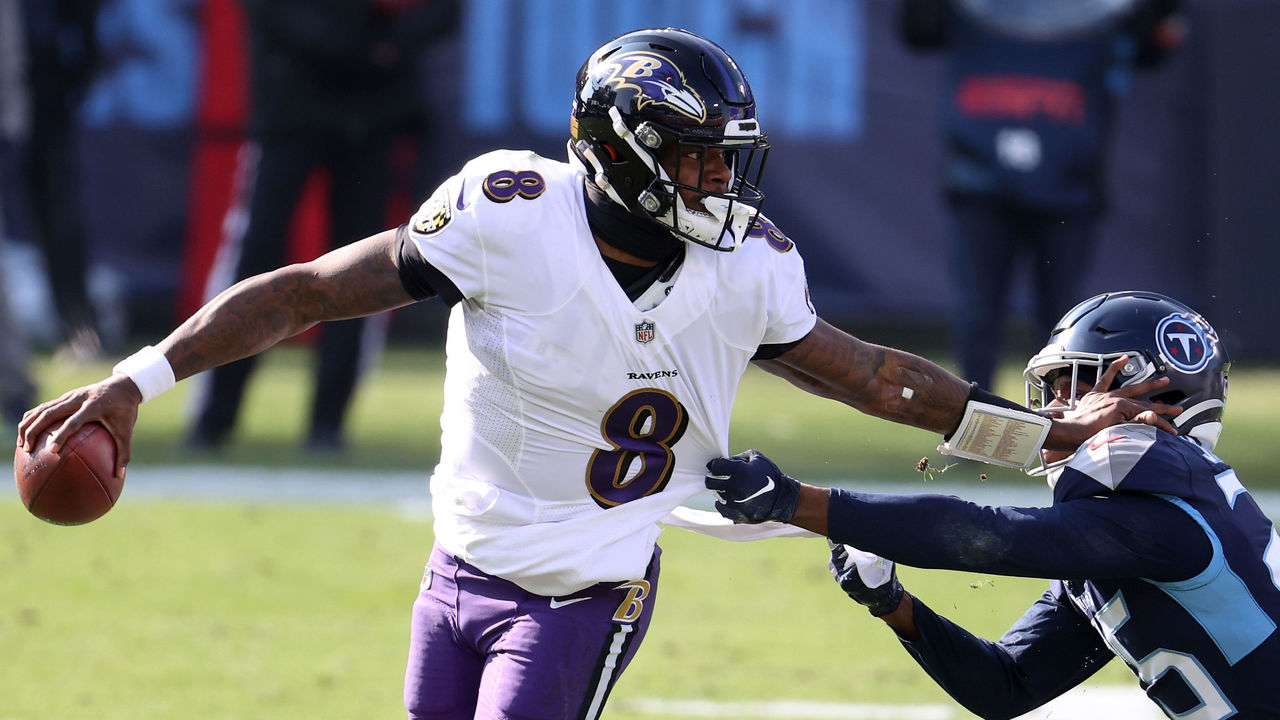 Baker Mayfield, the No. 1 overall pick in 2018, flashed as a rookie before getting caught in the Cleveland Browns' maw of suck a year later. But the Browns got things right by hiring head coach Kevin Stefanski this season, and Cleveland won a playoff game for the first time in 26 years.
The Tennessee Titans' Ryan Tannehill seemed like another lost first-rounder of that 2006-15 era during his early years with the Miami Dolphins. But under the forward-thinking tutelage of offensive coordinator Arthur Smith, Tannehill reinvented himself into one of the league's most efficient passers. He led the Titans to last year's AFC Championship Game and an AFC South title this season.
Though they both missed this year's postseason for decidedly different reasons, the Dallas Cowboys' Dak Prescott – a fourth-round pick in 2016 – and the Houston Texans' Deshaun Watson have both shown the ability to be franchise quarterbacks. Prescott led Dallas to the playoffs twice and was putting up huge numbers in 2020 before breaking his ankle in Week 5. Watson had a phenomenal 2020 season, but he's in a terribly dysfunctional situation in Houston. It's stunting his chances to win in his prime – further proof that sometimes the problem isn't the quarterback but rather a team's decision-makers.
And then there's Rodgers. Though he's long been perhaps the league's most gifted all-around quarterback, Rodgers and the Packers often underachieved in the decade following their Super Bowl XLV win. But in the two seasons since head coach Matt LaFleur arrived with an offense heavy on motion, play-action, and other bells and whistles, Rodgers, too, has reinvented himself. At age 37, he remains an unstoppable force, and the Packers are in the NFC title game for the second year in a row.
Brady? You know about him and how he chose to leave New England for Tampa Bay – in no small part because of the Buccaneers' collection of talented skill players. Tampa's coaching staff wants him to take aggressive shots downfield while also trusting him to know when to rein things in and play it safe. Brady, 43, is under contract for another year. He'll probably still be here to challenge the next generation, too.
Dom Cosentino is a senior features writer at theScore.