Insider Trading: Players considering foregoing final cheque – TSN
Hockey Insiders Bob McKenzie, Darren Dreger and Senior Hockey Reporter Frank Seravalli discuss how some NHL players are considering foregoing their final cheque of the season, have the latest on the separation between the Jets and Dustin Byfuglien nearing an end, which OHL team could take a chance on No. 1 prospect Adam Fantilli, and much more.
---
What are the players doing to deal with the massive impact on the game due to the coronavirus?
Frank Seravalli: One of the options that's on the table is to forgo their final paycheque of the season that would be coming on April 15. That's the discussion that's ongoing at the player and team level. The player reps have taken it back to their individual teams to canvas and find out exactly what they want to do. They could take all of this remaining paycheque and put it toward the escrow fund, they can take some of it or they can take none at all. What we're taking about is $140 million in gross pay in this last paycheque and essentially what that would do is to take the escrow withholding for this season from 14 per cent and bump it up to 16.5 or 17 per cent as the total take for the season and if the NHL doesn't come back and we were looking at a 35 per cent escrow, anymore you can pile on would certainly help in terms of paying that back to the NHL's owners. The clock is ticking though because this decision is due on April 7 to decide what to do for that final paycheque.
What the latest on Winnipeg Jets defenceman
Dustin Byfuglien

?

Darren Dreger: It is nearing an end, but obviously given current events it's not top priority for all involved. What I know is that the National Hockey League is scheduled to discuss the situation with the Winnipeg Jets in the very near future. Now, the Players' Association, the league, the player and the Winnipeg Jets are all aligned in the termination agreement, but it hasn't been executed yet and because of that the Winnipeg Jets aren't in a position to announce. The detail work between the league and Winnipeg Jets is expected to ironed out in the near future.
What are some under the radar things that have [been] lost due to the suspension of the NHL season?
Bob McKenzie: Getting a team picture is not high on the priority list for these franchises that are in limbo right now because of the coronavirus, but it is interesting to hear the Columbus Blue Jackets on the last day they were together, March 11, they had that scheduled as their day to take the team picture. So the Columbus Blue Jackets got their team picture taken which got me thinking, what about some of the other teams in the National Hockey League? So, I did a quick canvas of the seven Canadian teams and found out the Toronto Maple Leafs and the Winnipeg Jets, right after the trade deadline took their team photo. The Montreal Canadiens got their [photo] done of March 9, but the Vancouver Canucks, Edmonton Oilers, Calgary Flames and Ottawa Senators have not taken a team photo. And if the players don't come back together for any hockey in 2019-20, the teams are effectively without that commemorative team photo. But they could do what the Buffalo Sabres are planning on doing and that is when they get their team together for the fall, they would take a team picture, photoshop out the new guys that weren't on the team in 19-20 and photoshop back in the guys that were on the 19-20 team. A small matter, but one nevertheless the teams are looking at.
Does Adam Fantilli still get selected No. 1 in this weekend's OHL Draft despite committing to playing in the USHL next season?
McKenzie: Well, it's a fascinating discussion that not only the North Bay Battalion, but other teams in the OHL, are having. Now North Bay does have the No. 1 overall pick in the OHL Draft and they have made a decision on what they're going to do. But they have not made that decision public yet on whether they're going to take Fantilli, who is the clear, and I mean clear cut, No. 1 prospect in this year's Draft, but he has already announced he's going to Chicago of the USHL. He's going to defer his decision on the Ontario Hockey League until a year from now. Rumours are rampant in the OHL leading up to Saturday's draft that North Bay in fact is going to take somebody other than Fantilli. We'll see if that comes to pass. Then it's up to every OHL team, including North Bay, I guess, to decide on that. Do they roll the dice and hope that a year from now Adam Fantilli comes into the OHL and spends two years there before being maybe the No. 1 overall pick in the 2023 NHL Draft or do they pass on him, realizing that he could spend the next two years with Chicago in the USHL and then go off to college hockey. Fascinating. We find out on Saturday who rolls the dice.
Health care for the NHL Alumni Association, the NHL and the NHLPA
Dreger: It could be more about opportunity from an NHL Alumni Association perspective. When you look at health care for retired players, especially in the United States, it is ridiculously expensive. Upwards of $36,000 per year for ex-players and their families. Now the NHL Alumni is hoping that today's player, the current National Hockey League player, would take advantage of this because at one point in their future they are going to be the ex-player, so why not include lifetime health care now for the player and their families for again the remainder of their life in the current collective bargaining agreement. That's part of the extension whether or not it becomes a main pawn in the negotiation between the NHL and the Players' Association has yet to be seen, but the Alumni would like the current player to push it through.
What else are players doing to keep busy?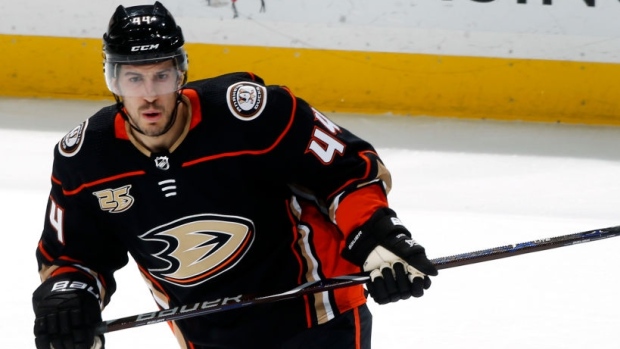 Seravalli: Some of them, believe it or not, are actually hitting the books and they're taking advantage of some of the opportunities that they have partially through the NHLPA's athlete development program where they're set up with a consultant who finds them ways to either pursue some university credits or perhaps go out and obtain a certificate. I was talking to Michael Del Zotto of the Anaheim Ducks, he's a guy that really taking up that opportunity. He said he's learning Italian, he's taking a marketing class online at the moment to help with brand identity and strategy. So, he's hoping to complete that at some point during this pause and they're hoping some other NHL players also choose to step up in this time period as well to use their time wisely to help set themselves up potentially for life after hockey whenever that comes.
Rangers focused on forcing Hurricanes to deciding game – Sportsnet.ca
The New York Rangers return home knowing they need a win at home to keep their post-season going. The Carolina Hurricanes are still looking for their first road victory in these playoffs.
After Carolina won 3-1 on Thursday night to take a 3-2 series lead, the Rangers will be looking to force a deciding game in the second-round series when they host the Hurricanes in Game 6 on Saturday night (8 p.m. EDT, ESPN) on Sportsnet.
"We lost a game and we didn't play as well as we could have, so I was disappointed," Rangers coach Gerard Gallant said Friday. "That's playoffs, that's the way she goes. We'll be ready to go tomorrow night and that's what we're looking forward to.
"Just worry about tomorrow and take care of business."
A must-win game is nothing new for these Rangers. They trailed 3-1 against Pittsburgh in the first round, then won three straight — becoming the first team in NHL history to rally from a deficit in three consecutive elimination games — to advance.
"We've been in this position before," New York forward Ryan Strome said. "I like our chances on home ice. … We're familiar with the situation. Got a chance at home to push it to (Game) 7 and that's all we're worried about now."
The Rangers also trailed in this series after losing the first two games in Carolina. They returned home and won Games 3 and 4 to even the series. Now, they have to win at home again to tie the series one more time.
"The feel in that dressing room is super confident at all times and I think the first series helped a little bit," Strome said. "And having to win Games 3 and 4 (in this series), those are pretty must-win games and we did a pretty good job. We can draw from those experiences."
And what those experiences have taught the Rangers is to have a singular focus on the task at hand, and not worry about the series or deficits.
"Well, your backs are against the wall," Gallant said. "You go out and you play your game. You know if you lose this game there's no tomorrow. We did that real well last series, hopefully we can do it again tomorrow. I don't think we change anything strategy-wise. We just go out there and play our game."
Forward Chris Kreider agreed, adding: "We've got to win one game. … Lot of things we could take from (Game 5 loss) and do a better job of. Learn from that and win one game. Win the first shift, win the first period and go from there."
The Hurricanes are also trying to win one game — on the road, for the first time in the post-season. After their latest victory, they improved to 7-0 at home, but are 0-5 on the road.
Carolina coach Rod Brind'Amour isn't concerned by the team's lack of road wins, though he acknowledges people talk a lot about it.
"That's a non-issue," he said. "It's all I hear about endlessly. We haven't played poorly on the road. Our game's been fine. There's a couple of things that have gone squirrelly. … We're playing good teams. That's how it goes."
The Hurricanes regained the series lead with a strong defensive effort in Game 5, limiting the Rangers to 17 shots on goal — including five in each of the first two periods.
"Does it transfer over, obviously we hope so," Brind'Amour said. "I don't usually take a lot of stock one game into the next, good or bad. It's always about the next game and it takes a life of it's own but definitely the way we want to do it."
If the Hurricanes keep up their trend this post-season, the deciding Game 7 would be Monday night at home. But that's not something they want to think about right now.
"We're going to give it our best," Brind'Amour said. "We're going to try to win (Saturday). We do every night. Nothing really changes. Obviously, we don't want to come back (home) and have another game. We're going to do everything we can to win tomorrow night."
Warriors top Mavs in Game 5, advance to NBA Finals – TSN
SAN FRANCISCO (AP) — As the clock ticked down the final seconds, Klay Thompson began dancing on the sideline before nearly being moved to tears during a celebration with his teammates.
After two major surgeries and two years of grueling rehabilitation, Thompson is rounding back into form and shot the Golden State Warriors back into the NBA Finals.
Thompson shimmied his way to 32 points and the Warriors advanced to their sixth finals in the past eight seasons by beating the Dallas Mavericks 120-110 in Game 5 of the Western Conference finals on Thursday night.
"It's hard to put into words really," Thompson said. "This time last year, I was just starting to jog again and get up and down the court. Now to be feeling like myself, feeling explosive, feeling sure in my movements, I'm just grateful."
Thompson tore his left ACL during a season-ending Game 6 loss in the 2019 NBA Finals against Toronto and then tore his right Achilles' tendon just before the start of the 2020-21 season. After Golden State missed the postseason in both seasons he was sidelined, Thompson finally returned to action in January.
The performance against the Mavericks showed he is getting close to returning to his old level of stardom.
Thompson scored 19 points in the first half, including a 3-pointer that he punctuated with teammate Stephen Curry's signature shake as the Warriors raced out to a 17-point halftime lead and coasted the rest of the way.
"You could see how much was missing the last couple of years," Draymond Green said. "We're lucky to have the Klay Thompson we know back because we know how good he is."
Andrew Wiggins added 18 points and 10 rebounds, Green scored 17 points and Curry had 15 points and nine assists. He was named the MVP of the series.
Luka Doncic overcame a slow start to score 28 points for the Mavericks. Spencer Dinwiddie added 26.
After missing the playoffs in 2020 and '21 in back-to back injury-plagued seasons, the Warriors are returning to a familiar stage. They join the Michael Jordan-led Chicago Bulls of the 1990s, Magic Johnson's Lakers in the 1980s and Bill Russell's Celtics in the 1950s and '60s as the only franchises to make it to the NBA Finals at least six times in an eight-year span.
"For our team, our guys, especially the core group, to be part of that six times in eight years, I don't even know what to say," coach Steve Kerr said. "It just takes an enormous amount of skill and determination and work."
Golden State will host the winner of the Eastern Conference finals between Boston and Miami on June 2 in Game 1 of the NBA Finals. The Celtics hold a 3-2 lead heading into Game 6 at home on Friday night.
The Warriors followed their pattern from the first two rounds by bouncing back after squandering a chance to end a series on the road by winning at home. Golden State is now 9-0 at the Chase Center this postseason, tying the 2017 team for the the most consecutive home wins in a single postseason in NBA history.
After making just seven 3-pointers in the first four games of the series, Thompson had eight this game for the record-setting fifth time in the playoffs.
The last two have come in clinchers the last two rounds against Memphis and Dallas, prompting the question on whether his nickname should switch from "Game 6 Klay" for his history in that game to "Clinching Klay."
"I'm satisfied with 'Game 6 Klay.' I don't need another nickname," Thompson said with a smile. "It's nice not having to bring him out yet."
Thompson gave the Warriors a 13-point lead in the first half when he hit one from the corner before dancing and added two early in the third quarter for a 23-point lead.
Dallas cut a 25-point deficit down to eight in the final minute of the third quarter but couldn't get over the hump in the fourth.
"I don't like losing, especially not like this," Doncic said. "I played terrible. But if we're talking about our season, I'm really proud of this team. … Nobody had us here. But I promise we fought until the end."
SLOW START
Doncic had a rough start, shooting 2 for 10 in the first quarter. His eight misses were tied for the most in the opening quarter of a playoff game since LeBron James missed all nine of his attempts in Game 3 of the Eastern Conference finals against Atlanta in 2015.
Doncic was held to six points in the first half, his lowest opening half of his postseason career, on 2-for-12 shooting before finding his stroke in the third quarter.
"We need Luka to go big a lot of nights just to give us a chance, and unfortunately the ball just didn't go for him tonight," coach Jason Kidd said. "I think he carries the load as well as anyone, and I think for us as an organization, we'll help lighten that load as we go forward."
MOODY MANIA
With Otto Porter (left foot) sidelined for a second straight game, the Warriors got a big boost in the first half from 19-year-old rookie Moses Moody.
Moody scored all of his seven points in the second quarter with his 3-pointer giving Golden State a 56-38 lead. Moody scored just six points the first three games of this series for the Warriors before scoring 17 the past two games with Porter sidelined.
___
More AP NBA: https://apnews.com/hub/NBA and https://twitter.com/AP_Sports
Avalanche fan makes signs to support Kadri – NHL.com
DENVER — Adrienne Ruth wanted to let Nazem Kadri know she and all Colorado Avalanche fans had his back and decided to do something about it.
Ruth, an Avalanche season ticket holder, painted a sign with a personal message for the forward, and printed up 300 flyers at her local Office Depot saying "Stand With Naz" for Game 5 against the St. Louis Blues at Ball Arena on Wednesday.
The signs were placed on seats before the game, and fans held them during the 5-4 overtime loss. They were Ruth's response to taunts and threats directed at Kadri after Game 3 of the series in St. Louis on Saturday.
In that game, Blues goalie Jordan Binnington sustained a lower-body injury at 6:45 of the first period after being knocked over by teammate Calle Rosen and Kadri, who was skating hard for a rebound.
"After everything that happened before Game 4, I was upset," Ruth told NHL.com on Thursday. "I usually have a sign for Naz for most games, so I knew I was going to have something [for Game 5], and I had a few people in the Avs community reach out and ask, 'Do you have any ideas?'"
Ruth's personal sign read: "The ultimate measure of a person is not where one stands in moments of comfort and convenience but where one stands in times of challenge and controversy. #StandWithNaz" It's a slight reworking of a quote from Martin Luther King, Jr.
Kadri had his first career Stanley Cup Playoff hat trick in Game 4, a 6-3 Avalanche win on Monday.
"We take threats made to any of our players or other club personnel seriously," NHL Deputy Commissioner Bill Daly told Darren Dreger of TSN on Monday. "We are in touch with the St. Louis Police Department and they are employing enhanced security procedures both at the arena and in the hotel."
The Avalanche lead the best-of-7 series 3-2 heading into Game 6 in St. Louis on Friday (8 p.m. ET; TNT, CBC, SN, TVAS). With a win, they would reach the conference final for the first time since 2002.
Ruth, who also makes and sells Avalanche-related goods through Etsy, said Kadri's wife, Ashley, reached out to her thanking her for her support.
"I've gotten to know her. I told her, 'I'm planning on doing this, just so you know,'" Ruth said. "She said it was awesome to see."
Ruth said the overall response has been "phenomenally positive."
"To quote Naz, for those who hate, there are still going to be haters. There are still going to be those who disagree with it, don't understand it or try to make it about something else but that's pretty small voiced," she said. "I'll say even with the devastating loss (in Game 5) I woke up with a pretty full heart. Our news cycle is full of the bad. It's nice to see the goodness making the news cycle."