iOS 15.5—Apple Issues Massive iPhone Security Update For Millions Of Users – Forbes
Almost exactly two months ago, Apple released iOS 15.4 which addressed a hefty 39 security issues for millions of iPhone users. Now there's another massive security update in the shape of iOS 15.5 which really needs to be installed as soon as possible.
What should be, saving any emergency security updates, the final iOS 15 iteration before iOS 16 is released, has now landed. The functionality enhancements for Apple Cash, Apple Podcasts, and Apple Messages are explained in this article by David Phelan. However, my beat is security, and as that was the reason why I switched from an Android device to an iPhone a couple of years back, here's what 15.5 brings to the smartphone security party and why you should update now.
The massive iOS 15.5 security update in detail
This crucial iOS update comes with fixes for some 34 vulnerabilities, covering the full gamut of exploit opportunities from executing arbitrary code with kernel or system privileges, to sandbox restriction bypass, denial of service, and privilege elevation.
Like Google with Chrome updates, Apple doesn't disclose security issues in full technical detail until an update has been made available and a majority users have had a chance to install this. However, some of the impacts should a vulnerability be exploited by a threat actor, as confirmed by Apple include:
Arbitrary code execution by processing a maliciously crafted image
Processing of a 'large input' could lead to denial of service
The tracking of users in Safari's private browsing mode by a malicious website
Access to photos from the lock screen (requires physical access)
Code execution by way of malicious web content processing
The full list of Common Vulnerabilities and Exposures (CVE) references is as follows:
CVE-2015-4142
CVE-2022-22673
CVE-2022-22677
CVE-2022-23308
CVE-2022-26700
CVE-2022-26701
CVE-2022-26702
CVE-2022-26703
CVE-2022-26706
CVE-2022-26709
CVE-2022-26710
CVE-2022-26711
CVE-2022-26714
CVE-2022-26716
CVE-2022-26717
CVE-2022-26719
CVE-2022-26731
CVE-2022-26736
CVE-2022-26737
CVE-2022-26738
CVE-2022-26739
CVE-2022-26740
CVE-2022-26744
CVE-2022-26745
CVE-2022-26751
CVE-2022-26757
CVE-2022-26760
CVE-2022-26762
CVE-2022-26763
CVE-2022-26764
CVE-2022-26765
CVE-2022-26766
CVE-2022-26768
CVE-2022-26771
Don't delay, update to iOS 15.5 today
Although none of the security vulnerabilities patched by the iOS 15.5 update are of the zero-day variety, and none are known to have been exploited by threat actors at this point, that is no excuse for complacency. Now that the fixes are out, it's a race against time as those who would do you harm look for ways to exploit those vulnerabilities. Most of the security issues have serious enough consequences that updating your iPhone really should be a no-brainer. As Kate O'Flaherty from the Forbes Straight Talking Cyber (STC) team says in the video at the top of this article, the benefits of securing your smartphone outweigh the risks of a functionality bug, more often than not. Of course, your particular use case may mean that holding off on an update is the preferred option but, for the vast majority of users, the 'don't delay, update today' advice stands firm. Ensuring your device is backed up to iCloud or your own computer is recommended before you start any update, of course.
Updating your iPhone: step-by-step
First and foremost, STC recommends that you set your iPhone to update automatically. You can do this by heading to Settings|General|Software Update|Automatic Updates and your iPhone should then update overnight as long as it is charging and connected to Wi-Fi.
Regardless of your automatic update status, unless you have got a notification informing you that your iPhone has already updated to 15.5, it is recommended that you go check and force the issue.
Head to Settings|General|Software Update and start the process.
You will see a progress bar with the download status followed by the preparing update one. Be warned, this can take some time so don't panic, just wait it out.
Your iPhone will restart, eventually. On my iPhone 13 Pro connected to gigabit broadband, it took around 15 minutes to complete the iOS 15.5 update. Once your device has restarted you will see the above confirmation on your lock screen which means that your device is up to date with security fixes.
SoundGear Phantom hearing protection – Canadian Occupational Safety
Bluetooth-compatible and rechargeable
The SoundGear Phantom product line offers custom Bluetooth-compatible and rechargeable hearing aids and hearing protection devices. The Phantom protects user's ears from loud sounds – suppressing noise at 90 decibels, while simultaneously allowing the user to hear conversations and other environmental sounds. Features include a volume control wheel, Apple and Android connectivity, and 23 hours of battery life.
Subscribe to our free newsletter to stay up-to-date with the world of safety.
This page requires JavaScript
Motorola Launches Moto G42 in India at Rs 13,999 – LatestLY
New Delhi: With an aim to woo the consumers in mid-range segment, Motorola on Monday launched a new affordable smartphone 'moto g42' that features Full HD+ display with Stereo speakers and Android 12. The smartphone is available in a single 4GB RAM+64GB storage variant priced at Rs 13,999. Moto G42 With Snapdragon 680 SoC Launched in India; First Sale on July 11, 2022.
[embedded content]
"The moto g42 comes with near-stock Android 12 with an assured upgrade to Android 13 and 3 years of security updates," said the company in a statement.
The stylish, power-packed #motog42 is here! Enjoy the uber- stylish design with 6.4" FHD+ AMOLED Display, Stereo speakers with Dolby Atmos® & more. Make it yours at just ₹12,999 (incl. of bank offer). Sale starts 11 July on @Flipkart & at leading retail stores. #UnleashYourStyle

— Motorola India (@motorolaindia) July 4, 2022
Weighing 174.5 grams, it comes in two colour variants — Metallic Rose and Atlantic Green. The device comes with a 6.4-inch AMOLED FHD+ display and is packed with Stereo speakers with Dolby Atmos sound technology.
The smartphone houses a 50MP Quad function camera with an 8MP Ultrawide sensor and a 16MP selfie camera. The device is powered by the Qualcomm Snapdragon 680 octa-core processor. It comes with a side fingerprint sensor, 3 in 3 card slots supporting two nano SIMs and a dedicated microSD storage up to 1TB for expanding the 64GB on board storage, said the company.
(The above story first appeared on LatestLY on Jul 04, 2022 05:44 PM IST. For more news and updates on politics, world, sports, entertainment and lifestyle, log on to our website latestly.com).
Xiaomi 12S and 12S Pro debut: Leica cameras, Snapdragon 8+ Gen 1 chipset – GSMArena.com news – GSMArena.com
The Xiaomi 12S and 12S Pro have 1/1.28" sensors in their main cameras, which could have been considered large if not for the 12S Ultra model, which was also unveiled today. This is the same IMX707 sensor as on the 12 and 12 Pro, however, all three S-series models were "co-engineered with Leica".
What does that mean? For starters, the three phones have Leica Summicron lenses and support for Leica imaging profiles. Users can choose between the Leica Authentic Look and Leica Vibrant Look presets. The former recreates the natural look that Leica is known for, the latter was tuned by both Leica and Xiaomi and is a blend of the styles of the two companies.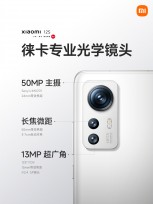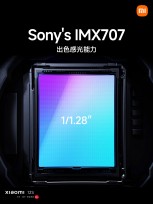 Xiaomi 12S camera info • The Xiaomi 12S and 12S Pro feature the 1/1.28″ Sony IMX707 sensor
Additionally, the phones support 10-bit RAW image capture, which was calibrated by Adobe Labs. The phone will embed color correction metadata in the files, so that Adobe Lightroom can automatically optimize the images, giving photographers a good starting point for post-processing their shots.
A quick look back at the IMX707 – it's a 50MP sensor (1/1.28") with 1.22µm native pixels (2.44µm after binning). The phones support 30fps burst modes as well as Xiaomi's AI Image Solution and ProFocus for fast start-up, capture and continuous capture.
The Pro model has two other 50MP cameras – one with a 50mm lens (2x optical magnification) and one with an ultra wide 14mm lens (115° FoV). The vanilla 12S gets a 13MP ultra wide and a 5MP telemacro instead.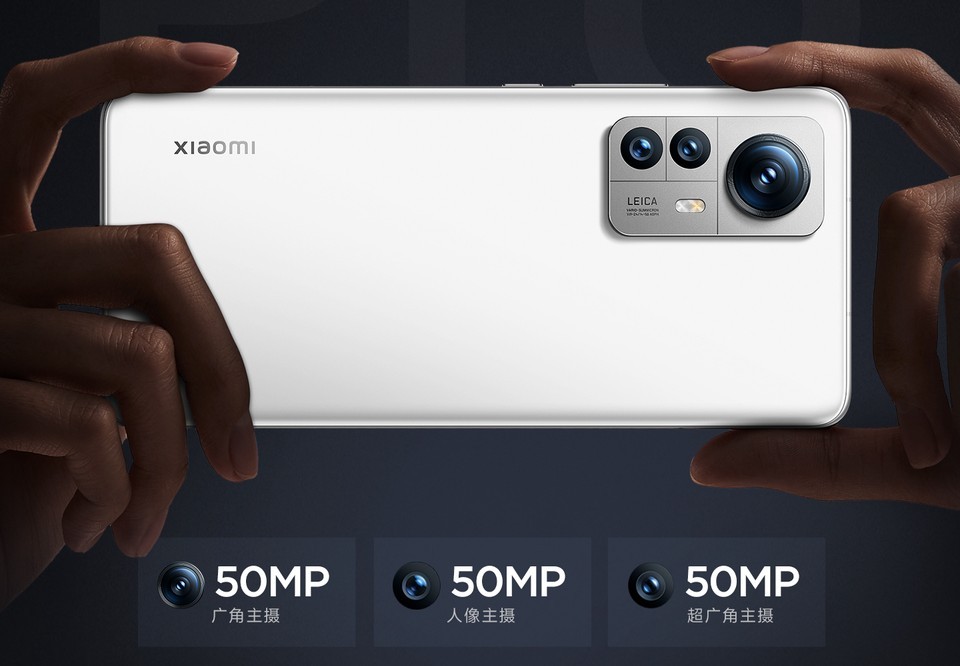 The Xiaomi 12S and 12S Pro also switch to the new Snapdragon 8+ Gen 1 chipset, which offers a 10% boost in performance and reduces power usage by 30%. The S-phones will have longer battery lives and run cooler under load.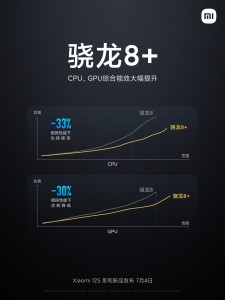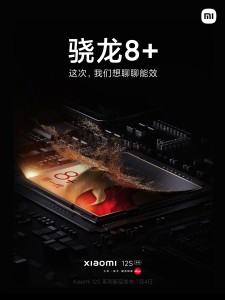 The Snapdragon 8+ Gen 1 brings improved performance and efficiency
Camera and chipset upgrades aside, the two phones follow the formula of the 12 and 12 Pro. The Xiaomi 12S Pro has a 6.73" LTPO AMOLED display (E5, 1-120Hz, FHD+), which is also used on the 12S Ultra. The vanilla 12S is smaller with a 6.28" panel with 120Hz refresh rate (it's not an LTPO panel, however).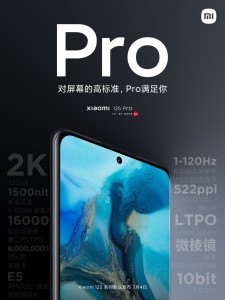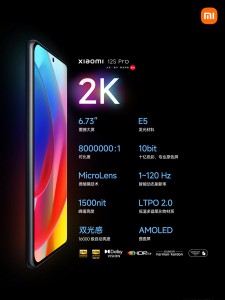 The Xiaomi 12S Pro and 12S Ultra use the same display as the 12 Pro
As before, the 12S Pro supports fast charging – 120W wired and 50W wireless – thanks to the in-house Xiaomi Surge P1 chipset and comes with a 4,600mAh battery. Using a 120W power brick, the Pro can do 0-100% in 19 minutes or in 25 minutes in low temperature mode The Xiaomi 12S charges its 4,500mAh battery at 67W over a wire or at 50W wirelessly.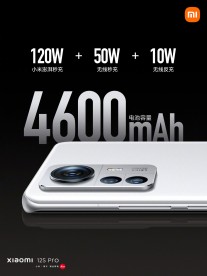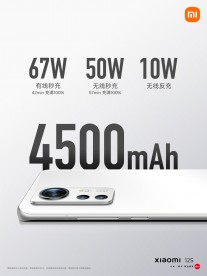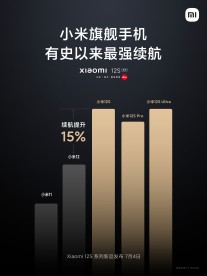 Xiaomi 12S Pro and 12S: same batteries and charging, longer battery life through improved efficiency
The Xiaomi 12S and 12S Pro will soon be available in mainland China. The Xiaomi 12S Pro starts at CNY 4,700 for the 8/128GB model ($700/€670/₹55,000). There is also an 8/256GB for CNY 5,000, 12/256GB for CNY 5,400 and 12/512GB for CNY 5,900.
The Xiaomi 12S starts at CNY 4,000 ($600/€570/₹47,000) for the base 8/128GB model. The same memory configurations are available: 8/256GB for CNY 4,300, 12/256GB for CNY 4,700 and 12/512GB for CNY 5,200.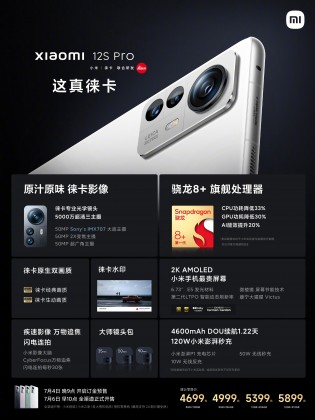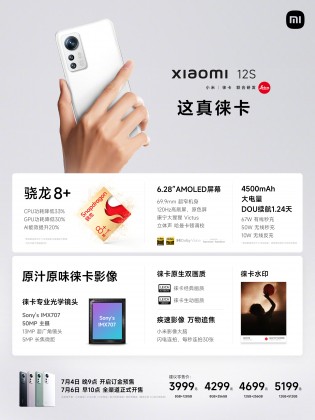 Xiaomi 12S Pro highlights and prices • Xiaomi 12S highlights and prices
For comparison, the Xiaomi 12 Pro launched at CNY 4,700 in China, the base price for the Xiaomi 12 was CNY 3,700. There was also a more affordable 12X model, but there is no "Xiaomi 12SX" now.