iPad Pro 2021 vs. iPad Pro 2022 Buyer's Guide: Should You Upgrade?
The new iPad Pro has now replaced the previous model from 2021 in Apple's tablet lineup, but how different are the two successive ‌iPad Pro‌ generations?

In April 2021, Apple unveiled new ‌iPad Pro‌ models, adding the M1 chip, a Thunderbolt port, 8GB or 16GB of RAM, up to 2TB of storage, an upgraded front-facing camera with Center Stage, Smart HDR 3, and extended dynamic range video, as well as a mini-LED display on the 12.9-inch model. These ‌iPad Pro‌ models have now been discontinued by Apple and prices for the devices at third-party resellers are falling. As such, some customers may be weighing up whether to buy the 2021 ‌iPad Pro‌ or the new, 2022 models.
The iPad Pros from 2021 and 2022 share the overwhelming majority of their features, so should you consider buying or sticking with the older model to save money? This breakdown also serves as a way to clearly see all the differences that the new ‌iPad Pro‌ brings to the table.
iPad Pro 2021
‌M1‌ chip with 8-core, 3.2GHz CPU and 8-core GPU
68.25GB/s memory bandwidth
Neural Engine
Media engine for hardware-accelerated H.264 and HEVC
Video encode and decode engine
Image signal processor (ISP)
Smart HDR 3
Wi‑Fi 6
Bluetooth 5.0
iPad Pro 2022
M2 chip with 8-core, 3.49GHz CPU and 10-core GPU
100GB/s memory bandwidth
40 percent faster Neural Engine
Media engine for hardware-accelerated H.264, HEVC, ProRes, and ProRes RAW
Higher-bandwidth video decode engine
Video encode and decode engine
ProRes encode and decode engine
"New" image signal processor (ISP)
Smart HDR 4
ProRes video recording up to 4K at 30 fps
Wi‑Fi 6E
Bluetooth 5.3
Apple Pencil hover
Most of the advantages of the new ‌iPad Pro‌ come from the ‌M2‌ chip, which offers a 15 percent faster CPU and a 35 percent faster GPU. The chip's 16-core Neural Engine can process 40 percent more operations per second, while offering almost double the memory bandwidth to aid multitasking and working with large assets. With a new media engine, the ‌iPad Pro‌ can capture ProRes video for the first time, and encode the footage up to three times faster. While this may be beneficial to some users, very few people have professional workflows that can take advantage of the ‌iPad Pro‌'s power and most prospective customers do not need more than the 2021 model's ‌M1‌ chip.
‌Apple Pencil‌ hover provides a new way to interact with the ‌iPad Pro‌, with the pencil being detected up to 12mm above the display, allowing users to see a preview of their mark before they make it. This makes sketching and illustrating more precise, and text fields and icons automatically expand below the ‌Apple Pencil‌. While this is likely to be useful to illustrators and ‌Apple Pencil‌ fans, it is unlikely to be a major motivation to buy the latest model.
Overall, the ‌2022 iPad Pro‌ is a very minor upgrade over the 2021 model, with the ‌M2‌ chip and ‌Apple Pencil‌ hover being the only significant changes, meaning that it is difficult to recommend upgrading. Many 2021 ‌iPad Pro‌ users will likely not be able to justify upgrading to the latest model, but some customers coming from an older version of the ‌iPad Pro‌ could still have good reason to preference the latest models, especially those who need maximum performance and use the ‌Apple Pencil‌ for note taking and illustration heavily. The ‌two ‌iPad Pro‌ models are very similar, so customers who have an older ‌iPad‌ and are looking for an upgrade may prefer to look for a discounted 2021 model.
Makeover: How to achieve that perfect flick, no matter your eye shape – Brantford Expositor
Article content
A winged eyeliner is a classic look loved by many, and surprisingly easy to do.
Article content
Here are a few easy steps, and tips, to help you get that perfect flick no matter your eye shape.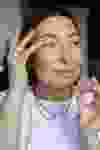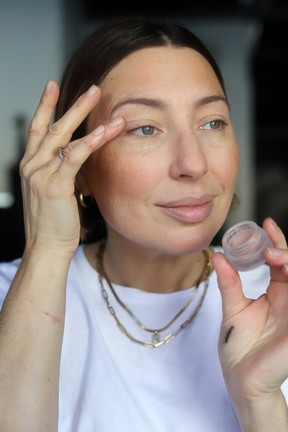 Step 1: Primer
The first and most important step is to prep the eyelid with a smudge proof base. I'm using Charlotte Tilbury's Matte — Eyes to Mesmerize in Nude Cashmere because it goes on smoothly, is long wearing and lasts up to 12 hours.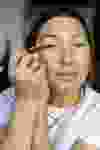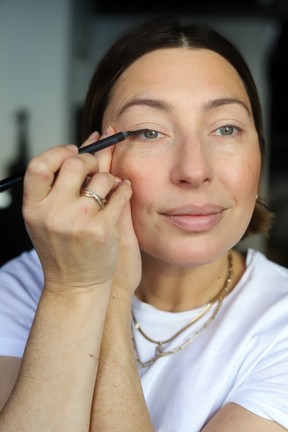 Step 2: Liner
I used Smashbox — Always On Waterproof Gel Eyeliner in Fishnet to draw on my liner. tarting at the middle of my eyelid, I traced a thin line along my lash, which progressively grew thicker toward the outer corner of my eye. I then connected the line from the inner corner to the middle of the eye. The key to a perfect liner is to use short and clean strokes, a sharp eyeliner and a fine angled liner brush to extend the outer wing.
Article content
Tip: For hooded eyes try creating the outer wing where the hood starts first and work your way inward. For round eyes start from the outer corner of the eye and create a sharper angle toward the middle of the lid. For small eyes try keeping your liner and wing thin and short. Use a skin toned eyeliner to draw a line just below the wing and to tight line, making the eyes appear larger and brighter.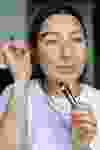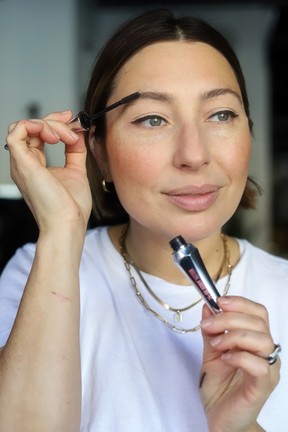 Step 3: Mascara and brows
Curling the lashes and coating them with black mascara will enhance the look, as will filling in your eyebrows. I'm using Benefit Cosmetics — Roller Lash Curling Mascara in black and on my brows, I used Benefit — 24-Hour Brow Setter Clean Brow Gel with Benefit — Precisely My Brow Pencil in #4.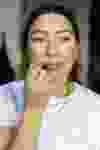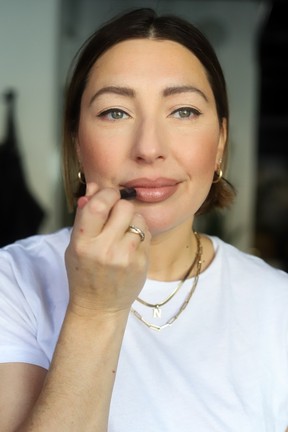 Step 4: Lips and blush
Article content
I lightly contoured my face with Tarte Amazonion Clay Waterproof Bronzing Powder, then swept a hint of Benefit Cosmetics — Dandelion blush on my cheeks. To pull the look together, I lined my lips with NYX — Suede Matte Lip Liner in Sandstorm then layered it with Glo Skin Beauty — Cream Glaze Crayon in Chiffon.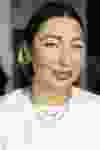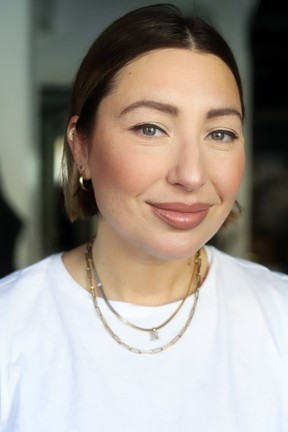 The completed look
---
More news, fewer ads: Our in-depth journalism is possible thanks to the support of our subscribers. For just $3.50 per week, you can get unlimited, ad-lite access to The Vancouver Sun, The Province, National Post and 13 other Canadian news sites. Support us by subscribing today: The Vancouver Sun | The Province.
'Fortnite' Leaked Skins: Mr. Beast, Geralt Of Rivia And More Coming To Chapter 4 – Forbes
The Fortnite Chapter 4, Season 1 leaks have begun just hours before the game's big live-event kicks off.
Screenshots of what appears to be the new cinematic trailer have leaked online and show off a few familiar faces.
Mr. Beast
Mr. Beast appears to be coming to the game, possibly as a Battle Pass skin, possibly as an Item Shop addition. He will join other YouTube celebrities and streamers like Ninja as well as big movie superstars like The Rock, all of whom have come to the battle royale game in some fashion. This isn't a surprise as Epic Games have talked about a future Mr. Beast collaboration in the past.
Geralt Of Rivia
Will we get horseback riding this season? That's Geralt of Rivia from The Witcher, but he's accompanied by his steed, Roach. Mounts would spice things up a bit for the next Chapter. (Flying mounts especially).
The timing here is good for CD Projekt Red. The Polish game developer releases the PS5 and Xbox Series X versions of The Witcher 3 this month on December 14th and is free for previous owners of the game.
DOOM Guy
The classic space marine from the DOOM franchise appears to be another collaboration. He's fighting a Cacodemon, which would be a cool new NPC enemy time.
Who would win in a fight? DOOM Guy or Master Chief?
If you look closely throughout the leaked trailer, you can spot others: Toy Story, perhaps, and the Teenage Mutant Ninja Turtles. We'll know more when Chapter 4, Season 1 launches.
More Chapter 4 Season 1 Updates:
Watch The Paradigm Create The New 'Fortnite' Chapter 4 Map In 'A New Beginning' Cinematic Trailer – Forbes
Update:
The actual cinematic trailer is live now so I'm updating this post with the official—and nicer looking—video (above).
This was the final segment in today's Fractured live-event which you can read about here.
Original Story:
The cinematic trailer for Fortnite's upcoming Chapter 4, Season 1 has leaked online just hours before the big Chapter 3, Season 4 'Fractured' live event.
Obviously big spoilers ahead and in the video.
Basically, it appears that Brie Larson's Paradigm has lost the battle against the mysterious oozing Chrome that has taken over the map during the 'Paradise' season.
She's forced to destroy the map entirely and piece together a new one, telling the players that she can't help them anymore. From here on, they have to help themselves.
I admit, I'm a bit lost in the game's current narrative, which they haven't really fleshed out much recently. This propels us into a new Chapter narratively also, though it's unclear what comes next even after watching the trailer.
I suppose Christmas stuff comes next! The Days Of Fortnite event, Christmas presents and so forth, all on a brand new map. That should be fun!
ore Chapter 4 Season 1 Updates: