iPhone 12 mini is the first truly compact 5G phone, and other phone brands must take note – TechRadar
I've reviewed plenty of 5G phones in the last year, from the top-end Oppo Find X2 Pro to the affordable Moto G 5G Plus, and the launch of the iPhone 12 mini made me realize something; all existing 5G phones are way too big.
Phone makers are always trying to convince us we want bigger smartphone displays, so we can see more of a game or a film, but the resulting phablets can be pretty hard to comfortably use one-handed. We rarely see 'compact' or small, phones any more, especially those ready for 5G.
That's changed with the iPhone 12 mini though, as with its 5.4-inch display it won't stretch your grip. Apple even called the iPhone 12 mini the smallest, thinnest and lightest 5G phone in the world.
It's pretty bizarre that Apple is innovating ahead of Android phones (however strange it is to call 'making a small phone' innovation), and other smartphone makers need to follow suit as soon as possible.
Bigger isn't always better
At the moment, the main uses of 5G are downloading music, movies and games on the fly, or streaming them straight from the web onto your phone. You'd expect these are tasks that work well with big-screen phones, as the extra display real estate would let you see media better.
But bigger isn't better, and most phone manufacturers bump up the screen size on their phones without also having higher resolutions – this can sometimes result in bigger phones making content look a little worse than smaller devices with the same resolution, as the pixel-per-inch count is lower.
This insistence on huge screens also shows phone companies making the flawed assumption that everyone will be making the most of it anyway. If you spend your free time playing Call of Duty: Mobile or Fortnite then maybe you'll want a big screen that can show you more, but if you're just going to be bingeing Friends on your commute, you really don't need a portable cinema. Yet there are few phones for that audience.
Anyway, screen size is pretty moot when you remember the simple fact of perception that is 'things that are closer look bigger'. Simply holding your phone closer to your face is an easy way of making content look bigger too, though one that could result in eye strain for some.
We need more compact phones
The lack of compact phones isn't a 5G-specific problem, though the relatively limited list of smartphones with next-gen connectivity makes the problem a lot more apparent.
Some people don't want their smartphones for movies, TV shows or gaming at all – they just want a portable device for social media, note-taking or just calling people.
Huge phones aren't great for that – they're awkward to hold in your hand, as you have to stretch for power buttons and fingerprint sensors, and it's hard to reach all the extremes of the display too. Plus, they're annoying to carry around in a pocket depending on what you wear.
There are few phones on the market that really cater to people who want compact devices, and Apple seems to be one of the only companies that understands this. Few other makers put out sub-6-inch-display phones, yet Apple already had the 4.7-inch iPhone SE (2020) earlier in the year.
Sure, for now, most of the uses of 5G are in the 'media consumption' group, but as the technology develops people will start to create apps and functions that utilize the fast connectivity, that go beyond media. People will want a 5G phone for purposes beyond gaming and watching things.
Why other brands should follow suit
The iPhone 12 mini might be the first truly compact 5G phone, but is it actually worth buying on that merit? Well, it's hard to say since we haven't tested it, but I'm not totally convinced yet.
You'll be paying a lot for the iPhone 12 mini, with its $699 / £699 / AU$1,199 starting price, so people looking for a phone that's both small, cheap and 5G-compatible won't find it right for them.
Value hasn't always been Apple's thing though, and plenty of other smartphone makers offer better value for money. If you're an Apple fan though, you may find this your best option.
If you're brand agnostic, there are few different brands known for making smaller phones that'd be perfect for the task of making a smaller 5G handset in the near future.
Sony used to make compact versions of its top phones, though stopped a few years ago. Fans have been asking for more Sony Compact handsets for a while, though the company's only offering in that vein, the Xperia 5 II device, isn't actually that small.
Motorola has made some pretty great smaller phones in the past too, but its 5G phones like the Moto G 5G Plus and Motorola Edge have all been big.
If these companies, or any other, put out a phone that didn't cost much, but was small and had 5G compatibility, it'd be a future-proof device that didn't feel like a burden to use, and would be a more tempting buy than the iPhone 12 mini. I'm certainly looking forward to it, and I bet many phone fans are too.
Posthaste: Attention shoppers, it's going to be a very different Black Friday this year – The Kingston Whig-Standard
Online shoppers will find sales earlier and longer
Good Morning!
Black Friday and Cyber Monday, that four-day bargain binge that shoppers around the world wait for every year, is fast approaching, but this Nov. 27 is going to be a very different shopping experience.
No more door busters, mobbed aisles and frenzied shoppers. The Centers for Disease Control and Prevention in the United States has classified "shopping at crowded stores just before, on or after Thanksgiving" on a list of higher-risk activities to avoid, reports USA Today.
Walmart has already announced it will close on Thanksgiving Day, a first since the late 1980s. Target, Best Buy and other big brands are doing the same.
Nor will Canadians be flocking over the border to swarm the stores down south.
The pandemic, however, has not dulled shopper's interest in Black Friday and Cyber Monday, a new survey by Shopify reveals. Two thirds (67%) of U.S. consumers surveyed say they plan to shop during the four-day marathon this year. In Canada it's 50%, France, 67%, and Germany 61%, which is comparable to or even higher than last year.
They also plan to spend more. Americans see themselves laying out US$686, Canadians, $481. In Britain, shoppers expect to spend £376, France, €466 and Germany €389.
But most of that shopping will not be in actual stores. The survey found more than half of Canadian shoppers (52%) plan to shop online only during the Black Friday, Cyber Monday weekend. In the U.S. it's 49%, the U.K. 62%, Germany (53%), Australia (53%).
Another hefty share, 48% in the U.S., plan to shop online and in stores, but only 3% plan to shop in stores only.
And for bargain hunters, here's the best part. Because of limits to how many people can be in a store and concerns about the timing of deliveries, sales are starting earlier this year and lasting longer.
"The concentrated four-day period traditionally marked by deep discounts and promotions has now evolved into a broader holiday shopping season," said Shopify.
More than half of Shopify's merchants surveyed said they believed consumers would start their holiday shopping before Black Friday this year, and they started preparing in September. About 20% of shoppers in Canada and the United States said they have started looking for Black Friday deals online and many big brands have already announced best-price sales to be staggered through November.
Shopify said the extended Black Friday, Cyber Monday season gives retailers more time to prepare for the hike in online orders and fluctuating inventory.
Curbside pickup and local delivery have substantially increased during the pandemic as more retailers moved online and it is having a "significant business impact."
On average shoppers who chose these options spent 23% more.
_____________________________________________
Was this newsletter forwarded to you? Sign up here to get it delivered to your inbox.
_____________________________________________________________
DON'T QUIT YOUR DAY JOB — YET Toronto millennial Nelson has a dream — a career in comedy. Before the pandemic put a stop to it, he was performing at amateur nights in Toronto clubs, while keeping his day job in communications. Nelson wants to move to Los Angeles to take things up a notch, but there's a punch line to that plan. Find out what this twenty-something has to give up to chase his dream in this week's Spent by Victor Ferreira.Brice Hall/National Post Illustration
Deputy Prime Minister Chrystia Freeland will deliver a virtual keynote speech on Canada's plan for a strong economic recovery from COVID-19 to the Chamber of Commerce of Metropolitan Montreal.
Conservative Leader Erin O'Toole will deliver remarks at a Canadian Club Toronto event, followed by a fireside chat
Lisa MacLeod, minister of heritage, sport, tourism and culture industries, will deliver a speech on sectoral resiliency and renewal to the Empire Club of Canada
Today's data: Canadian GDP (August), U.S. personal income and spending
Earnings: Imperial Oil, Fortis, SNC-Lavalin, Shaw Communications, Exxon Mobil, Chevron, Under Armour
___________________________________________________

_______________________________________________________

International tourist arrivals throughout the world are down 70% in the first eight months of 2020, the World Tourism Organization revealed this week. That decline represents 700 million fewer international tourists compared with the same period in 2019, and a loss of US$ 730 billion in export revenues from international tourism, more than 8 times the loss in 2009 under the impact of the global economic crisis. Most UNWTO experts expect a rebound in international tourism by the third quarter of 2021 but it is not expected to return to pre-pandemic 2019 levels before 2023.
____________________________________________________
The Bank of Canada is keeping its foot to the floor to drive economic growth, as the resurgence of COVID-19 this fall threatens to slow the pace of recovery.
The central bank announced Oct. 28 that it will maintain its 0.25% target for the overnight rate, which means consumers can expect interest rates on mortgages and other loans to remain ultra-low for the foreseeable future.
It's a tough road ahead, but in the meantime both homeowners and homebuyers can take great advantage of the bank's plan to fight through the fallout. Our content partner MoneyWise has some helpful advice.
____________________________________________________
Today's Posthaste was written by Pamela Heaven (@pamheaven), with files from The Canadian Press, Thomson Reuters and Bloomberg.
Have a story idea, pitch, embargoed report, or a suggestion for this newsletter? Email us at posthaste@postmedia.com, or hit reply to send us a note.
Apple iPhone 12 Pro in for review – GSMArena.com news – GSMArena.com
Our review of the iPhone 12 is already up, but we've also been spending some quality time with the more premium iPhone 12 Pro. But while the review team is still doing its thing here go a few early thoughts.
The iPhone 12 Pro certainly makes a better first impression than the iPhone 12. For starters the frame isn't aluminum but stainless steel. It feels better too and it's shinier.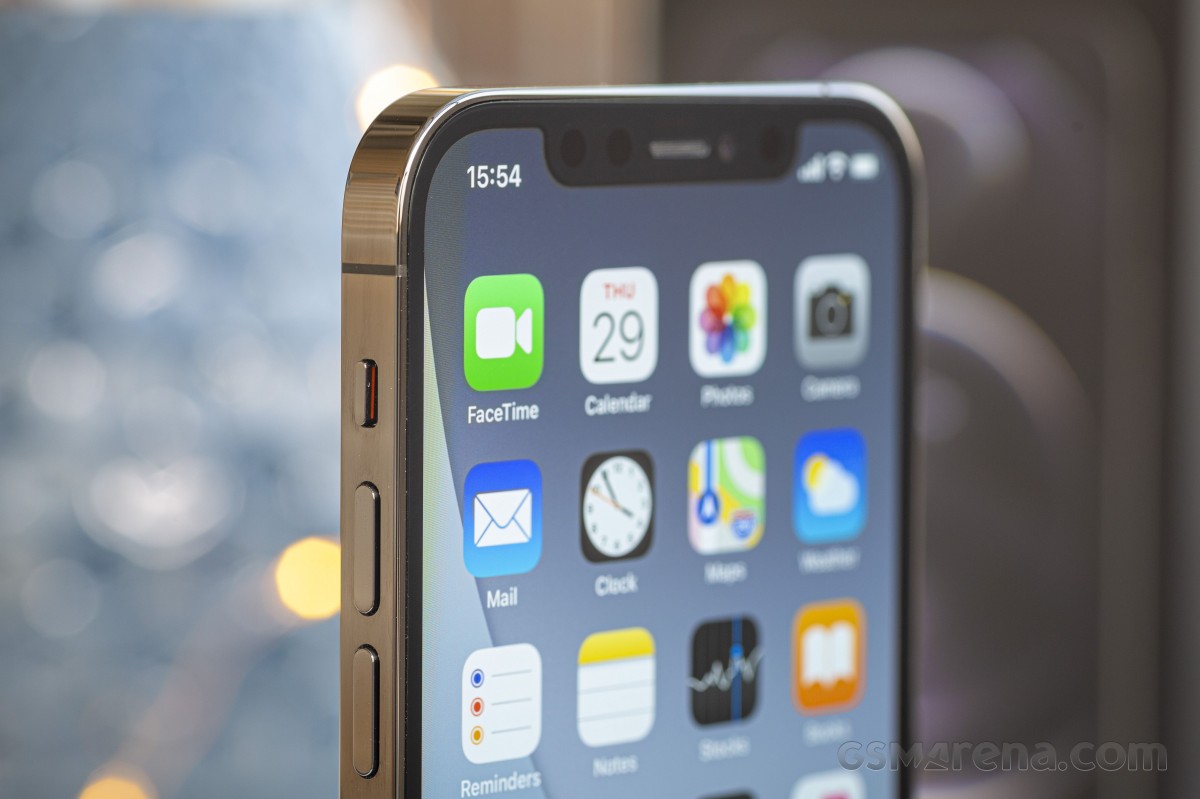 The rear glass is nicer to touch too, thanks to its matte finish (the regular 12 gets a shiny one). Finally the iPhone 12 Pro gains 25 grams on the regular 12, making it feel denser and more solid.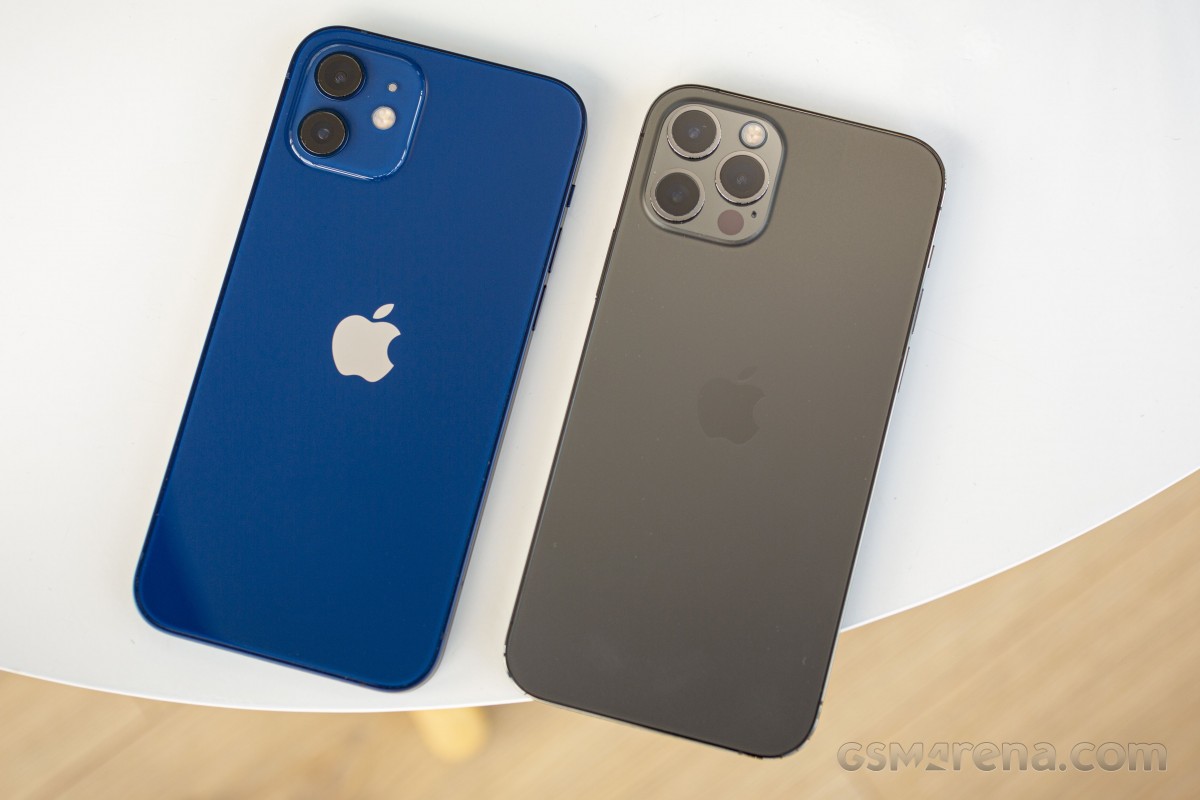 Otherwise Apple made the iPhone 12 Pro and 12 the same exact dimensions so any case that would fit one, would also work on the other.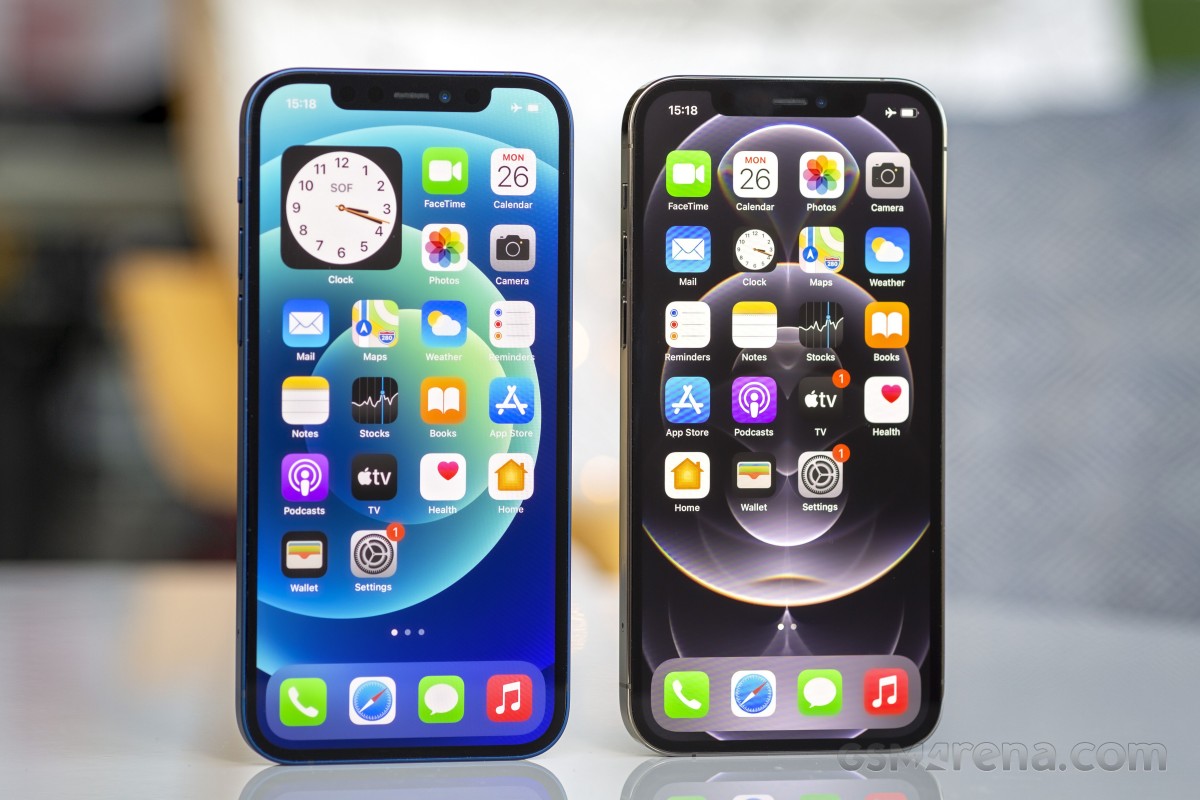 The next big difference between the 12 Pro and regular iPhone 12 is the 12MP 52mm f/2.0 2x telephoto camera on the iPhone 12 Pro. We're fans of telephoto cameras, but would have to say that having the same old 2x camera from the 11 Pro isn't nearly enough to justify the $200/€243/£200 premium on the Pro.
Moving to the screens and we have a minute difference. The iPhone 12 and 12 Pro both feature 6.1-inch Super Retina XDR OLED panels with HDR10 support and 1170x2532px resolution, but the iPhone 12 tops at 600 nits, while the iPhone 12 Pro brings it a bit further to 800 nits. We can't say it's a noticeable difference when the two are side by side, though. Both also have the same peak brightness of 1200 nits for HDR content though.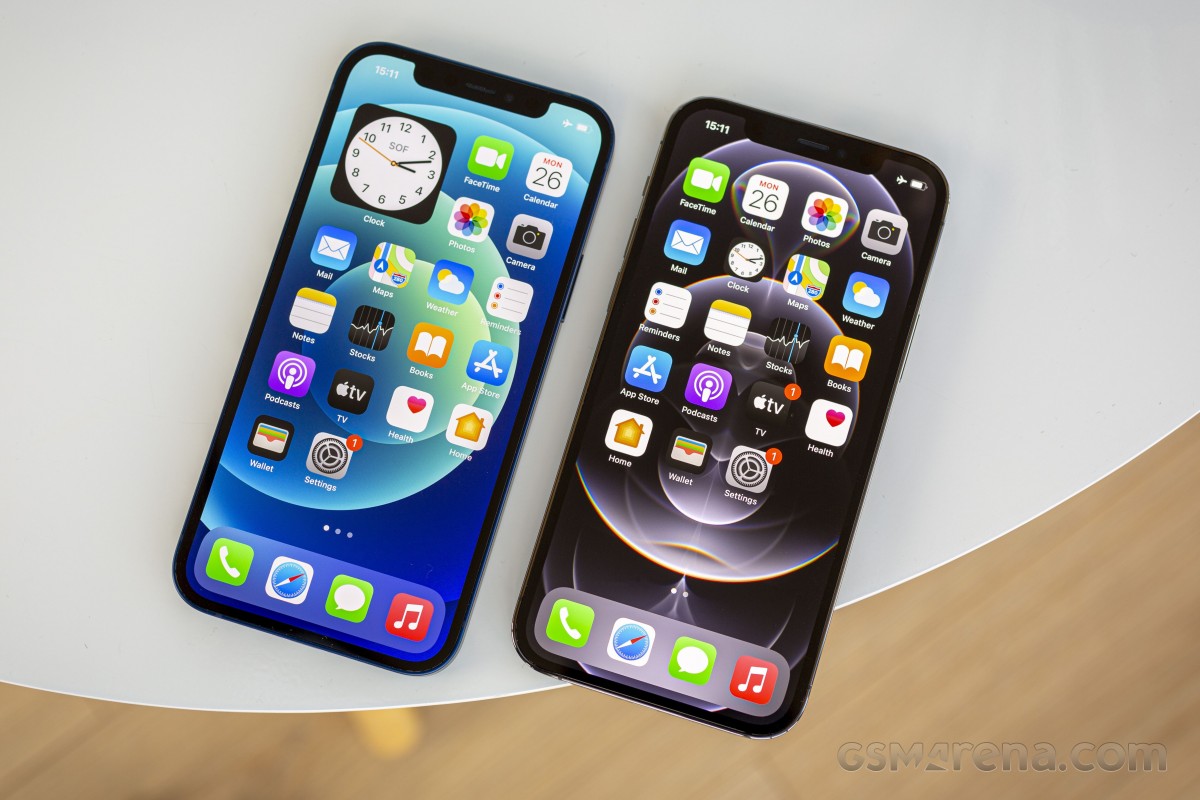 Finally there are storage options and RAM. The iPhone 12 Pro has a base storage of 128GB with the upgrade tiers of 256GB and 512GB, while the iPhone 12 starts at 64GB and brings it all the way up to 256GB. The iPhone 12 gets 4GB of RAM, while the Pro has 6GB – something that might seem like a decent upgrade, but doesn't seem to make a huge difference at least in these early days.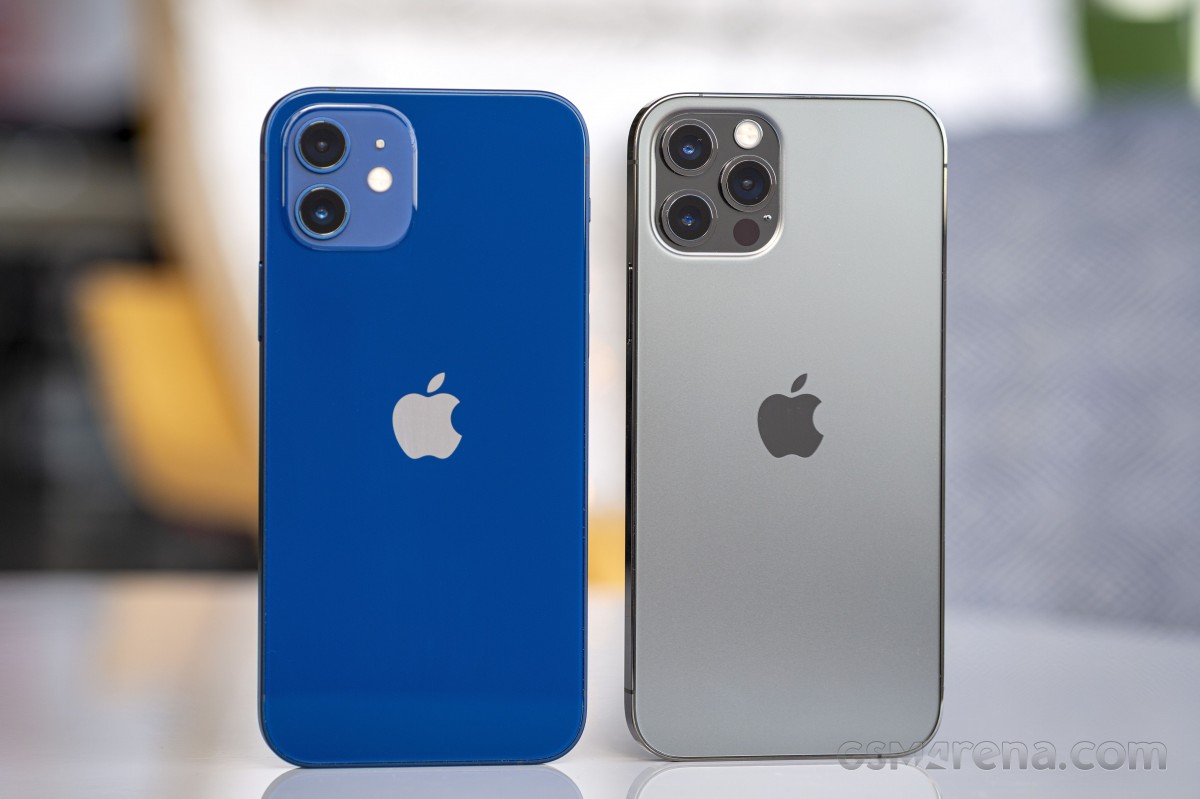 So overall, the iPhone 12 Pro has a few things to justify its price premium over the iPhone 12. Which is much smaller if you need to equalize storage. Overall we'd say paying more for the Pro is worth it if you enjoy the perspective of the telephoto camera or plan on carrying it without a case and enjoy the nicer build quality. But we're also here to tell you that the iPhone 12 feels just as fast than the Pro, is a bit lighter thanks to its aluminum frame, and comes in nicer colors. This year the line between Apple's regular and Pro lines is very much blurred.
A quick word for iPhone 11 Pro users looking to get an iPhone 12 Pro. The 12 Pro looks bigger but doesn't feel like that, mainly due to its virtually unchanged weight. The flat edges make the iPhone 12 Pro a different-feeling phone in the hand and we welcome the change. Apple was able to make a phone like no other in the market – one with flat sides and a fully-flat display and it almost feels revolutionary after so many years of lightly to outrageously curved devices.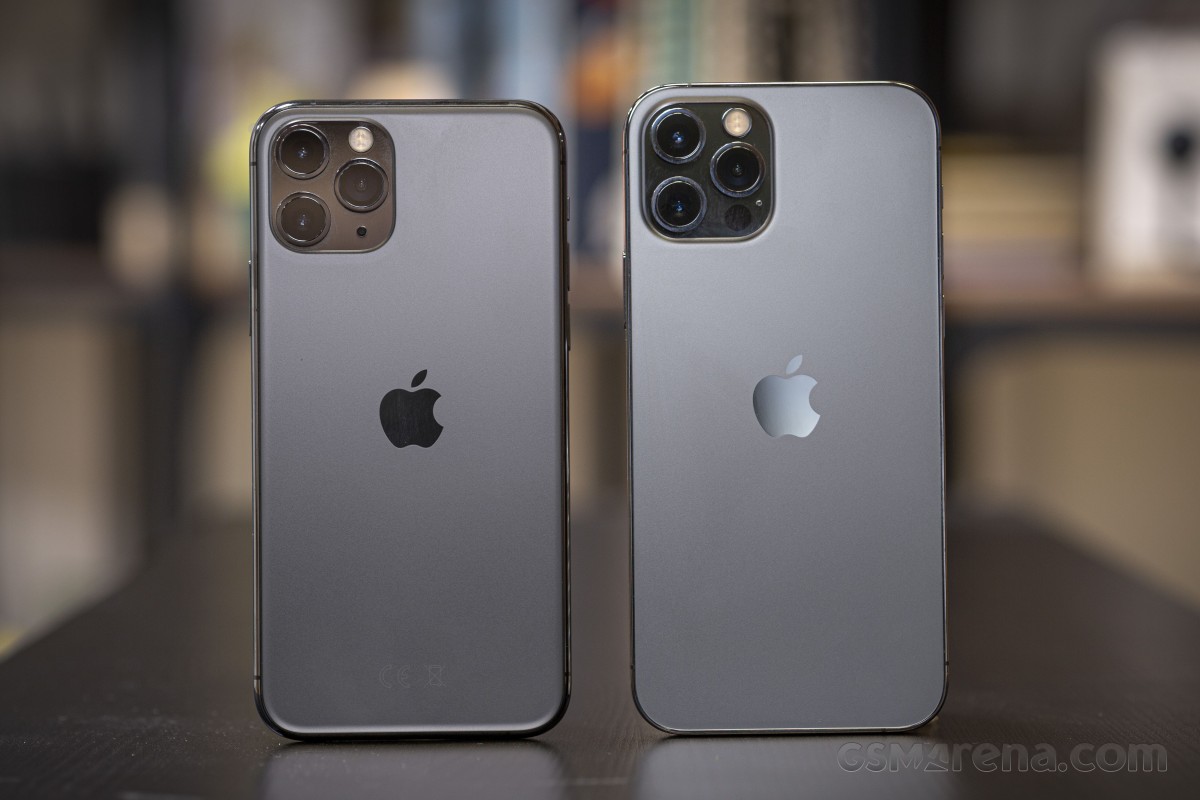 Yet upgrading from the iPhone 11 Pro to the 12 Pro is hard to justify. Yes, the new phone is faster and yes, it has a bigger screen, but neither is a big difference. As we see it the only reasonable upgrade path for 11 Pro owners is the 12 Pro Max if you can live with the much larger phone.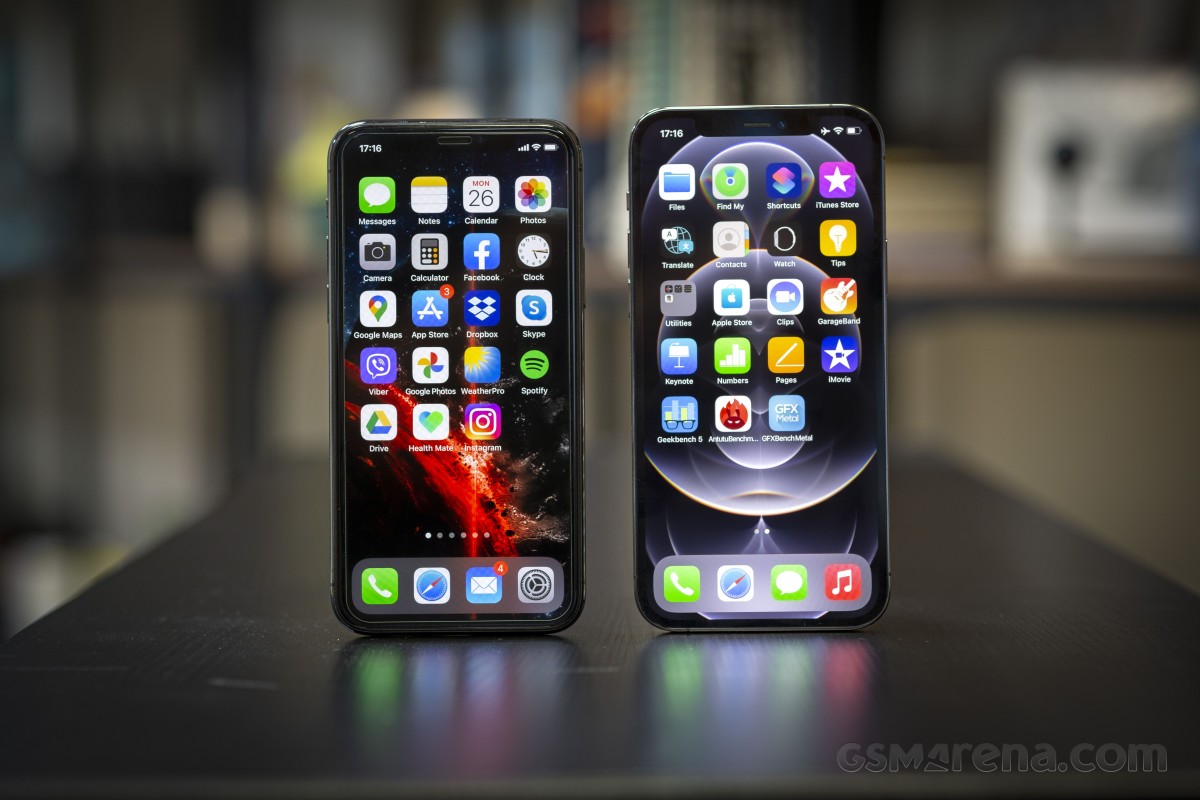 Stay tuned for our detailed iPhone 12 Pro review, coming in the first days of the next week!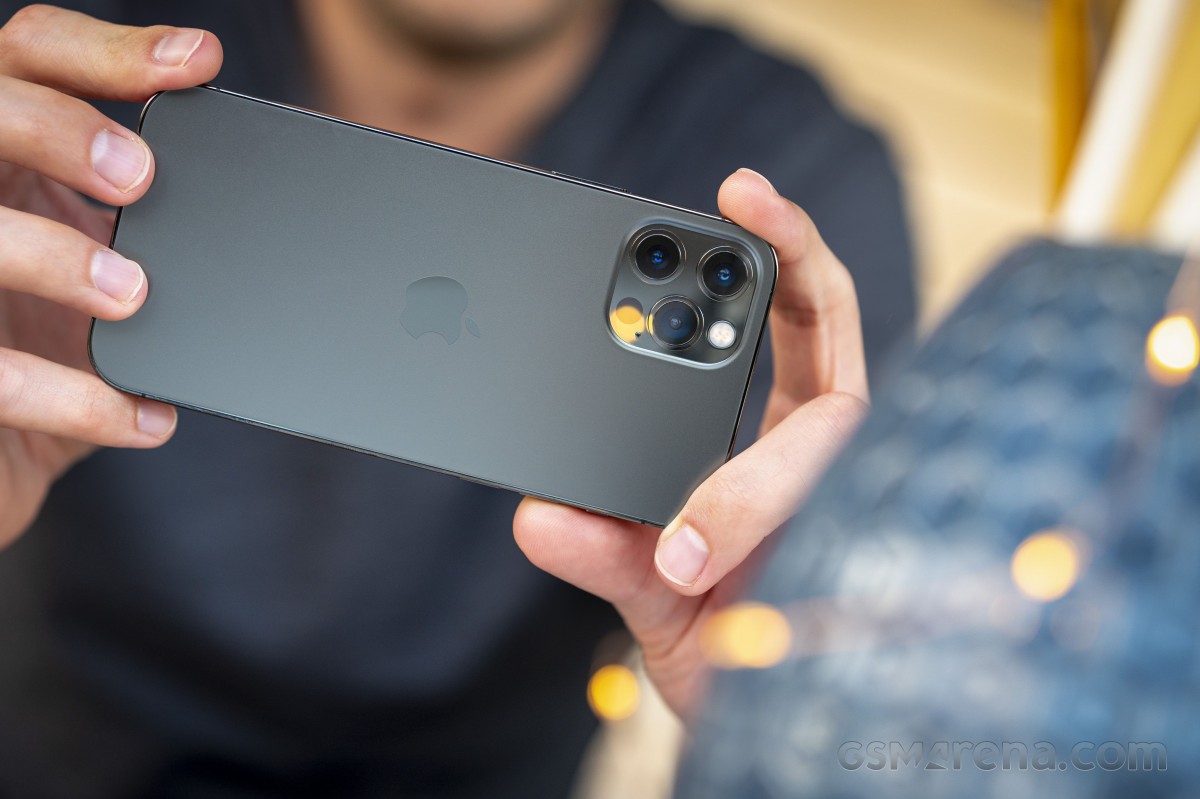 Here's what iPhone 12 Pro cameras can do: Incredible Night Mode photos and more – CNET
For photographers, almost every new iPhone has a little something special, and one of Apple's newest devices, the iPhone 12 Pro, is no exception. It brings a few seemingly simple, but entirely effective, upgrades that I think shutterbugs are going to love.
This week, I took the iPhone 12 Pro on a short trip to a beautiful place, Lake Tahoe, and found that the Night Mode software and ultrawide lens upgrades are pretty exciting. Let's dive into some of these updates that make the iPhone so great and gauge how it compares with Apple's previous phone, the iPhone 11 Pro.
Though Apple's most recent family of iPhones — the iPhone 12, Pro, Pro Max and Mini — deliver a wild amount of camera tech, it's spread across all four models. How much you want to pay will determine what kind of camera system you'll get.
Read more: iPhone 12 drop test result are in: Ceramic shield is as tough as it sounds
Loving lidar
The iPhone 12 Pro has a triple-lens rear camera setup that's common on most current high-end phones, and it adds a depth-sensing imaging technology called lidar (it's on the Pro Max as well).
Lidar, which stands for light detection and ranging, uses lasers to survey the environment you're shooting. By measuring how long it takes for light to bounce off objects and come back, the sensor creates a field of points that map out distances. It's not too different from how Apple's Face ID works.
Read more: iPhone 12 review: One of our highest-rated phones of all time
The technology promises to help capture image data in low-light situations by better reading the landscape and augmenting the visual data from the camera lenses. Apple says lidar also will improve low-light shots by allowing the camera to focus up to six times faster in darker conditions.
I noticed a huge difference from the improved focusing. It happened so fast and accurately while I was shooting, I quickly learned not to even worry about whether the shot was going to turn out well.
As with many of Apple's incremental upgrades over the past few years, lidar takes the iPhone another step closer to having shooting abilities comparable to those of a high-end professional DSLR. Fast focus just makes it feel like a "real" camera setup. And for sure, the iPhone 12 Pro is a very real camera setup. I loved using the new focus feature and the ultrawide Night Mode — they made for excellent and instantaneous in-focus photos.
Read more: The best phone to buy for 2020
What else will make my photos better?
Software also makes a big difference. Though the iPhone 12 and 12 Pro have the same selfie, wide and ultrawide cameras, the real photographic monster will be the coming iPhone 12 Pro Max with ProRaw enabled.
The iPhone 12 Pro's standard 26mm lens, dubbed wide, has now been upgraded from an f/1.8 to a wider f/1.6 aperture. That'll mean marginally better low-light performance on the same 12-megapixel sensor as the previous iPhone. Then the new seven-element lens, which Apple says allows 27% more light into the sensor, has been shown to dramatically improve the clarity and sharpness around a picture's edges. Across my photos taken with the wide lens, there's a shockingly low amount of noise in the shadows, even in the smallest of details.
In these images shot with the wide lens, notice how the underwater rocks in the foreground are properly exposed and show virtually no noise, but at the same time we still haven't lost any detail in the bright sky and the distant mountain range.
In the below image, shot in the clear emerald waters of Sand Harbor along Lake Tahoe's eastern shore in Nevada, the f/1.6 wide (26mm) lens captures varied tones, ranging from the shadows of the rocks underwater to the bright white splash of the paddle and the bright yellow kayak.
Low-light photos with Night Mode
Night mode is a low-light assist capture feature that's now available on the selfie, wide and ultrawide iPhone 12 Pro lenses, (on previous iPhones it was only on the standard wide lens). The feature will activate automatically when the camera detects a dark scene. When it's on, the Night Mode icon at the top of the display turns yellow.
Overall, Night Mode is going to be one of the most aggressively awesome new features on iPhones, because it's now available on every camera in the iPhone 12 line.
In default mode the camera will decide how long of a capture to make, but you can manually adjust the Night Mode exposure time by tapping the Night Mode icon and using the slider above the shutter button to choose a longer duration. Choosing Max will extend the capture time to its longest duration, thus letting in more light to the darker scene. For all of these images, I selected the maximum of 30 seconds.
For really the most stellar results, stabilize your phone by setting it on a surface or, even better, a tripod. I used a tripod to shoot these images.
Night Mode images on the iPhone 12 Pro are nothing short of amazing. I found the sweet spot for taking night photos to be during the 20- to 40-minute period of twilight just after sunset or just before sunrise. Photographers call these times the "blue hour," when the sun is below the horizon and the indirect light is a beautiful soft-glowing blue.
This image is a 30-second exposure shot using my Peak Design tripod in almost total darkness. The quality is really incredible. I shot one of the images you'll see below at Sand Point, also along the Nevada shore, on the iPhone 12 Pro using a 30-second Night Mode exposure and the ultrawide lens. It was minutes before 7 p.m. PT, or about 45 minutes after sunset.
For getting the best results using Night Mode, though, you do need some light. As the postsunset light began to fade to the dark of night, even my long exposure Night Mode images began to worsen significantly. I'd say that about an hour after sunset, things weren't looking very good anymore.
For comparison, here's a 30-second iPhone 12 Pro Night Mode shot on the left and an iPhone 11 Pro photo without Night Mode on the right. As you can see, the iPhone 11 Pro renders an almost a completely black image, with almost zero detail. Even in the blackest of the iPhone 12 Pro's tones, there's hardly any noise visible.
In addition to making basic saturation and contrast image edits in Apple's Photos mobile app, here below, I used the "Long Exposure" feature in the app to blur the choppy waters on the lake. The result is a smooth and milky nighttime image.
Apple's new Smart HDR 3 and its Deep Fusion processing technology, which are on all four rear cameras and the front-facing camera, are upgrades to the iPhone 12 Pro that feel like a significant part of Apple's camera success puzzle.
Deep Fusion's advanced machine learning enables some pretty noticeable pixel-by-pixel manipulation of photos. I noticed enhancements in the ultrafine details of photos and a huge step forward in noise reduction. As you can see below, the shadows of the rocks and trees are crisp and detailed.
With the new "sky segmentation" feature, the tones in the bright California sky are rendered differently from the rest of the shot, giving the image more detail. Though the camera is looking directly toward the sun in an extremely bright scene, the iPhone 12 Pro still manages to balance everything out, and expose the varied tonal regions in a way that renders a real true-to-the-eye image.
The brightest light of all, the sun, doesn't overpower the exposure or the tones through the rest of the image. The white highlights from the sun are limited to the sun itself, while the forest just below also manages to be properly exposed, with visible detail in the trees.
At the same time, the extreme brightness didn't wash out the image. The contrast remains solid, with the beautiful blues of the sky, the emerald waters of Lake Tahoe, and the yellow of the Aspens in the foreground all rendered in a way that really reflects what my eye saw.
In another image from Secret Cove, we see a really magnificent exposure balance between the bright sky and the reflective sparkle of the sun off the lake. But still we get well-preserved shadow detail with the foreground rocks and the tree trunk.
Wide angle photos are some of my favorite images to shoot with any camera. Up close and personal, they put the viewer right at the center of the action. Since the ultrawide lens debuted on the iPhone 11 Pro last year, I use it all the time to capture the full scene in front of me, whether it's taking in a smaller indoor space or capturing wide landscape vistas of the American West. Ultrawide lenses are always great for stunning landscape photography.
This year, Apple had made some pretty great software enhancements to the ultrawide lens that have me loving it even more than I did before. The sharpness issues that plagued iPhone 11 Pro images anywhere outside the center of the frame are now gone with the iPhone 12 Pro software upgrades. Far less distortion and more crisp details from edge to edge really drew me in.
You can see improvements in the below image I took from a lookout above California's Emerald Bay State Park. The edges of the iPhone 12 Pro photo, on the left, have a significant amount of additional information over the iPhone 11 Pro photo (on the right), and far, far less noise. The iPhone 11 Pro wide image on the right looks extremely muddy and lacks any definition at all.
The new iPhone 12 Pro has identical ultrawide angle hardware to last year's iPhone 11 and 11 Pro. But upgraded software on both it and the iPhone 12 Pro will now correct the lens distortion that shooting with a wider angle lens can bring. That distortion could lead to warped images at the edges and a loss of sharp detail at the fringes.
The iPhone 12 Pro is rated for underwater, so I jumped into the (cold!) mountain waters of Lake Tahoe. Rated IP68 for water and dust-resistance, it can withstand being submerged to a depth of six meters for 30 minutes. Below, in this ultrawide lens photo taken at Sand Harbor, you can see how well the new software has corrected the distortion.
There's almost no distortion across the middle third of the image and really great detail from edge to edge. Look closely at the detail in the rocks and the trees. There are fine details without any of the muddiness we saw with the previous ultrawide lens.
It's only at the far four corners of the image where we start to see some minor warping and softening of the details. In the upper left, you can see the details at the top of the mountain begin to fall just a little bit, losing some of their clarity.
I took this ultrawide lens kayaking in Lake Tahoe's crystal clear blue waters off Sand Harbor. Notice the sharp details in the ripple of the waters across the image, and the details in the distant mountains. Only at the bottom left corner can you see some detail lost due to smoothing of the image.
Here's another stunningly blue ultrawide lens image taken with the iPhone 12 Pro. I edited the image using the "Long Exposure" feature inside Apple's Photos app, which smooths the motion of the photo (in this case the waters of the lake) to a silky sheen.
Video gets better
The iPhone 12, iPhone 12 Mini, iPhone 12 Pro and iPhone 12 Pro Max can now also use the Night Mode with the time-lapse feature. Using longer interval frames, more light is collected, resulting in dramatically better low-light performance. Unlike Night Mode when shooting a photo, video Night Mode is baked in to the feature and turns on automatically, without the designated icon being shown.
Take a look below at the sun rising over Lake Tahoe from Emerald Bay State Park in California. The dark rocks in the foreground have visible detail, and the bright skies also still have beautiful well-rendered tones. I shot this video in extremely low light about 45 minutes after sunset.
In the time-lapse below, taken during the twilight period more than half an hour after the sun had set, you can see some pretty great detail in the waters of Lake Tahoe in Nevada.
A photographic feast, with more to come
These have been some pretty significant upgrades for photography software on the iPhone 12 Pro. Though there still are a number of other phones that offer much longer zoom ranges, the iPhone 12 Pro remains one of the best phones for taking amazing pictures.
In its increasingly refined camera array, Apple continues to concoct a delectable recipe for photographic success. Rather than a single great bump in megapixels, or a massive sensor boost, this iPhone camera system is really the sum of many parts. A little Deep Fusion here, a faster processor there, some Smart HDR 3, sensor-shift stabilization and just a dash of magic make for a pretty sensational photographic feast.
And just around the corner, we'll see the iPhone 12 Pro Max monster…