Japan developing wooden satellites to cut space junk – BBC News


.css-94m6rd-HeadingWrapperborder-bottom:solid 1px #BABABA;padding-bottom:1.5rem;.css-94m6rd-HeadingWrapper > *:not([hidden]):not(style) ~ *:not([hidden]):not(style)margin-top:1rem;.css-vk3nhx-ComponentWrappermargin:1.5rem 0;
.css-2y05cd-StyledFigurefont-family:ReithSans,Helvetica,Arial,freesans,sans-serif;font-weight:400;font-size:0.875rem;line-height:1.125rem;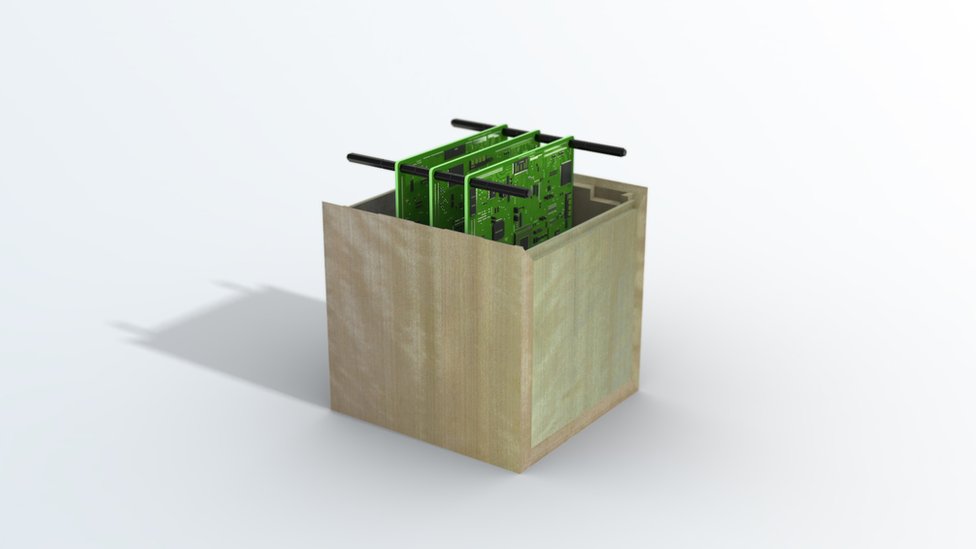 .css-uf6wea-RichTextComponentWrappermargin:1rem 0;max-width:36.25rem;
.css-83cqas-RichTextContainercolor:#3F3F42;.css-83cqas-RichTextContainer > *:not([hidden]):not(style) ~ *:not([hidden]):not(style)margin-top:1rem;
.css-14iz86j-BoldTextfont-weight:bold;A Japanese company and Kyoto University have joined forces to develop what they hope will be the world's first satellites made out of wood by 2023.
Sumitomo Forestry said it has started research on tree growth and the use of wood materials in space.
The partnership will begin experimenting with different types of wood in extreme environments on Earth.
Space junk is becoming an increasing problem as more satellites are launched into the atmosphere.
Wooden satellites would burn up without releasing harmful substances into the atmosphere or raining debris on the ground when they plunge back to Earth.
.css-1pzprxn-BulletListContainermargin-left:1.5rem;.css-1pzprxn-BulletListContainer *:not([hidden]):not(style) ~ *:not([hidden]):not(style)margin-top:1rem;.css-1pzprxn-BulletListContainer ullist-style-type:disc;.css-1pzprxn-BulletListContainer ollist-style-type:decimal;
.css-yidnqd-InlineLink:linkcolor:#3F3F42;.css-yidnqd-InlineLink:visitedcolor:#696969;.css-yidnqd-InlineLink:link,.css-yidnqd-InlineLink:visitedfont-weight:bolder;border-bottom:1px solid #BABABA;-webkit-text-decoration:none;text-decoration:none;.css-yidnqd-InlineLink:link:hover,.css-yidnqd-InlineLink:visited:hover,.css-yidnqd-InlineLink:link:focus,.css-yidnqd-InlineLink:visited:focusborder-bottom-color:currentcolor;border-bottom-width:2px;color:#B80000;@supports (text-underline-offset:0.25em).css-yidnqd-InlineLink:link,.css-yidnqd-InlineLink:visitedborder-bottom:none;-webkit-text-decoration:underline #BABABA;text-decoration:underline #BABABA;-webkit-text-decoration-thickness:1px;text-decoration-thickness:1px;-webkit-text-decoration-skip-ink:none;text-decoration-skip-ink:none;text-underline-offset:0.25em;.css-yidnqd-InlineLink:link:hover,.css-yidnqd-InlineLink:visited:hover,.css-yidnqd-InlineLink:link:focus,.css-yidnqd-InlineLink:visited:focus-webkit-text-decoration-color:currentcolor;text-decoration-color:currentcolor;-webkit-text-decoration-thickness:2px;text-decoration-thickness:2px;color:#B80000;Orbiting space junk collision 'avoided'
"We are very concerned with the fact that all the satellites which re-enter the Earth's atmosphere burn and create tiny alumina particles which will float in the upper atmosphere for many years," Takao Doi, a professor at Kyoto University and Japanese astronaut, told the BBC.
"Eventually it will affect the environment of the Earth."
"The next stage will be developing the engineering model of the satellite, then we will manufacture the flight model," Professor Doi added.
As an astronaut he visited the International Space Station in March 2008.
During this mission, he became the first person to throw a boomerang in space that had been specifically designed for use in microgravity.
.css-18mjolk-ComponentWrappermargin:1.5rem 0;max-width:50rem;
Sumitomo Forestry, part of the Sumitomo Group, which was founded more than 400 years ago, said it would work on developing wooden materials highly resistant to temperature changes and sunlight.
The wood it is using is an "R&D secret" a spokesman for the company told the BBC.
.css-mysbf6-ComponentWrapper-CrossheadComponentWrappermargin:1.5rem 0;max-width:50rem;padding-top:1rem;max-width:36.25rem;
.css-qozapo-StyledHeadingfont-family:ReithSerif,Helvetica,Arial,freesans,sans-serif;font-weight:500;font-size:1.5rem;line-height:1.75rem;color:#3F3F42;@media (min-width:37.5rem).css-qozapo-StyledHeadingfont-size:2rem;line-height:2.25rem;.css-qozapo-StyledHeading:focusoutline-style:none;.css-qozapo-StyledHeading:focus-visibleoutline-style:auto;
Space junk
Experts have warned of the increasing threat of space junk falling to Earth, as more spacecraft and satellites are launched.
Satellites are increasingly being used for communication, television, navigation and weather forecasting. Space experts and researchers have been investigating different options to remove and reduce the space junk.
There are nearly 6,000 satellites circling Earth, according to the World Economic Forum (WEF). About 60% of them are defunct (space junk).
Research firm Euroconsult estimates that 990 satellites will be launched every year this decade, which means that by 2028, there could be 15,000 satellites in orbit.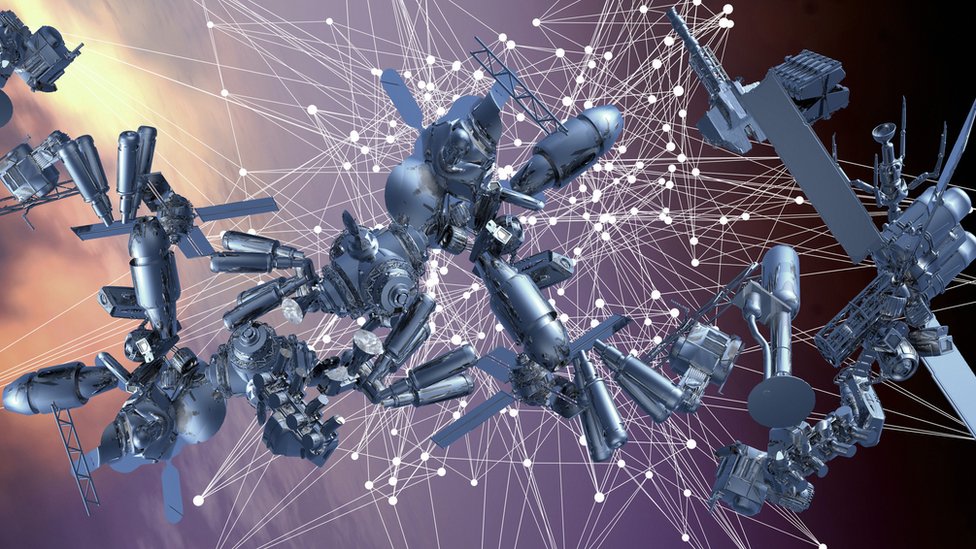 Elon Musk's SpaceX has already launched more than 900 Starlink satellites and has plans to deploy thousands more.
Space junk travels at an incredibly fast speed of more than 22,300 mph, so can have cause considerable damage to any objects it hits.
In 2006 a tiny piece of space junk collided with the International Space Station, taking a chip out of the heavily reinforced window.
.css-144ki52-SectionWrappermargin:1.5rem 0;padding-top:1.5rem;
Canadians Can Now Sign Up for Starlink Internet Beta Without an Invite, If Eligible – iPhone in Canada
SpaceX has made changes to its Starlink internet beta website, to now allow sign-ups without an invite, if your address is eligible for service, reports Tesla North.
Previously, Starlink website sign-ups for the beta program would be contacted via email to let them know about eligibility. But as of Wednesday, users in Canada and the United States can enter their address on the Starlink website—and if eligible, sign up right away.
All you have to do is visit the Starlink website here, enter your email and your home address. You'll be able to confirm your exact location with a pin on a map.
After that's done, you'll then be notified instantly if you can sign up for the internet beta program. If you are eligible, you'll be able to place an order right away for the Starlink hardware package, which contains a dish and router.
Tesla North reports Canadians in Ontario, Manitoba and Alberta were able to sign up today or received emails to join the Starlink beta. Eligible latitudes seen so far have been in the range of 43.1 to 45.3, and 50.01 to 50.71.
As for Starlink internet pricing in Canada? The dish is priced at $649 CAD, while the service is at $129 CAD per month. Starlink is targeting those in rural areas, lacking high-speed access.
Starlink internet beta invites hit Canada back in September. The low-Earth orbit satellite internet offers lower latency and faster download speeds compared to traditional satellite internet. This is because Starlink internet satellite constellations are hovering 550 km above Earth, whereas conventional satellite internet is at roughly 35,700 km above the globe, resulting in slow speeds with high latency.
[embedded content]
On Thursday morning, SpaceX's Falcon 9 rocket launched 60 more satellites into orbit, resulting in over 1,000 Starlink satellites in space. SpaceX has plans to launch 12,000 satellites and at its current pace, has a leg up on competitors.
The first location in Canada to use Starlink internet was the Pikangikum First Nation.
In Canada, the federal government recently inked a $600 million deal with Ottawa-based Telesat for its low-Earth orbit satellite internet. So far? There's only one Telesat satellite in space, but plans are to send more into orbit in 2021 aboard Amazon-backed Blue Origin rockets. Telesat satellites at 800 kg each, weigh more than three times that of a Starlink satellite, at just 227 kg.
Moreover, Telesat will sell its satellite internet services to internet providers, who will then sell directly to consumers. This is different than Starlink's direct-to-consumer business model, mirroring Tesla. Time will tell if $600 million of your tax dollars will see Telesat compete with SpaceX's Starlink internet.
For rural Canadians, Starlink internet will allow for high-speed internet connectivity that's unheard of, allowing for video conferencing and also streaming 4K video and playing video games. Beta testers have seen download speeds of 150 Mbps or higher.
Were you able to sign up for Starlink internet beta via the website?
Paleontologists finally have their first good look at a dinosaur's butt – CNET
Paleontologists spend their entire academic careers studying the anatomy of dinosaurs. Now a team of scientists from the University of Bristol has finally described in detail a dinosaur's cloacal or vent, which is used for everything from defecation and urination to attracting a mate to breed with (or, less scientifically, a jack-of-all-trades butthole).
In a new study, published in the journal Current Biology on Tuesday, Scientists revealed a range of theories about the cloacal vent on a dog-sized dinosaur called Psittacosaurus, a relative of Triceratops from the early Cretaceous era, which lived about 120 million years ago.
"I noticed the cloaca several years ago after we had reconstructed the color patterns of this dinosaur using a remarkable fossil on display at the Senckenberg Museum in Germany which clearly preserves its skin and color patterns," Dr. Jakob Vinther from the University of Bristol's School of Earth Sciences said in a statement on Tuesday.
"It took a long while before we got around to finish it off because no one has ever cared about comparing the exterior of cloacal openings of living animals, so it was largely unchartered territory," Vinther added.
The researchers reveal the dinosaur's cloaca has similar features as cloacas on alligators and crocodiles. The dino's outer cloaca areas were also likely highly pigmented. This pigmentation may have been used to attract a mate, much like baboons use theirs.
"We found the vent does look different in many different groups of tetrapods, but in most cases, it doesn't tell you much about an animal's sex." Dr. Diane Kelly from the University of Massachusetts Amherst said. "Those distinguishing features are tucked inside the cloaca, and unfortunately, they're not preserved in this fossil."
It's not just the appearance of the dino's vent that got the attention of mates, but also its smell. The large, pigmented lobes on either side of the cloacas could have also included musky scent glands to get the attention of a mate.
"Knowing that at least some dinosaurs were signaling to each other gives palaeo-artists exciting freedom to speculate on a whole variety of now plausible interactions during dinosaur courtship," palaeo-artist and study artist Robert Nicholls said in a statement.
"It is a game-changer!"
A Habitat at Ceres Could be the Gateway to the Outer Solar System – Universe Today
In the near future, humanity stands a good chance of expanding its presence beyond Earth. This includes establishing infrastructure in Low Earth Orbit (LEO), on the surface of (and in orbit around) the Moon, and on Mars. This presents numerous challenges, as living in space and on other celestial bodies entails all kinds of potential risks and health hazards – not the least of which are radiation and long-term exposure to low gravity.
These issues demand innovative solutions; and over the years, several have been proposed! A good example is Dr. Pekka Janhunen's concept for a megasatellite settlement in orbit around Ceres, the largest asteroid in the Main Belt. This settlement would provide artificial gravity for its residents while the local resources would allow for a closed-loop ecosystem to created inside – effectively bringing "terraforming" to a space settlement.
Dr. Janhunen – a theoretical physicist based in Helsinki, Finland – is no stranger to advanced concepts. In addition to being a research manager with the Finnish Meteorological Institute, he is a visiting professor with the University of Tatu and a senior technical advisor to Aurora Propulsion Technologies – where he is overseeing the commercial development of the Electric Solar Wind Sail (E-sail) concept he proposed back in 2006.
The paper that describes his concept recently appeared online and has being submitted for publication to the scientific journal Elsevier. It's a concept that Dr. Janhunen described to Universe Today as, "[T]erraforming from the user perspective: creating an artificial environment, near Ceres and of Ceres materials, that can scale up to the same and larger population than Earth has today."
Rotating space habitats are a time-honored proposal and a suggested alternative to (or in conjunction with) habitats on other celestial bodies. The first recorded instance was Konstantin Tsiolkovsky's 1903 book, Beyond Planet Earth, where he described a pinwheel station in space that would rotate to provide artificial gravity.
This was followed by Herman Poto?nik's expanded proposal in The Problem of Space Travel (1929), the Von Braun Wheel (1952), and Gerard K. O'Neill's revolutionary proposal in The High Frontier: Human Colonies in Space (1976) that called for a rotating cylinder in space – aka. the O'Neill Cylinder. However, all these concepts were for stations in Low Earth Orbit (LEO) or at an Earth-Sun Lagrange Point.
As Dr. Janhunen told Universe Today via email, a megasatellite constellation in orbit of Ceres could leverage the local resources to create Earth-like conditions:
"They provide Earth-like 1 g gravity, which is essential for human health, in particular essential for children to grow to healthy adults with fully developed muscles and bones. Ceres has nitrogen for making the habitat atmospheres, and it is large enough to provide almost unlimited resources. At the same time it is also small enough that its gravity is rather low so that lifting material from the surface is cheap."
According to his study, the megasatellite settlement would consist of spinning habitats attached to a disk-shaped frame through passive magnetic bearings. This would allow for simulated gravity within the habitats, facilitate intra-settlement travel and ensure that population density remains low.
Dr. Janhunen estimates that it could be kept to 500 people per km2 (190 people per mi2), whereas cities like Manhattan and Mumbai have densities of roughly 27,500 and 32,303 people per km2 (or 71,340 and 83,660 people per mi2), respectively. The settlement would initially be furnished with soil 1.5 m (~5 ft) in depth, which could be upgraded to 4 m (~13 ft).
This would allow for greenspaces with gardens and trees that would produce the settlement's oxygen and scrub the atmosphere of CO2 (as well as additional radiation shielding). Similarly, Ceres is known to have abundant supplies of ammonia salts on its surface (particularly around the bright spots in the Occator crater) that could be imported to the settlement and converted to nitrogen for use as a buffer gas.
Planar and parabolic mirrors located around the frame would direct concentrated sunlight to the habitats, providing illumination and allowing for photosynthesis to occur. While the creation of such a settlement presents many technical challenges and would require a massive commitment in resources, it would actually be easier in many respects that colonizing the Moon or Mars.
For that matter, it would also be much easier than terraforming the Moon or Mars. As Dr. Janhunen explained:
"In some aspects easier (no need of planetary landing, no dust-storms, no long night). In all cases the main challenge is probably bootstrapping the industry in a remote place – one needs some robotics and AI, but they are coming to existence now, broadly speaking."
But perhaps the most exciting aspect of this proposal is the fact that it allows for a space elevator! On Earth, such a structure remains impractical (as well as extremely expensive) because Earth's gravity (9.8 m/s2, or 1 g) imposes some serious restrictions on space exploration. In short, a rocket must achieve an escape velocity of 11.186 km/s (40,270 km/h; 25,020 mph) to break free of Earth's gravity.
On Ceres, however, the gravity is a fraction of what it is here on Earth – 0.28 m/s2 (less than 3%), which results in an escape velocity of just 510 meters per second (1.8 km/h; 1.14 mph). Combined with its rapid rotation, a space elevator is totally feasible and would be energetically cheap (compared to transporting them from other locations).
Of course, there's also the benefit that such a settlement would have for exploring (and colonizing) the outer Solar System. With a large population and infrastructure around Ceres, ships destined for Jupiter, Saturn, and beyond would have a stopover point to refuel and take on supplies. Potential destinations for colonies could include the Galilean Moons, the moons of Saturn, or orbiting habitats in both systems.
This would give humanity access to the abundant resources of these systems and usher in an age of post-scarcity. In the meantime, this Ceres megaconstellation would provide an Earth-like environment for a sizeable population within the Main Asteroid Belt, one that could be upgraded to make room for many more people. As Dr. Janhunen indicated:
"The Ceres megasatellite could scale up to hundreds of billions of people, probably, so it would suffice at least for a few centuries. Discussing future beyond that is hard, but in general, spreading to multiple places is what life generally does. On the other hand, people like to live in an interconnected world whose parts can [all] be accessed by travel."
At its core, Dr. Janhunen's concept is a marriage of space construction and in-situ resource utilization (ISRU) with some key elements of terraforming thrown in. The end result of this is a design for a scalable settlement that could allow human beings to colonize otherwise uninhabitable parts of the Solar System. When addressing the future of humanity in space, both the challenges and the rewards are clear.
In order to get to the rewards, we need to get mighty creative and be prepared to commit!
Further Reading: arXiv