Japan's Subaru unveils first all-electric car, developed with Toyota
Japan's Subaru Corp on Thursday unveiled it first all-electric vehicle (EV), the Solterra, the result of a two-year joint development project with its biggest shareholder Toyota Motor Corp.
The sports utility vehicle (SUV) launch comes amid accelerating demand for EVs as nations around the world tighten environmental regulation to cut carbon emissions. Toyota last month announced its version of a battery electric vehicle (BEV), the bZ4X.
The technological shift away from internal combustion engines poses a challenge for smaller carmakers, such as Subaru, that are less able to fund expensive development of EVs. At the same time, its an opportunity for top-tier automakers, such as Toyota, to draw smaller rivals closer.
Toyota, a pioneer of hybrid electric cars but a late comer to the full EV market, plans to have a line up of 15 BEV models by 2025. It is also spending $13.5 billion over the next decade to expand auto battery production capacity.
Subaru's vehicle sales are less than a tenth of those at Toyota, the world's biggest automaker by production volume.
The front-wheel drive Solterra has a cruising range of 530 km (329 miles), while the all-wheel drive version can drive 460 km on a single charge, Subaru said in a press release.
Toyota owns a fifth of Subaru, and has a 5% stake in Mazda Motor Corp, which plans to launch 13 electrified vehicles by 2025, including hybrids and BEVs that will incorporate Toyota technology.
(Reporting by Tim Kelly; Editing by Christian Schmollinger)
Genshin Impact Teaser Trailer Introduces Players To The Foolhardy Oni Arataki Itto – Noisy Pixel
Developer miHoYo has released a new Genshin Impact teaser trailer introducing us to the new character, Arataki Itto, the head of the Arataki Gang. They constantly get caught by Inazuma's Tenryou Commission. The trailer depicts a slightly distorted version of the humans versus oni story while providing comedic insight into Arataki Itto's personality. In the trailer's description, the developer states:
"When the Arataki Gang is involved, even the most traditional repertoire may usher in a new twist. Although some in the audience have enjoyed such a surprise, it has caused some trouble for the Tenryou Commission. So let's see who will get the last laugh this time: Arataki Itto with his booming laughter, or the soldiers who are swift at maintaining law and order."
Arataki Itto will be available for players to wish for starting December 14th. In addition, the new Geo Archer, Canine Warrior Gorou, will also release alongside Arataki Itto. Here's the full information about the character's voice actors and skills: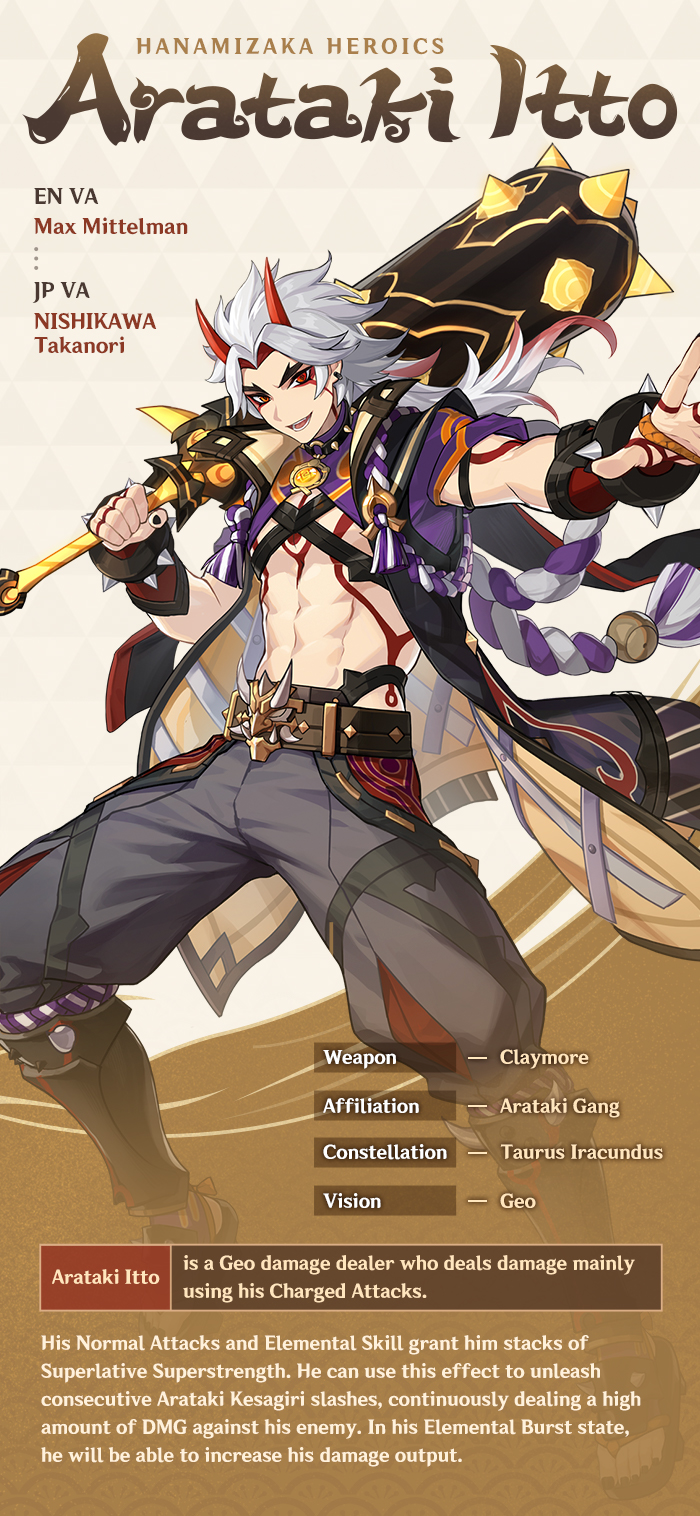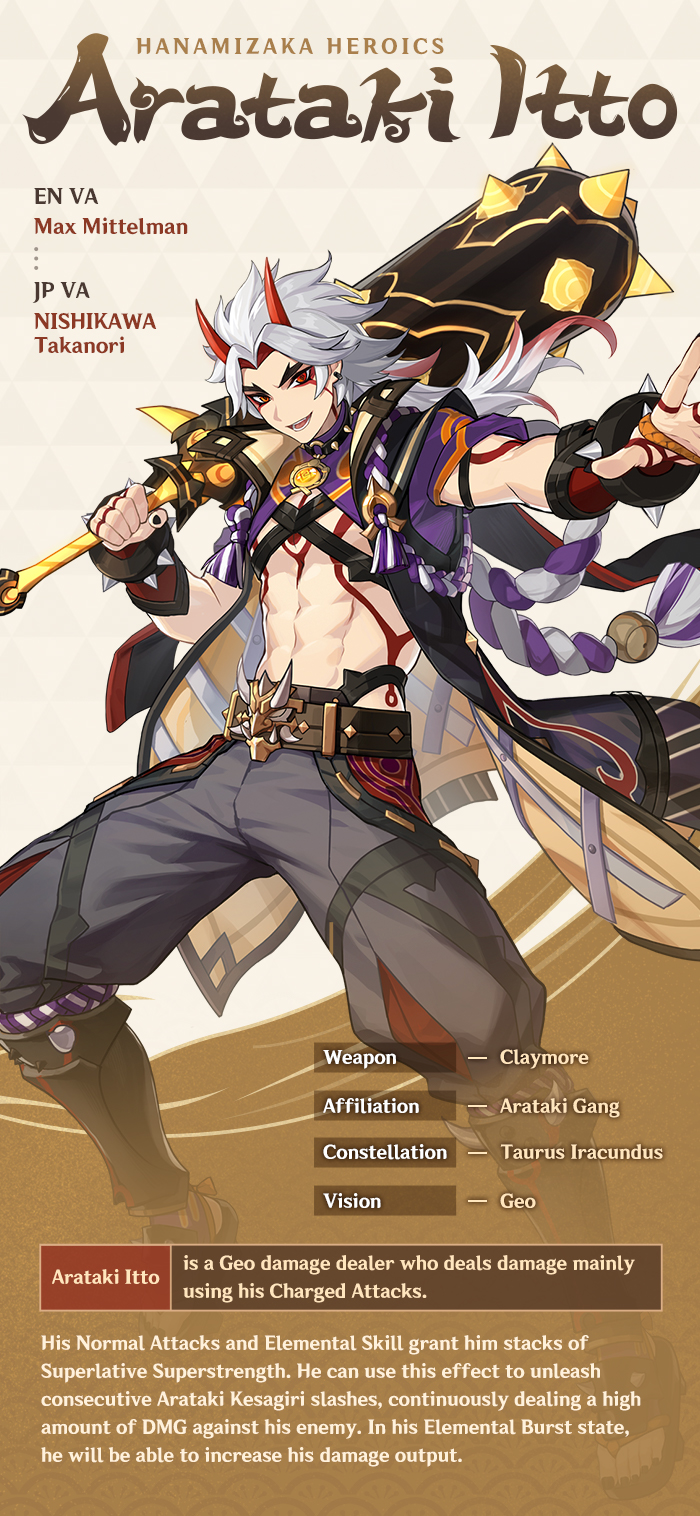 You can view this new teaser trailer below:
[embedded content]
Genshin Impact is a free-to-play open-world action RPG that brings players to the visually stunning world of Teyvat. The player takes on the role of the mysterious "Traveler," who sets off on a journey to discover the fate of their lost sibling and unveils the mysterious secrets of Teyvat along the way. Version 2.3, Shadows Amid Snowstorms, is currently available on PlayStation 4, PlayStation 5, PC (through the official website and the Epic Games Store), Android, and iOS devices.
Here's What Time 'Halo Infinite' Launches In Your Region – Forbes
The day has finally arrived. A year delay, a three week early release of multiplayer, and now everyone will finally be able to get their hands on the Halo Infinite campaign, and make up their minds about 343's latest installment, and the guideposts for the next generation of Halo content from Microsoft.
You are probably waking up to check if you can play this very moment, but Halo Infinite is doing a global launch where the game releases simultaneously in all regions. So, what times does Halo Infinite launch?
December 8:
10 AM PT
12 PM CT + CST
1 PM ET
3 PM BRT
6 PM GMT
7 PM CET
9 PM AST + MSK
December 9:
2 AM HKT
3 AM JST
5 AM AEDT
7 AM NZDT
So, essentially usual daily challenge reset time for most regions. While Halo Infinite is single player and has no co-op, online or otherwise, I would expect there possibly to be some login issues as everyone floods to it, although 343 did do a good job preventing that from happening too much during the multiplayer launch, so maybe not.
It is pretty bizarre to think that multiplayer was also supposed to be launching today. It really reinforces just how separately packaged these two halves of Halo Infinite are. Besides the different release dates, Infinite is free-to-play and the campaign is either $60 by itself, or requires a Game Pass subscription, no doubt how the majority of players will play.
It's going to be really hard to measure the success of Halo Infinite in a traditional way, as sales will mean relatively little with its Game Pass inclusion, so expect to see some metric like "hours played" that will not mean all that much. The campaign also has zero monetization, as that's all jammed into multiplayer instead.
Halo Infinite campaign reviews arrived a few days ago, and it's scoring pretty high with an 86 on Metacritic. I was definitely on the lower end of reviews with a 7.5, but again, that's just the campaign, and I'd score multiplayer significantly higher. My main issue was that the last third of the game felt too unfinished and stopped too short, but we'll see if anyone agrees with me or not.
All my progress has been wiped from my review build, so I am diving in to replay the entire campaign again later today just like everyone else. I will work on an "early advice" tips article that will go live later today.
It's going to be a big day for Halo fans, and I'm really looking forward to seeing what everyone makes of Infinite. See you out there.
Follow me on Twitter, YouTube, Facebook and Instagram. Subscribe to my free weekly content round-up newsletter, God Rolls.
Pick up my sci-fi novels the Herokiller series and The Earthborn Trilogy.
Genshin Impact Gets New Trailer Introducing Arataki Itto – Twinfinite
Following the recent release of version 2.3 of Genshin Impact, MiHoYo released a new trailer showcasing a new playable character.
We get to take a look at Arataki Itto, the boss of the Arataki gang. He will be released in-game on December 14.
You can check the trailer out below both in English and Japanese, depending on your voice-over language of choice.
"When the Arataki Gang is involved, even the most traditional repertoire may usher in a new twist. Although some in the audience have enjoyed such a surprise, it has caused quite the trouble for the Tenryou Commission. Let's see who will get the last laugh this time: Arataki Itto with his booming laughter, or the soldiers who are swift at maintaining law and order."
If you want to see more of Genshin Impact, we recently interviewed MiHoYo about the game's platforms, inspiration, and more. You can also read our review and watch the trailer dedicated to Kamisato Ayaka, one starring Yoimiya, one showing Sayu, two focusing on Aloy from Horizon Zero Dawn and Kujou Sara, one showcasing the Raiden Shogun, one focusing on Sangonomiya Kokomi, and one showcasing Thoma.
On top of that, you can read more about update 2.3, which will was released on November 24. The game is currently available for PS5, PS4, PC, iOS, and Android.