Jays closer Yates likely done for season – TSN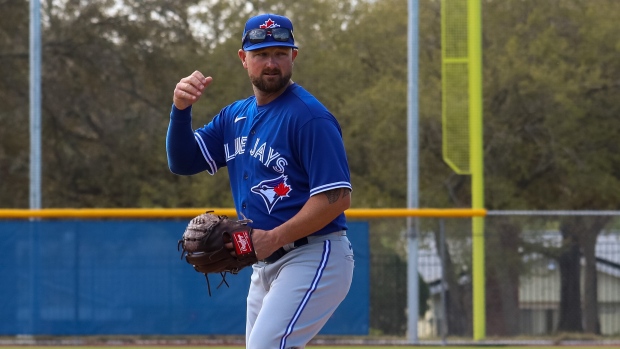 The Toronto Blue Jays were dealt a significant injury blow Tuesday with news that reliever Kirby Yates was expected to miss the entire season due to a right elbow injury.
General manager Ross Atkins said Yates, who was recently diagnosed with a flexor-pronator strain, will likely need surgery.
"It's most likely going to be a Tommy John revision," Atkins said on a video call with reporters. "It's still very fresh with the information but that would be the most likely outcome."
Atkins said that Yates recently underwent an MRI exam and had received a second opinion. Yates was touted as a potential closer after signing a one-year, US$5.5-million contract with the Blue Jays this off-season.
Yates was an all-star in 2019 with San Diego, registering 41 saves and posting a 1.19 earned-run average. He made six appearances with the Padres last year before undergoing surgery to remove bone chips from his pitching elbow.
"We knew it was very high risk with the potential of high reward," Atkins said of the signing.
In addition, starter Robbie Ray was expected to miss one spring training start after slipping and falling on some stairs last week. He's scheduled to throw a bullpen session on Wednesday.
Outfielder George Springer, meanwhile, is dealing with some mild tightness around the oblique area, Atkins said, but could still be available for opening day on April 1.
An MRI revealed a Grade 2 sprain to the oblique, Atkins said.
"His symptoms and all of his baseball movements and patterns are incredibly encouraging," he said. "We're extremely optimistic about his strength, about his range of motion, especially his rotational movement (and feel) that he could be playing baseball very soon.
"But because of the MRI — we'll be careful not to overtreat the MRI — but because of the MRI you won't see him playing for the next few days."
Atkins expects to provide another update on Springer later in the week. Springer signed a six-year contract in the off-season worth a franchise record $150 million.
Atkins also said that pitchers Nate Pearson (groin) and Thomas Hatch (elbow/forearm) were both progressing well.
The Blue Jays were scheduled to play the Philadelphia Phillies on Tuesday night at BayCare Ballpark.
This report by The Canadian Press was first published March 23, 2021.
Rafael Nadal rallies from set down to advance in Barcelona
Top seed Rafael Nadal rallied from a set back to beat Ilya Ivashka of Belarus 3-6, 6-2, 6-4 on Wednesday in the second round at the Barcelona Open in Spain.
Nadal lost serve in the opening game of the match and wasn't able to break Ivashka's serve throughout the first set. He won just 70.6 percent of points on his first serve, was broken twice and had two double faults in an uncharacteristically poor showing on service in the opening set.
By the second set, he had righted his serve, winning 86.7 percent of points on his first serve in the second set and 83.3 percent in the third. He didn't face a break point in either set.
In other action, No. 2 seed Stefanos Tsitsipas of Greece, No. 3 Andrey Rublev of Russia, No. 4 Diego Schwartzman of Argentina, No. 6 Pablo Carreno Busta of Spain and No. 10 Felix Auger-Aliassime of Canada were among those advancing.
No. 9 Fabio Fognini of Italy defaulted for verbal abuse. He was losing 6-0, 4-4 to Zapata Miralles of Spain when the line judge reported him for swearing after a foot fault. He had been warned earlier in the match
Serbia Open
Top seed and home-country favorite Novak Djokovic needed just 68 minutes to top South Korean Soon-woo Kwon 6-1, 6-3 and advance to the quarterfinals in Belgrade, Serbia.
Djokovic capitalized on five of his eight service break opportunities in the win. In the next round, he'll meet fellow Serb Miomir Kecmanovic, the eighth seed, who needed three sets to oust Arthur Rinderknech of France 6-3, 3-6, 6-3.
Also advancing was the No. 2 seed, Matteo Berrettini, who defeated fellow Italian Marco Cecchinato 6-4, 6-3. Fifth seed Filip Krajinovic beat Nikola Milojevic 6-1, 6-1 in an all-Serb match.
(Field Level Media)
Ice hockey-Women's world championships cancelled due to COVID-19
(Reuters) -The women's ice hockey world championships set to be played in Halifax and Truro, Nova Scotia have been cancelled because of a surge in COVID-19 cases in Canada, Hockey Canada said on Wednesday.
The announcement came one day before the 10 teams were to arrive to begin their quarantine ahead of the May 6-16 tournament.
"This is very disappointing news to receive with just a few weeks until the tournament was to begin," said International Ice Hockey Federation president Rene Fasel in a statement.
"We strongly believe that we had the adequate safety measures in place. In the end, we must accept the decision of the government."
The IIHF and Hockey Canada were informed by the Nova Scotia provincial government on Wednesday that the 10-country tournament could not go ahead due to safety concerns associated with COVID-19.
Still the news came as a shock after Nova Scotia's chief medical officer had 24 hours earlier given the event the thumbs- up.
"At five o'clock this morning we were full go and at 7:30 am we were not," explained Hockey Canada chief executive officer Tom Renney. "That is the way the world is right now and there is only so much we can control.
"At the end of the day there is a bigger game than the one we play here and quite honestly it is about the safety of the general public."
The cancellation was another blow for the women's game that has endured a number of recent setbacks, including the folding of the Canadian Women's Hockey League.
It was also the second consecutive year the Nova Scotia world championships have been stopped by COVID-19.
"Definitely, a little bit of disbelief, a little shock, a lot of emotion," said Canadian coach Gina Kingsbury, who pulled some players off the ice to deliver the bad news. "This is a group that has been through a lot this past year and two years so they are definitely familiar with disappointing news."
Both the IIHF and Hockey Canada indicated they plan to play the world championships this year, possibly this summer, in Canada.
"Our intention, and that of the IIHF, is to reconnect with this event as a world championship in 2021 in Canada," said Renney. "That's our number one objective. We have every desire to hold this event in Canada."
(Reporting by Steve Keating in Toronto, Editing by Ed Osmond)
Nick Foligno hopes to make Leafs debut Thursday vs. Jets
Former Columbus Blue Jackets captain Nick Foligno is eyeing Thursday as his potential debut for the Toronto Maple Leafs, he said on an NHL.com podcast.
The Maple Leafs acquired the left wing on April 11 in a three-team trade with Columbus and the San Jose Sharks, with each team retaining a portion of Foligno's salary so he can join the North Division leaders for their Stanley Cup pursuit. Toronto visits the Winnipeg Jets on Thursday.
Because he moved from the U.S. to Canada, Foligno was required to quarantine for seven days before joining his new team for practices and games, in accordance with COVID-19 protocols.
"Seven days of just nothing, and then you jump right into it, it would be nice to probably have a practice, but I rather just that — let's go," Foligno said on "The Chirp with Darren Millard." "I'm here to play for them and get this thing rolling, so I probably prefer just to jump right into it and get going."
If the Leafs put Foligno in their lineup Thursday at Winnipeg, he'll get to play against his former Columbus teammate, Pierre-Luc Dubois.
Foligno played eight-plus seasons for the Blue Jackets and his first five NHL seasons with the Ottawa Senators. In 950 career games, he has tallied 203 goals and 279 assists.
The Maple Leafs sent their 2021 first-round pick and 2022 fourth-rounder to Columbus and their 2021 fourth-rounder to San Jose in order to add Foligno to their stacked group of forwards, which includes NHL goal-scoring leader Auston Matthews, John Tavares and Mitch Marner.
Foligno's father, Mike Foligno, was an NHL veteran who played parts of four seasons for the Leafs
(Field Level Media)