Lawrie McFarlane: Politics to blame for endless chaos in Alberta health system – Times Colonist
Alberta's shambolic health-care system is once again in flux. The CEO of Alberta Health Services, the agency that manages a large part of that province's health care, is gone.
Dr. Verna Yiu, a well regarded ­kidney-disease specialist, has quit, resigned, left or been fired, depending on who you listen to. NDP health critic David ­Shepherd says Yiu was fired because she was targeted by the extreme right wing of Alberta's governing United ­Conservative Party.
Apparently, Yiu was unpopular in rural circles for her strong advocacy of COVID mask mandates, a stance UCP MLA Dan Williams likened to holding "a knife to the throat" of remote communities.
The thinking behind this scenario is that Premier Jason Kenney, who's ­currently undergoing a hostile leadership review, wanted to placate his party's right wing.
Whatever the real story may be, Yiu is only the last in a string of CEOs at Alberta Health Services to leave early.
When AHS was first set up in 2008 (more of that in a moment), the first CEO, Dr. Stephen Duckett, lasted a bare 18 months. He was dismissed supposedly for refusing to answer a reporter's ­question because he was "eating a cookie."
He brandished the offending ­comestible to make his point.
Duckett's own version was that he had been told not to answer politically ­oriented media inquiries. Three board members followed him out the door, protesting political interference in the board's activities.
Duckett was replaced by Dr. Chris Eagle, who left after three years. He was followed by Vickie Kaminski, who was gone after 18 months.
Then followed Verna Yiu, now also departed.
This revolving-door approach to ­managing has dogged the province's health-care system.
In the early 1990s, then-premier Ralph Klein abolished some 250 hospital, ­long-term care and public-health boards, replacing them with 17 regional health authorities.
This made some kind of sense. In a time of intense budget cutting, few if any of these small independent agencies had the in-house expertise to achieve the required economies. B.C. adopted a ­similar model, as did most other ­provinces.
In 2004, those 17 boards were reduced to nine. Again, this made a degree of sense. It was asking a lot of 17 separate health authorities to manage the ­significant downsizing then underway.
However, in 2008, the province blew up all nine boards and replaced them with one single authority, Alberta Health ­Services. And this made no sense.
The point of regionalization was to maintain some degree of sensitivity to the differing needs of urban and rural ­communities. This important function was lost by consolidating the entire ­delivery system in just one set of hands.
Moreover, if you're going to centralize operations in this way, why not just dump them in the Health Ministry? As it is, you have two competing bureaucracies with roughly similar mandates, constantly vying for supremacy.
And it didn't end there.
At the outset, the province's hospital labs were in public hands. Then some were privatized. Then brought back into public hands. Then privatized again.
Adding to the disarray, in 2013, the health minister fired the entire board of Alberta Health Services, and appointed an administrator. Five senior executives were then dismissed. Six months later, that administrator was replaced. Two more followed in rapid succession.
In this manner, a succession of Alberta governments brought the province's health-care system to its knees.
Moreover, the motivation for these ­constant changes was entirely ­political. No respectable rationale was ever ­presented for the endless pandemonium imposed upon the system.
If you're wondering why Kenney has the worst approval rating among the premiers for his handling of the COVID crisis, look no further.
jalmcfarlane@shaw.ca
Liberals move to bar sanctioned Russians from Canada through immigration amendments
OTTAWA — The Liberal government is moving to ban Russians sanctioned over Moscow's invasion of Ukraine from entering Canada.
The government tabled proposed amendments to federal immigration law in the Senate on Tuesday to ensure foreign nationals subject to sanctions under the Special Economic Measures Act are inadmissible to Canada.
The changes would allow the Canada Border Services Agency to deny entry to, and remove, people who have been sanctioned, and would enable Immigration, Refugees and Citizenship Canada officials to deny visas.
Once in force, the amendments would apply to all foreign nationals subject to sanctions by Canada, as well as any accompanying family members.
Since the start of Russia's attack on Ukraine in late February, Canada has sanctioned more than 1,000 people from Russia, Ukraine and Belarus.
Banning close associates and key supporters of Russian President Vladimir Putin's regime is one of the many ways in which Canada is holding Moscow accountable for its unprovoked aggression, said Public Safety Minister Marco Mendicino.
"We will continue to exhaust all options to uphold freedom and democracy, punish Russia, and support Ukraine," he said in a statement.
In April, Moscow announced it was barring 61 additional Canadians, including politicians, journalists and military members, from entering Russia due to Canada's actions against the country.
Russia had already barred many prominent Canadians from its soil.
Canada's recent sanctions against Russians have been based on the grounds of a "grave breach of international peace and security" in the Special Economic Measures Act.
The bill introduced Tuesday by Sen. Marc Gold, the government representative in the upper chamber, would amend the Immigration and Refugee Protection Act to include these grounds and all others listed under the special economic measures law.
Foreign nationals who are inadmissible to Canada may have their applications for temporary resident visas refused or cancelled by immigration officials.
Those barred from Canada due to sanctions will still be eligible to have a refugee claim considered by the refugee protection division of the Immigration and Refugee Board, and will have access to a full pre-removal risk assessment, the government says.
NDP foreign affairs critic Heather McPherson said while it was encouraging to see the Liberals take action to bar sanctioned individuals, the government should work to get Ukrainians to safety quickly by dropping visa requirements for them.
In addition, New Democrats will continue to push the government to allow for sanctioned assets to be used to support Ukrainians, she said.
This report by The Canadian Press was first published May 17, 2022.
Jim Bronskill, The Canadian Press
Alberta premier to learn fate Wednesday in party review of his job performance
EDMONTON — Albertans are to learn Wednesday whether Premier Jason Kenney has enough support from his party to keep his job — but political observers say whatever the outcome, it won't end the rancorous political melodrama.
"It's going to be chaotic no matter what the result is," political scientist Duane Bratt said in an interview Tuesday.
"(Kenney) has drawn a line in the sand that says as long as he wins (dissenters) get in line. Well, that's going to lead to a purge in the party, either voluntarily walking, or him forcing people out."
The United Conservative Party said in a statement it was going to count mail-in ballots Wednesday and announce results sometime in the late afternoon in a live feed on its website.
"We've taken extraordinary steps to ensure the security and integrity of this vote," UCP president Cynthia Moore said.
Kenney's office said that the premier was planning to speak about the results at the Spruce Meadows entertainment and equestrian facility in south Calgary.
The leadership review consisted of month-long mail-in balloting by as many as 59,000 party members on whether Kenney should remain leader.
If he does not get a 50 per cent, plus one, majority, he must step down and a leadership race called. Kenney has said if he gets any majority, even a slim one, he'll stay on.
Normally, leaders set the bar of confidence much higher, at least three-quarters or more.
Former premier Ralph Klein left after getting a 55 per cent of the vote in 2006. Ed Stelmach and Alison Redford stepped down from the top job due to party pushback after each receiving 77 per cent.
Kenney has said this vote is different, that a lower number is OK, because the voting pool has been toxically diluted by two-minute members casting ballots to destabilize his government.
Bratt and fellow political scientist Lori Williams said Kenney and the party are battling not only disaffected members but trust in the review itself.
The party is still being investigated by the RCMP for allegations of criminal voter identity fraud in the contest that elected Kenney leader in 2017.
Documentation leaked to The Canadian Press indicates Elections Alberta is investigating the current leadership review over allegations of illegal bulk buying of memberships.
The vote itself was drastically altered at the last minute from an in-person, one-day vote of 15,000 members to a mail-in ballot open to all members. Critics say Kenney's team forced the changes because he was going to lose the in-person vote. The party denies that.
Bratt and Williams said a low review number in the 50s would leave Kenney with a questionable mandate, while anything around 60 per cent or higher would prompt speculation the vote was rigged in his favour.
"I don't see that this vote is going to settle anything," said Williams.
"The divisions in the party and the province are profound."
Kenney has been dealing with open dissent from party and government members for over a year over his COVID-19 health restrictions, a perceived failure to stand up to Prime Minister Justin Trudeau and a top-down management style.
Todd Loewen, a UCP caucus member kicked out a year ago for openly demanding Kenney resign, said the UCP needs renewal and it can't be done with Kenney in charge. The issue boils down to trust and Kenney no longer has that, he said.
"There's no way he can win a fair, open, honest transparent leadership review," said Loewen.
"If he gets over 50 per cent and stays, the party continues to splinter."
Former UCP president Erika Barootes said she expects Kenney will get a majority, and said once that is done, it's incumbent on the dissenters to decide once and for all if they are in or out.
Kenney, she said, has the experience and political skill to win a second term, adding that the party hasn't a moment to lose given it's facing an election in a year against a tough opponent in NDP leader, and former premier, Rachel Notley.
"(The dissenters) have got to respect that he won, and he needs to recognize that he's not getting 95 per cent (support). So there's work to be done," she said.
Calgary-based pollster Janet Brown said, win or lose, Kenney is dealing with a sobering numerical reality.
"In 2019, Jason Kenney won the election with 55 per cent support from the general public," said Brown.
"Three years later, and we're speculating whether he can even get 55 per cent with his own base."
This report by The Canadian Press was first published May 17, 2022.
Dean Bennett, The Canadian Press
Ontario election: 4 ways Doug Ford has changed the province's politics – The Conversation
The dismal environmental record of the Doug Ford government in Ontario is well-documented. Despite some recent moves on "greening" the steel sector and electric vehicle manufacturing initiatives, the province is on track to see major increases in greenhouse gas emissions, particularly from the electricity sector.
The government's emphasis on highway expansion in the Greater Toronto Area is further evidence of this trend.
The Ford government's record on environmental issues is an extension of its wider approach to governance. It has broken from the traditional norms of Ontario politics, which have emphasized moderation and administrative competence, as reflected through the long Progressive Conservative dynasty.
Looking back on Ford's four years in power reveals four themes about his approach to governance — and what the next four years might have in store if public opinion polls are correct and he wins again on June 2.
---


Read more:
Why Doug Ford will once again win the Ontario election


---
1. Reactive governance
The Ford government's agenda seems driven by instinct more than ideology. It came to power with scant vision for what a provincial government should do other than cut taxes, red tape and hydro rates. It's struggled when confronted with more complex problems that required the province to play a much more active role.
The resulting governance model has been fundamentally reactive, and grounded in relatively short-term perspectives. The government has tended to act once a situation reaches the crisis stage, rather than identifying potential problems and taking action to prevent them.
This pattern has been most evident in the government's hesitant responses to the COVID-19 pandemic. It tended to react to waves of COVID-19 infections rather than anticipating them and taking measures to minimize their impacts, even when given clear and consistent scientific advice to do so.
Issues like the environment and climate change are destined to do poorly under such a reactive governance model. They require taking action now to avoid problems in the future.
We are constantly reminded of this by the reports of the Intergovernmental Panel on Climate Change and federal and provincial environmental commissioners. Only responding when problems have become too obvious to ignore tends to mean it's already too late.
2. Creeping authoritarianism
The government's run-up to the election has placed a strong emphasis on "getting it done" — it's the Progressive Conservative party's campaign slogan — in areas like housing and highway and transit construction, in particular.
The flip side of this emphasis has been increasingly aggressive exercises of provincial authority, particularly over local governments. One of the government's first moves was to arbitrarily cut Toronto City Council in half. The province threatened to invoke, for the first time in the province's history, Sec. 33 of the Charter of Rights and Freedoms, known as the notwithstanding clause, to get its way.
---


Read more:
Ford's fight with Toronto shows legal vulnerability of cities


---
Ontario's planning rules have also been rewritten, not only at the provincial level, but down to the level of site-specific development plans within individual municipalities, almost universally in favour of developers' interests. Ministerial zoning orders — which circumvent local planning processes and public consultations, designating land use without the possibility of appeals — are no longer the exceptions they once were.
Instead, they seem the new norm for planning in Ontario. Broad powers have been given to provincial agencies, most notably the provincial transit agency Metrolinx, to build what are often poorly conceived and politically motivated transit projects.
The province's most recent legislative moves have sought to further marginalize the roles of local governments in planning matters and to eliminate public consultation requirements as red tape.
The notwithstanding clause was ultimately invoked by the government as it pertained to its election financing legislation that seemed designed to silence potential critics.
Even local school boards were forbidden to adopt COVID-19 containment measures more stringent that those put in place at the provincial level.
3. Friends with benefits
While the Ford government has gone to great lengths to silence voices of critical constituencies, it's been extraordinarily open to the voices that support it.
The government has demonstrated a distinct tendency to uncritically accept whatever its favoured industry lobbyists tell it to do. This has been evident in its approaches to COVID-19, housing and infrastructure, mining, aggregate extraction sites like gravel pits and quarries, energy and long-term care.
The overall decision-making model that has emerged is based on access, connections and political whim.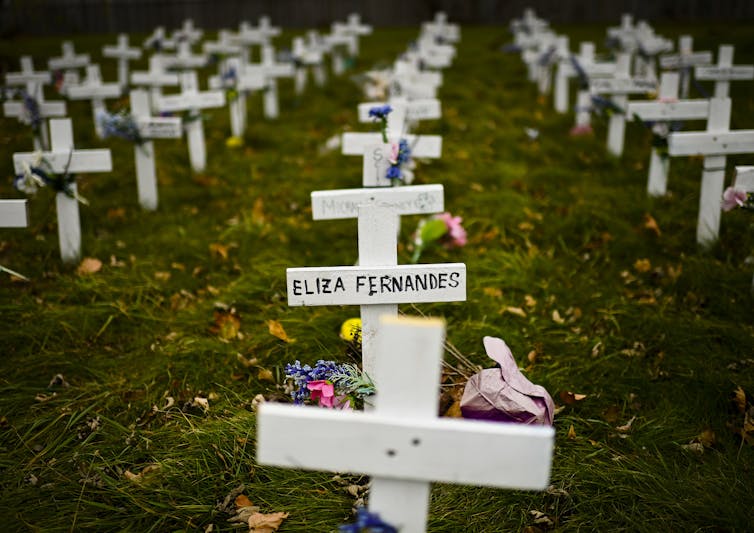 4. Spend but don't increase taxes
A final defining feature of the Ford government has been a tendency to disregard the fiscal consequences of its decisions. The focus instead has been on short-term savings for consumers.
The cancellation of the previous Liberal government's cap-and-trade system immediately following the 2018 election cost the provincial treasury billions in forgone revenues. Hundreds of millions more were spent cancelling renewable energy projects.
Hydro rates are being artificially lowered through an annual $7 billion in subsidies from the provincial treasury, money that could otherwise be spent on schools and hospitals. The pre-election cancellation of tolls on Highways 412 and 418 will cost at least $1 billion over the next 25 years, while the cancellation of vehicle licensing fees will cost the province an estimated $1 billion each year.
A proposed cut to provincial gasoline taxes would cost nearly $650 million in annual revenues. And the projected deficit on the government's pre-election budget was almost $20 billion, a record.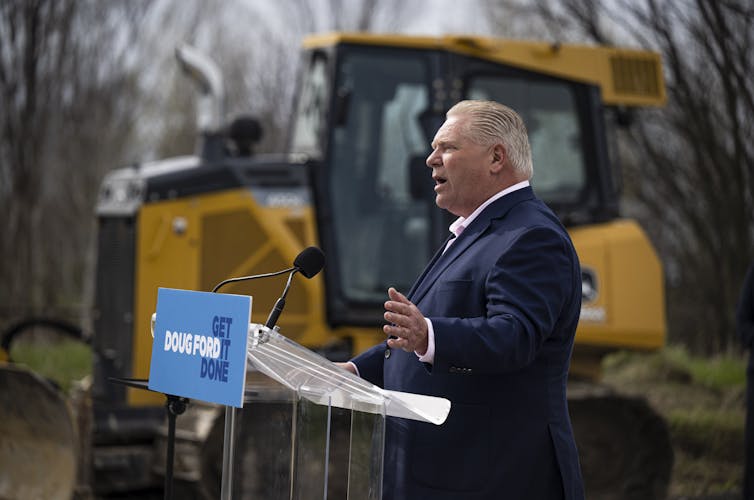 All of this is at odds with previous Progressive Conservative governments in Ontario, which were largely fiscally prudent.
It isn't clear yet to what extent the potential political success of a governance model organized around these four themes represents a fundamental break from the traditional norms of Ontario politics. If Ford wins again, is it due to the weaknesses of the alternatives being offered to Ontario voters, or does it signal a permanent realignment in the province's politics?
---


Read more:
What Doug Ford's shift to the centre says about the longevity of populism


---
Either way, June 2 could be a watershed moment in the province's history, defining a "new normal" for politics in Ontario.