Maradona: Anger over funeral home photos with legend's open coffin – BBC News


.css-94m6rd-HeadingWrapperborder-bottom:solid 1px #BABABA;padding-bottom:1.5rem;.css-94m6rd-HeadingWrapper > *:not([hidden]):not(style) ~ *:not([hidden]):not(style)margin-top:1rem;.css-vk3nhx-ComponentWrappermargin:1.5rem 0;
.css-1759m9z-StyledFigurefont-family:ReithSans,Helvetica,Arial,freesans,sans-serif;font-weight:400;font-size:0.875rem;line-height:1.125rem;
.css-uf6wea-RichTextComponentWrappermargin:1rem 0;max-width:36.25rem;
.css-83cqas-RichTextContainercolor:#3F3F42;.css-83cqas-RichTextContainer > *:not([hidden]):not(style) ~ *:not([hidden]):not(style)margin-top:1rem;
.css-14iz86j-BoldTextfont-weight:bold;Three workers hired to help with the funeral and burial of Diego Maradona have been condemned for taking photos next to his open coffin.
A funeral parlour took on the three to help prepare the coffin of the football icon, who died on Wednesday aged 60.
In two pictures, the men can be seen posing next to the open casket at the parlour, smiling with their thumbs up.
The photos surfaced online as Maradona's body lay in repose at the presidential palace, provoking outrage.
Maradona's agent and lawyer, Matías Morla, vowed to take legal action against the "scoundrel" responsible for the photos.
"For the memory of my friend, I won't rest until he pays for such an atrocity," .css-yidnqd-InlineLink:linkcolor:#3F3F42;.css-yidnqd-InlineLink:visitedcolor:#696969;.css-yidnqd-InlineLink:link,.css-yidnqd-InlineLink:visitedfont-weight:bolder;border-bottom:1px solid #BABABA;-webkit-text-decoration:none;text-decoration:none;.css-yidnqd-InlineLink:link:hover,.css-yidnqd-InlineLink:visited:hover,.css-yidnqd-InlineLink:link:focus,.css-yidnqd-InlineLink:visited:focusborder-bottom-color:currentcolor;border-bottom-width:2px;color:#B80000;@supports (text-underline-offset:0.25em).css-yidnqd-InlineLink:link,.css-yidnqd-InlineLink:visitedborder-bottom:none;-webkit-text-decoration:underline #BABABA;text-decoration:underline #BABABA;-webkit-text-decoration-thickness:1px;text-decoration-thickness:1px;-webkit-text-decoration-skip-ink:none;text-decoration-skip-ink:none;text-underline-offset:0.25em;.css-yidnqd-InlineLink:link:hover,.css-yidnqd-InlineLink:visited:hover,.css-yidnqd-InlineLink:link:focus,.css-yidnqd-InlineLink:visited:focus-webkit-text-decoration-color:currentcolor;text-decoration-color:currentcolor;-webkit-text-decoration-thickness:2px;text-decoration-thickness:2px;color:#B80000;Mr Morla wrote on Twitter.
.css-1pzprxn-BulletListContainermargin-left:1.5rem;.css-1pzprxn-BulletListContainer *:not([hidden]):not(style) ~ *:not([hidden]):not(style)margin-top:1rem;.css-1pzprxn-BulletListContainer ullist-style-type:disc;.css-1pzprxn-BulletListContainer ollist-style-type:decimal;
The manager of the Sepelios Pinier funeral parlour in the Paternal district of Buenos Aires, Matías Picón, told local media that the three men in the photos were "outsourced employees" who had helped carry the heavy coffin.
.css-18mjolk-ComponentWrappermargin:1.5rem 0;max-width:50rem;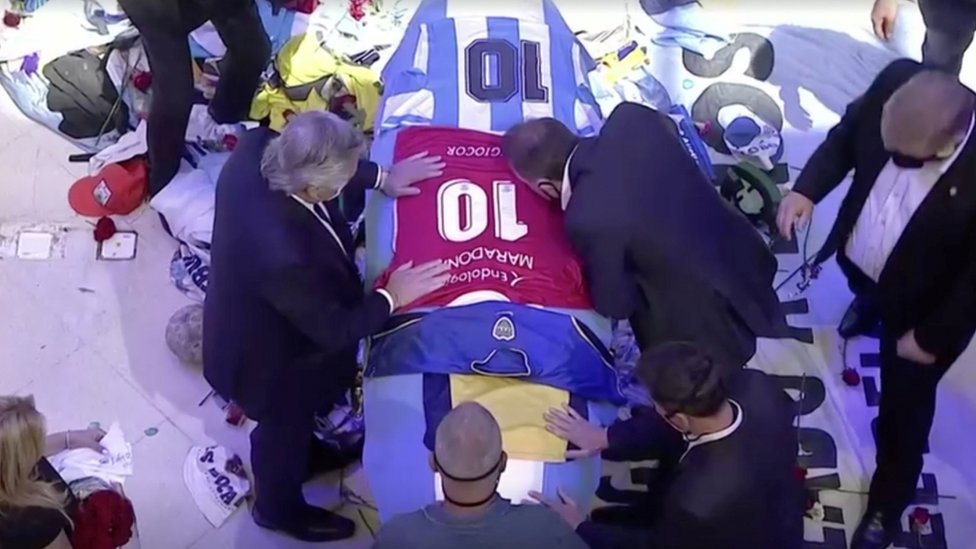 Mr Picón said his company had organised funeral services for other members of the Maradona family. "The family has total confidence in us, that's why we are so affected," he said.
"My father is 75 years old and he is crying, I am crying, my brother too, we are destroyed," Mr Picón added.
When he called Maradona's ex-wife, Claudia Villafañe, to tell her about the photos, "she was furious".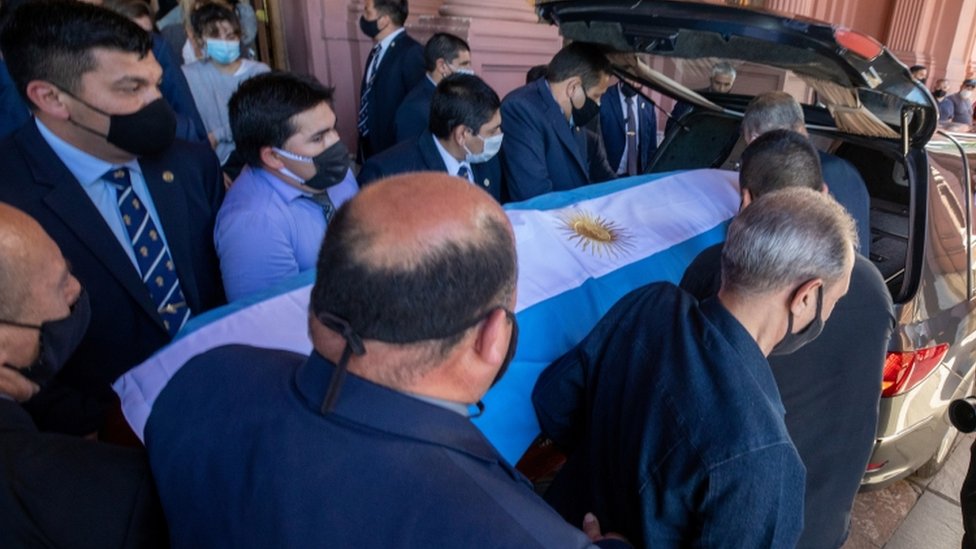 The Picóns said they did not know if the Maradona family planned to take any legal action.
Judicial sources told the Télam news agency that no crime had been reported in relation to the photos, so no complaint had been filed by prosecutors.
Maradona was buried in a private ceremony on Thursday, the first of three days of mourning declared over his death in Argentina.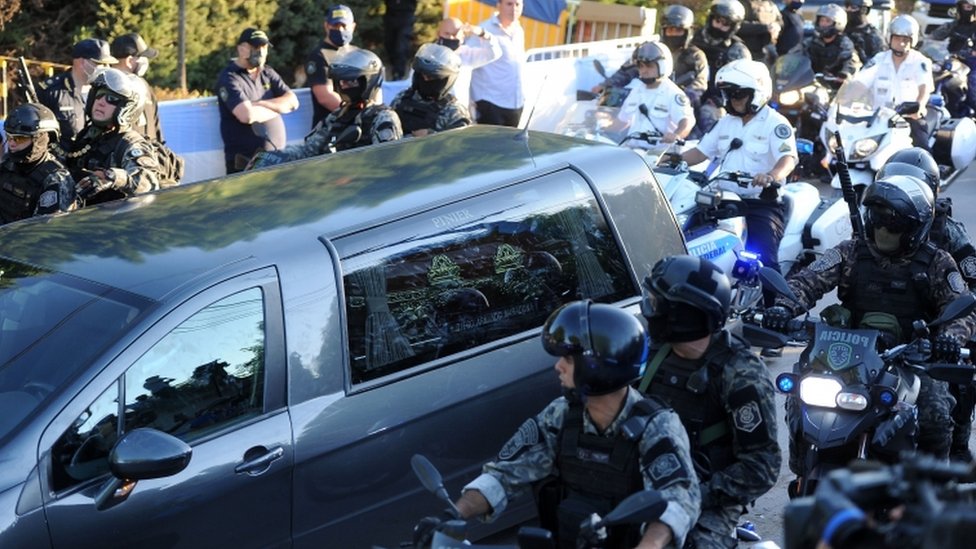 Maradona's coffin – draped in Argentina's national flag and football shirt, bearing his trademark No 10 – was on public display at the presidential palace in Buenos Aires earlier in the day.
Thousands of adoring fans filed through the door of the Casa Rosada to say goodbye to their hero, but the wake ended prematurely after clashes between police and some mourners waiting in line.
Regarded by many as the greatest football player of all time, the former Argentina attacking midfielder died at his home in Tigre, near Buenos Aires.
A preliminary post-mortem, widely reported by Argentinian media, indicated that Maradona had suffered "acute heart failure".
He had successful surgery on a brain blood clot earlier in November and was to be treated for alcohol dependency. He had a tumultuous personal life, scarred by alcohol and cocaine addiction, which caused him health problems.
Many of the footballing world's biggest stars have paid tribute to Maradona, including former England striker Gary Lineker, who said the Argentine was "by some distance, the best player of my generation and arguably the greatest of all time".
.css-mysbf6-ComponentWrapper-CrossheadComponentWrappermargin:1.5rem 0;max-width:50rem;padding-top:1rem;max-width:36.25rem;
.css-1jlqpzd-StyledHeadingfont-family:ReithSerif,Helvetica,Arial,freesans,sans-serif;font-weight:500;font-size:1.5rem;line-height:1.75rem;color:#3F3F42;@media (min-width:37.5rem).css-1jlqpzd-StyledHeadingfont-size:2rem;line-height:2.25rem;.css-1jlqpzd-StyledHeading:focusoutline-style:none;.css-1jlqpzd-StyledHeading:focus-visibleoutline-style:auto;
More on Diego Maradona:
.css-144ki52-SectionWrappermargin:1.5rem 0;padding-top:1.5rem;
Chiefs' Patrick Mahomes ruled out vs. Browns due to concussion – Sportsnet.ca
KANSAS CITY, Mo. — Kansas City Chiefs quarterback Patrick Mahomes was knocked out of the divisional-playoff game against the Cleveland Browns on Sunday with a concussion in the third quarter.
Mahomes tucked the ball on a quarterback option with 7:27 left in the third quarter and tried to reach the first-down marker on third-and-1 near midfield. He was brought down hard by Browns linebacker Mack Wilson, who had managed to get ahold of him around his helmet. Mahomes was wobbly when he got up and had to be helped from the field, then was checked briefly in the blue tent on the sideline before jogging into the Kansas City locker room.
Chad Henne entered the game for Mahomes, who had been hobbling for much of the game after hurting his foot in the first quarter. Henne played the entirety of Kansas City's loss to the Chargers in Week 17, when coach Andy Reid sat Mahomes and several other starts with the No. 1 seed and first-round playoff bye already secured.
Henne led the Chiefs to a field goal that made it 22-10 with 4:24 left in the third quarter. Henne went down the tunnel to check on Mahomes when the third quarter ended.
The Chiefs announced early in the fourth quarter that Mahomes will not return.
Meanwhile, the Browns lost left tackle Jedrick Wills Jr. to an ankle injury and his backup, Kendall Lamm, to an elbow injury, forcing them to turn to Blake Hance. Hance was signed from the Jets practice squad on Jan. 2 to provide some depth to an offensive line that has been decimated by injuries and COVID-19 since the start of the new year.
Hance made his NFL debut in the fourth quarter of their wild-card win over Pittsburgh.
Wills remained down after Nick Chubb's carry on the Browns' first offensive play of the game before limping to the sideline with help from the training staff. He was listed as questionable to return before being ruled out at halftime.
Lamm was replaced at the start of the second half, helping the Browns drive 77 yards for a touchdown.
The injuries to the two left tackles made it even more important that Jack Conklin was active. The All-Pro right tackle had been questionable after hurting his hamstring in last week's wild-card win in Pittsburgh.
The depth of the Browns offensive line has been decimated this season. Backups Chris Hubbard, Nick Harris and Michael Dunn are all out with season-ending injuries.
Report: Bills Fans Donate More Than $150K to Lamar Jackson's Favorite Charity – Sports Illustrated
Following the conclusion of the Buffalo Bills' 17-3 victory over the Baltimore Ravens on Saturday night, over 5,500 Bills fans have donated more than $150,000 to Lamar Jackson's preferred charity, the Louisville, chapter of Blessings in a Backpack.
On Saturday night, a Bills fan on Reddit shared that he donated $25 to Jackson's favorite charity, an organization that works to feed elementary school children who are in need on weekends.
The donations appeared to continue overnight and into Sunday where it has reportedly reached more than six-figures of money raised.
"It started around 11:30 last night and our donation box just started flooding with donations from Bills fans for Lamar. It's just been overwhelming—in the best possible way," Nikki Grizzle of "Blessings in a Backpack," told ESPN.
This isn't the first time that Bills fans have rallied behind a singular cause following a football game. In 2017, Bills Mafia performed a similar gesture to Andy Dalton's foundation, raising more than $415,000. Earlier this season, Bills fans also donated thousands of dollars to Oishei Children's Hospital after it was announced that quarterback Josh Allen's grandmother had died.
Ravens offensive lineman Bradley Bozeman, the Ravens' Walter Payton Man of the Year, also tweeted on Sunday that Bills fans had donated to his organization overnight.
The Bills are set to take on the winner of Sunday's Browns-Chiefs game in the AFC championship.
Markstrom's shutout lifts Flames over Canucks – TSN
CALGARY — Jacob Markstrom overcame the oddness of playing against his former Vancouver Canucks teammates with a 32-save shutout for the Calgary Flames in a 3-0 win Saturday.
Sean Monahan, Dillon Dube and Matthew Tkachuk scored power-play goals in Calgary's home-opener, which was the first NHL game at Scotiabank Saddledome since March 8, 2020 for a span of 10 months and eight days.
Canada's NHL clubs are playing in empty arenas to avoid the spread of the COVID-19 virus.
"Unfortunately there's no fans in the stands, but hopefully there's a lot of people watching and enjoyed the win," Markstrom said. "It's special playing my old team too."
Vancouver goaltender Braden Holtby stopped 32 of 35 shots in the loss.
Flames off-season acquisitions Markstrom, defenceman Chris Tanev and forward Josh Leivo faced their former club in the first of 10 meetings this season.
Markstrom played a combined 243 regular-season and playoff games for the Canucks, while Tanev spent 10 seasons and Leivo his last two in Vancouver.
"It's weirder than I thought it was going to be," Markstrom said. "It's weird seeing the team you played for a long time on the other side, but I just tried to stay focused on the puck and tried to do my part."
Both Markstrom and Tanev made life difficult for their former club. Tanev led the Flames in blocked shots with eight, including three when Calgary was short-handed.
"He's been doing it for me every since I came to Vancouver," Markstrom said. "It's a great fit for him here.
"Guys love him already and they see why I loved him so much as a teammate before. I'm lucky to have him with me here in Calgary.
Calgary scored three power-play goals on six chances and held Vancouver to 0-for-4.
"I liked our game defensively five-on-five. Offensively I didn't like our game," Canucks coach Travis Green said. "We didn't create enough and special teams were the difference."
Tkachuk had time to go backhand to forehand on a Johnny Gaudreau rebound and beat Holtby's outstretched right pad at 15:16 of the third period.
Andrew Mangiapane sent a behind-the-back backhanded feed across the high slot for Dube to rifle over Holtby's shoulder at 16:22 of the second.
The hosts killed off a Canucks two-man advantage for 81 seconds in the opening period. Markstrom turned away three shots and Tanev blocked two attempts during it.
Tkachuk on Holtby's left fed Monahan in the slot for a power-play goal at 8:31.
The Canucks (1-2-0) played their third road game in four nights to start the regular season. They get another chance to solve their former goaltender Monday in Calgary before returning to Vancouver.
"He played really well tonight. Not going to say he didn't," Canucks forward Bo Horvat said. "He stole games like that for us in previous years so we know how he can be.
"We've got to get in his eyes and create havoc in front of the net and we didn't do that in front of him tonight."
Calgary (1-0-1) has a more gentle start to its regular season with a five-day break following Monday's rematch.
The Flames paid tribute to team president Ken King, who died March 11, and Calgary Police Service Sgt. Andrew Harnett who was killed while working New Year's Eve.
Notes: Former Flames defenceman Travis Hamonic returned to the Saddledome wearing Canuck colours . . . Flames goaltender David Rittich dressed Saturday after sitting out the season-opener because of family issues . . . Off-season acquisition Dominik Simon made his Flames debut Saturday . . . Calgary is 9-8-3 in home openers since the turn of the century.
This report by The Canadian Press was first published Jan. 16, 2021.