Media Advisory: Accession Proclamation Ceremony – News Releases – Government of Newfoundland and Labrador
The Honourable Judy M. Foote, Lieutenant Governor of Newfoundland and Labrador, will host the Accession Proclamation Ceremony of His Majesty King Charles III tomorrow (Saturday, September 10) at 4:30 p.m. at Government House in St. John's. She will be joined by the Honourable Andrew Furey, Premier of Newfoundland and Labrador.
Following the ceremony, there will be a 21 gun salute on the grounds of Government House to mark the accession of His Majesty.
Media are invited to attend and are asked to RSVP by contacting Samantha Harding at samanthaharding@gov.nl.ca.
-30-
Media contacts
Samantha Harding
Communications Manager, Government House
709-729-4494
samanthaharding@gov.nl.ca
Meghan McCabe
Office of the Premier
709-729-3960
meghanmccabe@gov.nl.ca
Viva Miller! Social media reacts to the Australian's victory – motogp.com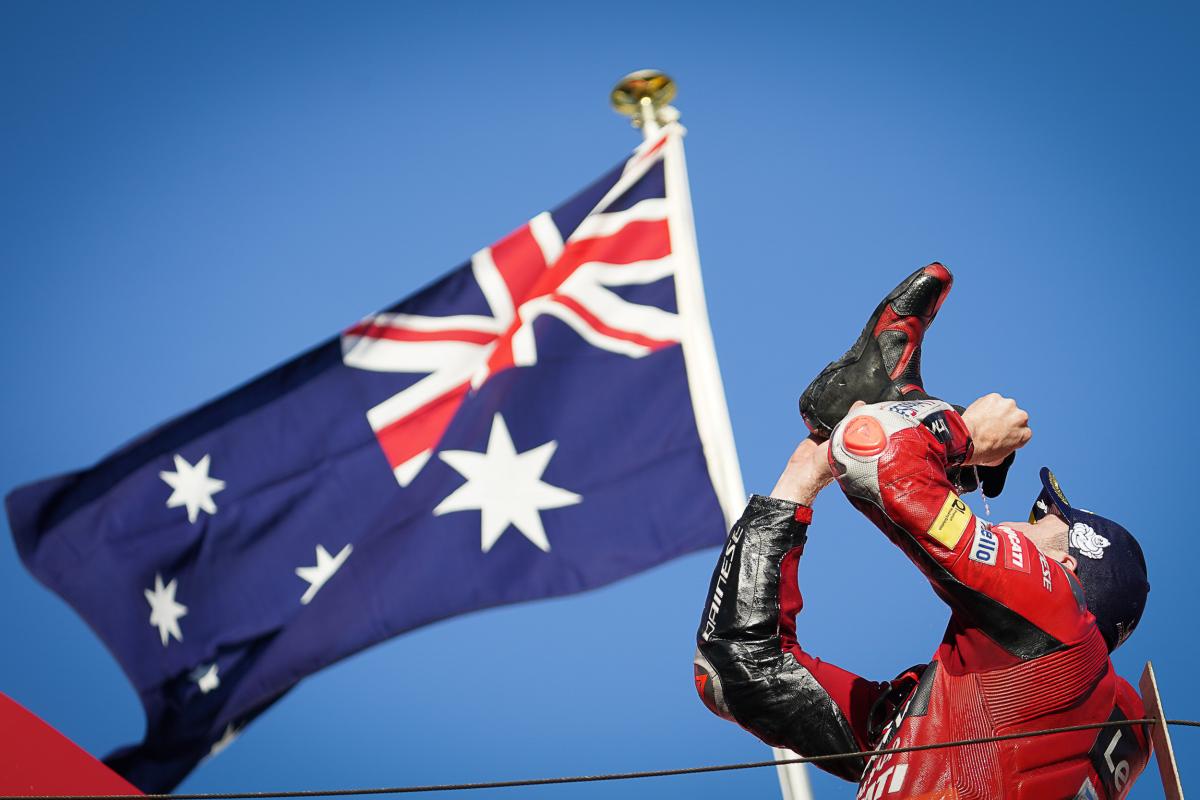 © 2022 Dorna Sports SL. All rights reserved. All trademarks are the property of their respective owners.
As pandemic measures are lifted, social media use has declined with the exception of TikTok – The Conversation Indonesia
In September, the Wall Street Journal reported that Instagram is faltering in its bid to keep up with TikTok, the wildly popular Chinese-owned video-sharing app.
But it is not just Instagram fretting over TikTok's meteoric rise — a Google exec raised similar concerns about how TikTok was drawing younger users away from Google's core services such as Search and Maps.
TiKTok's rise is confirmed by data from our new nation-wide, census-balanced online survey, The State of Social Media in Canada 2022, which surveyed 1,500 Canadian adults over the age of 18 between May 12 and 31, 2022.
The rise of TikTok
Our report findings show that Canadians' use of social media has declined from its early pandemic peak; however, Canada continues to be one of the most connected countries in the world — 94 per cent of online adults use at least one social media platform.
We found that TikTok had the largest gain (an increase of 11 per cent) in the number of Canadian adults who reported having an account on the platform in 2022, compared to data we collected in 2020.
While the number of Canadians on TikTok is still relatively small (26 per cent), those who do use the platform visit it regularly (65 per cent daily). Like in the United States, TikTok adoption in Canada largely skews towards younger age groups, as 76 per cent of those aged 18–24 reported having an account on the platform, while the fastest growing demographic on the platform are those who are between 25 and 34 years old (54 per cent).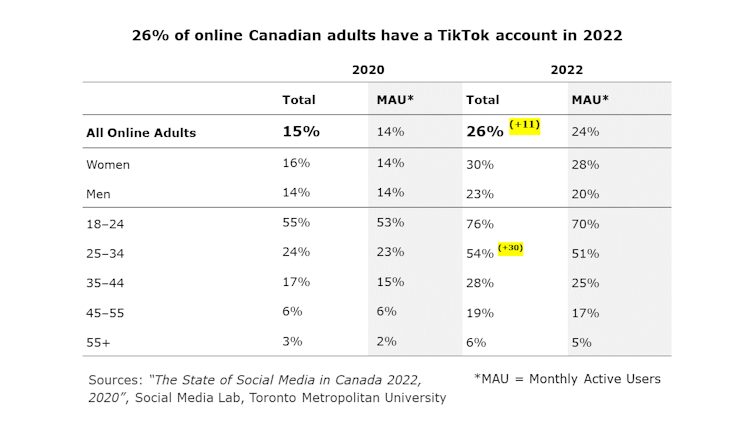 These findings suggest that TikTok's appeal has grown since 2020, when we last conducted this survey, and that TikTok is no longer just an app for short videos.
Other studies have shown that young people are now using TikTok as one of the primary ways to get news and that some have even replaced Google Search with TikTok.
Our findings from earlier in the summer support this: 51 per cent of Canadian TikTok users reported using the app to follow news on Russia's invasion of Ukraine.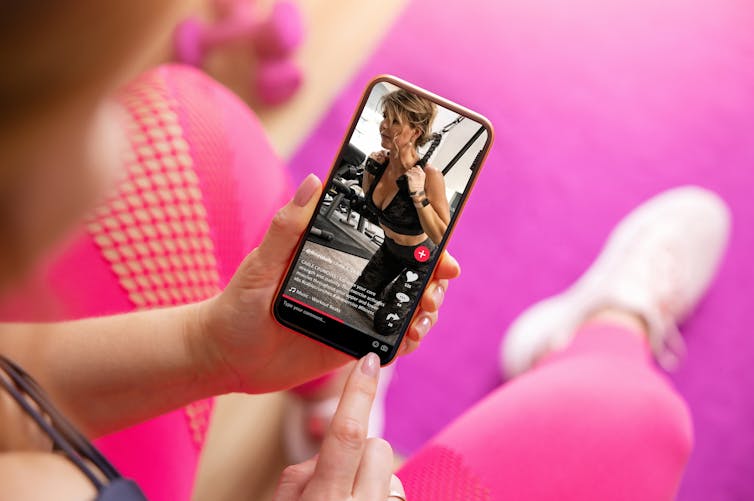 ---


Read more:
Russian propaganda is making inroads with right-wing Canadians


---
After the pandemic
The COVID-19 pandemic has ushered in some changes in where and how often Canadians are spending their time on social media. After living through two years of COVID-19 restrictions, more Canadians are re-evaluating the role of social media in their lives.
In particular, Canadians are spending less time on social media now that most pandemic restrictions have been lifted. In Canada, Facebook has the highest percentage of daily users at 70 per cent, but this dropped from a previous high of 77 per cent daily users in 2020.
TikTok is the only platform showing a slight two per cent increase in the percentage of daily users. In contrast, Reddit has the largest drop — 14 per cent — of daily users.
Fewer Canadians reported having an account on popular social media platforms such as Facebook, LinkedIn and Pinterest. Platforms such as Facebook, messaging apps and YouTube still dominate in terms of the number of users, but newer platforms — like TikTok — and more niche platforms — like the livestreaming service Twitch — are gaining ground.
The percentage of Canadians who reported using LinkedIn has dropped by seven per cent since 2020. The rate of new users joining Facebook and Pinterest has also declined, each dropping by three per cent and four per cent since 2020 respectively.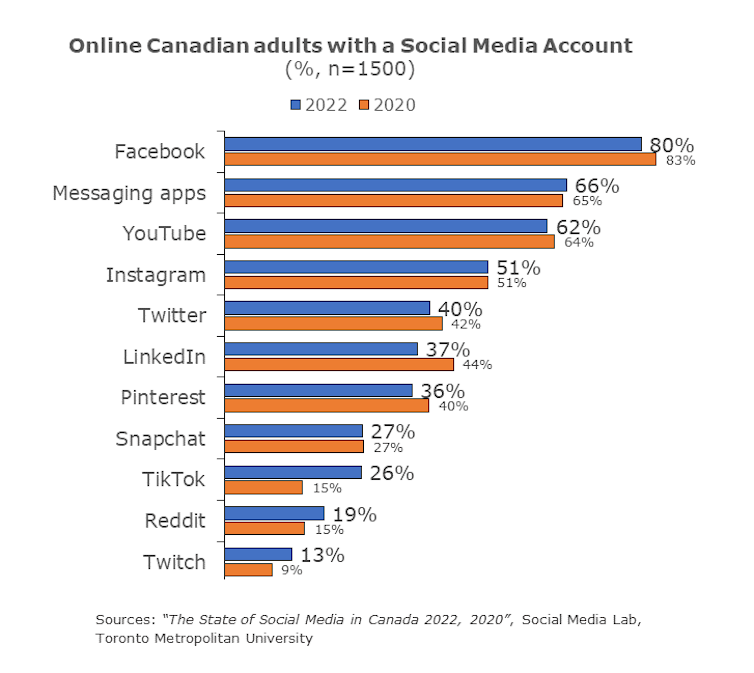 An unfolding story
There's little doubt that TikTok has been a disrupting force on the social media landscape. It has forced social media stalwarts like Facebook and Google to make radical changes to their platform in order to keep up.
But for TikTok to continue to grow, it will need to convince skeptics that it is not part of the Chinese state apparatus; however, in the current geopolitical climate, that could be a very tall order.

Communications and Social Media Specialist – Quill & Quire
Orca Book Publishers

Published: September 23, 2022
Description
Orca Book Publishers is a successful, growing, independent Canadian children's book publisher. With over 1200 active titles in print and digital formats and 90 new titles/year, we have a vibrant, well-respected publishing program. We are looking for a professional, motivated person to join our marketing team. The ideal candidate will bring a passion for books, strong organizational skills and a willingness to work with an amazing team. Our preference is for someone who can work in in our office in Victoria, BC, although we will consider an applicant from outside of Victoria.
Duties and Responsibilities:
Overview: Promote Orca titles, authors and brand online through a cohesive and organized presence across newsletters, social media platforms and blog. Create and manage campaigns collaboratively with the marketing and sales teams, including writing online and print copy for a variety of audiences.
Manage a comprehensive newsletter schedule with multiple content creators and audiences, such as authors, booksellers, teachers, librarians and wholesalers.
Write and lay out newsletter content in collaboration with the marketing and sales teams. Deploy and track newsletters according to the schedule.
Create and schedule for Orca's social media accounts, including maintaining a calendar of all posts and ongoing campaigns.
Monitor social media channels to engage with the public and respond to questions. Support our authors' social media presences and promote their events.
Seek out ways to optimize our online engagement via creative content, targeted ads and industry partnerships. Administer a monthly social media advertising budget. Build and maintain a list of influencer contacts.
Provide regular reporting and analysis on social media and newsletter campaigns.
Work with the design team to create assets for newsletters, social media and other marketing promotional materials.
Craft and revise press releases, pitches, letters, taglines and other marketing copy as needed, including working on metadata and book cover copy.
Maintain a list of media contacts and disseminate press releases.
Oversee the Orca blog: create content, write posts, interview authors and promote on social media.
Produce and edit promotional video content: author interviews, book trailers and other videos as needed. Manage Orca's YouTube channel.
Attend and assist in the execution of local Orca events.
Qualifications:
Background and education in Writing, Communications, English, Journalism, Marketing and/or Publishing. Publicity experience is an asset.
Exceptional writing skills; ability to modify writing tone to the audience. Copyediting and proofreading skills are an asset.
Expert knowledge of contemporary social media, especially Facebook, Twitter, Instagram, Tiktok, Pinterest and LinkedIn. Ability to understand the different audiences for each. Experience with social media advertising is a plus.
Highly efficient and organized; proven leadership and project-tracking skills along with the ability to multi-task and prioritize work across many projects at once.
Keen interest in the Canadian children's book publishing industry.
Ability to work independently, with excellent time-management skills and attention to detail.
Ability to collaborate with a team and contribute to a supportive environment.
Proficiency in MS Office, Adobe Acrobat, Google Drive and other general office software.
Experience with project management software like Asana, social media management software like Hootsuite, or email programs like Constant Contact or MailChimp is an asset.
Understanding of basic design principles with an eye for beautiful, effective and eye-catching design. Ability to create visual content for social media using software like Canva is an asset.
Enjoy working with people and other animals in an office environment.
Orca Book Publishers is an inclusive employer with a passion for books that matter. We are strongly committed to diversity within our community and especially welcome applicants who may contribute to the further diversification of ideas.
We are also committed to ensuring that young readers see themselves reflected in the books they read. We aim to produce books that illuminate the experiences of people of all ethnicities, people with disabilities and people who identify as LGBTQ+. We have a particular interest in publishing books that celebrate the lives of Indigenous people. Our fiction includes characters from diverse backgrounds and unique family structures, and our global nonfiction celebrates the variety of ways people live and educates readers about important issues. Providing young people with exposure to diversity and the opportunity for social change through reading creates a more compassionate world. We encourage applicants to learn more about us at www.orcabook.com.
We strive to make our recruitment, assessment and selection processes as accessible as possible. If you require any accommodations at any point during the application and hiring process, please contact jobs@orcabook.com. All qualified candidates are encouraged to apply; however, Canadians and permanent residents will be given priority. We offer a competitive salary and benefits package.
Please send resume and cover letter by October 7, 2022, to jobs@orcabook.com. We thank all who apply; only those candidates who are shortlisted will be contacted.