Media narrative that Trump put dog breeder in charge of coronavirus response dismantled – Fox News
Get all the latest news on coronavirus and more delivered daily to your inbox. Sign up here.
The mainstream media painted Department of Health and Human Services chief of staff Brian Harrison as an inexperienced dog breeder who was tasked with leading the coronavirus task force, but Dallas Morning News Washington Bureau Chief Todd J. Gillman dismantled the storyline with a piece examining the situation.
"No, the Trump administration did not put a professional dog breeder from Dallas in charge of COVID-19 response," Gillman wrote. "Yes, the chief of staff at the Department of Health and Human Services briefly owned a family business raising Labradoodles. But he's also served three administrations in high level posts at HHS, the White House and the Pentagon."
CNN'S CHRIS CUOMO'S EMERGENCE FROM BASEMENT COMPARED TO INFAMOUS 'BRIAN WILLIAMS IRAQ MOMENT'
Gillman wrote that colleagues who have worked in government were "appalled to see him disparaged Thursday as a mere 'dog breeder,' as if Joe Exotic had catapulted from tiger king to head of the Centers for Disease Control and Prevention."
Some of the headlines that presumably irked Harrison's included MSNBC asking, "Why would a former dog breeder help oversee a pandemic response?"
Reuters labeled its story a "special report" and was picked up by The New York Times headlined, "Former Labradoodle breeder was tapped to lead U.S. pandemic task force."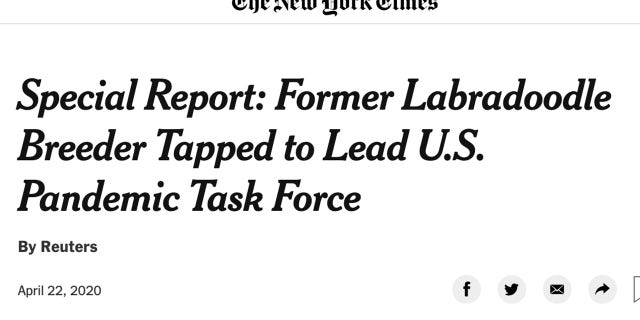 Vanity Fair went with, "Not a Joke: The Trump Admin Hired a Dog Breeder to Run Its Coronavirus Task Force," while New York magazine 's headline stated, "Top Coronavirus Aide's Last Job Was Breeding Dogs: Report."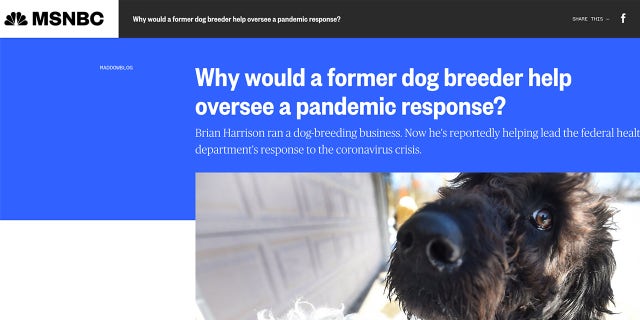 Mediaite cited Reuters, "HHS Sec Azar Reportedly Tapped Former Labradoodle Breeder to Lead Agency's Coronavirus Task Force."
CNN'S DON LEMON RIPS STAY-AT-HOME PROTESTERS FOR 'COMPLAINING THAT THEY DON'T HAVE HAIRCUTS'
The headlines also resulted in a ton of social media posts mocking Harrison. But The Dallas Morning News spoke with multiple associates of Harrison, who all seemed to agree that mainstream media painting him as a simple dog breeder put in charge of COVID-19 were wildly misleading.
"By all accounts of those who've worked with him, Harrison is a serious public servant with deep experience. And he was never in charge of pandemic containment strategy," Gillman wrote. "He was, rather, assigned a typical role for a cabinet secretary's chief of staff, serving as aide de camp on a task force run by the boss himself — until Trump stripped that job from Azar and assigned the responsibility to Vice President Mike Pence."
The mainstream media not only exaggerated Harrison's role with the coronavirus task force, but also downplayed his government experience.
Harrison has previously worked for the Social Security Administration, the Office of former Vice President Dick Cheney, served as Deputy Secretary at HHS during the George W. Bush Administration and worked for the Department of Defense.
CLICK HERE FOR COMPLETE CORONAVIRUS COVERAGE
"He has worked as a director at an independent public affairs firm, helping oversee their healthcare portfolio, and, prior to returning to government, ran a small business in Texas," the HHS website states.
The Dallas Morning News indicated that the "small business" mentioned in his bio was dog breeding, which was a hobby that briefly turned into a business when significant family health issues forced Harrison to relocate to Texas.
"Harrison and his wife sold the business two years ago when he returned to government as deputy chief of staff to Azar," Gillman wrote.
Media Alert: ESG Event for Board Directors Featuring CEO of Bank of America and Founder of World Economic Forum Explores Measurement of Stakeholder Capitalism – Financial Post
Exclusive virtual event on June 16th, hosted by Diligent Corporation, provides insight into ESG, metrics and the board's role from a powerhouse panel
NEW YORK — As companies continue to focus on long-term value creation in the face of economic recovery, operationalizing Environmental, Social, and Governance (ESG) will be critical. However, with no consistent metrics, disclosures or reporting frameworks, companies and board members struggle to effectively oversee risk, communicate performance, and measure shareholder and stakeholder impact.
Hear directly from the business leaders who are actively seeking to formalize common metrics and how board members can support initiatives for consistent ESG standards. Featuring Brian Moynihan, Chairman & CEO of Bank of America and Chair of the World Economic Forum International Business Council, and Klaus Schwab, Founder & Executive Chairman of the World Economic Forum, "Measuring Stakeholder Capitalism: ESG, Metrics & the Board's Role" will explore:
Will the push for stakeholder capitalism accelerate in a post-COVID world?
What can boards expect with the move towards common metrics and consistent reporting?
How can boards best navigate the implications for company strategy and governance?
What: Measuring Stakeholder Capitalism: ESG, Metrics & the Board's Role
When: Tuesday, June 16 at 10 AM Eastern
Where: Virtual event link will be sent after registration
RSVP: by Friday, June 12 to confirm participation
https://diligent.com/measuring-stakeholder-capitalism
Event press inquiries should contact Shana Glenzer, VP Marketing & Communications, at Diligent Corporation: sglenzer@diligent.com or 202.227.2036.
About Diligent Corporation
Diligent Corporation is the pioneer in modern governance, empowering leaders to turn effective governance into a competitive advantage. Leveraging unparalleled insights from a team of industry innovators, as well as highly secure, integrated SaaS technologies, Diligent's industry-leading suite of solutions changes how work gets done at the executive and board levels. Leaders rely on Diligent to drive accountability and transparency, while addressing stakeholder and shareholder priorities. Its applications also help streamline the day-to-day work of board management and committees, and support collaboration and secure information sharing. Designed for both public and private sector organizations, Diligent is helping to usher in a new era of modern governance.
The largest global network of directors and executives, Diligent is relied on by more than 17,000 organizations and 660,000 leaders in more than 90 countries. With an eye towards inclusivity and accessibility, Diligent serves some of the largest public governing bodies, including more than 50% of the Fortune 1000, 70% of the FTSE 100, and 65% of the ASX.
View source version on businesswire.com: https://www.businesswire.com/news/home/20200603005677/en/
Contacts
Media Contact:
Shana Glenzer
Sglenzer@diligent.com
202.227.2036
The Media, Entertainment and Culture Industry's Response and Role in a Society in Crisis – World Economic Forum
In collaboration with Accenture
COVID-19 continues to unfold with a profound shock across the media industry. At extraordinary speed, it has disrupted supply and demand, workforce and business operations, monetization, the industry ecosystem, and the emotional and physical health of the industry's community. The first priorities have been to adapt to ensure business continuity and support society, workers, and customers.
The Forum's Platform for Shaping the Future of Media, Entertainment and Culture, has convened C-level executives from the Media ecosystem to identify leading responses to the crisis in the short term, and help build back better in the mid to long term. In the first of a series of papers on what COVID-19 will mean for the media and entertainment industry, this report, in collaboration with Accenture, explores the role of the industry in a society in crisis and how the companies' efforts can advance recovery for long-term resilience.
REPEAT – Media Advisory: Wednesday, June 3, Ontarians will demand action during the Ford Failed Us Province-wide Day of Action – GlobeNewswire
TORONTO, June 03, 2020 (GLOBE NEWSWIRE) — Ontarians are fed up with the Ford government's failure to support the working people of Ontario, and they will be telling him so on Wednesday, June 3 with the Ford Failed Us Province-wide Day of Action, says the Ontario Federation of Labour.
From taking action in their communities, to sending a letter to their MPP, to asking questions of the Premier in a People's Question Period, the workers of Ontario will tell the PCs that they have failed Ontarians.
"Before COVID-19, Ontarians were already feeling the damaging effects of PC government cuts. Now, COVID-19 has revealed to everyone just how much this government has failed all of us," said Ontario Federation of Labour President Patty Coates. "There is a crisis in long-term care and a shortage of personal protective equipment. Not one worker in Ontario has legislated paid sick days, and the province still has an unlivable minimum wage. There is a deep lack of leadership when it comes to ending racism in this province. It's time for this government to listen to workers and provide decent work, safe and healthy workplaces and communities, strong public services, and equality and justice. The people of Ontario must come first during this pandemic."
The labour movement and its allies are calling on the government to fix the crisis in long-term care; prioritize workers' health and safety; implement the promised pandemic premium pay; expand its eligibility and make it permanent; introduce a livable minimum wage immediately with no exceptions; provide permanent paid sick days plus paid days during an outbreak; respect collective agreements, and listen to workers.
"The PCs cannot miss the onslaught of concern being voiced by Ontarians suffering because of this government's short-sighted policies," said OFL Secretary-Treasurer Ahmad Gaied. "Ontarians know that the way we will get through this pandemic is by supporting each other, not by counting on big business to offer direction on government policies and long-term care homes."
The OFL has provided activists with information on social distance actions they can take to send a strong message safely during the pandemic. The OFL will also launch The People's Question Period on Twitter where Ontarians will ask the Premier a question about building an Ontario for all with the hashtags #PowerOfMany, #PeoplesQuestionPeriod, and #OnLab.
"The Ford Conservatives have failed Ontario," said OFL Executive Vice-President Janice Folk-Dawson. "Calling front-line workers heroes but not ensuring they have access to life-saving personal protective equipment shows just exactly what this government thinks of workers. We also know that refusals of unsafe work are being denied by the Ministry of Labour. It's time this government took workers' concerns seriously."
The OFL Power of Many is a campaign by the Ontario Federation of Labour and its allies in communities across Ontario, working together to protect and win decent work laws, strong public services, along with equality and justice, as well as safe and healthy communities for all.
The Ontario Federation of Labour represents 54 unions and one million workers in Ontario. For information, visit www.OFL.ca and follow @OFLabour on Facebook and Twitter.
Media availability:
OFL President Patty Coates will be available for media interviews by phone or on Zoom on June 3, 2020.
Visuals:
Visuals include Ford Failed Us and The People's Question Period posters, tweets and video from @OFLabour, and questions for Premier Ford, which can be searched using #PowerOfMany or #PeoplesQuestionPeriod.
For more information, please contact:
Meagan Perry
Director of Communications
Ontario Federation of Labour
mperry@ofl.ca l 416-894-3456
COPE 343