Microsoft is killing off support for Windows 7, which is used on a third of PCs globally – CNN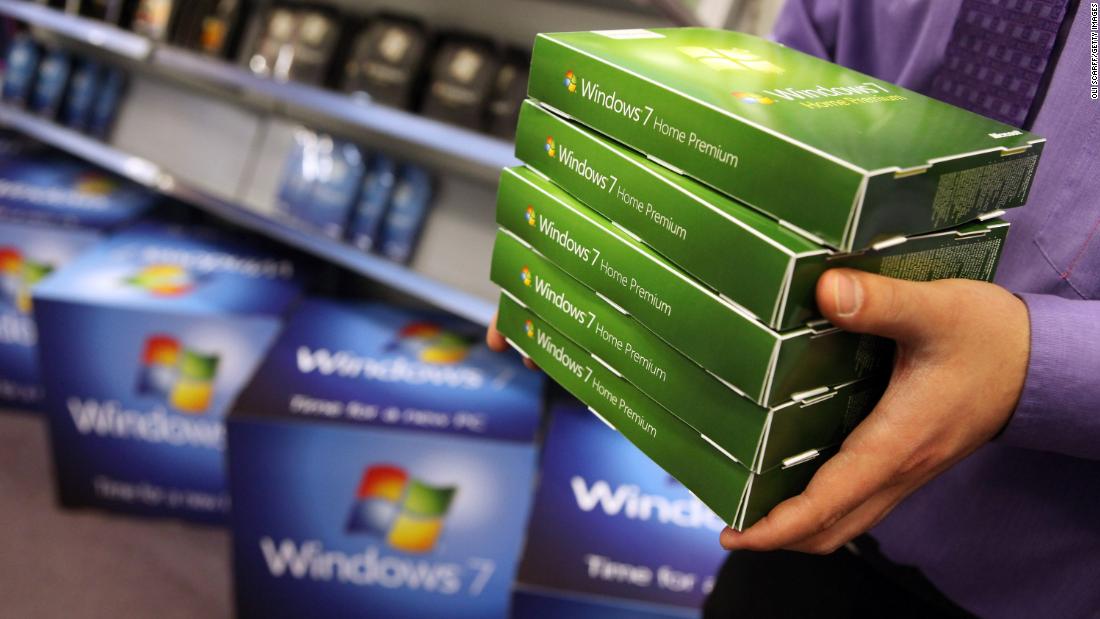 Microsoft will no longer support the 11-year-old operating system as of Tuesday. For users, that means Microsoft will stop providing updates and security patches for Windows 7.
The changes will affect hundreds of millions of people because more than one-third of PCs use Windows 7,
according to NetMarketShare.
That is slightly fewer than Windows 10, the most popular PC operating system, which is on about half of the world's personal computers. Windows 10 is used on 900 million devices,
according to recent numbers
from Microsoft.
Microsoft said that Windows 7 users can still use their computers after Tuesday, but the company warns they will be at "greater risk for viruses and malware."
The company is encouraging people to upgrade to Windows 10 for $139 or buy a new device running Windows 10 if their computer is more than three years old. It previously offered a free upgrade from Windows 7 to Windows 10 when Microsoft launched its latest operating system more than four years ago.
Windows 10 launched in 2015
and included several updates to the largely derided Windows 8, including a revamped appearance, the ability to use the Cortana voice assistant and enhanced security features.
Google Pixel 6 Series Prices for US and UK Leak Ahead of Launch, Ads Surface Online – Gadgets 360
Google Pixel 6 and Google Pixel 6 Pro phones are set to launch tomorrow, on October 19. The smartphones' design has already been confirmed and the two handsets are also going to be the first to be powered by Google's own SoC called Tensor. New leaks offer details on US and UK pricing of the Google Pixel 6 range. Ads of the Google Pixel 6 and Google Pixel 6 Pro have also leaked online, highlighting the design and key features of the two phones.
Twitter user Evan Lei tweeted that they saw the Pixel 6 series pricing at a Target store ahead of launch. Google Pixel 6 is tipped to be priced at $599 (roughly Rs. 45,900) for the 128GB model whereas the Google Pixel 6 Pro is reported to be priced at $898 (roughly Rs. 67,500) for the base 128GB storage option. Tipster M. Brandon Lee has also corroborated this, giving same prices. If true, these are very aggressive prices from Google and Lee even goes on to claim that the tech giant may be bearing losses to gain market share.
In addition, the UK price of the Pixel 6 Pro has also been leaked by tipster Roland Quandt, who spotted two variants on Amazon UK. The 128GB storage option is tipped to be priced at GBP 849 (roughly Rs. 87,800) and the 256GB model may be priced at GBP 949 (roughly Rs. 98,100). The tipster claims that the Pixel 6 and Pixel 6 Pro will be sold in the UK from November 1.
Separately, ads of the Pixel 6 and Pixel 6 Pro have leaked as well, via @snoopytech, and they highlight key features of the two phones. The ads tease the new Google Tensor SoC, the Magic Eraser feature that deletes objects and people in the background, and Live Translate that translates conversations, messages, and photos in real-time without Internet. The two phones feature a hole-punch display with the cut out placed in the top centre and integrate Security Hub for added protection against phishing and hacking.
The Google Pixel 6 series launch event will take place at 10am PT (10:30pm IST) on October 19.
Minecraft's Next Big Update, The Wild, Is Coming In 2022 – TheGamer
The next Minecraft update, The Wild, aims to expand and improve upon the game's biomes, whilst also introducing a brand new one – the Deep and Dark biome.
The Wild was shown off as part of Minecraft Live 2021 and is the next big update for the game after Caves and Cliffs Part 2, which still doesn't have a proper release date beyond "later this year".
Related: You Don't Have To Go Outside To Touch Grass With This New Minecraft Resource Pack
The main purpose of The Wild update is to expand and improve upon biomes that already exist in the game, such as making the Birch Forest biome more unique by giving it taller trees and more open spaces. Mojang seems to be trying to give each biome a lot more to make them feel distinct from one another, alongside adding new content like boats that have chests installed in them. It's not quite as huge as the Caves and Cliffs update but looks set to help keep Minecraft fresh.
Another big addition is the mud blocks, which come from the new Mangrove Swamp area. As the name implies, this swamp area will have mangrove trees that give you mangrove wood. The area also introduces mud blocks, which you can create yourself by using water and dirt, and a frog mob. The frog mob was a particularly popular addition, with fans cheering at its inclusion. There'll also be tiny Minecraft tadpoles, just in case you needed something else to look forward to.
That's not all though, as a brand new biome will also be introduced through the update. The Deep Dark biome, which was originally supposed to be introduced as part of the Caves and Cliffs update, will introduce the incredibly creepy Warden mob and acts as a sort of subterranean lair underneath the bedrock layer. Mojang shared off a fair bit more of the new biome, as well as showing the Warden off properly. The Wardens are eyeless enemies that react to sound and vibrations, essentially making them the Clickers of the Minecraft world.
Next: What's The Deal With Ash's Dad In The New Pokemon Movie?
Oh, So People Can Just Become Pokemon Now?
Koko raises a lot of interesting questions about the nature of Pokemon in Secrets of the Jungle.
About The Author
Suicide Squad: Kill The Justice League Trailer Shows Wonder Woman is Not an Enemy – GameRant
DC FanDome was as big as many expected the event to be, revealing awesome trailers for movies like The Batman and upcoming games like Suicide Squad: Kill The Justice League and Gotham Knights. Some are upset that Injustice 3 wasn't revealed at DC FanDome yesterday, but it was also somewhat clear that it was never going to be.
Still, these trailers are more than enough, and there's a lot to unpack. Suicide Squad: Kill The Justice League, for example, finally let players see what heroes they would be facing in-game aside from Superman, namely The Flash, Green Lantern, and even potential hints at Batman. One other Justice League member appeared, though not in the same capacity as her comrades: Wonder Woman.
RELATED: The Batman's DC FanDome Trailer is Here and It's Dark
While it's not necessarily obvious at first, it's clear that The Flash and Green Lantern are under the control of Brainiac. Their "corruption" of sorts isn't to the same extent as Superman, but it's clearly there. It stands to reason that, if Suicide Squad: Kill The Justice League's Batman is alive and, following the secret ending of Arkham Knight, he is under Brainiac's control too. Wonder Woman, however, is not.
Throughout the trailer, her face is clear of any and all markings from Brainiac, suggesting her mind is her own. This could be so that she operates as some story device, this could be a way to encourage the Suicide Squad not to actually "kill" the Justice League, or she could be an ally at a certain point. Anything goes, but as the trailer is so action-packed, it's easy to miss at first: Wonder Woman is not the Suicide Squad's enemy.
Now, the reason why is up for debate and probably won't be officially revealed until closer to launch, if not at the launch itself. Some fans speculate, however, it has something to do with her blood. Depending on which storyline Suicide Squad: Kill The Justice League uses—if not its own—Wonder Woman is either a half-god or full god. It could be that Brainiac can't influence her because of this.
Either way, it's good for Suicide Squad: Kill The Justice League to keep a little mystery as the game is still quite some time away. It's at least one reason why 2022 is looking to be such a good year for video games, especially for DC games when paired with Gotham Knights.
Suicide Squad: Kill The Justice League releases in 2022 for PC, PS5, and Xbox Series X.
MORE: Suicide Squad: Kill The Justice League and Gotham Knights Trailers Share a Prominent Theme
Rumor: We Happy Few Dev Could Be Working on Xbox Exclusive Dark Fantasy Game
The next project for the developers of We Happy Few, Compulsion Games, is supposedly a Dark Fantasy game exclusive to Xbox consoles.
About The Author