Montreal palliative care doctor transforms junk into whimsical art – Global News
After more than 30 years of taking care of patients, doctor Michael Dworkind is gaining attention for artistry of a whole other kind.
The palliative care physician, now in semi-retirement, creates works of whimsical art made entirely of junk.
It's a passion that Dworkind has been quietly expressing for decades. Dworko – as he is known in the art world – has been transforming discarded trash found on the sidewalk into works of art.
"Unfortunately in our Canadian society we throw out so much good stuff," Dworkind said. "Garbage day in NDG is my heaven."
READ MORE: 'Street find' art transforms NDG alleyway into outdoor gallery
His creations include monstrous faces using shower heads, door stoppers and plungers, and a sculpture of a fiery phoenix with a broom head and construction clamps for a beak.
His art brings out untold reactions from people trying to decipher the piece itself but also the pieces it's made out of.
"It's humorous because people say things: 'this comes from there, that from there; Ahh isn't that funny.' That's the reaction I want."
Dworkind says his work has no rhyme or reason – the 'junk' speaks to him.
"Sometimes I'll just see something on the curb and want to have it," Dworkind said.
His art is showcased all over the walls of his NDG home and in devoted rooms as small galleries. Little of his work is seen by the public.
But that has now changed with the latest short film produced by photographer Ezra Soiferman.
"I was blown away and I decided to take out my camera and start making a movie," Soiferman said.
Titled The Junk On My Roof the film shines a light on Dworkind's hidden but bright rooftop sculpture garden.
Soiferman says Dworkind is a renaissance man that has many stories already told, none of which have been about his art.
For example, in 1985 he served as a member of the International Physicians for the Prevention of Nuclear War which won a Nobel Peace Prize.
Dworkind is currently the co-founder and medical sirector of Santé Cannabis, the leading education and resource centre for the use of medical cannabis in Quebec.
"When I see another artist who is out there hustling creating things using their voice to express themselves in a unique way I get excited," Soiferman said.
READ MORE: Local artist transforms Montreal bus shelters into pop-up art galleries
Soiferman says people are surprised and overjoyed by the five-minute walkthrough film.
Family members of former patients at the Jewish general hospital where Dworkind used to practice have been reaching out, commending the video and the artwork.
Dworkind says he's humbled by the video and the attention it's gotten online.
Soiferman says the duo is far from done. They plan to create a second project described as a soup-ed up slide show showcasing art through photo and music focusing on the more than 100 sculptures peppered across Dworkind's property in the Laurentians.
"That place is like a sculptural Disneyland. It's wild and whimsical," Soiferman said.
© 2021 Global News, a division of Corus Entertainment Inc.
Paintings turned trees into central characters in Canadian art: expert – OrilliaMatters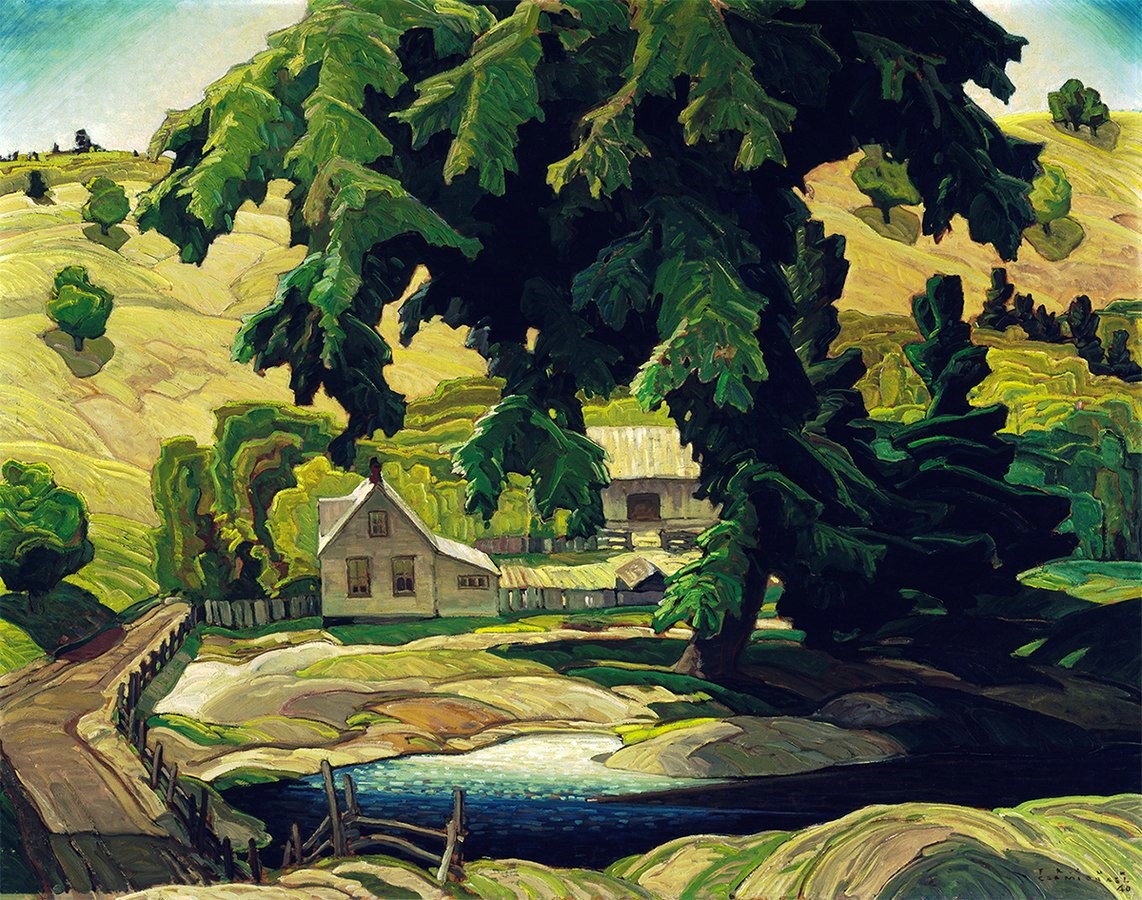 NEWS RELEASE
ORILLIA MUSEUM OF ART & HISTORY
********************
In her introduction to this year's Carmichael Art History Lecture fundraiser, Executive Director of the Orillia Museum of Art & History (OMAH), Ninette Gyorody paid tribute to Qennefer Browne. It was a remembrance of gratitude.
Browne founded our annual Art History Lecture and named it in honour of Franklin Carmichael, a member of the Group of Seven, who was born in Orillia. Browne organized speakers for many years, until her death.
This year, we were incredibly fortunate to have Dr. Anna Hudson, who teaches Art History and Visual Culture in the Arts Music Performance Dance (AMPD) Department of York University, as our distinguished lecturer.
Her compelling presentation was a focus of her doctoral dissertation, "Art and Social Consciousness: The Toronto community of Painters, 1933-1950" was 'What Came after the Group of Seven.'
From 1933 to 1950, a group of socially-conscious painters imagined a society transformed by art, and came together to develop a shared language of visual representation, building on the legacy of the Group of Seven.
Dr. Hudson spoke of the way artists play off each other's work, investing form with meaning over time. Her talk was supported by images of Canadian paintings and photos of the period, which illustrated ideas within the lecture and enabled us to connect with the art.
Visual themes of the lecture were 'TREE, BODY, INDUSTRY, LAND, HOME'.
First up for discussion were paintings by Franklin Carmichael: Autumn in Orillia (1924), Farm, Haliburton (1940) and Autumn Hillside (1920). In the 1940 painting, a tree is the dominant figure in the landscape. Dr. Hudson explored what this might mean, referencing the historical context of 1940.
Next, images of Jack Pine and West Wind, by Tom Thomson, were shared. These paintings lifted trees into the role of central characters in Canadian art, rather than being part of a pretty European style landscape painting.
Continuing her discussion of paintings, sculpture, photographs and commercial art by Canadian artists of the period 1933 to 1950, Dr. Hudson shared her interpretation of this phase of our national art.
One of the most fascinating paintings referenced was 'Tree', painted in 1944, by Isabel McLaughlin. This writer viewed this painting at The McMichael Gallery last month. Dr. Hudson's assessment of 'Tree' as "disturbing, powerful, visceral, tactile" fits this painting.
We thank Dr. Hudson for sharing her vast knowledge and passion for this important time in Canadian art history. Her presentation was a great complement to the Carmichael Canadian Landscape Exhibition: Tradition Transformed, now in its 20th year. Don't miss this incredible juried show.
For 2022:
The History Speaker Series will be on hiatus for December and will resume on Jan. 19, 2022, via Zoom.
Popular Orillia historian, Dave Town, will be our guest speaker with his talk 'Yellowhead's Revolt'. Local Indigenous leader, Rama's Chief Yellowhead, stood defiant against not just the white man, but his fellow Chiefs in 1846 at the Great Meeting held in Orillia.
At issue were life-changing policies, the most significant of which was the creation of the first residential schools in Canada. Chief Yellowhead stood up for what he felt was right for his people. Don't miss Dave's fascinating talk about this important event in our local history.
Click here to register for the talk or call Monica at 705-326-2159 or email visitors@orilliamuseum.org
Admission to the History Speaker Series is free, but donations to OMAH are appreciated.
The OMAH History Committee thanks you for your loyal support in 2021. Stay tuned for a full list of dynamic speakers in 2022. Wishing you a safe and festive holiday season.
********************
Art Fx #44: "Around the Bend" by Pam MacKenzie – Huntsville Doppler – Huntsville Doppler
Art Fx is a year-long series on Huntsville Doppler featuring Huntsville-area visual artists.
"Around the Bend" by Pam MacKenzie is a 24" x 36″ acrylic on birch
"This painting depicts a canoe trip up a stream to explore what lies beyond," says Pam. "My husband and I were avid canoeists and spent countless hours exploring small rivers and creeks. Travelling in these small bodies of winding waters always left you wondering what was around the corner. Did it continue on or was this bend going to end up in a bay or a larger body of water than we were comfortable travelling on in our canoe? Were we going to be able to continue in the canoe or going to have to portage over a rough spot, leaving the colour of our canoe on buried river rock? Or were we going to find a quiet spot to pull ashore on and explore the land along the banks?"
"Around the Bend" is available for $400.
About the artist
Artistic endeavours have always been part of Pam's life, from making her own school clothing to designing and creating wedding gowns and apparel to art quilts, weaving and stained glass.
Pam began exploring the drawing and painting art world in 2013 with Laura Landers, Iris Shields, and now Carol Rudderham.
Pam has taken long workshops with a number of well-known Canadian artists and is currently working on an online course in bold-colour painting through the Bold School based in B.C.. While her first love is portraiture in black and white, she felt the need to colour her portraits first in pastels and now in acrylic and is taking this course to do just that.
Currently Pam is exploring the world of pouring art as she has splints on both arms following a tumble this fall. When life throws you lemons, make lemonade.
Pam is co-chair of the Huntsville Art Society and takesadvantage of the many opportunities through HAS to show her work. She also paints with a group at Carol Rudderham's and shows her work bi-annually in the gallery at Partners Hall in the Algonquin Theatre.
Find Pam online at the HAS website or contact her at pammack123@icloud.com or 705-788-9875.
See more local art in Doppler's Art Fx series here.
Don't miss out on Doppler!
Sign up here to receive our email digest with links to our most recent stories.
Local news in your inbox three times per week!
Click here to support local news
Year end art exhibition features 40+ local art makers – North Bay News – BayToday.ca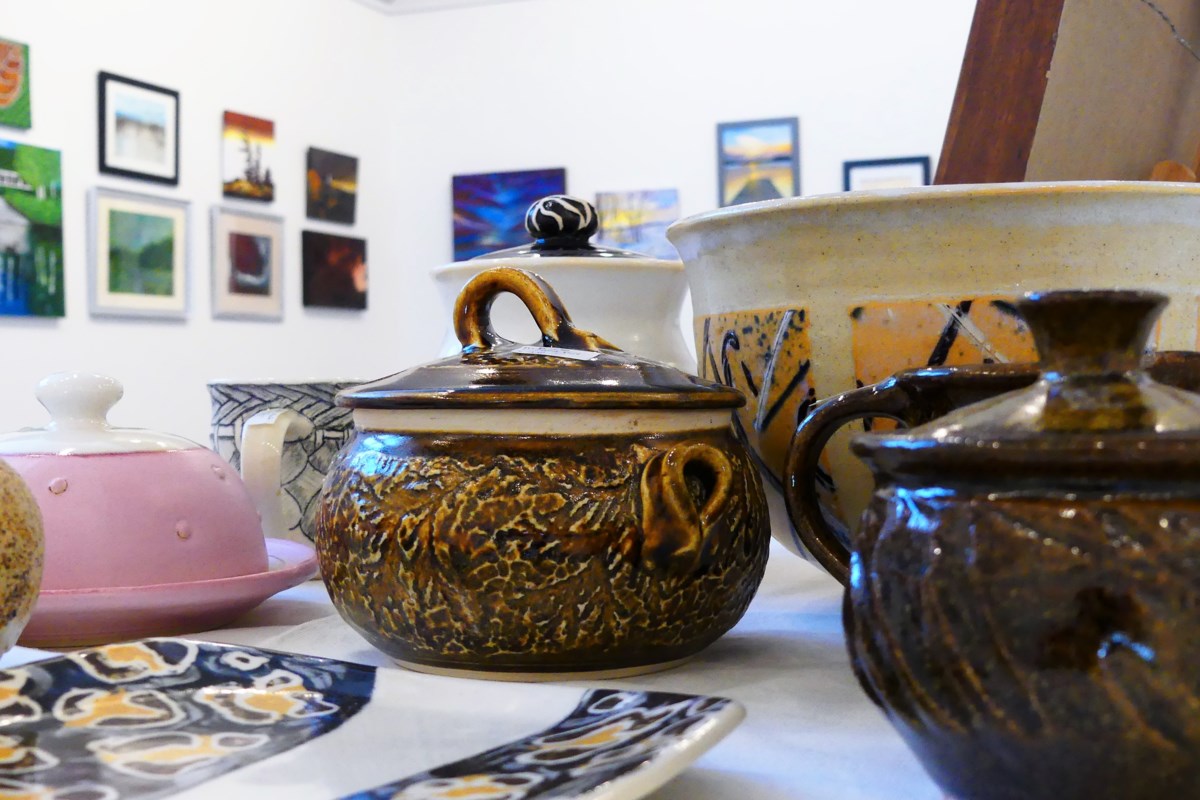 The Alex Dufresne Gallery is presenting its annual year-end show "Petit Noel: Exhibit & Sale."
"This art exhibition has brought together over 40 different painters, photographers, potters, and artisans of all mediums, styles, and levels of experience to curate a show that reflects the passion of the northeastern Ontario art community.," says Natasha Wiatr, Curator.
All pieces are no larger than 20" by 20" in size and almost all pieces are for sale.
The show is currently on display and will stay up until Saturday, December 30.
The gallery is open Wednesday – Saturday from 10 – 5 excluding Christmas Day and New Years Day.
"If you would prefer to book the gallery for a private viewing on a Tuesday, please contact us to arrange for a time," adds Wiatr. "The gallery is free, with donations welcome. Due to Covid-19 guidelines, we ask that visitors wear masks and maintain six feet of social distancing, and we have hand sanitizer available on site. Please do not visit if you are not feeling well."
Location: Alex Dufresne Gallery (107 Lansdowne St. E. in Callander, in the same building as the Callander Bay Heritage Museum)