Most popular colors for the 5G Apple iPhone 12 Pro Max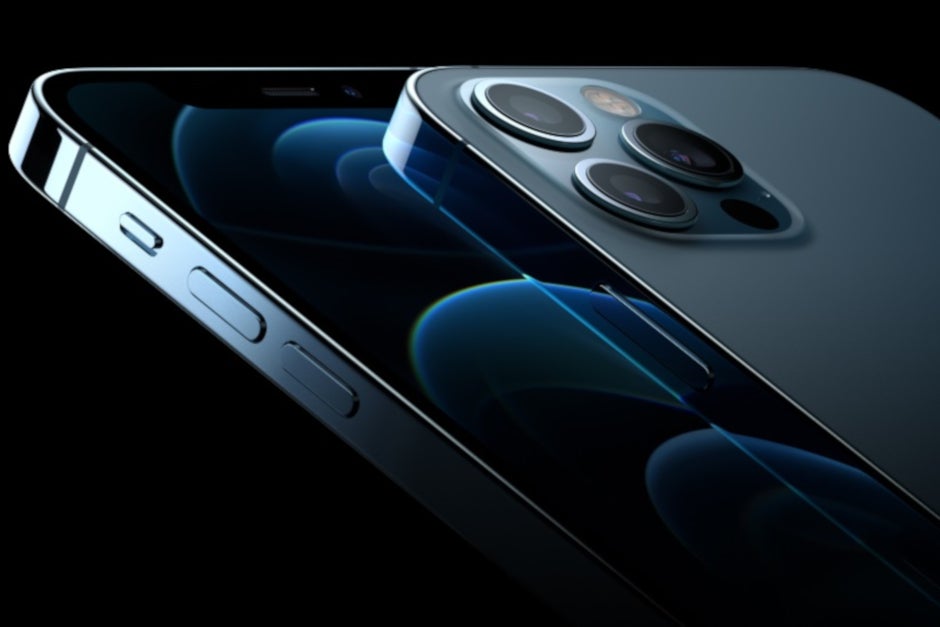 Apple iPhone 12 Pro Max
| Graphite | Silver | Gold | Pacific Blue |
| --- | --- | --- | --- |
| 128GB-November 25th-December 1st | 128GB-November 25th-December 1st | 128GB-December 1st-December 8th | 128GB-December 1st-December 8th |
| 256GB-November 25th-December 1st | 256GB-November 25th-December 1st | 256GB-December 1st-December 8th | 256GB-December 1st-December 8th |
| 512GB-November 25th-December 1st | 512GB-November 23rd-November 25th | 512GB-November 25th-December 1st | 512GB-November 25th-December 1st |
Apple iPhone 12 mini
| White | Black | Blue | Green | PRODUCT(RED) |
| --- | --- | --- | --- | --- |
| 64GB-November 13th | 64GB-November 13th | 64GB-November 13th | 64GB-November 13th | 64GB-November 13th |
| 128GB-November 13th | 128GB-November 13th | 128GB-November 13th | 128GB-November 13th | 128GB-November 13th |
| 256GB-November 27th-December 2nd | 256GB-November 27th-December 2nd | 256GB-November 13th | 256GB-November 13th | 256GB-November 13th |
So what have we learned from this data? The Gold and Pacific Blue versions of the iPhone 12 Pro Max are the most popular models although there is somewhat less demand for the units holding 512GB of storage in either of those two colors. None of the Pro versions of the iPhone 12 family ordered today will arrive on the November 13th release date. As for the iPhone 12 mini, all versions of the 64GB and 128GB models will still arrive on the November 13th release date if ordered by today. With shipments of the 256GB models in White and Black delayed to as long as December 2nd, those two colors are the most popular for the 5.4-inch variant of the phone.
The 128GB version of the iPhone 12 Pro Max is priced at $1,099 or 24 monthly payments of $45.79. This is the first year that
Apple
has a basic configuration for one of its iPhone lines that starts at 128GB. The 256GB iPhone 12 Pro Max will run you $1,199 or $49.95 a month over 24 months. And the 512GB version of the handset is priced at $1,399 or 24 monthly payments of $58.29.
The Apple iPhone 12 mini is offered with 64GB, 128GB and 256GB of storage respectively. The 64GB version is tagged at $729 or $30.37 a month over 24 months. The 128GB models are priced at $779 or you can make 24 monthly payments of $32.45. $879 will snag you the 256GB iPhone 12 mini, or you can choose to pay $36.62 a month over 24 months.
Source: – PhoneArena
iPhone 12's camera beats even the iPhone 11 Pro. Here's proof – CNET
The iPhone 11 Pro packed one of the best cameras around, being able to take such great shots that it replaced my DSLR on a road trip around Scotland. Apple's latest iPhone 12 may be one of the more affordable of the new lineup — which includes the smaller iPhone 12 Mini and the more premium 12 Pro and 12 Pro Max — but its camera is even more formidable.
I've taken the iPhone 12 for a spin around my home in Edinburgh, and I've been super impressed with how it stacks up against the previous 11 Pro. Sure, it doesn't have the 2x telephoto lens, but the images it can capture with the standard view and the super-wide lens are superb.
On this first scene in Dean Village, both cameras have captured an excellent overall exposure, but the iPhone 12's shot has a richer blue sky and more contrast and detail on the buildings, resulting in a better-looking shot overall.
Switching to the super-wide view, both phones have been able to capture a huge amount of the scene in front of them, but again, the iPhone 12 has a bit more punch to the scene. Some of the buildings look a bit darker, however, which may not be to everyone's tastes.
While the overall exposure is great on both shots, the bright sky on the iPhone 11 Pro appears to have caused some haziness around where the buildings meet the sky. The iPhone 12's shot has a clear distinction between the areas, which looks much nicer.
Although the sky doesn't cause the same haze in this scene, there's a noticeable difference in the contrast between the two images. The iPhone 12's shot has richer colors, which helps add some punch to the shadows on the church, as well as help distinguish the various trees from each other further down.
In this example, however, I can see almost no discernible differences between the two images. Both are pin-sharp with accurate colors and great contrast.
Up on Edinburgh's Calton Hill, I prefer the look of the shot from the iPhone 11 Pro. It has a warmer white balance to it (which may only be caused by the tiny shift in shooting angle) that I think gives a more pleasing tone to the scene and has allowed it to maintain some of the sunset colors in the sky.
Looking at the increasing sunset from another direction, both phones have captured the tones and the exposure extremely well. The iPhone 12's shot does have more contrast and clarity on the buildings further in the scene, as well as making them a touch brighter, which I think makes for a superior image.
As the sunset deepened, the phones had to fight harder to keep that bright streak of orange in the sky under control, while still capturing plenty of detail in the foreground. They're both great shots, but the iPhone 12's image again shows brighter details in the building and foreground foliage.
As night began to fall I headed further into the city and found this scene. The 11 Pro has captured a great image overall, but it's clear to see that the iPhone 12's is brighter, with more detail on the cobblestones and on "The Arches" sign.
The situation is much the same with these beautiful Christmas decorations, shot using the super-wide lens and the Night mode. The iPhone 12 Pro's shot is brighter, with much more visible detail to be seen.
Cropping in to the top of the building on that same super-wide shot, it's clear to see that the iPhone 12's image is both brighter and sharper.
Taken using Night mode at 10 seconds, both shots have captured an impressive amount of detail in what was such an incredibly dark nighttime scene. The iPhone 12's shot is a touch brighter, however.
Cropping in on the corner of the same images, it's possible to see that the iPhone 12 has been able to capture significantly better detail in the edges of its frame when using Night mode.
The iPhone 12 takes better photos
In almost every example in this test I prefer the look of the images from the iPhone 12 over those taken on the iPhone 11 Pro. Details are clearer, shots are brighter and more vibrant, and Night mode images have seen huge improvements. It's not such a significant upgrade that it's worth moving from an iPhone 11 Pro to the iPhone 12, but the 12 is the phone to go for if you're looking at upgrading from an earlier handset.
The only downside to keep in mind is that the iPhone 12 doesn't have the 2x telephoto lens. As a photographer, I love using the zoom on the phone as it allows me to get some really interesting angles on subjects that you can't do with a wide-angle lens. If you're a really dedicated photographer then it's worth considering spending the extra and going for the iPhone 12 Pro or 12 Pro Max, both of which offer the telephoto lens as well as the standard and super-wide views.
Google AI researcher's exit sparks ethics, bias concerns – Yahoo Canada Finance
RFI
Italians are preparing themselves for a very different Christmas due to newly announced restrictions to combat the coronavirus. But a recent survey has revealed that the public is largely in favour of the limitations being adopted to personal freedom – if it is in aid of protecting public safety. Nearly 60 percent of those who participated in the Cencis survey accepted that the government should decide "when and under what conditions they can leave their houses, what they can or cannot do, who they can see and where" to protect the health of the Italian population.Nearly 80 percent said they were in favour of tough curbs at Christmas time.A new emergency decree signed by Prime Minister Giuseppe Conte took effect on Friday and will remain valid until January 15.Italy's regions have been divided into three different colours according to the level Covid-19 infections and risk, with red being the most dangerous, then orange and yellow.Only in yellow regions are bars and restaurants allowed to be open for regular service. In the other regions, they are only allowed to be open for take-away service.In a press conference outlining the new restrictions over the Christmas season to avoid another surge in coronavirus infections, Conte said that Italy was obtaining good results thanks to already existing measures, but this was no time for complacency and that new ruled were required. "The measures we're adopting are adequate and proportional to the level of risk, without being unnecessary penalised", he said. "We have avoided a nationwide lockdown but now, near Christmas, we must not let our guard down." Christmas midnight mass, which is very popular with Italians, has been banned and the prime minister has urged his fellow countrymen to refrain from inviting guests to their homes during the festivities.Italians are banned from leaving their towns on Christmas Day, Boxing Day and New Year's Day. Movement between Italy's 20 regions is also banned from December 21 to January 6 unless a person can show they are travelling for their job, a health issue or an emergency.Ski resorts will be closed until January 6 and cruises have been banned over the holiday period."There is still a long way to go until we're out of the pandemic," said Conte. "We must avert a third wave, which could arrive as early as January and be no less violent than the first wave."From December 10-21, residents returning to Italy from other EU countries will need to take a Covid-19 test before travelling and show the negative result on arrival. From December 21 to January 6, anyone arriving in Italy including from EU countries must quarantine for two-weeks.
Tips on how to find the Playstation 5 and XBox Series X, the hottest items this Christmas – CTV News Ottawa
OTTAWA —
One of the hottest items on many Christmas wish lists this holiday season is the Playstation 5 and Microsoft Xbox Series X consoles.
With so many people at home looking for something to do during the COVID-19 pandemic, demand is high for the latest generation gaming consoles. Getting your hands on one seems to be a game all on its own.
Salim Saikley is one of the lucky few able to purchase a new console this holiday season.
"It really feels like you're part of an elite club," said Saikley.
After weeks of trying to buy a Sony PS5 gaming console, he finally found one at an online store, "I was able to pick one up as of 6:30 a.m." He 'picked it' online, and hopes to have it delivered next week.
The new PS5's are reselling on sites like Kijiji for nearly double the retail price. Saikley does not think that is something he would have done.
"Really hard to justify a gaming console for over a thousand dollars," said Saikley.
Even though he doesn't consider himself a 'gamer', he's looking for something else to do at home during the pandemic.
"COVID for sure is a massive factor; another thing to do in the home besides projects and cooking, building projects – we're a little tired of that," said Saikley.
At retailers like The Source, which is owned by CTV News Ottawa's parent company Bell, the pandemic is helping to drive sales.
"Gaming gives us a really good opportunity to play interactively; to play with other families, and to make sure that we're keeping that social connection alive," says Andaleeb Dobson, vice-president of Merchandising and Supply Chain at The Source. "Gaming is through the roof, it's been seven years since we've had new XBox or Playstation consoles."
The hottest game consoles have been on the market for about a month. Dobson says launch day was very busy on their website, "We sold lots of consoles in less than half an hour."
Best Buy Canada says pre-orders sold out quickly, and a company spokesperson told CTV News Ottawa, "We expect that demand to last well into the new year as inventory becomes available."
Hamse Deira managed to buy three on pre-order months ago.
"Honestly, it's amazing," said Deira, who sold one and surprised his older brother with the other new console. "He was still sleeping, so I put it on his on his bed, and I just tapped him and he woke up and was freaking out; he almost knocked it off the bed!"
How to

get

one

now?
Ray runs the website and twitter feed GameDealsCanada.com.
CTV News Ottawa asked Ray for tips to find the Playstation 5 and Microsoft Xbox Series X consoles this holiday season.
"Turning on notifications for Twitter helps get the latest alerts for surprise drops, but for scheduled ones like the ones Walmart and EB Games just did, it takes speed and a lot of luck," said Ray in a Twitter message to CTV News Ottawa.
He says you'll need that luck and suggests you follow all of the retailers' social media accounts. Retailers often post when they will be releasing more consoles.
He offers other tips on his website too, including creating an account at the online store ahead of time and making sure it works. Ensure your billing address and shipping address are correct, and add a valid credit card number ahead of time.
Ray also suggests trying a stores' online app; while many are trying to log onto the website, you may have luck with your phone.