New Art Gallery home part of Victoria's first arts and innovation district proposal – Saanich News – Saanich News
A comprehensive development proposal for 6.7 acres of downtown property known collectively as the Capital Iron lands could include a new home for the Art Gallery of Greater Victoria.
The rezoning pre-application by Reliance Properties, which bought the properties last year from the Greene family for more than $46 million, is said to be the first response to the city's Victoria 3.0 Recovery, Reinvention and Resilience plan. The city initiative, among other elements, calls for an arts and innovation district to be located in north downtown bounded by Herald, Bay and Douglas streets.
Reliance Properties' proposed urban redesign of this Lower Rock Bay neighbourhood property calls for expanded commercial and office space including an applied industrial arts building, new marine commercial space, live and workspace for artists in a fine arts rental building, a residential rental tower on Government Street and a Discovery Square public space behind the existing Capital Iron store.
A lot for a new five-storey art gallery building is proposed for the southeast corner of Store and Discovery streets. The gallery currently exists on Moss Street in the Rockland neighbourhood.
Section in red shows the Reliance Properties lands for which the company has applied for rezoning. (Google Maps)
"The Art Gallery of Greater Victoria is an anchor cultural institution in the region," said Victoria Mayor Lisa Helps in a release. "There have long been calls for it to move downtown. I can't think of a better place than in the newly created arts and innovation district. I look forward to seeing this exciting rezoning opportunity come before council."
Reliance president/CEO Jon Stovell said his company looks forward to collaborating with the city and locals to make the new district "a diverse hub of arts, culture, and technology."
The lands contained in the proposal include the upper harbour waterfront between 1820 and 1910 Store St., and the block currently home to Capital Iron's parking lot and commercial buildings between Chatham and Discovery streets from Store Street to Government Street.
Approximately 93,000 square feet of the total property is currently developed. The development plan calls for retaining the two Store Street heritage buildings currently housing retailers Capital Iron and Valhalla Pure Outfitters, as well as a small commercial heritage structure at 1910 Store St.
An arts and innovation district was part of the Victoria 3.0 plan released in May 2020. The goals for the area, as stated by the city, include being "global facing and export-oriented and attract companies that anticipate and solve the problems of the 22nd century with a focus on low-carbon prosperity."
---
Do you have a story tip? Email: vnc.editorial@blackpress.ca.
Follow us on Twitter and Instagram, and like us on Facebook.
Art Gallery of Greater VictoriaArts and culture
200,000-year-old handprints may be the world's oldest artwork, scientists say – CBC.ca
A group of fossilized handprints and footprints found in Tibet, dating back roughly 200,000 years, could be the earliest examples of human art. And they were made by children.
Every parent knows that children love to get their hands and feet into mud. Such seems to be the case long ago at what used to be a hot spring at Quesang, high on the Tibetan Plateau at an altitude of 4,269 metres (14,000 feet) above sea level.
A report in the journal Science Bulletin suggests these impressions were intentionally placed, not just the result of wandering in the area. The foot and hand prints fit exactly within a space, arranged close together like a mosaic. Their size indicates they were made by two children, one the size of a 7-year-old, and the other the size of a 12-year-old.
During that time, travertine, which is a type of limestone formed by hot mineral springs, formed a pasty mud which was perfect for making handprints. Later, when the hot spring dried up, the mud hardened into stone, preserving the prints over time.
The rocks have been dated to between 169,000 and 226,000 years ago. It is not known exactly who the people were that lived on the Tibetan Plateau at that time, but one possibility is the Denisovans, a branch of our early ancestors who lived in Asia and resembled modern humans. Tibetans living today still carry Denisovan genes.
Whether the imprints can be considered art or just kids playing in the mud is up for interpretation, although the authors of the paper told Live Science it may be art in the same way that parents hang scribbles from children on their refrigerators and call it art. The authors describe the medium the prints are in as intentionally altered, which they suggest could have been a kind of performance to show like, "Hey, look at me, I've made my handprints over these footprints."
Or perhaps these impressions represent the human desire to leave marks behind on the landscape that say, "I was here." It's a tradition that continues today with graffiti on walls in back alleys and famous actors and actresses who leave impressions of their hands and feet in cement along Hollywood Boulevard.
Little did these prehistoric kids know their handiwork would be preserved for hundreds of thousands of years.
If the carefully made prints are considered art, it pushes the history of rock art back more than 100,000 years. The oldest stencil-type handprints, where a hand is placed on a wall and coloured powder is blown around it to make an outline, have been found along with other cave paintings in Sulawesi, Indonesia and El Castillo, Spain dating back between 40,000 to 45,000 years ago. This is known as parietal art because it is not meant to be moved, unlike paintings or statues that can be displayed anywhere and traded. And the oldest statues also only go back to about the same time period.
The children of ancient Tibet could be considered among the world's first artists, or maybe they were just playing in the mud like all kids do. But the question of whether the impressions are art or not is almost moot because handprints and footprints from the deep past provide valuable scientific information.
Archeology usually deals with fragments from past cultures, such as pieces of pottery, building foundations, monuments and bones. It is up to the scientists to infer, to fill in the gaps and try to determine what the people were actually like. But handprints are the direct signature of a person.
Tourists on Hollywood Boulevard squat down to place their hands in the prints of their favourite actors to get a sense of what it might be like to shake their hand, sort of a virtual handshake. Imagine a handshake that reaches across millennia into an actual moment in time, to a couple of kids who were just messing in the mud.
New App Aims to Promote Province's Thriving Art Community – VOCM
A new app aims to get people outside and appreciating art in public places all over the province.
The Explore Art NL app leads users to more than 100 existing works of art in communities from St. John's to Makkovik, inviting people to spend more time in those locations, while possibly meeting others with mutual appreciation.
The works thus far include everything from sculptures to memorials and murals, but anyone can upload their own creations to the growing list.
Business and Arts NL executive director Amy Henderson says they modelled their app on a smaller version in Manitoba.
She says they were inspired by the app used by the Winnipeg Arts Council, but needed to expand it on a larger scale for the entire province.
Vanessa Iddon came up with the design for their so-called 'Art Car', a Genesis GV80 which will be touring the region to promote the new app.
The overall initiative is also supported by the federal government, City of St. John's and Tract Consulting.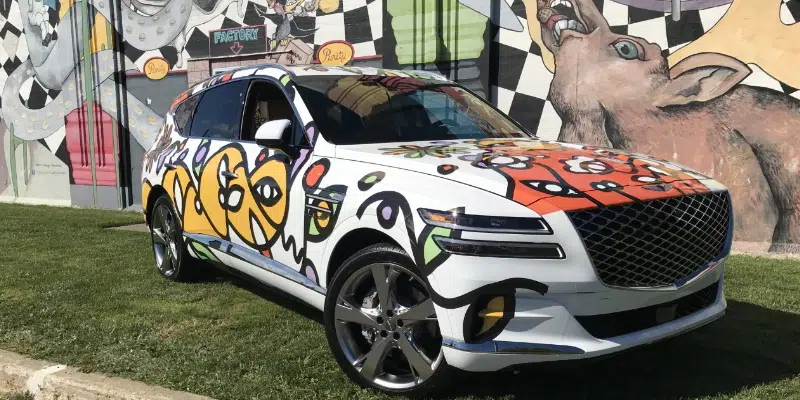 Art Crawl bounces back for 2021 – Coast Reporter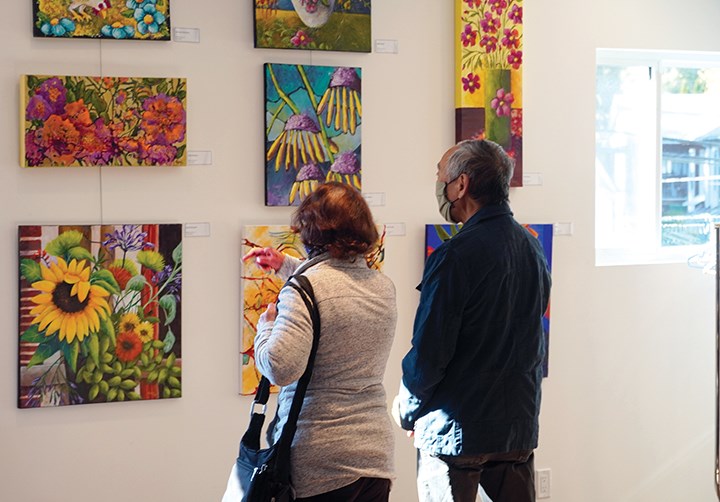 The 2021 Sunshine Coast Art Crawl, from Oct. 20 to 24, will feature more venues, more artists, and fewer pandemic-related changes than were in place in 2020, unless new health orders are issued before then by the provincial government.
"Because there are so many individual venues, there's no way we can do any kind of [COVID-related] recommendations overall, other than that the venues follow the provincial guidelines," Coast Cultural Alliance (CCA) board member and spokesperson Linda Williams told Coast Reporter.
In 2020, the Art Crawl dropped to 97 venues, down by nearly half from the record high of 186 locations in those heady pre-COVID days of October 2019.
This year, the number of venues has jumped back up, to 164, with more than 250 artists participating.
The 2020 version also tried to accommodate health concerns by offering vendors some options, as on online-only venue, or taking in visitors only by appointment. Those choices aren't on the table for 2021, but the overarching guideline is still safety-first.
"We are following all the health regulations, period," Williams said.
At press time, the only restriction on indoor events where participants are not seated is that masks be worn at all times by those over the age of 12. Requiring proof of vaccination is optional for venues where the number of visitors is kept under 50. Some smaller Art Crawl venues might ask for vaccination cards, but for now that's at their discretion.
"We were just going to have to take responsibility as individuals, as artists and as visitors," said Williams.
Sign-in sheets will be required for all venues, not for pandemic contact purposes, but in order that the CCA can collect a few statistics.
Art crawlers can also answer a quick online survey to be eligible for prizes of a two-night stay at Painted Boat Resort Spa & Marina, or ferry travel vouchers. Winners will be named in a draw to be held on Oct. 31.
Williams noted there are 46 new venues this year. Also, there are more in the Pender Harbour area than ever – 15. And for some reason, there's been a blossoming of new Art Crawl locations at the west end of Beach Avenue in Roberts Creek.
"There are eight of them that are on Beach Avenue close to Henderson (Road) this year," she said. "And I think seven of them are new."
The Art Crawl is also welcoming a new major sponsor this year, Longman Developments.
"They've come in because their core values are similar to ours, in community-building," said Williams. Sunshine Coast Credit Union is also back as a major sponsor, Williams noted, as it has been since 2010.
Art Crawl does receive modest grant support from local governments but is not eligible for provincial or federal funding, so is otherwise dependent on local business sponsorships and $135 venue fees to make the event possible.
The Art Crawl generated close to $600,000 in sales and commissions in 2019.