Nunavut MLA ousted from cabinet after social media post criticizing Black women for abortions – CBC.ca
Nunavut MLA Patterk Netser has been removed from cabinet after a 14-3 vote by his fellow MLAs in the legislature on Friday morning.
"I sometimes have to make difficult decisions in the best interest of our territory. This is one of those times. There can be no tolerance for disrespectful hurtful actions," said Premier Joe Savikataaq.
Savikataaq introduced a motion on Wednesday — the first day of the fall sitting — to remove Netser from the executive council. Savikataaq accused Netser of making comments "based in racism and gender violence."
Netser's demotion follows a recent Facebook post in which the MLA criticized Black women for having abortions. In the same post, Netser also stated "all lives matter," a phrase largely seen as a criticism of the Black Lives Matter movement because it discounts the disproportionate racism that Black people face.
Two weeks ago, the premier stripped Netser of his ministerial portfolios. The Aivilik MLA was minister responsible for the Nunavut Housing Corporation and the Nunavut Arctic College.
In a statement on Friday morning in the legislature, Netser denied the premier's claim that his words were racist or gender violent.
"I never raised any issues on ethnic groups. I spoke out about unborn babies that have been aborted," he said, in his response to the motion.
"My reference to 'all lives matter' was not stated in that context and I would not have used those words if I knew they could be used to negate the struggles of my Black brothers and sisters," he said.
'We cannot say whatever we want'
Iqaluit Manirajak MLA Adam Arreak Lightstone seconded the motion to oust Netser.
MLAs Tony Akoak, Emiliano Qirngnuq and Netser opposed. MLA David Qamaniq abstained from voting while three others, Minister Elisapee Sheutiapik, MLAs Cathy Towtongie and Margaret Nakashuk were not present in the house for the vote.
Qirngnuq said he was uncomfortable with the motion because the statements by Netser were made outside of the assembly. He asked for deep reflection on the severity of government reaction.
Jeannie Ehaloak, minister of Justice and responsible for Human Rights Tribunal, supported the vote to oust Netser from cabinet.
"We can believe whatever we want to. But we cannot say whatever we want when those statements have a negative impact on the rights and dignity of others," Ehaloak said.
"This is particularly true for those of us in office."
Doing so puts the credibility of government at risk, she added.
"We have a code of conduct, when you're elected to MLA you are held to a higher standard than the general public. When you're elected to the executive council you are held to an even higher level, you are speaking on behalf of the government," premier Savikataaq said to media following the vote.
Savikataaq said Wednesday that he expected MLAs to support his motion to take the next step and remove Netser from cabinet. The premier wanted MLAs to vote on his motion on Wednesday, but Netser voted to delay it until Friday.
The ousted minister also spoke out on Wednesday, making no apologies for his social media posts. In a member's statement, he said he was being punished "because of my Christian principles and values."
Now out of cabinet, Netser told reporters on Friday that he will continue as an MLA.
To his constituents he said, "This is what happened, we can't do anything about it, we will be OK."
The cabinet vacancy has triggered a leadership forum to be held to elect another MLA to fill the spot. The date for the forum has yet to be determined.
ARHT Media Announces Extension of 2020 Series A Debentures – GlobeNewswire
TORONTO, Nov. 25, 2020 (GLOBE NEWSWIRE) — ARHT Media Inc. ("ARHT" or the "Company") (TSXV:ART), announces that it intends to extend the maturity date of its 2020 Series A Debentures (the "Debentures") until December 30, 2021 (the "New Maturity Date").
On January 30, 2020, the Company completed the private placement of Debentures for total gross proceeds of $1.6 million, representing an aggregate of $1,744,000 principal amount of Debentures. The Debentures are secured by way of a general security agreement made in favour of a collateral agent acting as agent for all of the holders of the Debentures, granting a security interest in substantially all of the Company's assets.
The Debentures were issued at a price of $0.9175 for each $1 of principal amount subscribed for, representing a 12% discount to the Debentures' principal amount over a nine-month period. On October 30, 2020, the maturity date of the Debentures was extended to December 30, 2020 and in conjunction with the extension of the maturity date, the principal amount of the Debentures was calculated on an 11-month period rather than a nine-month period.
The Company proposes to extend the maturity date of the Debentures to the New Maturity date and make a corresponding increase to the principal amount of each Debenture, as though the Debentures had been issued at a price of $0.8929 for each $1 of principal amount outstanding on December 30, 2020, representing a 12% discount to the Debentures' principal amount over the additional 12-month period.
Other than the amendment providing for the New Maturity Date (which is subject to receipt of the consent of holders of 66.66% of the principal amount of Debentures, and TSX Venture Exchange approval), the other terms of the Debentures remain unchanged.
In consideration for Debentureholders agreeing to the New Maturity Date, the Company proposes to issue to each Debentureholder one Warrant (a "Warrant") for every $1 of principal amount of Debenture. Each Warrant will entitle the holder thereof to purchase one common share of the Company at an exercise price of $0.31 per share for a period expiring on the New Maturity Date.
About ARHT Media
ARHT Media's patented HoloPresence technology is a complete end-to-end solution that creates a sense of presence for audiences – as though the holographic presenter was actually live in the room. With no noticeable latency, ARHT Media makes two-way live communication with a 3D holographic presenter anywhere in the world possible. We can also playback pre-recorded content and 3D animations on our HoloPresence displays to deliver rich holographic experiences. Add to this our capability to stream the same content online on our premium Virtual Global Stage™.
Connect with ARHT Media
Twitter: http://www.twitter.com/ARHTmedia
Facebook: http://www.facebook.com/ARHTmediainc
LinkedIn: http://www.linkedin.com/company/arht-media-inc-
For more information, please visit www.arhtmedia.com or contact the investor relations group at info@arhtmedia.com.
ARHT Media trades under the symbol "ART" on the Toronto Venture Stock Exchange.
Press Contact
Salman Amin
ARHT Media
samin@arhtmedia.com
This press release contains "forward-looking information" within the meaning of applicable Canadian securities legislation. Forward-looking information includes, but is not limited to, disclosure related to the Company's sales funnel; the Company's technology; the potential uses for the Company's technology; the future planned events using the Company's technology; the future success of the Company; the ability of the Company to monetize the ARHT Media technology; the development of the Company's technology; and interest from parties in ARHT's products. Generally, forward-looking information can be identified by the use of forward-looking terminology such as "plans", "expects" or "does not expect", "is expected", "budget", "scheduled", "estimates", "forecasts", "intends", "anticipates" or "does not anticipate", or "believes", or variations of such words and phrases or state that certain actions, events or results "may", "could", "would", "might" or "will be taken", "occur" or "be achieved". Forward-looking information is subject to known and unknown risks, uncertainties and other factors that may cause the actual results, level of activity, performance or achievements of the Company to be materially different from those expressed or implied by such forward-looking information, including but not limited to: general business, economic and competitive uncertainties; regulatory risks; risks inherent in technology operations; and other risks of the technology industry. Although the Company has attempted to identify important factors that could cause actual results to differ materially from those contained in forward-looking information, there may be other factors that cause results not to be as anticipated, estimated or intended. There can be no assurance that such information will prove to be accurate, as actual results and future events could differ materially from those anticipated in such statements. Accordingly, readers should not place undue reliance on forward-looking information. The Company does not undertake to update any forward-looking information, except in accordance with applicable securities laws.
NEITHER THE TSX VENTURE EXCHANGE NOR ITS REGULATION SERVICES PROVIDER (AS THAT TERM IS DEFINED IN THE POLICIES OF THE TSX VENTURE EXCHANGE) ACCEPTS RESPONSIBILITY FOR THE ADEQUACY OR ACCURACY OF THIS RELEASE.
Canucks players ranked based on their social media game | Offside – Daily Hive
Adam Gaudette and his wife, Micaela, achieved what I believe to be a first in Canucks history on Tuesday, making international news via TikTok.
A video uploaded by the couple went viral, beyond British Columbia and certainly outside the realm of hockey news.
"I woke up to a bunch of people telling me our TikTok kick in the face video is all over Australian news," said Micaela in a Tuesday morning tweet. "Happy people all over the world can get a kick out of it."
So I woke up to a bunch of people telling me our our tik tok kick in the face video is all over Australian news 😂 happy people all over the world can get a *kick out of it 🤪

— Micaela (@micaelakimchi) November 24, 2020
Kudos to the Gaudettes for putting themselves out there, showing off a hilarious moment from their wedding.
But there's stiff competition on the Canucks social media power rankings.
Here are 16 Canucks players who are active on social media, ranked from worst to best.
16. Olli Juolevi
Olli Juolevi has played in just one NHL game, matching the number of posts he has on Instagram.
15. Micheal Ferland
He's not the most active Canuck on Instagram, but Micheal Ferland does find time to post photos of his wife and kids, and in March he celebrated being six years sober.
14. JT Miller
New to the social media game, JT Miller announced his arrival to Instagram back in January. He's getting the hang of it.
13. Zack MacEwen
Anytime you can entertain us with toilet paper, you deserve our respect.
12. Tanner Pearson
Tanner Pearson is a wholesome content producing machine.
11. Antoine Roussel
Antoine Roussel combines his two favourite pastimes on social media, hockey and making maple syrup. That's true for him on Instagram and Twitter.
He also posted this all-timer of his son back near the start of the pandemic:
10. Jordie Benn
If you like babies and beards, Jordie Benn has you covered.
9. Quinn Hughes
Unlike his game on the ice, there's a lot of room to improve for Quinn Hughes on social media. The Step Brothers pose was outstanding though.
8. Jake Virtanen
Jake Virtanen often gives fans a glimpse into his personal life through Insta-stories.
His Twitter game is unintentionally hilarious too.
Hey Fans Jake Virtanen here, join me on Saturday May 11 from 1PM to 3PM in my hometown beautiful Abbotsford BC, at The News in Abbotsford. Photos with me, autographs and cool condos all in one. See you all on Saturday.

— Jake Virtanen (@Jake_Virtanen) May 10, 2019
"Jake Virtanen here." GOLD.
7. Thatcher Demko
Thatcher Demko's offseason content will make you jealous that you're not hanging out with him on the beach in San Diego. Otherwise, worth a follow.
6. Brock Boeser
From quality time with his dad, Duke, to hanging out with his buddies by the lake in Minnesota, Brock Boeser is a beauty on and off the ice.
5. Tyler Motte
From showing off his Halloween costumes to promoting mental health initiatives, the real magic in Tyler Motte's social media game is engagement with fans.
what is even happening right now?!??? pic.twitter.com/hyncfESqUE

— Sam (@samanthacp_) September 27, 2020
It was through social media that led to Motte appearing on The Broadscast, an all-female Canucks podcast.
4. Nate Schmidt
From hitting dingers on a residential street to busting out his best dance moves at home, new Canucks defenceman Nate Schmidt does it all with a big grin on his face.
3. Bo Horvat
The consummate family man, fans can name you every member of the Horvat household: Bo, Holly, Gunnar, and Gus.
2. Adam Gaudette
We'll give Adam Gaudette partial credit for the hilarious @gaudsquad TikTok account, because certainly his wife, Micaela, deserves most of the praise for it.
Gaudette is a quadruple threat, engaging with fans on Instagram, Twitter, TikTok, and even Twitch, where he shows off his video game skills.
Gaudette WON'T be wearing 8 next season. The switch was needed after the Schmidt trade (he wore 88 with Vegas) but Benn will now wear 8 (was 4).

Gaudette confirmed on his Twitch stream earlier that he will be wearing 96. One other player wore that number: Pavel Bure. #Canucks

— Larry Wong (@LarryWong84) October 19, 2020
1. Elias Pettersson
From showing off his fashion to hanging out with the On the Bench boys, Elias Pettersson is an emerging social media star.
And he even does requests:
— Elias Pettersson (@_EPettersson) September 26, 2020
LIVE outside Adamson BBQ: Adam Skelly demands media leave property – CityNews Toronto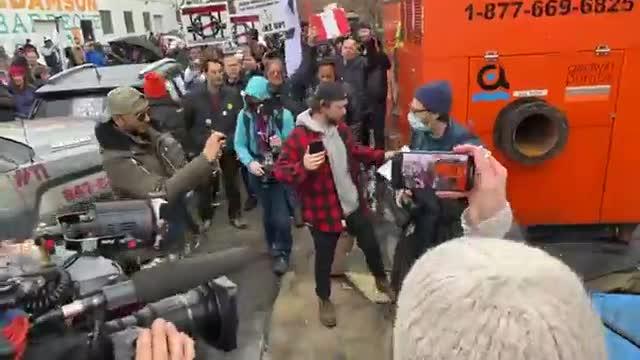 * public_profileBlurb *
* public_name *
* public_gender *
* public_birthdate *
* public_emailAddress *
* public_address *
* public_phoneNumber *