Overheated stock market at risk of bubble in a disconnect from economy, experts say – CP24 Toronto's Breaking News
TORONTO – "We're all in this together" has been a common refrain since the arrival of the COVID-19 pandemic last March, but the yawning chasm between dismal economic data and soaring stock market valuations suggests some Canadians are doing much better than others.
A large segment of the population is untouched financially by the crisis or in better shape. The housing market is strong and those able to work remotely have saved mountains of cash they are using to pump up stock markets.
Meanwhile, lockdowns have caused major disruptions for workers in the service sector and other parts of the economy that have been forced to rely on government support.
"All the jobs that were lost in the country since the beginning of the crisis — not some, all — were in low-paying sectors, low-paying occupations," says Benjamin Tal, deputy chief economist for CIBC.
North American stock markets have been on a tear since March, setting record highs almost daily even while COVID-19 has battered the economy and produced lacklustre employment data.
Some individual stocks have soared amid the froth. Tesla shares are up about 1,160 per cent over the past year while Ottawa's Shopify Inc. has risen 425 per cent to become Canada's most valuable company by market capitalization.
The S&P/TSX composite is up 65 per cent from March 2020 lows and 6.5 per cent in February alone. The rebound has been even stronger in the U.S., with the Dow up 73 per cent, S&P 500 79.5 per cent and the tech-heavy Nasdaq composite up about 113 per cent.
Meanwhile, Canada's unemployment rate climbed to 9.6 per cent in January as 212,800 jobs were erased that month.
The disconnect between so-called Main Street and Bay or Wall streets is not new, but has been accentuated during the most "asymmetrical recession" in Canadian history, said Tal.
Retail investors with healthy cash balances have increased market volumes and contributed to frenzied buying that propelled stocks like GameStop and BlackBerry Inc.
The TMX Group, which runs the Toronto Stock Exchange, has noted that amid an increase in volumes, the proportion of retail trading peaked at 45 per cent of total volume traded in January, compared with an average of 35 per cent a year earlier.
"The things that are underlying the strength in retail trading are drivers that are going to continue for some time," TMX chief executive John McKenzie recently told analysts on an earnings call.
He pointed to the low interest rate environment that supports market valuations, a large work-from-home culture right now and continuing growth in retail trading applications.
Famed investor Jeremy Grantham, who has predicted some past bubbles, now says that the bull market that began in 2009 has "matured into a full-fledged epic bubble" featuring "extreme overvaluation, explosive price increases, frenzied issuance and hysterically speculative investor behaviour."
"I believe this event will be recorded as one of the great bubbles of financial history, right along with the South Sea bubble, 1929, and 2000," he wrote in a commentary posted on his company website.
"These great bubbles are where fortunes are made and lost – and where investors truly prove their mettle."
While some stocks are overheated and could burst, Tal doesn't see that happening for the whole market.
"I think that clearly we have to distinguish between the speculative pockets everybody's talking about and the general market," he said.
"Of course there's always risks that it will be dragged into it but at this point it doesn't seem to be a reasonable scenario."
Massive fiscal and monetary stimulus is propping up markets, observers say, unless earnings collapse and central banks tighten their policies.
Yet Federal Reserve chairman Jerome Powell said last week that the U.S. central bank will remain dovish until employment fully recovers.
Erik Bregar, head of currency strategy at the Exchange Bank of Canada, thought that the GameStop Reddit frenzy might have taken some speculative excess out of the market.
"But as soon as those stocks crashed, everybody breathed a sigh of relief and bid the market up again," he said in an interview.
"It's hard to kill this thing … you can make lots of fundamental arguments that it shouldn't be this high, but it hasn't paid to bet against it just yet."
He said there's just too much positive news and widespread expectation that the global economy will be strong in the second half of the year as COVID-19 vaccinations progress.
"I continue to believe that stocks are going to represent good value as we move forward here throughout 2021," said Mike Archibald, vice-president and portfolio manager with AGF Investments Inc.
He said unlimited liquidity and people putting their saved money into the stock market are key drivers for its growth.
In fact, the savings rate and cash deposits have increased by more than 10 per cent the last two quarters, the highest level on record, says Brian Belski, chief investment strategist at BMO Capital Markets.
"Yes, valuations appear stretched at first glance, but they also need to be considered within the context of historically low interest rates and little inflation, ingredients that are likely to persist throughout 2021 and beyond, in our view," he wrote in a report.
"When viewed through this lens, we believe it is not unreasonable for market valuation to sustain (or even expand slightly) from its current level."
Some areas of the market, including cannabis stocks, cryptocurrency and parts of technology are "frothy," but other investments remain attractive, said Archibald.
"By and large if you look at what I would call solid, stalwart companies … those stocks still appear to be reasonably priced to me and I still think there's good upside potential for a number of those businesses."
It's natural and healthy for markets to pause after strong runs. Stock markets are forward-looking and anticipate where things are going in the future, not where they stand now.
"If you can look beyond the next few months, the outlook is looking extremely bright," said Candice Bangsund, portfolio manager for Fiera Capital.
A near-term correction of five to 10 per cent is possible and should be viewed as a buying opportunity, but massive spending is putting a floor under any big movements downward, she said.
Besides, we won't know if we are in a sustained rally or a speculative bubble "until it is in the rear-view mirror," Kristina Hooper, chief global market strategist at Invesco, wrote in a note.
"And it really doesn't matter for longer-term investors. The reality is that market rallies and corrections occur, but the trend line for stocks over the long run is upward."
This report by The Canadian Press was first published Feb. 14, 2021.
The economy added 379,000 jobs in February as unemployment dropped slightly – The Washington Post
But economists said that while better than expected, the jobs report showed just how much work remains for the Biden administration and lawmakers around the country as the economy continues to climb out of the employment deficit left by the pandemic.
"Obviously it's great that job gains beat expectations and they are faster than pre-covid average monthly gain," said Julia Pollak, a labor economist at ZipRecruiter. "That being said, we're still in a very very deep hole, and these are not the numbers you would hope to see in a robust recovery."
Job growth would need to pick up significantly to regain the approximately 9.5 million jobs lost since last year. When estimates for how much the labor market would have grown in the previous economy are included, that hole is even larger, as many as 12 million jobs, according to some economists.
White House officials said the report underscored the need for the stimulus package, with Chief of Staff Ron Klain noting that at the current pace, it would take the economy until April 2023 to get back to the employment levels it had in February 2020.
"The rescue plan is absolutely essential to turning this around, getting kids back to school safely, giving a lifeline to small businesses and getting the upper hand in COVID," President Biden said Friday, noting that some 400,000 small businesses have shuttered during the pandemic. "All those empty storefronts are not just shattered dreams, they are warning lights going off in state and local budgets."
The gains in February were driven by large increases in the leisure and hospitality sector, which added 355,000 jobs, as coronavirus-related restrictions eased over the course of the month in many jurisdictions.
Of these jobs, about 286,000 came from restaurants, bars and other food service establishments. RSM chief economist Joseph Brusuelas noted that leisure and hospitality netted only 22,000 jobs when the gains were stacked up against losses from the previous months amid closures and surging coronavirus cases.
And employment in the sector still badly lags behind its pre-pandemic level: There are 3.5 million fewer jobs in the industry than there were one year ago.
Other sectors gaining jobs included temporary help services, which added 53,000 jobs, health care and social assistance, which added 46,000 positions, and retail, which added 41,000 jobs.
Clothing stores suffered, losing 20,000 jobs. Manufacturing ticked up by 21,000, while construction fell by 61,000, a decline that was probably driven in part by severe winter weather, the Bureau of Labor Statistics noted.
Government workers were hit hard, losing 37,000 jobs at the local level and 32,000 education workers at the state level, data that some said reflected the need for more aid to help shore up budget shortfalls related to the pandemic.
"We believe that it's a direct result of the fact that we were unable to get aid to states and cities and towns and schools," said Lee Saunders, president of the American Federation of State, County and Municipal Employees. "That's why we're continuing to fight and hopefully we get some money moving to those entities when the Senate acts. Its unconscionable that we're seeing these layoffs."
The $1.9 trillion aid package passed by the House includes $350 billion for state and local governments, an issue that faced major opposition from congressional Republicans during the last round of stimulus negotiations despite enjoying support from some state and local GOP officials.
Daniel Zhao, senior economist at Glassdoor, noted that the job growth in industries like leisure and hospitality was probably more about those sectors recovering from job loss in December and January, and less about regaining jobs lost earlier last year.
"Today's report is showing green shoots of the recovery poking out of the snow," said Zhao. "But the growth is a little bit weaker than headline numbers imply. … It's good that these businesses are recalling workers, but it points more to the fact that these businesses are crawling out of the hole from December, rather than the hole that opened up in April and May. It doesn't necessarily look like incremental growth."
Drew Matus, an economist and chief market strategist at MetLife Investment Management, said he was concerned that the average hours worked for all workers declined by about 18 minutes a week — hundreds of thousands of jobs' worth of hours when multiplied by the entire working population.
"The scale of the decline is quite big," he said. "This report tells me things are looking up if vaccine administration continues, but we're still not out of the woods yet."
Still, there are increasingly optimistic signs about the economy and the public health crisis that delivered such a shocking blow to it last year.
The rate of vaccinations is picking up across the country, with improved forecasts about the supply that will be available before June. Coronavirus cases, hospitalizations and deaths have come down significantly from their peak in January, though concerns remain about another upswing as new variants circulate and exhaustion grows after what will soon be more than a year's worth of preventive measures.
According to Census Bureau data, the share of businesses reporting a "large negative effect" from the pandemic reached its lowest level in the last two weeks of February, just under 30 percent, as did the percentage of businesses reporting that they had cut staff.
The share of businesses saying they added employees in February, about 5.5 percent, was almost double the rate over the last two reports, from the end of December into January.
Many economists are expecting the labor market to make much bigger gains once more aid is authorized in Washington and vaccinations reach a broader slice of the public.
"The report will neither persuade the Federal Reserve to alter its path of accommodative monetary policy, nor should it be used as an argument to pull back on the Biden administration's proposal for $1.9 trillion in fiscal stimulus," said Brusuelas, the RSM economist. "For now, the composition of hiring and unemployment suggests that we have yet to get past the deep freeze in the economy caused by the pandemic."
The report covers the first full month of the Biden presidency. Overall, the economy still has 9.5 million fewer jobs than it did before the pandemic, and economists warn that the unemployment rate would be higher if not for more than 4 million people who have left the workforce over the past year. Women have left the labor force at a significantly higher rate than men: about 2.5 million women, compared with 1.5 million men.
Federal Reserve Chair Jerome H. Powell said last month that the real unemployment rate is probably closer to 10 percent.
Economists and public health experts are more optimistic about the coming months as the rate of vaccinations accelerates.
February saw decreasing caseloads and more reopenings for businesses like restaurants and bars in states like California and New York. But many industries, such as tourism and hospitality, now employ far fewer workers than they did before the pandemic.
Jeff Stein contributed to this report.
City's economy 58% recovered, Saskatoon Regional Economic Development Authority says – Global News
An organization that looks to help develop Saskatoon's businesses is reporting the city's economy has recovered more than half of the ground lost from the COVID-19 pandemic.
The Saskatoon Regional Economic Development Authority (SREDA) has created a tool to measure how the city is responding following a year of health measures and travel restrictions.
The Saskatoon Economic Recovery Tracker (SERT) shows it has reached a 58.5-ttper cent recovery.

1:50


Impact of slumping economy on Saskatchewan businesses



SERT weighs different kinds of data like the unemployment rate, gross domestic product and retail sales to determine the figure.
The 58.5 per cent figure is a 10-point jump from where it stood in December.
SREDA noted that's due to a strong housing market, high commodity prices and retail sales returning to pre-pandemic levels.
"A variety of different positive factors there. Put those all together and there are small gains in each of those. But that goes to contribute to the increased number," CEO Alex Fallon told Global News.
However, one sector continues to see few, if any, gains.
Tourism, travel and hospitality in the region is still hampered by capacity limits and travel deterrents.
SERT shows airport passenger traffic is at 13.8 per cent of where it was this time last year while the hotel occupancy rate is around half of its March 2020 figure.

4:06


SREDA on Re-Opening Saskatchewan plan



Saskatoon businesses in that industry are doing all they can just to keep the lights on.
"They're hanging on by their nails right now," said Hospitality Saskatchewan CEO Jim Bence.
"Thank goodness that our government has come to the table with a number of support programs because that has really allowed a great many of them to be able to just hang on."
Those programs are helping more than just hotels and restaurants.
Travel agents and operators are preparing for another rough 10 months.
"The way 2021 is looking, we're looking at probably another year of virtually no income. But we're here. We're hanging in here," Ixtapa Travel Saskatoon president Barbara Crowe said.
She added while 'staycations' are helping their bottom line, they don't match up to the earnings brought in from international bookings.
Crowe notes many travel agents work on commission and it has forced some of her employees to find a second job.
With some operators offering refunds, that money is coming straight out of their bank accounts.
"When you're a commission salesperson and you've already spent that money buying groceries and paying your mortgage and perhaps a car payment, it kind of really hurts," Crowe said.
In December 2020, Tourism Saskatoon anticipated the sector wouldn't fully recover until 2024.
© 2021 Global News, a division of Corus Entertainment Inc.
US adds a strong 379000 jobs in hopeful sign for economy – Burnaby Now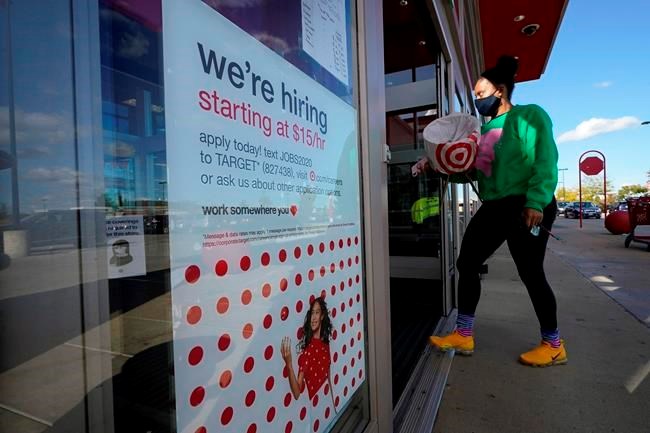 WASHINGTON — U.S. employers added a robust 379,000 jobs last month, the most since October and a sign that the economy is strengthening as confirmed viral cases drop, consumers spend more and states and cities ease business restrictions.
The February gain marked a sharp pickup from the 166,000 jobs that were added in January and the loss of 306,000 in December. Yet it represents just a fraction of the roughly 9.6 million jobs that the economy needs to regain to return to pre-pandemic levels.
The pickup in hiring lowered the unemployment rate from 6.3% to 6.2%, the Labor Department said Friday in its monthly jobs report. That is down dramatically from the 14.8% jobless rate of April of last year, just after the virus erupted in the United States. But it's well above the pre-pandemic unemployment rate of 3.5%.
Stock prices surged on the news of solid job growth, a day after Wall Street suffered deep losses on fears that inflation and interest rates could soon be headed higher.
One year after the pandemic triggered a violent recession, economists are increasingly optimistic that hiring will accelerate in the coming months as Americans seize the opportunity to once again travel, shop, attend sporting events and visit movie theatres and restaurants. Households as a whole have accumulated a huge pile of savings after having slashed spending on those services. Much of that money is expected to be spent once most people feel comfortable about going out.
Friday's report showed that the nation's job growth is still being driven by a steady recovery of bars, restaurants and other leisure and hospitality establishments. Bars and restaurants, in particular, snapped back last month, adding 286,000 jobs as business restrictions eased in California and other states. That trend will likely continue as Texas this week joined some other states in announcing that it would fully reopen its economy with no restrictions.
Also hiring last month were retailers, which added 41,000 jobs, health care companies with 46,000 and manufacturers with 21,000. On the other hand, construction companies shed 61,000 jobs, likely in part because of the severe storms and power outages in Texas.
Friday's strong jobs report, by suggesting that the economy is on the mend, could complicate President Joe Biden's push for his $1.9 trillion economic rescue package, which is being considered by the Senate after winning approval in the House. The Biden package would provide, among other things, $1,400 checks to most adults, an additional $400 in weekly unemployment aid and another round of aid to small businesses.
One discouraging note in the February data is that last month's net job growth came entirely from people who reported that their layoffs had been temporary. By contrast, the number of people who said their jobs were permanently gone was largely unchanged compared with January. People who have permanently lost jobs typically face a tougher time finding new work. In many cases, their former employers have gone out of business.
With so much money being pumped into the economy, Oxford Economics forecasts that growth will reach 7% for all of 2021, which would be the fastest calendar-year expansion since 1984. The Congressional Budget Office projects that the nation will add a substantial 6.2 million jobs this year, though that wouldn't be nearly enough to restore employment to pre-pandemic levels.
Still, the size of the Biden relief package, coming as the economy is already showing improvement, has stoked fears that growth could overheat and accelerate inflation, sending borrowing costs up and possibly leading the Federal Reserve to jack up interest rates. Those fears have roiled financial markets for the past two weeks.
Fed Chair Jerome Powell sought to assuage those concerns on Thursday — without success, based on sharp selloffs in the stock and bond markets — when he suggested that any meaningful rise in inflation would likely prove temporary and that the Fed would be in no hurry to raise its benchmark short-term rate.
Nor did Powell offer any hint that the Fed would act to push back against a surge in the yield on the 10-year Treasury note, which has jumped from about 0.9% last year to 1.5% late Thursday. Still, Powell sounded some optimistic notes. Citing in part the increasing distribution and administering of coronavirus vaccines, he said, "There's good reason to expect job creation to pick up in the coming months."
Other recent economic reports have also suggested better times ahead. Americans sharply increased their spending at retail stores and restaurants in January, when the $600 relief checks were mostly distributed. Retail sales jumped 5.3%, after three months of declines.
Factory output also picked up that month, and demand for long-lasting goods, such as autos and aircraft, rose 3.4%, the government said last week.
Home sales have been on a tear for most of the past year, driven by low mortgage rates and the desire of many Americans for more space during the pandemic. A huge jump in the proportion of people working from home has also driven up sales, which were nearly 24% higher in January than a year earlier.
Christopher Rugaber, The Associated Press