Pension giant Caisse to sell one-third of its malls in Canada amid e-commerce hit – Financial Post
Canada's second-biggest pension manager is preparing to sell a third of the shopping centres it owns in its home market as e-commerce finally starts to bite the country's brick-and-mortar retailers.
Caisse de dépôt et placement du Québec, says it will look for an array of solutions for its 25 Canadian malls after their problems contributed to a 2.7 per cent decline in the value of its real estate portfolio in 2019. Besides a sale, the Caisse's real-estate unit, Ivanhoe Cambridge, will consider transforming malls with everything from residential housing to logistics space.
"Canada had been relatively protected but global trends are accelerating and are hitting us too," Ivanhoe's President Nathalie Palladitcheff told reporters Thursday. "When you have 25 shopping centres, it's a big amount — even if it changes just a little bit, it has a great impact immediately in terms of figures."
Ivanhoe Cambridge held $39.7-billion (US$29.9 bililion) worth of real estate at the end of 2019, about 12 per cent of the total funds under Caisse management. Its shopping centres include the Eaton Centrein Montreal and Metropolis at Metrotown I and II in Burnaby, a suburb of Vancouver.
"One can't be satisfied with the 2019 returns," Palladitcheff said. The division will reduce traditional assets, which she described as malls and offices.
The investment shift comes as real-estate funds in the U.S. and Europe struggle to meet a surge in investor requests to get their money back, driven by mounting concerns about the health of malls at a time of rapid growth e-commerce.
As store closures and bankruptcies pile up for retailers, malls are trying to find ways to draw foot traffic and keep their properties full of rent-paying tenants.
Metrotown illustrates the changing landscape, Palladitcheff said. Five years ago, a contract with Target Corp. was considered the best outcome, she said.
"As you well imagine, things have changed," she said. "Today when we discuss a residential development for Metrotown, we see that is the best possible transaction."
Target closed its Canadian stores in 2015 after losing billions.
Canadian restaurant sector laid off 800,000 in March, with wave of permanent closures expected this month – Financial Post
The Canadian food service sector laid off 800,000 people in March as the coronavirus crisis forced shutdowns across the country, according to a survey released on Thursday.
Restaurants Canada, the industry association behind the survey, is now warning that nearly 30 per cent of restaurants will not reopen if the situation continues unchanged for another month.
"There's a lot of people who just won't make it through May 1 or June 1," said David Lefebvre, the association's vice-president for federal affairs.
The 800,000 out-of-work employees are about two-thirds of the country's entire food-service labour force, which totals some 1.2 million people. Many more workers have likely been let go since the survey was conducted last week: 70 per cent of respondents said they were planning more layoffs in the near future.
A growing chorus of concerned restaurateurs have formed a coalition to pressure the federal government to do more, arguing that the 75-per-cent wage subsidy and $40,000 loans for small businesses won't be enough to prevent damage that could take a generation to recover from.
Save Hospitality, a group of more than 1,000 restaurant owners, said it is meeting with political officials to develop a restaurant-specific stimulus plan, since wage subsidies won't be able to prop up the hospitality sector amid blanket bans on social gatherings that stop most restaurants from operating. The $40,000 no-interest government loans will barely cover one or two month's rent, the group said.
"Some of our rents are over $100,000 a month," said Andrew Oliver, one of the Save Hospitality leaders and chief executive of Oliver & Bonacini Hospitality Inc., which has 26 locations in Canada, including the Bay Street institution Canoe and several other prominent downtown Toronto restaurants.
Food-service revenues are expected to drop by $20 billion during the second quarter of 2020, Restaurants Canada said. Some restaurants continue to offer takeout and delivery, but those options for most are the equivalent of "putting on a Band-Aid when you've lost your leg," said Oliver, whose business has lost 99 per cent of its revenue despite offering take-out at a few locations.
"This has been one of the most devastating times of my life. I had to lay off thousands of people, ruin thousands of dreams," he said. "One of the hardest things is I've had a dozen calls or text messages, people reaching out, asking me to take the keys to their place because they're going to give up."
The Restaurants Canada survey was conducted from March 25 to March 29 with 655 restaurateurs who operate 13,300 locations in total. It found that 10 per cent of the country's 97,500 restaurants, bars and cafés have already permanently closed. Another 18 per cent said they will be forced to close for good within a month if current conditions continue.
"In the next 30 days, you have one in three restaurants boarded up. Think about that for a minute," Oliver said. "If all of our costs continue to build with zero revenues for three months … when they come up with this report again, we might have it where one in 10 restaurants think they will survive. Imagine what that looks like for the economy."
I had to lay off thousands of people, ruin thousands of dreams

Andrew Oliver, CEO, Oliver & Bonacini Hospitality
Save Hospitality wants forgivable government loans to keep businesses alive through the coronavirus crisis and incentivize them to reopen and hire back employees as soon as it's safe to do so. The group is suggesting the loans should count for 10 per cent of a restaurant's annual revenue, and could be provided by the banks, but funded and guaranteed by the federal government.
"Make that investment for us so that we can continue to pay you guys the tens of billions of dollars in taxes that we contribute to our communities," Oliver said.
Federal programs to support laid-off workers and even calls to defer rent payments and property taxes are only stop-gap measures, Oliver said. If the only solution is to delay paying expenses, he said business owners — in an already low-margin industry — will emerge from the crisis with crippling debt, leading to a much higher vacancy rate and a steep drop in market rents.
Financial Post
• Email: jedmiston@nationalpost.com | Twitter: jakeedmiston
Russian Oil Firms Ready To Agree To A Production Cut Deal – OilPrice.com
By Irina Slav – Apr 03, 2020, 5:30 PM CDT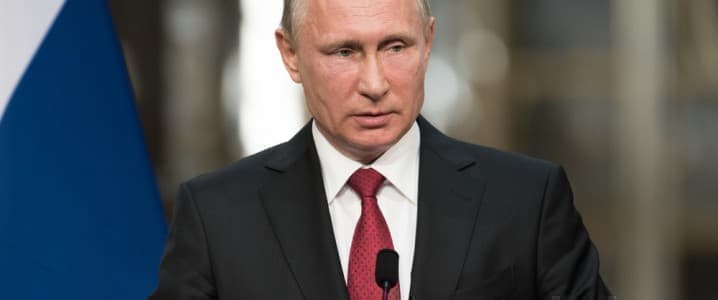 With oil prices below Russia's budget breakeven and with over 20 percent of global oil demand wiped out by the coronavirus pandemic, Russian oil firms could be ready to participate in a global production cut deal with Saudi Arabia, the United States, and other major producers, sources familiar with the matter told Bloomberg.
Russian oil firms, who did not increase production this month as promised weeks ago when the OPEC+ deal collapsed, have signaled a readiness for global coordinated action to stop the price crash, as the demand destruction during the lockdowns from India to the U.S. turned out much more than initially thought, according to Bloomberg's sources.
Four sources at Russian oil firms told Bloomberg that they could be ready to agree to some kind of a three-way deal among Russia, Saudi Arabia, and the United States.
Two weeks ago, Russia was dismissing all calls for and reports about returning to the negotiating table, confident that it would outlast Saudi Arabia in the oil price war.
However, the global oil demand outlook has become more and more pessimistic by the day, with some analysts expecting the demand loss in April at 30 million bpd – nearly a third of the world's typical consumption of oil.
Russia's President Vladimir Putin is slated to hold a video call with oil executives from the local firms later on Friday to discuss the "unfavorable" situation in the oil market, Putin's press secretary Dmitry Peskov said today.
Related: Goldman Sachs: Prepare For A Massive Oil Demand Shock
On Thursday, Peskov told reporters that no one had launched any talks about a potential new oil-production deal to replace the OPEC+ format, but noted that "no one is happy" with the current oil price.
The current prices of Brent Crude are well below Saudi Arabia's fiscal break-even price of $80 a barrel oil, below the break-evens of nearly all U.S. shale production, and below the Russian breakeven price, too.
Shortly after Kremlin's spokesman said no talks were being held, U.S. President Donald Trump said that he hoped and expected that Saudi Arabia and Russia would "cut back approximately 10 Million Barrels, and maybe substantially more," while OPEC's top producer and de facto leader Saudi Arabia called for an emergency meeting of OPEC+ and "another group of countries" to try to find "a fair solution" to the current market imbalance. The video meeting will be held on Monday, and the U.S. oil regulator will also be invited to take part in the discussions.
By Tsvetana Paraskova for Oilprice.com
More Top Reads From Oilprice.com:
Irina Slav
Irina is a writer for Oilprice.com with over a decade of experience writing on the oil and gas industry.
IEA: OPEC Can't Save The Oil Market – OilPrice.com
By Tsvetana Paraskova – Apr 03, 2020, 7:30 PM CDT
Even if the OPEC+ group and other major oil producers in the world were to agree to deep production cuts, they would be unable to prevent what is sure to be an enormous global inventory build this quarter due to unprecedented demand destruction, Fatih Birol, Executive Director of the International Energy Agency (IEA), told Reuters on Friday.
The measures many countries have taken to try to flatten the curve of the coronavirus pandemic are destroying unprecedented volumes of oil demand as more than 3 billion people—from India to Europe to the United States—remain in lockdown.
As a result of restricted commuter travel, grounded flights, and economic slowdown, demand for oil in April is expected to drop by 20 million bpd year on year, and probably more.
Even if OPEC+ plus other producers were to discuss, agree to, and implement a collective cut of 10 million bpd, global oil inventories would still rise by 15 million bpd in the second quarter, the IEA's chief told Reuters.
Earlier this week, the IEA said that the world has seen some oil shocks before, but "none has hit the industry with quite the ferocity we are witnessing today."
The reason the shock is unique this time around, the IAE says, is because one of the usual stabilization factors, consumers, is unable to do its part. As billions of people around the world are still in lockdown, consumers are unable to react to falling prices like they usually do—by consuming more. So for as long as the pandemic lasts, boosts in demand that were seen during other oil shocks are "highly unlikely."
Meanwhile, producers from the OPEC+ group and from another group are expected to discuss potential ways to react to the massive demand loss and the low oil prices that hit their lowest level in 18 years earlier this week.
While U.S. President Donald Trump touted a cut of 10 million bpd, and possibly 15 million bpd, many oil analysts, cited by Reuters, remain highly skeptical that an agreement of these proportions could be reached and implemented.
By Tsvetana Paraskova for Oilprice.com
More Top Reads From Oilprice.com:
Tsvetana Paraskova
Tsvetana is a writer for Oilprice.com with over a decade of experience writing for news outlets such as iNVEZZ and SeeNews.