Pokémon Legends: Arceus Shows off 13-Minute Gameplay Video – CGMagazine
The Pokémon Company has released a 13-minute video that gives Pokémon fans a deeper look at Pokémon Legends: Arceus' game mechanics before it launches later this month.
The extended look at the upcoming Pokémon game shows off how players will actually catch Pokémon in the game. While some wild Pokémon can be caught by just throwing a Pokéball, it's not the same case for Pokémon that are more on the aggressive side. This might sound familiar to series veterans, but in order to capture those types of Pokémon, you have to damage them first before catching them in Pokémon Legends: Arceus.
The video also emphasizes the Pokémon Legends: Arceus' plot once again which takes place in a bygone era way before the modern Pokémon games that seems inspired by 19th century Japan. The region the game is set in the Hisui region, an unfamiliar name it is but the region would later become the Sinnoh Region.
Unlike other Pokémon games, players won't have the challenge of facing gym leaders and the Elite Four. Instead, the focus of the game is discovery which challenges players to complete the Hisui Region's first Pokédex. As teased in the game's title, the 'god' Pokémon, Arceus will play a major part in the player's objective of the game but not many details are known on what that looks like.
Pokémon Legends: Arceus was first announced alongside Nintendo DS remakes of Pokémon Brilliant Diamond and Pokémon Shining Pearl almost a year ago at a Pokémon Presents presentation. The game is being developed by Game Freak and features an open area that feels inspired by The Legend of Zelda: Breath of the Wild. Pokémon Legends: Arceus brings a blend of action and exploration with Pokémon's RPG roots in the series' most unique take on the series so far.
The game definitely feels like an expansion on the game design ideas showcased in the 3D Pokémon games on the Nintendo Gamecube – Pokémon: Collesium and Pokémon XD: Gale of Darkness. As a tradition in mainline Pokémon entries, players will be able to choose from three starter Pokémon – Rowlet (Pokémon Sun/Moon), Cyndaquil (Pokémon Gold/Silver) and Oshawott (Pokémon Black/White). The starters are brought together from previously explored regions by the game's professor.
Players will be able to catch'em all in Pokémon Legends: Arceus when it launches on the Nintendo Switch later this month on January 28th.
Realme 9 Pro+ officially teased as leak details key specs – GSMArena.com news – GSMArena.com
CEO Madhav Sheth all but revealed that there is a Realme 9 Pro+ on the way, now the company's Twitter account has made it official – this will be the first phone to bear the "Pro+" designation among the Realme number series.
Of course, the Realme 9 Pro itself is yet to be unveiled. So far, all the official information we have on the two is that both are probably going to launch in India, not long after the 9i arrives (sales begin on January 22). We can look to unofficial sources for a sneak peek at what's to come. Previously, @OnLeaks and Smartprix partnered to reveal Realme 9 Pro specs and images, now they have done the same for the Pro+.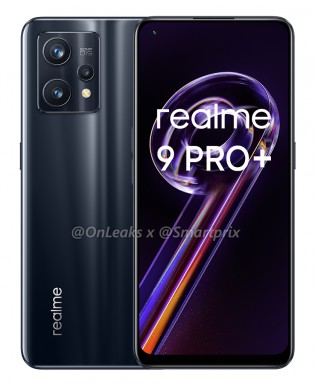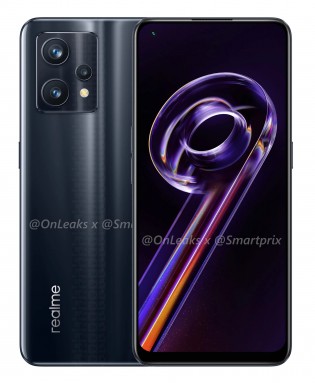 Speculative renders: Realme 9 Pro+ • Realme 9 Pro
The two models will come equipped with different cameras. Well, different main cameras we should say – the regular Pro will have a 64MP module, the Pro+ will feature a 50MP wide camera (custom Sony sensor) with Optical Image Stabilization. A previous leak suggests that the 50MP camera will use a 1/1.56" image sensor with 1.0 µm pixels (2.0 µm with binning) and an f/1.8 lens. Both phones also feature an 8MP ultrawide and a 2MP helper, plus a punch-hole-mounted 16MP selfie camera.
The Pro+ will be powered by the Dimensity 920, while the regular Pro will get the Snapdragon 695 (both 6 nm chips from TSMC's foundries). The Plus model will have a smaller 6.43" Super AMOLED display with lower refresh rate, 90 Hz, compared to the 6.59" 120 Hz panel on the regular Pro. It will be the smaller device of the two, that means a smaller battery too (4,500 mAh vs. 5,000 mAh), though it will be faster to charge at 65W (the 9i and 9 Pro do 33W).
Unconfirmed info from a few months ago revealed that the Realme 9 series will have four models, so far a vanilla Realme 9 is missing. All four are supposed to launch in Q1 this year.
Sony Issues Statement About Microsoft Activision Blizzard Purchase And Xbox Exclusivity – Forbes
Sony has finally commented on the massive news that Microsoft has bought Activision Blizzard for nearly $70 billion, and it's not exactly congratulatory.
Speaking to the Wall Street Journal, Sony had this to say about Microsoft's responsibility to honor Activision's existing contracts:
"We expect that Microsoft will abide by contractual agreements and continue to ensure Activision games are multiplatform."
This may sound like good news for Sony fans who have been worried that massive games like Call of Duty, Overwatch and Blizzard are about to stop being multiplatform, and yet that statement is hugely open to interpretation, and seems to have been issued to try to stop Sony's stock from declining, as it's sunk in the wake of the Activision Blizzard purchase announcement.
You can compare this to Phil Spencer's statement on the same issue, which is even more nebulous:
"I'll just say to players out there who are playing Activision Blizzard games on Sony's platform: It's not our intent to pull communities away from that platform and we remained committed to that."
What Microsoft seems to be committing to here is to not shut down existing communities on PlayStation like say, Overwatch 1 or Call of Duty Warzone. And it does stand to reason that Activision probably had some sort of deal with PlayStation in place in terms of what games come to the system, but the terms of that deal? That's the question.
You would not imagine that Activision and Sony have some sort of contract that reads "Every Call of Duty game must come to PlayStation in perpetuity." Sony seems pretty forceful in saying "continue to ensure Activision games are multiplatform" though does "continue" mean current games that need ongoing support, or future games? Again, it's hard to fully read what's going on here, but I do not believe Microsoft would have bought Activision Blizzard at all if part of the deal was all its games must continue to be released on PlayStation indefinitely. And I doubt Sony has a contract that says that.
Again, my guess is that existing games will continue to be live on PlayStation, and some games like Warzone could even stay on PlayStation indefinitely. But I think whether future new mainline Call of Duty games, or Overwatch 2 or Diablo 4 come to PlayStation is a much different issue, and I don't think Sony's statement is any sort of guarantee about those titles in the coming years. We'll see if Microsoft responds, and if Sony has anything else it can expand on here.
Follow me on Twitter, YouTube, Facebook and Instagram. Subscribe to my free weekly content round-up newsletter, God Rolls.
Pick up my sci-fi novels the Herokiller series and The Earthborn Trilogy.
PlayStation Wrap-Up 2021 Available Now, Share Your Gaming Stats – Push Square
It's that time of the year again: Sony is allowing PlayStation 5, PS4 users to share their own Spotify style wrap-up of 2021 on social media. Head on through this link to get started, making sure you're logged into your PSN account in order to start viewing and sharing your own stats.
The wrap up begins by sharing the total number of hours you played games across PS5 and PS4 systems in 2021. It's then broken down into each console, also stating how many hours were spent playing PSVR and how many days of the year you played games on.
Elsewhere, the wrap-up shares your top five most played games on PS5, PS4 and how many Trophies you earned. It then dives into how many PS Plus titles you redeemed as well as some global community stats. For example, our wrap-up tells us over 19 billion likes were awarded in Death Stranding Director's Cut and 34.6 per cent of Ratchet & Clank: Rift Apart players unlocked every weapon in the game.
If you log in and take a look at your own stats, be sure to scroll down to the bottom to claim an exclusive collection of PS5, PS4 avatars. You'll then be presented with a download code. What do your PS5, PS4 gaming stats look like for 2021? Share the most impressive ones in the comments below.