Rare Brueghel the Younger painting found behind door in French home – The Guardian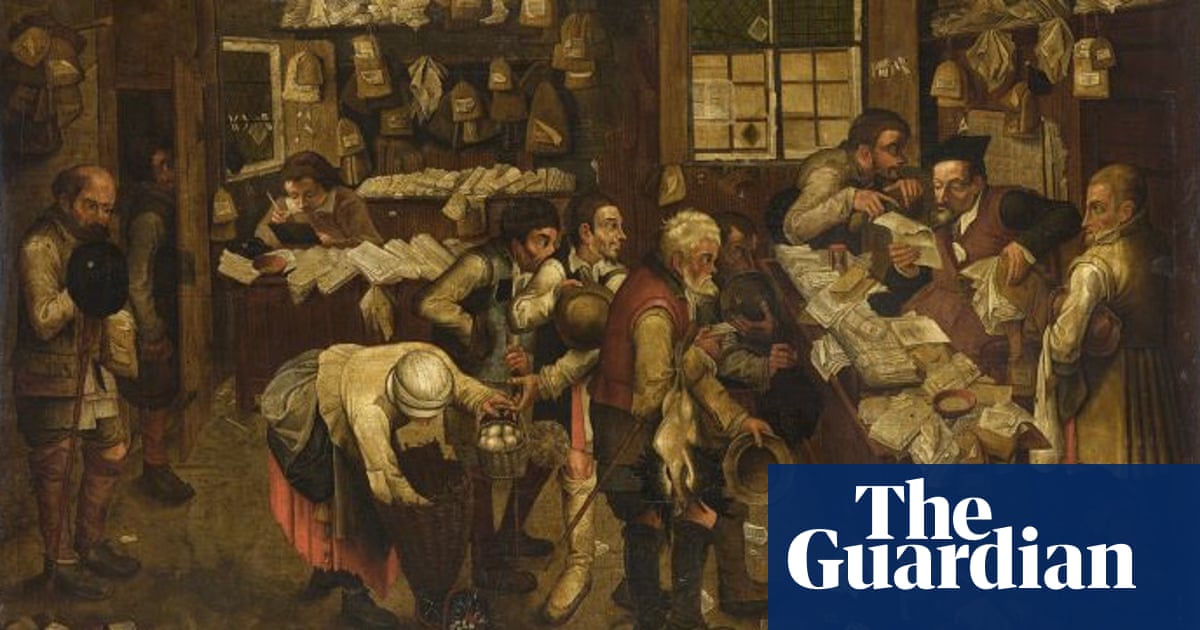 A rare painting by the 17th-century artist Pieter Brueghel the Younger, described as "exceptional" and one of his largest known works, will be sold by auction in Paris later this month.
The painting was discovered hanging behind a door at a home in the north of France. It had been in the same family since 1900 but its provenance before then remains a mystery. The work – measuring 112cm high and 184cm wide, and valued at up to €800,000 (£712,844) – is a version of L'Avocat du village (the Village Lawyer), a theme Brueghel reproduced up to 90 times. It is believed to have been painted between 1615 and 1617.
Malo de Lussac of the auctioneers Daguerre Val de Loire, who found the painting during an estimation visit requested by the family, who wish to remain anonymous, said he could hardly believe what he had stumbled across.
"In the family it was known as 'the Brueghel' but they had no idea it was a real one. They thought it was a copy; just a bit of decoration that wasn't worth very much," De Lussac said.
"When we sent it to Germany for expert verification that confirmed it was a Brueghel and they understood the importance of what they had, they asked us to take a photograph of them in front of the painting that they had lived with for all those years. It was both funny and touching."
De Lussac added: "It is one of those unique finds that happens once in a career. It's a very unusual painting in terms of size and the fact it is in exceptionally good condition."
Pieter Brueghel the Younger, born in Brussels, was the oldest son of the 16th-century Dutch and Flemish Renaissance painter Pieter Bruegel the Elder. His younger brother Jan Brueghel the Elder was also a painter.
Brueghel the Younger painted landscapes, religious subjects – including various depictions of hell – village scenes and flowers but was also a prolific copier of his father's most popular works.
The Village Lawyer, sometimes known as the Tax Collector's Office, the Notary's Office, the Payment of the Tithe or the Lawyer of Bad Cases, is one of his rare original compositions and shows a chaotic scene with villagers queueing up in the lawyer's chambers, many of them holding gifts including eggs and poultry.
As well as signed and dated versions of this painting, there are also dozens of similar works that are not verified as having been produced by Brueghel or his workshop. An authentic version of the painting dating from around 1617 hangs in the Louvre.
The recently discovered Brueghel will be sold at the Drouot auction house in Paris accompanied by a certificate of authenticity.
Micro galleries highlighting MMIWG stories aim to reconcile through knowledge and art – CBC.ca
When Sheila Joris stumbled upon a colourful display of books at her local Ikea store, the artwork on the fabric book covers immediately caught her eye.
What peaked her curiosity was the names of several missing and murdered Indigenous women and girls (MMIWG) from across Canada were printed in bright gold letters on the books.
Upon further research, the Strathroy, Ont., business owner was "astounded" to learn the number and stories of women and children whose families never heard from them again. It inspired Joris to showcase the display at the front window of her downtown store, KYIS Embroidery, to create more awareness.
"It's just a way of me showing that I care," she said. "Some of these families didn't get any help to find their loved ones and I think it's really sad. Their stories deserve to be heard."
Joris's shop is one of many spaces throughout the country taking part in the Canadian Library (TCL) project. A micro gallery art installation that aims to raise awareness around the MMIWG crisis.
WATCH | Business owner Sheila Joris expresses why she cares about the stories of MMIWG:
Sheila Joris of Strathroy, Ont., shares her reaction when she found out the number of missing and murdered Indigenous women and girls and the stories of families who were impacted.
"The only way we're ever going to achieve any sort of reconciliation and break down barriers is once there's education for everyone and it starts by having these important conversations," said Shanta Sundarason, a Toronto-based activist leading the grassroots project.
Since they started their efforts in October 2021, participants have collected book donations of any genre. They order fabric covers designed by Indigenous artists, each one with the name of a missing or murdered Indigenous woman or girl.
More than 8,000 books have been collected so far. Ultimately, they'll be pooled together and displayed at a national museum or gallery by the end of this year, Sundarason said, adding that she wants them to be an educational tool to memorialize the lives lost.
It's going to take a lot to build up trust between settlers and Indigenous people.– Shanta Sundarason, founder of TCL
Sundarason, who came to Canada from Singapore 12 years ago, felt a responsibility as an immigrant to educate herself and others on the stories of residential school survivors and the systemic discrimination that many Indigenous people still face, she said.
"To find out that there's so many people in a country like Canada who still don't have clean drinking water was very horrifying and there's been so much that's happened to these communities," she said.
"It's going to take a lot to build up trust between settlers and Indigenous people who have been trying for decades to tell us the stories of what they've been through."
TCL is displayed at every Ikea store in Canada, as well as at cafés and hospitals, and more recently at the York Region District School Board, Sundarason said.
A collective step toward reconciliation, says elder
TCL has received overwhelming support from Indigenous elders. At first, many of them were skeptical of the project but eventually provided their guidance to its team, Sundarason said.
In Calgary, TCL is spearheaded by linda manyguns, a Blackfoot woman from Siksika Nation in southern Alberta who uses only lower-case letters for her name to acknowledge the Indigenous struggle for recognition.
Also Mount Royal University's associate vice-president of Indigenization and decolonization, manyguns said she was fascinated by TCL's inclusiveness and its ability to bring the MMIWG crisis to the forefront in a way that centres on their family members' voices.
"There's a huge chasm of emptiness between the Canadian society in general and the Indigenous experience," she said.
"People need to understand that these are not bad women — they're just encased in a social context that's been created due to the colonial perspectives and placements of Aboriginal people and as a result, it puts them in situations which make them vulnerable."
TCL creates a place for the MMIWG's memories to live, while also giving Indigenous artists a platform to shine since the artwork attracts all kinds of people, manyguns said.
"It's a collective step toward reconciliation because it's an an ethical third space where people can come together to work together and create new frontiers. The only way that we can make change is through knowledge."
She hopes TCL can motivate enough people to come together and create change so more names aren't added to the list of missing Indigenous women and girls.
Previously unreleased concept art shows more of the delayed Mary Poppins ride planned for EPCOT at Walt Disney … – wdwmagic.com
A former Walt Disney Imagineer has posted concept art for the postponed Mary Poppins ride that was previously announced for EPCOT.
The new art shows an overhead plan view of the attraction, including the preshow area, the ride system, and the exit.
As speculated at the time of the ride's announcement, the ride is a teacup-style spinning flat ride, taking place in a show building with decorated backgrounds.
Announced at the 2019 D23 EXPO, the expansion to the United Kingdom pavilion was to add an entirely new neighborhood at the pavilion, complete with a ride. In the plans, guests would step in time down Cherry Tree Lane past Admiral Boom's house, then enter Number 17, home of the Banks family, where their adventure would begin.
Disney officially announced that the United Kingdom Pavilion expansion was paused in July 2020 as the park reopened from the COVID-19 shutdown. In addition to pausing Mary Poppins, Disney also put a halt to the Spaceship Earth update.
The last official comment on the Mary Poppins ride for EPCOT came from then Disney CEO Bob Chapek, who said in response to a question at the 2022 Shareholder Meeting, that the project is in a holding pattern currently, but looks forward to refunding the Mary Poppins ride in the future.
A lot has changed at Disney since then, and it remains to be seen if the Mary Poppins expansion at the United Kingdom pavilion in EPCOT will be built.
Security guard, schoolgirl, Snow White … the artist who films herself undercover – The Guardian
What to do if a new colleague is over touchy feely when they greet you in the office? Or if a trainee sits staring into space all day doing "brain work"? Finnish artist Pilvi Takala specialises in orchestrating such awkward situations, in a mission to test how we navigate social conventions. "I think discomfort is a very productive space," she says when we speak on Zoom before a show of her video installations, aptly titled On Discomfort. "It's where we reassess and negotiate norms."
Wearing a disguise and an assumed identity, Takala has upset the workings of theme parks, corporations, shopping malls and even the European parliament, exposing the tacit rules that govern our capitalist system. The videos of her in action are often funny. In Real Snow White, she tries and fails to get into Disneyland Paris dressed as the cartoon character. A guard says: "You cannot go to the park like this because the children will think you are Snow White. There's a real Snow White in the park." Takala replies: "I thought the real Snow White was a drawing."
But Takala's performances, videos and installations are underpinned by serious social inquiry. Her practice explores the shifting fault lines of what is considered acceptable behaviour and why, from the perspective of insider and outsider. In 2018's The Stroker, where she pretended to be a wellness consultant at Second Home, a hip Hackney co-workplace for entrepreneurs, people were clearly conflicted about whether they were entitled to find her touchy greetings invasive; they increasingly gave her a wide berth as she passed. For 2008's The Trainee, Takala was an intern for a month at the consulting firm Deloitte, where her apparent inaction – spending entire days either "thinking" or just going up and down in the lift – made her co-workers angry and frustrated, even though they themselves were frequently going through the motions of working while in fact browsing the internet. Both films reveal a progression of behavioural responses by workers who soon find non-conformity threatening and "weird". "It's very human to create these strict normative systems that we all follow and we feel in a way good when we're inside," says Takala, "but of course it's mega oppressive."
The artist's performative interventions have become more complex over the past two decades. Where her early works often consisted of films of one-off performances, she has subsequently experimented with hidden cameras and re-enactment of actions that have taken place over days or weeks. Last year's ambitious multi-channel video installation Close Watch was the result of six months working under cover as a security guard for Securitas at one of Finland's biggest shopping malls. Presented at the Finnish pavilion for the 2022 Venice Biennale, it reflected on the opaque parameters of authority exercised by private companies over citizens. The films are presented in two rooms separated by a one-way police mirror, emphasising the unequal power dynamic of our surveilled existence.
Takala's role at Securitas required four weeks of training. She was eventually outed two weeks before the end of her stint by colleagues who had Googled her. After she finished at the firm, Takala invited her former workmates to join her in workshops with specialised actors to role play problematic issues she had encountered on the job. The films of these workshops form the gripping centrepiece of the installation, showing the guards acting out and debating scenarios involving the use of excessive force by a colleague, toxic masculinity in the control room and the casual ubiquity of racist jokes.
In one particularly disturbing sequence, the group watches three actors re-enact a situation in which a guard manhandles a drunk member of public. In a lively discussion afterward, the guards are pretty much unanimous that loyalty to colleagues would take precedence over pursuing justice for a victim. But as they rationalise and wrestle with these dilemmas and their own accountability, they take on board different views. "We're allowed to interfere with other people's basic rights," concedes one guard, adding, "It's frighteningly easy to abuse. I've seen people work in this field only to hurt others."
Observing this open dialogue within the safe space of the workshops is partly what makes Close Watch so powerful and moving; it feels like a constructive template for addressing similar problems in society at large, rather than simply rehashing well-worn criticisms of the underpaid and under-regulated security industry. That said, Takala hopes her work will have an impact on guarding at Securitas. "It's not like we change everything and it's happy ever after," she says. "But I wanted to engage with this industry from a hopeful place." The company has since instituted diversity and unconscious bias training for all employees, which may or may not be a result of suggestions she made after working there.
Takala's infiltration of social communities began in 2004 while on an exchange at the Glasgow School of Art. She was struck by the coexistence of two self-contained groups – that of the Glasgow art students and that of the nearby Catholic girls' school – whose different attire created a glass wall between them. She decided to investigate what would happen if she donned the school uniform, effectively switching tribes. "There's a lot of heavy taboos hanging over this uniform, even though I wasn't doing anything illegal or, to me, ethically problematic," she says. Suddenly she found she was accepted by the pupils and ignored by her fellow art students. "I had the wrong dress code, I was invisible," she explains. Her ruse was discovered when a teacher told her off for wearing the wrong scarf. The Glasgow School of Art was furious and failed her paper, but Takala remained adamant that the strong response to her action proved its success.
Since then Takala has put numerous social groupings under the microscope: she has played an overdressed wallflower at a traditional dance event in Estonia; carried a transparent bag full of cash around a shopping mall – to the consternation of shoppers and shopkeepers alike – and wandered around the European parliament in T-shirts printed with texts highlighting the institution's inconsistent dress policy.
Does she ever get embarrassed? "I have those same feelings as anybody would in those situations, but they're actually information for me that it's working," Takala says. Her social experiments involve intense emotional labour – "I get a lot of rejection," she notes. But it's exhilarating when she senses that something is working: "I feel like it's very awkward. These people don't like what I'm doing now. Great!"