Realme 8s 5G, Realme 8i Full Specifications Leaked Ahead of India Launch – LatestLY
Realme will launch two new smartphones under its popular Realme 8 series in India on September 9, 2021. Dubbed as Realme 8s 5G and Realme 8i, these smartphones will go official this week alongside the Realme Pad, Realme Pocket Speaker, and Realme Cobble Speaker. The Chinese tech brand will be hosting a virtual launch event at 12:30 pm IST. The company is leaving no stones unturned to keep the buzz going around these devices. Realme Pad Android Tablet Confirmed To Get 10.4-inch WUXGA+ Display
[embedded content]
Realme India and Europe CEO – Madhav Sheth has been teasing the devices on his official Twitter account. In a recent teaser, Realme has officially confirmed that the Realme 8i will sport a 120Hz display. He also mentioned in his tweet that Realme 8i is the only smartphone in its price segment to come equipped with this display.
Our latest #realme8i is the only smartphone in this price segment that is equipped with 120Hz Ultra Smooth Display. It not only gives you a faster refresh rate but also sharper animations.

Gear up for an #InfinitelySmooth experience! pic.twitter.com/uxBP1Ejtzv

— Madhav Sheth (@MadhavSheth1) September 5, 2021
Ahead of the launch, a new image has surfaced online that reveals full specifications, colours and other details of both handsets. The leaked image suggests that Realme 8s 5G will get a 90Hz display, 64MP quad rear camera setup, 16MP selfie camera, 5000mAh battery with 30W Dart Charge, MediaTek Dimensity 810 5G SoC and more. It will come in two colour options – Universe Blue and Universe Purple. As for variants, there will be two variants to choose from – 6GB + 128GB and 8GB + 128GB. The phone will also get an extended RAM feature with expansion up to 13GB.
Realme 8i (Photo Credits: Realme)
Realme 8i, on the other hand, will come equipped with MediaTek Helio G96 SoC, 50MP triple rear camera, 16MP selfie shooter, 120Hz display, 5000mAh battery with 18W fast charging, and more. The phone will come in two shades – Space Black and Space Purple. It also gets an extended RAM feature, but it will be limited to 10GB. The handset will be available in storage configurations – 4GB + 64GB and 6GB +128GB.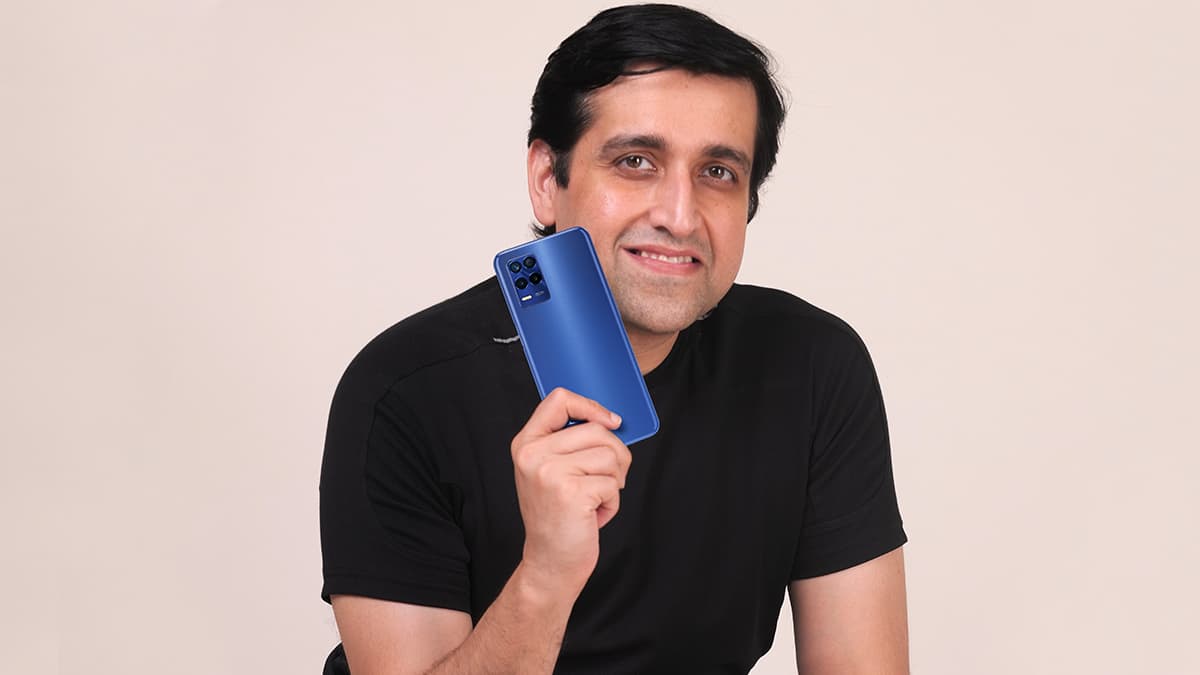 Realme 8s 5G Smartphone (Photo Credits: Realme India)
The Chinese smartphone brand will announce prices and availability details of the devices during the launch event, which will happen on September 9. The display specifications mentioned on the leaked image is in line with the one revealed by Madhav Sheth. Expect Realme to disclose a few more details of the phones as we approach the launch event.
(The above story first appeared on LatestLY on Sep 06, 2021 12:00 AM IST. For more news and updates on politics, world, sports, entertainment and lifestyle, log on to our website latestly.com).
Use the new Google Illustrations tool to create a custom Gmail profile picture – XDA Developers
If you use any of Google's services, which we're pretty sure most if not all of you do, you would be aware of the small avatar that's displayed next to your name on Google's homepage and other services. This is also the avatar that shows up next to your name when you email someone. It probably shows an old profile picture for most people that they set up back when Google+ was still a thing. But Google wants you to change it, and the company has released a new Illustrations tool to help you create a custom Gmail profile picture.
As per a recent report from 9to5Google, the Google Illustration tool is baked into the dialog box that appears when you select the option to change your profile picture in the Gmail app. It sits along with the options to upload a new image from your computer, choose an existing photo from Google Photos, or click a photo from your camera. As of now, the feature is rolling out on Gmail for Android, and you can try it out by tapping the avatar icon on the top right corner of the app.
You will then have to select the Illustrations tab to see hundreds of illustrations that you can use as your profile picture. This is a helpful feature for those who do not wish to reveal their identity online or make their photographs public. If you have privacy concerns with uploading your picture online but do not wish to see just your initials as your avatar, you should try out the Google Illustrations tool right away.
The avatar you set up will be used across all of Google's services like Gmail, Drive, YouTube, Contacts, etc. If you want to look for illustrations related to a specific topic, you can search using relevant keywords. You can even customize the illustrations and switch out the background color to something that you prefer. In the coming months, Google plans to expand support for the Illustrations tool to other apps and iOS devices.
New Pokémon Legends: Arceus trailer highlights character customization, Wardens, Noble Pokémon, more – Nintendo Wire
Out of the blue a new trailer for Pokémon Legends: Arceus has dropped, and it's full of new info, from character customization to a brand-new evolution for Scyther – Kleavor!
Check it out below:

[embedded content]

Pokémon Legends: Arceus launches January 22nd, 2022.

Alberta doctors raise alarm on specialist staff shortages in intensive care wards – Saanich News
The Alberta Medical Association says the province's high COVID-19 numbers are behind a desperate shortage of specialized staff to care for critical care patients.
"The demand for (intensive care unit) nurses is currently so high that we need to increase the number of patients assigned to each nurse," the medical association said in a public letter Monday.
"This reduction in staffing ratio is well below our normal standard of care. This will jeopardize the quality of ICU care that we are able to provide."
The letter was signed by members of the group's intensive care section.
Alberta's hospitals and intensive care wards are overwhelmed by critical care patients, most of them stricken with COVID-19. The overwhelming majority are either unvaccinated or partially vaccinated.
Alberta Health Services has been briefing doctors on criteria to use should the health system collapse and they have to make on-the-spot decisions on who gets life-saving care.
Last week, Dr. Paul Parks, the medical association's head of emergency medicine, said the staffing shortage is affecting care in other ways. Parks said some critical care patients are not being put on available ventilators because there aren't enough nurses to monitor them.
Kerry Williamson with Alberta Health Services says while typical ICU care is one nurse per patient, an alternative model, known as a hub, is being used to adapt to the pandemic while ensuring care is delivered.
Each hub includes one or two trained intensive care nurses and two to four registered nurses.
"This model partners registered nurses from other areas with existing trained ICU (nurses) to expand the availability of the critical-care nursing skill set to more patients," said Williamson in an email.
"ICU patients are never cared for by nurses alone. Whole teams work with nurses in ICU, including respiratory therapists and many others. "
In recent weeks, the province has scrambled to create more ad hoc intensive care beds, effectively more than doubling the normal total of 173 to accommodate 312 patients currently receiving critical care.
Staff have been reassigned, forcing mass cancellations of surgeries, including cancer procedures.
Alberta has asked the federal government for help, and the Canadian Armed Forces has said it will respond with eight more intensive care nurses and air transport to take critically ill patients to other provinces.
Almost two weeks ago, Alberta reintroduced gathering restrictions and brought in proof of vaccination requirements for entry to restaurants, bars, casinos, concerts and gyms to try to reduce spread of the virus.
Daily case counts remain well over one thousand and a growing number of doctors and infectious disease specialists are calling for a "firebreak" lockdown, which would include a shutdown of schools, businesses and other activities.
Alberta Premier Jason Kenney, in a weekend radio interview, rejected a lockdown. He said it would make "no sense for the 80 per cent of the population that is vaccinated" and who are much less likely to transmit the disease and be hospitalized.
Alberta has lagged behind other provinces in vaccination. Kenney and his United Conservative government have been trying to persuade more people to get their shots by offering $1-million prize draws, other gifts and, more recently, $100 debit cards.
About 73 per cent of eligible Albertans, those 12 and over, are fully vaccinated, while 82 per cent have had at least one shot.
Opposition NDP Leader Rachel Notley said it's time to partner with community groups and health-care professionals to go door to door and help those who are not vaccinated due to health or work concerns or a language barrier.
Those groups could be "having conversations and offering Alberta vaccines right there on people's doorsteps," Notley said in Calgary.
—Dean Bennett, The Canadian Press