Richmondite contributed artwork to support councillor Au's mobile art gallery – Richmond News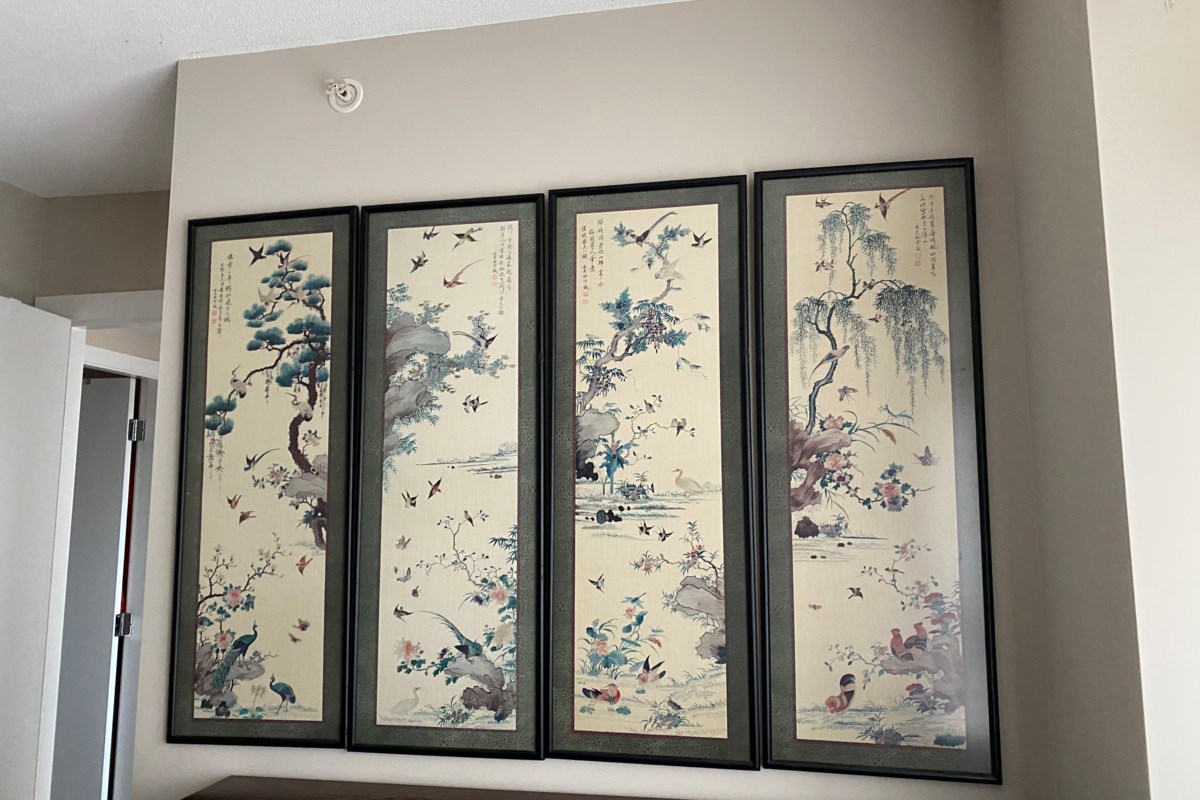 Richmond city councillor Chak Au has spent the past year pondering launching a mobile art gallery for showcasing folk art and connecting the community.
Au is still looking for a venue to showcase such art, but he's already collecting items to exhibit, including one from retired Richmond chartered accountant James Heish, who donated a piece of Chinese decorative needlework this week.
"My idea for the gallery is more like a mobile communication hub. The artwork displayed in the gallery shouldn't be limited to one culture. Instead, it could be as diverse as possible, encouraging more people to share their thoughts on who we are and where we are going as an evolving community," said Au.
The artwork exhibited at the gallery can be returned to the owner when the show comes to an end, added Au, noting that hopefully, Heish's donation could stir up conversations in the community.
Heish told the Richmond News he got his piece dozens of years ago through an auction held by a bank and, since then, it has been kept in his bedroom.
Au said some Chinese immigrants told him how surprised they felt when they first came across some pottery work in galleries around the world, including some from European countries and the Middle East – with the colours being as fresh as painted yesterday and the details so delicate.
The most important thing, added Au, was that they felt ignorant after seeing these art pieces.
"They said we wish we could have known these fantastic work earlier. Looking at other countries' art broadens our horizons and inspires us to embrace their languages and cultures," said Au.
"Artwork represents history and tells fascinating stories, which could be used as a way to connect us."
Heish's donation is now well-preserved at Au's home, and later, they will invite the public to a small exhibition when they find a decent place to display the work.
Montreal palliative care doctor transforms junk into whimsical art – Global News
After more than 30 years of taking care of patients, doctor Michael Dworkind is gaining attention for artistry of a whole other kind.
The palliative care physician, now in semi-retirement, creates works of whimsical art made entirely of junk.
It's a passion that Dworkind has been quietly expressing for decades. Dworko – as he is known in the art world – has been transforming discarded trash found on the sidewalk into works of art.
"Unfortunately in our Canadian society we throw out so much good stuff," Dworkind said. "Garbage day in NDG is my heaven."
READ MORE: 'Street find' art transforms NDG alleyway into outdoor gallery
His creations include monstrous faces using shower heads, door stoppers and plungers, and a sculpture of a fiery phoenix with a broom head and construction clamps for a beak.
His art brings out untold reactions from people trying to decipher the piece itself but also the pieces it's made out of.
"It's humorous because people say things: 'this comes from there, that from there; Ahh isn't that funny.' That's the reaction I want."
Dworkind says his work has no rhyme or reason – the 'junk' speaks to him.
"Sometimes I'll just see something on the curb and want to have it," Dworkind said.
His art is showcased all over the walls of his NDG home and in devoted rooms as small galleries. Little of his work is seen by the public.
But that has now changed with the latest short film produced by photographer Ezra Soiferman.
"I was blown away and I decided to take out my camera and start making a movie," Soiferman said.
Titled The Junk On My Roof the film shines a light on Dworkind's hidden but bright rooftop sculpture garden.
Soiferman says Dworkind is a renaissance man that has many stories already told, none of which have been about his art.
For example, in 1985 he served as a member of the International Physicians for the Prevention of Nuclear War which won a Nobel Peace Prize.
Dworkind is currently the co-founder and medical sirector of Santé Cannabis, the leading education and resource centre for the use of medical cannabis in Quebec.
"When I see another artist who is out there hustling creating things using their voice to express themselves in a unique way I get excited," Soiferman said.
READ MORE: Local artist transforms Montreal bus shelters into pop-up art galleries
Soiferman says people are surprised and overjoyed by the five-minute walkthrough film.
Family members of former patients at the Jewish general hospital where Dworkind used to practice have been reaching out, commending the video and the artwork.
Dworkind says he's humbled by the video and the attention it's gotten online.
Soiferman says the duo is far from done. They plan to create a second project described as a soup-ed up slide show showcasing art through photo and music focusing on the more than 100 sculptures peppered across Dworkind's property in the Laurentians.
"That place is like a sculptural Disneyland. It's wild and whimsical," Soiferman said.
© 2021 Global News, a division of Corus Entertainment Inc.
City of London unveils SITELINES artwork and plaque – london.ca
Today, the City celebrated new public art unveiled downtown. SITELINES is a sculptural canopy created by artist Jyhling Lee, and will be a new landmark inspired by the city's nickname "Forest City".
The sculpture embodies a vision of the forest treeline, the city skyline, and the soaring spires found in the area's heritage architecture, trees and plants. It is an art installation which provides viewers the opportunity to interpret natural and urban surroundings in imaginative ways.
The artwork was funded by Tricar Developments Inc. and installed on public property outside their Azure Condominiums at 505 Talbot Street. This new artwork is owned and will be maintained by the City of London.
"SITELINES is an excellent example of how public and private partnerships are helping to place public art throughout London," says Mayor Ed Holder. "This art also contributes creatively to the ongoing revitalization of London's core and is a superb addition to the City's public arts collection."
"At Tricar, we are committed to improving and fostering healthy communities on economic, cultural and environmental levels. We strive to enhance the quality of the public realm, promote active lifestyles and develop community pride and a sense of belonging," says Jen Grozelle, manager of marketing and media at Tricar Developments Inc. "This public art project has been an exciting journey – from the initial artist jury selection process through to seeing the final sculpture beautifully displayed. This sculpture inspires cultural expression on our streets, enhances the quality of life for Azure homeowners and beautifies the neighbourhood."
SITELINES is located near the northwest corner of Talbot Street and Dufferin Avenue at the widened sidewalk, and offers pedestrians a shady public area to experience this art while underneath the canopy.
SITELINES was created by professional artist, architect and educator Jyhling Lee of figureground studios, who has been involved in a wide range of public art projects across Canada and has been recognized nationally through awards and publications. Lee grew up in Ingersoll, Ontario, and her family has spent the past 20 years in London, operating a food business at the Covent Garden Market for much of their time in the Forest City.
Lee was selected through the City's Public Art Program process administered by the London Arts Council. For over a decade, the London Arts Council has partnered with the City of London's Culture Services to help create new opportunities for public art through the Public Art Policy. The London Arts Council administers this program (on behalf of Culture Services) by evaluating sites, convening juries for artist selection and overseeing installation timelines.
Adm. Art McDonald letter to senior military officials 'shocking,' says Gen. Eyre – Global News
A letter sent by Adm. Art McDonald to senior military officials claiming he has been exonerated on an allegation of sexual assault and should be immediately reinstated is "shocking," says Canada's acting top soldier.
Gen. Wayne Eyre, acting chief of the defence staff, responded to the letter sent by McDonald in his own letter to senior staff, which was shared with Global News. McDonald was placed on indefinite leave by the government and is waging amid an increasingly public battle to return to the top post.
"We must remember that in a democracy the military is subordinate to our duly elected civilian leadership. This fundamental is paramount to our profession. I was asked to act as Chief of the Defence Staff on February 25, and I will continue in that role until told otherwise by our civilian leadership," wrote Eyre in the letter on Friday.
"To that end, this shocking letter changes nothing with respect to our vital work of defending our nation, changing our culture, and preparing for the threats ahead."
One defence official told Global News that McDonald neither consulted nor informed Eyre of his plans to send out the contentious letter.
Defence Minister Harjit Sajjan said in a statement to Global News on Friday that the message sent by McDonald "is inappropriate and unacceptable."
"In Canada, civilians provide necessary oversight of the military and decide who is best suited to lead the armed forces" Sajjan said. "McDonald's email does not reflect this, nor does it reflect the need to put survivors and victims of sexual misconduct first."
READ MORE: Adm. Art McDonald tells colleagues he's exonerated, should return to top military post
In the letter obtained by Global News on Thursday, McDonald said he was "quite disappointed that my exoneration has not seen my return to duty" after military police declined to charge the admiral over alleged sexual misconduct in August.
Global News has previously reported the allegation is specifically one of sexual assault.
McDonald also argued his reinstatement is important to avoid "undermining the principles that must be foundational to legitimate cultural change" within the military, citing the need for fairness for both accusers and those accused of wrongdoing.
McDonald denied the allegation against him, and added that media reports were "often replete with hurtful sensationalism, innuendo and inaccurate characterizations."
Two sources confirmed the letter, addressed to generals and flag officers of the Canadian Forces, was sent by McDonald and bore his signature.
READ MORE: Vance will not face military service charges; source cites his four-star rank
Military and political sources have said the lack of criminal charges against McDonald has not removed concerns about whether he has the moral authority to lead the military.
Global News learned in August that the Canadian Forces National Investigation Service interviewed dozens of people as part of the probe into the allegation, but were unable to determine an agreed-upon set of facts, as many of those interviewed claimed to have been drunk at the time of the alleged sexual assault.
The Department of National Defence said at the time that its investigation "did not reveal evidence to support the laying of charges under either the Code of Service Discipline or the Criminal Code of Canada."

1:36


No charges against defence chief Adm. Art McDonald following military investigation



"Adm. Art McDonald was not exonerated by the military police," said Charlotte Duval-Lantoine, a fellow with the Canadian Global Affairs Institute specializing in military culture.
"They could not meet the burden of proof to charge Art McDonald. That doesn't mean that the allegations were false.
"It doesn't mean that the victim was lying … so he cannot say that he was exonerated."
Duval-Lantoine said she was "appalled" to hear of McDonald's letter and noted it raises fresh questions around whether he holds the moral authority to govern the Canadian military.
"He's determining for himself that he has the moral authority to gain back to the job of chief of the defense staff," Duval-Lantoine explained.
"What he doesn't realize is that it is not his decision to make. He's not the one who needs to determine whether he has a moral authority. It is up to the government, and I would also argue that it is the determination of service members that would be under his command."
IN HER WORDS: The woman behind McDonald allegation tells her story
Retired Lt.-Gen. Mike Day, former commander of Canada's special forces, expressed similar concerns at the letter in a blog post on Friday as well, noting he and others are feeling "horror" at what is unfolding.
"Contrary to the Admiral's claim and the start point of his argument, a failure to press charges, for whatever reason is not an exoneration, neither in form nor function. A decision not to proceed based on insufficient evidence neither exonerates nor condemns," Day wrote.
"Exoneration can only come from those who govern the Admiral (ie MND / PM)."
Day noted that the position of chief of the defence staff is one that serves at the pleasure of the government, and said McDonald's decision to pursue his campaign for reinstatement so publicly indicates one of several "concerning" possibilities: either he doesn't understand how the process actually works, or he is "not targeting his return but rather any negotiations that might inform his release."
"If the first instance such ignorance is disqualifying," Day explained. "In the second there is a demonstration of a willingness to ignore the impact on Lt(N) [Heather] Macdonald as well as to continue to negatively impact the morale of the CAF for personal gain: This too is disqualifying."

8:12


IN HER WORDS: The woman behind the Adm. McDonald allegation tells her story Pt. 1



Macdonald told Global News previously that the decision by military police not to pursue any charges against McDonald left her feeling like she'd been "punched in the stomach."
"I am not surprised as this was exactly why I was reluctant to come forward and why most survivors don't come forward. It's not worth it. I feel a little like I've gone through hell for nothing," said Macdonald, a navy combat systems engineer who has served for 16 years.

5:08


IN HER WORDS: The woman behind the Adm. McDonald allegation tells her story Pt. 2



Since McDonald's letter became public, multiple women officers who have been victims of sexual misconduct told Global News they were deeply concerned by the tone of the letter and the message it sends to those who may want to come forward.
Former Supreme Court Justice Morris Fish warned in June that it is "legally impossible" to charge senior military officials of McDonald's rank under the military justice system.
Global News confirmed last month this finding had played a direct role in the decision by military police not to lay charges under the military system during a probe into McDonald's predecessor.

2:14


Exclusive: Gen. Jonathan Vance won't face any military service charges



Retired Gen. Jonathan Vance is facing allegations of inappropriate behaviour from two female subordinates, which were first reported on by Global News on Feb. 2.
He denies all allegations of inappropriate behaviour.
Military police opened an investigation into the allegations shortly afterward and in July, charged him with one count of obstruction of justice for alleged conduct during the course of their investigation.
The Canadian Forces National Investigation Service handed the case over to the civilian criminal court system, but opted not to pursue any charges against Vance on the allegations of sexual misconduct through the military court system, citing the Fish report.
Since the allegations against Vance emerged, multiple senior military leaders have been removed from their positions or investigated for allegations of sexual misconduct, sparking what experts have called an institutional "crisis" and a reckoning for the Canadian Forces.
Former Supreme Court justice Louise Arbour was appointed by the government in April to lead an external, independent review tasked with providing recommendations on how best to create an independent reporting system for military sexual misconduct.
Global News has confirmed Arbour does not plan at this stage to issue any interim recommendations.
During the last session of Parliament, Liberal Anita Vandenbeld — who was parliamentary secretary to the defence minister — had said Arbour would be issuing interim recommendations so the government could implement them quickly.
"Throughout the process, she will provide interim recommendations that we can implement right away," Vandenbeld said on May 10.
While Arbour's appointment was announced in April, her contract to begin the review did not kick in until May 21, and she has 12 months from that date to complete her review, according to its terms of reference.
Last week, Prime Minister Justin Trudeau said the military "still doesn't get that survivors need to be at the centre and the unique priority of everything in regards to sexual misconduct and harassment in the military."
"This is, again, a reminder of just how much work there is to do."
When asked by Global News whether work on creating an independent reporting system for military sexual misconduct will begin this fall or winter, given Arbour's recommendations aren't due until next year, a spokesperson for the Prime Minister's Office offered a brief response.
"I'll refer you to DND on this matter."
–With files from Global's Mercedes Stephenson
© 2021 Global News, a division of Corus Entertainment Inc.