Riot drops official trailer for League's newest champion Samira – Dot Esports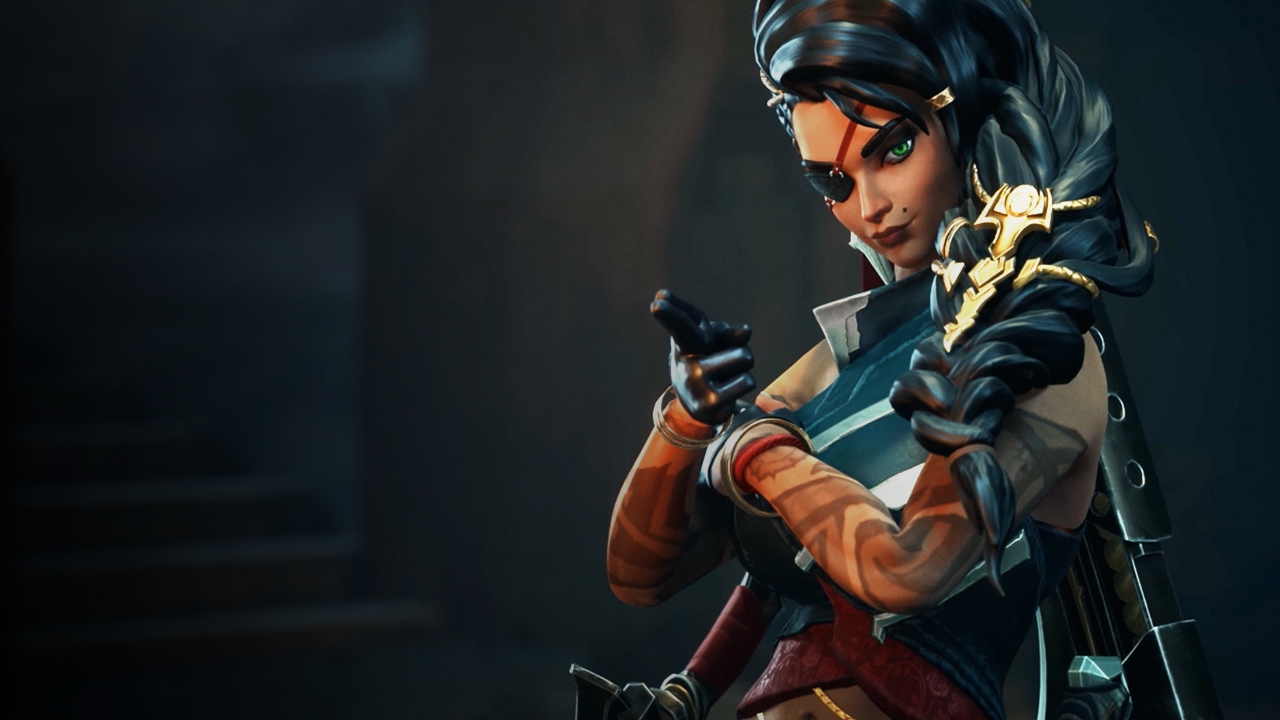 Inklings of a new champion have floated around the League of Legends community for the past few weeks, but fans of the game have now finally received confirmation of Samira's release onto the Rift. Riot Games released a new champion trailer today, giving players an official look at Samira's abilities.
Known as the Desert Rose, Samira carries both a giant sword and two dual-wield guns. She can attack both at melee range and from a distance and uses her attacks to build "Styles" or combos as part of her passive ability. There are six different Styles, with the highest being "S."
Once she has reached the S grading, Samira will be able to use her ultimate ability, Inferno Trigger. This ability is an AoE ability in which Samira shoots her guns and deals damage to all surrounding enemies 10 times over a two-second duration. Each shot deals physical damage, applies lifesteal, and has the chance to critically strike.
Samira's Q, Flair, either fires a shot or slashes forward with her sword based on how far away the enemy is from Samira to deal physical damage. Either hit has the chance to critically strike for 25 percent bonus damage. Her W, named Blade Whirl, slashes in an AoE around her for one second, dealing physical damage and destroying any enemy missile that enter the area.
Her E, Wild Rush, can be used as a gap closer. Samira dashes through an enemy or an ally and slashes any enemy she passes through. The attack does magic damage and grants Samira 30-percent attack speed for three seconds. If Samira kills an enemy, the ability's cooldown is refreshed.
Related: New PsyOps skins for Samira, Zed, Viktor, Pyke, and Kayle data mined on League PBE
Samira first appeared on the Public Beta Environment, League's testing server, yesterday. Data mining website Surrender at 20 unearthed the champion's ability list as well as her release skin, which is part of the game's newest skin line Psy Ops. The skin's splash art portrays the character with purple hair, camo pants, and a glowing eye piece.
The Desert Rose will remain on the testing server for a few weeks before going live with a later update.
Amazon's Ring reveals a flying drone for your home and new car alarms – MobileSyrup
At Amazon's fall hardware event, the company revealed several new Ring products, including an autonomous drone that flies around and monitors your home.
The Ring Always Home Cam drone flies by itself, but users can tell it what path to take through their house. This means the setup for the drone involves mapping the inside of your home and setting lookout points to make sure the drone catches all the info you're after.
The drone can also fly to inspect disturbances triggered by other Ring Alarms.
When this new camera finishes flying, it returns to a little docking station where it recharges so it can do another pass later. While sitting in its dock, the camera and microphones are covered, so it only records when it's flying around, according to Amazon.
While an interesting concept, it's unlikely many people are going to want to pay $249 USD (roughly $332 CAD) for this drone when they could place much cheaper cameras in several locations around their home. Then there's also the privacy concerns surrounding a tiny flying drone continually monitoring your home. The Ring Home Cam is slated for release sometime in 2021.
Ring Car alarms
Beyond the futuristic, dystopian home drone, Ring also announced three new products aimed at the car.
The first is called Ring Car Alarm and plugs into the OBD-II port that most cars feature and then alerts users to bumps, break-ins, when you're being towed and more. When the device detects one of these events, it triggers an alert that's sent to the user's phone so that they can set off an alarm. This can also link to your Alexa devices so they can notify you as well.
Then there's the Ring Car Cam, which also monitors for bumps and break-ins like the Ring Car Alarm, but it will videotape whatever is happening as well. This device also has a car crash detection feature that alerts local authorities if you're in a serious collision.
The final device, called the Ring Car Connect, is a software framework for developers and an aftermarket device that adds the features from the Ring Car Alarm and Ring Car Cam directly into a vehicle. So far, this is only going to be available in Tesla's cars, but once users install the device, they'll be able to see footage from the Tesla's cameras and record driving footage via the Ring app.
Overall, it seems unlikely that Amazon will bring these products to Canada since they'll require partnerships with Canadian carriers.
Source: Ring
Amazon's Ring Always Home surveillance drone is unsettling – Vox.com
Amazon has announced a new way for consumers to surveil their own homes: a camera-equipped drone that connects to Ring security systems. Ring, which Amazon owns, has a history of enabling controversial levels of surveillance in homes and neighborhoods. So the addition of a flying camera that can venture into new nooks and crannies is, at best, unsettling.
The Ring Always Home Cam is designed to fly around different areas of someone's home every so often, capturing footage before landing back in its dock. The device is meant to stay indoors and fly autonomously based on pre-programmed flight paths that navigate between the walls of a house, a Ring spokesperson told Recode. The announcement comes after Amazon last year won a patent for a home surveillance drone; it's also worth mentioning that the Federal Communications Commission (FCC) has not yet authorized the sale of this device.
Amazon says its new Ring surveillance drone is scheduled to go on sale in 2021 for $249 (once FCC authorization is obtained), and the company says it built in the product with "privacy in mind." In a live blog of the virtual announcement event, Amazon said the Always Home Cam "only records when in flight; when it's not in use it sits in a dock and the camera is physically blocked." The company added that the drone is "loud enough so you hear when it's in motion." This is illustrated in a promotional video from Ring that shows a hypothetical robbery in which a burglar breaks into a man's bedroom while the man is not home. The drone then chases off the burglar while the man anxiously watches the action through a smartphone app.
On its face, the new Ring drone might seem neat and futuristic, but it also serves as a reminder of the company's checkered history with privacy and surveillance. Ring has long faced intense criticism over its existing security products, and those concerns only grew after Amazon acquired the company for $1 billion in 2018. One particularly sensitive issue is Ring's vast and somewhat secretive network of police partnerships, which allow law enforcement to request footage collected by Ring cameras. Ring's Neighbors app has also been accused of exacerbating racism and capitalizing on fear of crime. Meanwhile, many, including some members of Congress, are worried that the company will soon incorporate facial recognition into the Ring platform.
"The introduction of a roving drone security camera inside your own home potentially upends the idea of the very idea of home as a private place," Matthew Guariglia, a policy analyst at the Electronic Frontier Foundation, told Recode in email. "Amazon's new products certainly have the potential to extend what was already an invasive surveillance system into the realm of the absurd."
While a Ring spokesperson told Recode that the Always Home camera footage cannot be requested by police, Amazon has not made a formal commitment not to allow police to request this footage in the future.
The announcement of the Ring drone arrives at a time when Amazon is also attempting to expand its products' functionality in private and public spaces with an update to its Sidewalk project. As Amazon explains on its website, Sidewalk aims to create a shared network that could connect a suite of Amazon's connected products for the home, like some of its Ring devices and Echo voice assistants. The effort is also meant to operate at a larger scale, potentially connecting devices throughout a neighborhood. For example, Amazon says that Sidewalk would enable certain Ring products to continue sending certain alerts even in the absence of a wifi connection. Eventually, the platform will promote "smart security" and even help find pets and valuables, the company said in a blog post on Monday.
"The Sidewalk Project has the potential to extend what is supposed to be home surveillance into community and neighborhood surveillance," Guariglia said. "With all of these technologies, the individuals who purchase this equipment often are not asking how their neighbors feel about technology that could potentially extend the reach of networked smart devices, including those created for the purpose of recording and tracking well outside of their own property and into public spaces."
So despite the advertised benefits of Amazon's growing network of gadgets, the company is also setting itself up for more criticism over how these products also seem invasive or even Orwellian, especially as lawmakers face more pressure to regulate surveillance products and limit the technological capabilities of law enforcement.
Basically, it seems as though Amazon wants to be everywhere, and it's working hard to get there. So even while every Ring product might seem useful — even cool — on its own, considered in the aggregate, Amazon is producing a constellation of connected products that could be repurposed to record and surveil us, whether through its microphone- and camera-equipped devices, like the Echo and the Echo Show, or the new Ring cameras for cars Amazon also announced on Thursday. And with each new device, Amazon seems to hold more of the cards, collecting not only data about what's happening in our homes but in our neighborhoods, too. That may not be the future we want.
Open Sourced is made possible by Omidyar Network. All Open Sourced content is editorially independent and produced by our journalists.
---
Millions turn to Vox each month to understand what's happening in the news, from the coronavirus crisis to a racial reckoning to what is, quite possibly, the most consequential presidential election of our lifetimes. Our mission has never been more vital than it is in this moment: to empower you through understanding. But our distinctive brand of explanatory journalism takes resources. Even when the economy and the news advertising market recovers, your support will be a critical part of sustaining our resource-intensive work. If you have already contributed, thank you. If you haven't, please consider helping everyone make sense of an increasingly chaotic world: Contribute today from as little as $3.
Yes, Amazon Luna dodges Apple's cloud gaming rules — when will Nvidia and Google? – The Verge
You might be wondering: "Did Amazon just break Apple's App Store guidelines by bringing a cloud gaming service to iPhone?" And I can understand why, given that I told you just last week how Apple doesn't permit Google Stadia in anything close to its current form, and Amazon's just-announced Luna is a lot like Stadia. Wouldn't the same rules apply?
But the truth is that Amazon has a simple way to get around Apple's App Store rules entirely — and it's making me wonder how long it'll be before Google, Nvidia, Microsoft and others follow suit.
The short version: Amazon Luna on iOS is not a traditional app. It'll never appear in the App Store, and it doesn't need to. As Engadget reports, it's a progressive web app (PWA), which is mostly a fancy name for a website that you can launch and run separately from the rest of your web browser. Engadget says it can even appear as an icon on your home screen, making it look like a normal app before you tap it.
Being a web app makes it exempt from Apple's App Store rules, a fact that Apple itself is well aware of — because two weeks ago, Apple actually mentioned this idea in its updated rules. I've bolded the important part:
4.9 Streaming games

Streaming games are permitted so long as they adhere to all guidelines — for example, each game update must be submitted for review, developers must provide appropriate metadata for search, games must use in-app purchase to unlock features or functionality, etc. Of course, there is always the open Internet and web browser apps to reach all users outside of the App Store.
Amazon making use of the workaround? Not so surprising. What's surprising is that Google, Nvidia, Microsoft and others have waited this long.
We've known for a decade that you can play a top-shelf game in a web browser. If I'm exaggerating, it's only by three months: in December 2010, I wrote about streaming Mass Effect 2 in the web browser on an original Atom-powered netbook, using the service that would later morph into Sony's PlayStation Now.
And Google has known for eight of those past ten years that a web browser can natively stream those games, too: before he graduated to run the whole company, Sundar Pichai was the one to demonstrate that exact thing on a Google stage. Stadia launched with support for Chromebooks and the Chrome web browser, too — but also launched with an app on Android, and an app that can't play games on iOS.
Meanwhile, Nvidia's GeForce Now recently made the leap to Chromebooks by creating a WebRTC version of its app, which potentially opened the door to a web browser version on top of its apps for Mac, Windows and Android — a door so wide that it apparently already works if you really try. Some Redditors have recently reported that Stadia, too, works on iOS if you can trick it into thinking you're using a supported web browser:
There were questions about how well these services ran on the web, of course, particularly around controller support. And sure, perhaps Google, Nvidia, and Microsoft could optimize performance and quality if they had a native app instead of relying on web standards — and, in the case of iOS, relying on the WebKit browser engine Apple requires all iOS browsers to be based on. (That's also part of the App Store rules, too; see 2.5.6.)
But run it does — well enough, apparently, that Amazon is willing to hang part of the success of its new Luna platform on iOS web browsers.
With Apple unwilling to budge and Amazon showing a way forward, perhaps it's only a matter of time before others do the same. Though I'm not quite sure about Microsoft… I'll explain why in a future story.