New silicon, old apps
As has been explained by folks who are smarter than I am, the new M1 does not natively run x86 applications. Therefore, as with the last big architecture transition, Apple has created a bytecode translator that can make your Intel applications work on Apple Silicon. It's called Rosetta 2, and it works pretty well.
The first time you run an x86 application, you'll be prompted to download Rosetta 2; after that, launching an x86 application is just like launching an Apple Silicon app—you click on it and it runs.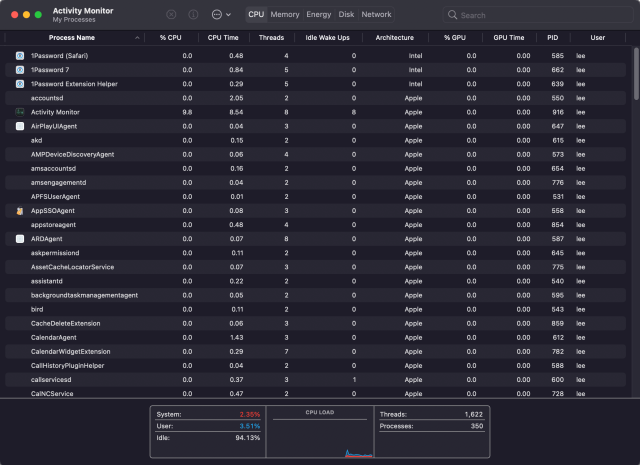 My laptop workflow doesn't use many apps, but I am a long-term Firefox user—and unfortunately, the x86 version of Firefox seemed to exhibit a bit of stage fright. Specifically, after installation and startup, Firefox 83 would work fine for the first couple of webpages, and then just… stop loading stuff. It would sit with the "Waiting for…" notice in the status bar, like it was going to load the page, and never get to the next step. Trying to quit the browser would lead to the Firefox process going unresponsive. After killing and relaunching it, the browser would work fine again for a couple of pages and then do the same thing.
Rather than troubleshoot, I fixed the issue by downloading the beta release of Firefox 84, which includes native Apple Silicon support. The problem behavior vanished, and everything worked fine.
The other Intel apps I tried, including Slack, 1Password 7, Dropbox, and a 64-bit community port of Boxer, all worked transparently and without issue. (There were also no problems using 1Password's extension inside of Firefox, Chrome, or Safari.) Running old Sierra games under Boxer worked fine—and, if I'm being honest, running old Sierra games under Boxer is about half of what I actually do use my laptop for, so this was great news.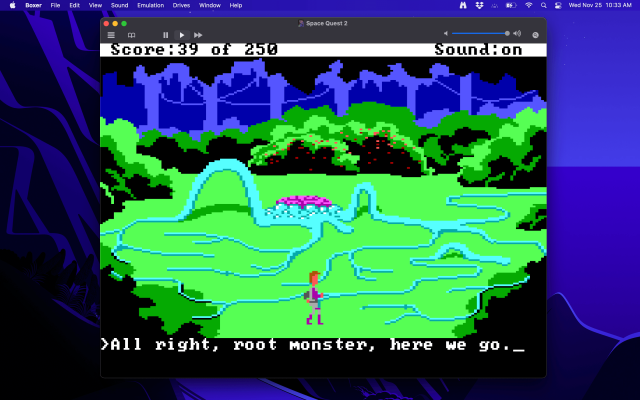 As for running iOS apps on the MBA, I understand it's notionally possible, but I didn't bother. Samuel tried it and had mixed luck, and other reviewers at other sites seem to be having about the same experience. I'm not a mobile app kind of guy, and I only have four that I use regularly—Duo for two-factor authentication, Philips' Hue app for light control, Golf on Mars for wasting time, and 1Password. (Seriously, my phone home screen is two pages, and the only thing on the second page is a folder labeled "Crap" with all the stuff in it that I don't want on the first page and can't delete.)
I have no idea how well Apple Silicon on Big Sur runs iOS apps, and I don't care. For folks wanting to go down that particular path, Samuel's review has you covered—and since there's essentially zero functional difference between how the M1 Air runs iOS apps versus the M1 mini, I anticipate the Air would behave identically to the mini.
Form factor, ports, keyboard, screen
Other than the guts, the M1 MacBook Air is pretty much the same device as it is when you buy the Intel-flavored version. The form factor is unchanged. The Air's Retina-resolution screen is the same as it was before the M1 transition—crisp and sharp enough to cut glass. Off-angle viewing looks as good as you would expect it to look, and we measured its maximum brightness at 409 nits. Backlight coverage to my eyes looks even, and I don't see any bleeding at the edges.
Leaving the display behind and turning to the rest of the chassis, the Air's port situation is also the same—the two USB-C plugs support Thunderbolt 3 and USB 3.1 Gen2, and you can connect a single external DisplayPort display that goes up to 6k resolution at 60Hz. Hell, there's even a headphone jack. That's just downright courageous.

Lee Hutchinson


Lee Hutchinson
I missed out on the butterfly keyboard debacle, though I got to experience it vicariously through my Ars coworkers as one by one they all complained in Slack about having to have their butterfly keyboards replaced by Apple. The M1 MBA's "Magic Keyboard" feels more or less the same as my 2015 MBA—perhaps a bit less mushy, but only a small bit. It's perfectly serviceable and unremarkable.
Something I greatly dislike, though, is the removal of the keyboard backlight adjustment keys—they have been replaced by a "start dictation" key and a key that toggles "Do Not Disturb" mode on and off. I'm sure that decision was made after a lot of focus group testing to justify it, but man, it's just powerful annoying to have something you find useful snatched away from you. I find one-touch access to the keyboard backlight to be handy, and I adjust the backlight often. Now the only way to do it is in System Preferences or via a menubar widget. Lame.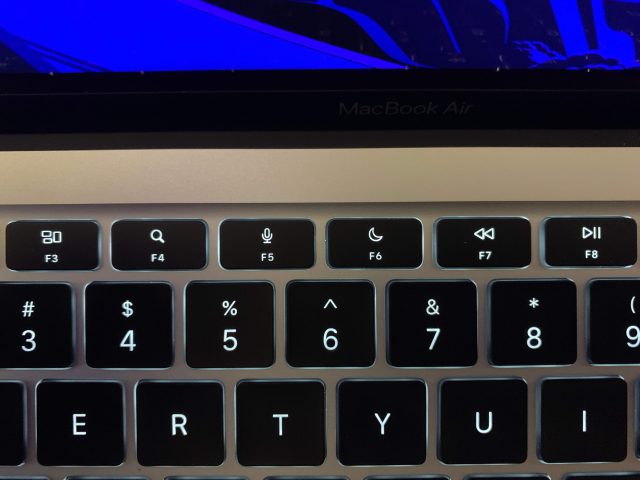 It's a Macbook Air—it's just better than before
Let's back up a bit before we wrap, because I don't want to end the review on a down note. Yeah, USB-C charging sucks compared to MagSafe, and the removal of the backlight keys irks the crap out of me, but to keep things in perspective, I'm excited enough about owning an M1-powered laptop that I dropped a bit over $1,500 of my own dollars on one even though my current laptop was still basically fine.
The new Air's battery life is outstanding, and it feels like I've finally gotten a portable with the endurance I've always wanted. The storage subsystem is quick, load times are minimal, and doing several things on the M1 MacBook Air at once is as quick and responsive as it is when I do the same tasks on my desktop—and my desktop is a Xeon-powered iMac Pro.
I don't like using too many superlatives in hardware reviews—at least, in hardware reviews that don't involve flight simulator equipment (for reviews that do involve flight simulator equipment, it's superlatives for days!). And while I can't say the M1 MacBook Air is the perfect laptop, I can say that it's excellent.
Seriously, I just wasn't expecting the M1—I wasn't expecting it to be this ludicrously fast for the price and the wattage. I wasn't expecting the new chip to just work—though given Apple's previous architecture switches, I probably should have. I wasn't expecting the Air to kick as much ass as it does. Unlike most portables—including the i7-powered 2015 MBA I'm getting ready to retire—it gets the hell out of my way and doesn't make me wait on it when I want to do something.
It's great. And I'm excited to see what Apple does next.
The Good
Fast as hell
Battery lasts a long-ass time
Common x86 apps seem to work perfectly under Rosetta 2
To this casual laptop user, the M1 feels pretty dang amazing
Checks almost every box I care about when it comes to hardware I want to own and use
The Bad
No keyboard backlight adjustment keys
You might run into Rosetta compatibility issues with less-common apps
No Windows virtualization (not yet, at least)
The loss of MagSafe still stings, even after literally years
The Ugly
It's such an improvement over Intel-based MacBook Airs that you might find yourself spending a thousand unplanned dollars to join the Apple Silicon club
The bottom line
It's like I said in the beginning of the piece: it's fast. The battery life is great. The M1 seems like a hit, and given Apple's success at iterating on their silicon designs, it seems like things are only going to get faster. If you're looking for a portable, and you're not tied to Windows, the M1 MacBook Air is a pretty damn good use of your money.