Samsung Canada introduces "Your Service" repair portal for Galaxy users – Samsung Newsroom Canada
Convenient offering allows Samsung users to register select Galaxy products

[1]

, request support, and self-schedule/track repair services
Through its continued commitment to provide customers with innovative technology and services, Samsung Canada has launched its new online portal to help extend the service and support offerings of its convenient Door-to-Door and walk-in repair services.
As Canadians grow more comfortable with an increasingly digitized world, the Your Service portal from Samsung is a contemporary solution designed to offer Canadians more choice and flexibility for their customer care needs.
"The COVID-19 pandemic necessitated a shift away from in-person services, and while initially a temporary change, positive elements of the 'new normal' such as added convenience and efficiency can continue to benefit our customers," said Frank Martino, Vice President Corporate Service at Samsung Canada. "Whether it's scheduling a door-to-door repair, requesting technical support from an expert, or tracking the status of a device in transit – we're working to ensure that our customers across Canada can enjoy a seamless customer care experience."
The Your Service online self-service portal is now available for Samsung Galaxy smartphone and tablet customers. Wearable and laptop devices are also supported for Door-to-Door repair service, which can be arranged through Live Chat or by calling 1-800-SAMSUNG.
To request a self-service repair, customers can simply book through the Your Service portal – found online at www.samsung.com/ca/galaxy-repair – to arrange a convenient Door-to-Door device pick-up at their home. Pick-up and return of the Galaxy device is free of charge. Devices will be inspected and repaired by an authorized Samsung Canada technician before being shipped right back to the customer's door. For additional peace of mind, Galaxy devices will enjoy complimentary device sanitization.[2]
Customers can also access the portal and easily track the status of a device repair from any internet-connected device – and can also receive regular progress updates regarding their device through email and text message.
This service is available for both In & Out-of-Warranty[3] customers. To login and register a Galaxy smartphone or tablet, initiate support services, or to find out more about available services, please visit samsung.com/ca/support/your-service.
—
[1] Available for Samsung Galaxy smartphones and tablets.
[2] Samsung cannot guarantee as to the efficacy of the sanitization. Results may vary and may not kill all bacteria, germs and viruses. UV-C sanitizers are third-party devices and effectiveness of these sanitizers may vary depending on market and model.
[3] For Out-of-warranty manufacturer suggested retail pricing, click here.
Hands-free on Instagram, Facebook? Do it with Samsung Galaxy Z Flip 4; know how – HT Tech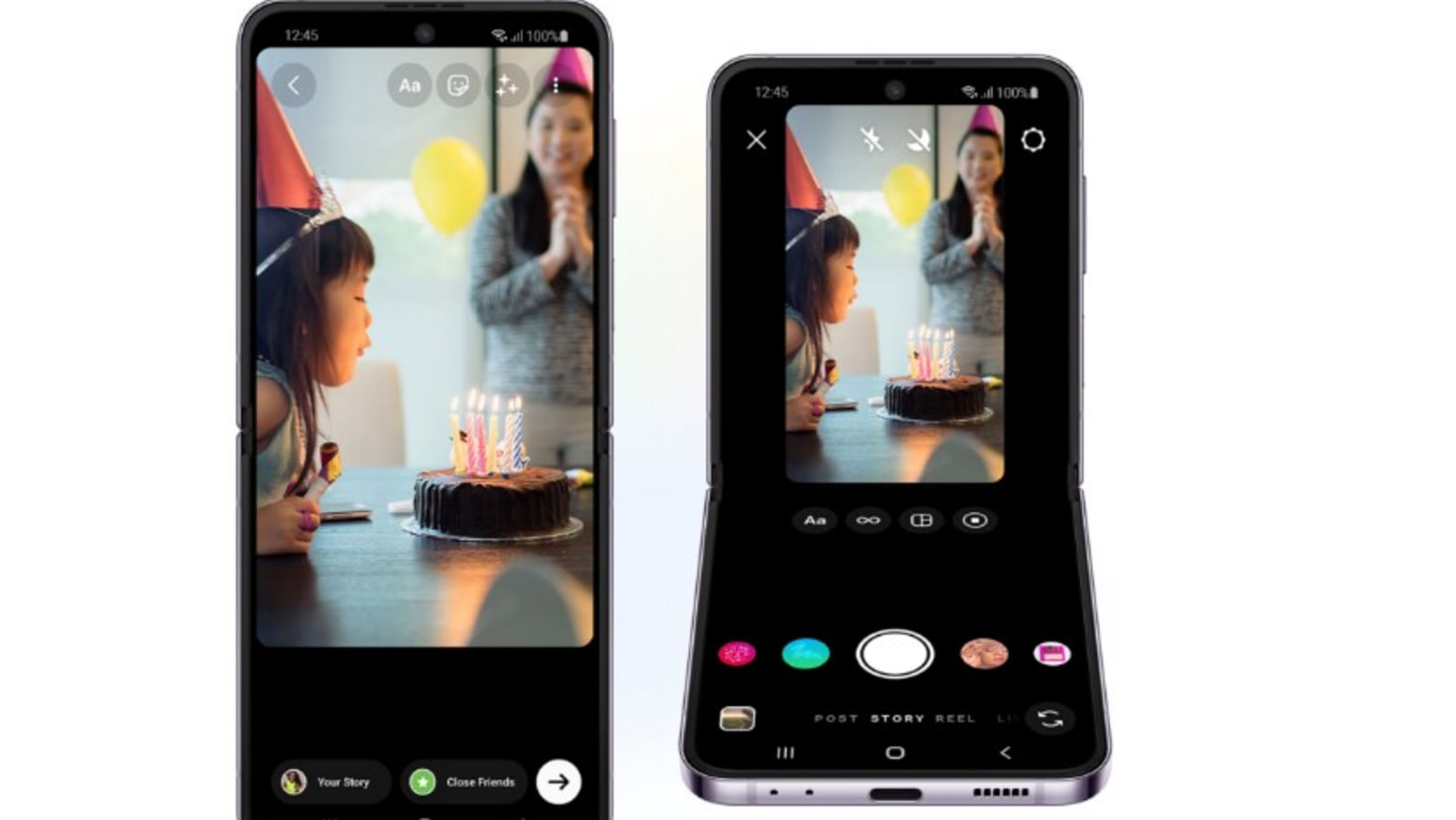 The recently launched Samsung Galaxy Z Flip 4 smartphone allows you to go hands-free on Instagram and Facebook. Here is all you need to know.
Samsung on Wednesday launched the Samsung Galaxy Z Flip 4. Along with the phone, the company also introduced a new feature to go hands-free on Instagram and Facebook. This means that if you have the latest Samsung Galaxy Z Flip 4 or any other Galaxy Z Flip smartphone then you can go hands-free on Instagram and Facebook. Want to know how? You can do so with the help of FlexCam on Samsung Galaxy Z Flip 4. Informing about the same Meta said, "we're introducing a new way to create hands-free on Instagram and Facebook with Samsung Galaxy Z Flip 4, as well as other Samsung Galaxy Z Flip smartphones. "
How to use FlexCam to go hands-free on Instagram and Facebook
Step 1:
With FlexCam on Samsung Galaxy Z Flip 4, you can fold the phone and place it on a surface freestanding to record hand-free videos.
Step 2:
Now you can create Stories and Reels without a stand or tripod.
Step 3:
Using Instagram and Facebook with FlexCam makes it easier to record dances, how-to's, and your favorite moments from afar, while on-the-go.
Meta further informed that FlexCam can also be used to make hands-free video calls with Messenger and WhatsApp.
About Samsung Galaxy Z Flip 4
The Galaxy Z Flip 4 comes in a compact clamshell design. You will be able to shoot hands-free video or capture full group selfies at various angles by partially folding Z Flip 4 to activate FlexCam. You can do more with Z Flip 4 by taking high-quality selfies right from the Cover Screen by leveraging the main camera with the upgraded Quick Shot. Start high-quality video recording in Quick Shot mode and then switch to Flex mode to continue recording hands-free without stopping the video.
The phone gets power from the Snapdragon 8+ Gen 1 chipset. The Galaxy Z Flip 4 comes with the expanded 3,700mAh battery along with super fast charging. According to Samsung, the phone can charge up to 50 percent in around 30 minutes.
'Genshin Impact' Sumeru Gift Codes For Free Primogems, 3.0 Character Banners, Release Date – Forbes
At long, long last, Genshin Impact just wrapped up its new 3.0 special program, revealing a whole lot of new information about the new region, the new element, Dendro, new characters and of course, there are free goodies if you hung out and wached the stream. Or even if you didn't, I have them right here.
We'll just get these out of the way first, here are the three gift codes for free primogems and other materials that you can redeem here. These ones are only good for 24 hours, I believe, so you better hurry.
8ANCKTWYVRD5 – 100 Primogems and 10 Mystic Ore
EA7VKTFHU9VR – 100 Primogems and 5 Hero's Wit
KT7DKSFGCRWD – 100 Primogems and 50,000 Mora
Past that, the most pressing information is probably the release date for Genshin Impact's Sumeru update, which is August 24, 2022.
We also were told about the first two character banners for 3.0, which will include three total Sumeru characters with only one five star. Those are:
Phase 1 – Tighnari (5 star), Zhongli (5 star), Collei (4 star)
Phase 2 – Ganyu (5 star), Kokomi (5 star), Dori (4 star)
While other Sumeru characters were shown or teased onscreen, it will be deeper into the 3.0 patch series before we get to those, which is not unexpected, given that's how Inazuma worked, and we ended up getting new Inazuma characters for essentially an entire year. And we're probably still not done.
Sumeru is probably going to end up being the most significant addition to the game to date, because unlike Inazuma, it's not just a new region, it also has an entirely new element being added to the game for the first time, Dendro. While Dendro has cropped up here and there among a few enemy types, this is the first time we as players can wield it ourselves, and these new characters will be our first introduction to the concept. Like all the elements, you can probably have attack/defense/support focused teammates using the element, and we'll have to spend some time digging deep into all the new characters to find out exactly how best to use them in their new roles with this new elemental type supporting your team.
Genshin Impact continues to generate massive amounts of revenue, and I have to imagine the Sumeru region is going to boost that even further, even in the face of new rivals like Tower of Fantasy that has just arrived this month. Genshin is the gold standard at the moment and it's going to be hard to compete with it as it expands to seven massive regions over the next few years.
Follow me on Twitter, YouTube, Facebook and Instagram. Subscribe to my free weekly content round-up newsletter, God Rolls.
Pick up my sci-fi novels the Herokiller series and The Earthborn Trilogy.
Poll: Galaxy Z Fold 4, Z Flip 4, Watch 5, Buds 2 Pro — what are you most interested in buying? – Android Central
Samsung's latest Galaxy devices were just announced, and they're already making waves. The company's latest foldables offer plenty of refinements on last year's models, the smartwatches bring bigger batteries for a new target audience, and the earbuds promise to take active noise cancellation to another level.
Now that Samsung's devices are finally out there, we want to know which device you're most looking forward to getting your hands on.
Which new Galaxy device are you most interested in buying?
If you've been holding out on Samsung's foldable smartphones, now might be the time to consider them. For instance, the new Galaxy Z Fold 4 is thinner (and wider) than ever, packs a fast new processor, and gets an upgraded camera array.
Be sure to check out Nick Sutrich's Galaxy Z Fold 4 camera review to find out how it stacks up to the best foldable phone of 2021.
Meanwhile, the Galaxy Z Flip 4 has the same new processor, a bigger battery, and many color combinations to choose from, letting buyers design their phones to match their style.
For anyone looking for a smartwatch, the new Galaxy Watch 5 series gets a boost in battery life, with Samsung claiming up to 50 hours for its standard watches and a whipping 80 hours for the new Pro. In fact, Samsung says the new Galaxy Watch 5 Pro is ideal for anyone with a love for the outdoors, thanks to its tough titanium chassis and Sapphire Crystal display.
Read up on why our Andrew Myrick decided to trade his Galaxy Watch 4 Classic for the new Watch 5 Pro.
Lastly, Samsung announced the latest Galaxy Buds 2 Pro with a new design and improved ANC, enough to block out most outside noise.
All Samsungs devices are currently available for preorder and will hit store shelves later this month on August 26. Please drop a comment on our Twitter and Facebook accounts and let us know which device you're most interested in buying and why.
Samsung's new foldable is better than ever, with an improved hinge design, much better cameras, and wider displays to better handle your media. Preorder this folding beast today for some awesome deals.
Samsung's new Galaxy Z Flip 4 is here, and you can make it your own with more than 70 color combinations to choose from. Plus, get more out of your phone with improved battery life and a much faster chip.
(opens in new tab)
Samsung Galaxy Watch 5/Pro
The new Watch 5 Pro series is here, with bigger batteries to help you get through your day. And the new Watch 5 Pro takes it to another level with its rugged build to help it withstand the elements.
(opens in new tab)
Samsung Galaxy Buds 2 Pro
Samsung's new earbuds offer a sleek design that lets you block out most noise so you can focus on the task at hand or just immerse yourself into your movies or music.