Samsung to Unveil New Smartphones at Galaxy Unpacked Event on January 14 – MacRumors
Samsung has sent out media invites to its Galaxy Unpacked event on Thursday, January 14, when the company is expected to officially announce its new Galaxy S21 lineup.
Samsung is expected to unveil three new smartphones at the event: The Galaxy S21, S21 Plus, and S21 Ultra. The successors to last year's Galaxy S20 series will come in familiar 6.2 to 6.8-inch size options, with the S21 and S21 Plus said to be similar except for size, and the S21 Ultra offering a more premium device featuring better specs and cameras, and support for Samsung's S-Pen stylus.
According to rumors, the S21 and 21 Plus have a flat display with a centered hole-punch camera and minimal front bezels, while the rear camera is a triple camera setup arranged vertically, consisting of a 12MP main sensor, a 12MP ultra wide, and a 64MP telephoto lens.
Meanwhile, the S21 Ultra has a larger curved screen and a quad-lens camera system featuring a single periscope lens with 10MP 10x super-telephoto zoom, alongside a 108MP main sensor, a 12MP ultra wide, and a 10MP 3x telephoto camera. It also has a laser autofocus system that replaces the time-of-flight sensor found in the S20 Ultra.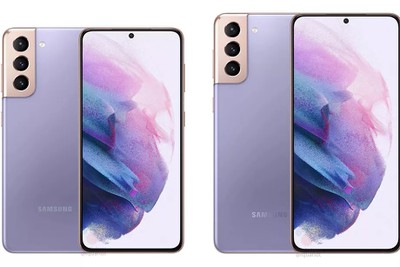 Samsung is rumored to use Qualcomm's Snapdragon 888 and Exynos 2100 chips in its new smartphones depending on the region. Like their predecessors, all the devices will offer 120Hz and 60Hz refresh rates as well as 5G connectivity.
When it became clear that the iPhone 12 lineup and other iPhone models wouldn't ship with a power adapter and headphones, Samsung mocked Apple on its social channels by pointing out that the Samsung Galaxy smartphones continue to ship with a power adapter. However, recent reports have said that Samsung may also remove the power adapter and headphones from its smartphones beginning with the Galaxy S21 lineup.
Samsung's ‌iPhone 12‌ rivals are expected to come in at a cheaper price point than last year's S20 family – WinFuture cites prices of 849 euros (about $1,043 USD) for the S21 and 1,049 euros (about $1,290 USD) for the S21 Plus. The phones should be available to buy a couple of weeks after the Samsung Unpacked event.
We'll have coverage of the event as it is interesting to take a look at what new features Apple's competitors are unveiling to compete with the ‌iPhone‌.
This powerful Assassin's Creed Valhalla weapon is hidden in a pile of magic rocks – Eurogamer.net
Assassin's Creed Valhalla players have discovered a secret powerful weapon hidden in a pile of rocks. Well. Kind of.
The secret Nodens' Isu Arc bow unlocks for players who repeatedly hit a small pile of rocks near Brunson Turret in Northumbria. In the lake to the north, there's a small island, and on there, you'll find the rock ore pile you need.
YouTuber JorRaptor takes you through the steps right here (thanks, Kotaku) and it's been verified now by a number of players:
Hit the rocks a few times – you'll notice it doesn't break as others do – and then save and reload your game. Rinse and repeat until you load in to find the rock pile is now broken, and Nodens' Arc Hunter Bow should pop up on the side of the screen.
Whether or not this is intentional remains to be seen (I suspect not), so if you're keen, head there now and grab it before Ubisoft patch it out.
ICYMI, Ubisoft recently released a big bug-squashing update for Assassin's Creed Valhalla. The game's 1.1.1 update is light on new features but heavy on fixes, with dozens of common issues crossed off.
Among those that stood out for Tom in a quick scan down its very long patch notes are solutions to the bug experienced by numerous people which saw them permanently stuck in their Halloween-esque Mari Lwyd disguise even after completing that quest arc. Ubisoft Connect achievements have also been fixed, and should correctly unlock the next time you perform any achievement-related action past the unlock condition.
Next up for Valhalla is a new river raiding mode and a levelling system for your Jomsvikings, due to arrive in February.
Cover image credit: JorRaptor
Google Photos for Android gets revamped interface for tablets – MobileSyrup
Google Photos for Android is getting a new interface that is optimized for tablets in order to take advantage of large screens.
Prior to this, the tablet interface was similar to the mobile one with a bottom bar spread across the entire screen and had lots of wasted space. Although Google redesigned the app on mobile last year, it remained the same on tablets.
It now seems that Google has optimized the app for Android tablets. 9to5Google reports that the new interface includes a search field in the top bar called 'Explore.' The placement of the bar depends on the width of your screen.
On smaller tablets, it's placed next to your profile image and on bigger devices, it's on the left side alongside an 'Upload' button. Further, the new interface replaces the bottom bar with a navigation rail.
With the new interface, users can now get quick access to Utilities, Archive and Trash with each option opening up as a fullscreen page.
It appears that the new interface is slowly rolling out and isn't widely available just yet. The iOS app has yet to be updated.
Source: 9to5Google
Apple Says to Keep MagSafe Tech a 'Safe Distance' Away From Medical Devices – iPhone in Canada
If Apple MagSafe tech's abysmal charging speeds compared to wired alternatives weren't enough of a letdown, an article written by doctors and published in the Heart Rhythm Journal showed a cardiac pacemaker being deactivated by the magnets in the iPhone 12 (via Mac Magazine).
Because of the addition of MagSafe capabilities, every member of the iPhone 12 lineup has more magnets than older iPhones.
While Apple says the iPhone 12 is "not expected to pose a greater risk of magnetic interference to medical devices than prior iPhone models," it has not shied away from admitting that the iPhone 12 (and MagSafe accessories) can cause electromagnetic interference with pacemakers, defibrillators, and other medical devices in very close proximity.
According to MacRumors, Apple has updated its support document on the magnets in its devices to include the following information:
Medical devices such as implanted pacemakers and defibrillators might contain sensors that respond to magnets and radios when in close contact. To avoid any potential interactions with these devices, keep your iPhone and MagSafe accessories a safe distance away from your device (more than 6 inches / 15 cm apart or more than 12 inches / 30 cm apart if wirelessly charging). But consult with your physician and your device manufacturer for specific guidelines. All MagSafe accessories (each sold separately) also contain magnets—and MagSafe Charger and MagSafe Duo Charger contain radios. These magnets and electromagnetic fields might interfere with medical devices.
Users are advised to keep their MagSafe-enabled iPhones, MagSafe Chargers, MagSafe Duo Chargers, and any other MagSafe accessories at a safe distance from any medical devices.
Apple also has an entire section on Medical device interference in the Important safety information for iPhone part of the iPhone User Guide.
With all signs pointing toward the iPhone 13 dropping the Lightning port to leverage wireless charging, it'll be interesting to see how Apple mitigates electronic and electromagnetic interference issues with the next iPhone.