Syrian refugee who lived in airport for months becomes Canadian citizen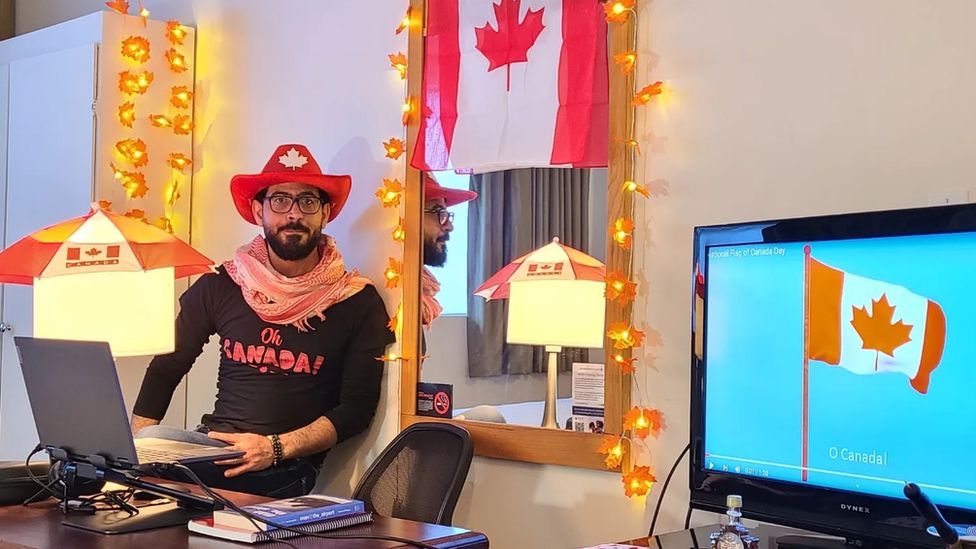 It was 2018 when Hassan al-Kontar found himself stranded in a Malaysian airport for seven months, unable to leave for fear of his life.
Five years on, the Syrian refugee, 41, has now become a Canadian citizen.
"Today I became more Canadian, but I considered myself Canadian since the day one," he told the BBC.
His homeland is in ruins, and he has spent more than a decade away from his loved ones.
Mr al-Kontar's arrival in his adopted hometown of Whistler, in British Columbia (BC) had been preceded by a sojourn that saw him bouncing between countries before becoming stranded at the Kuala Lumpur airport.
He had gone to Malaysia in 2017 from United Arab Emirates, where he had been working since before 2011, but was kicked out after his visa expired.
Unable to return to Syria, where he would have likely been conscripted into the army or imprisoned amidst its civil war, he went to one of the few countries in the world that allows Syrians to enter the country without a visa and stay for 90 days.
When that grace period expired, he tried to enter Ecuador and then Cambodia, but to no avail.
Cambodian officials confiscated his passport and sent him back to Malaysia, leaving him stateless.
No country would let him in, and Mr al-Kontar resigned himself to stay in the airport for the long haul.
Over seven months at Kuala Lumpur International Airport, he began to tweet out video diaries, helping connect his own personal predicament to the broader crisis affecting millions of displaced Syrian refugees. Some 6.8 million people have fled the country since 2011.
The videos propelled him to international fame, and his story garnered the attention of three Canadians who stepped in to help.
The Canadian government allows private groups and individuals to sponsor refugees, by raising funds to cover the first year of their lives in Canada and providing social support.
The BC Muslim Association agreed to sponsor Mr al-Kontar, while the trio of Good Samaritans lobbied the Canadian government and Malaysian officials to let him come to the country. Meanwhile, he spent two months in a Malaysian refugee detention centre, where he said he was interrogated hundreds of times.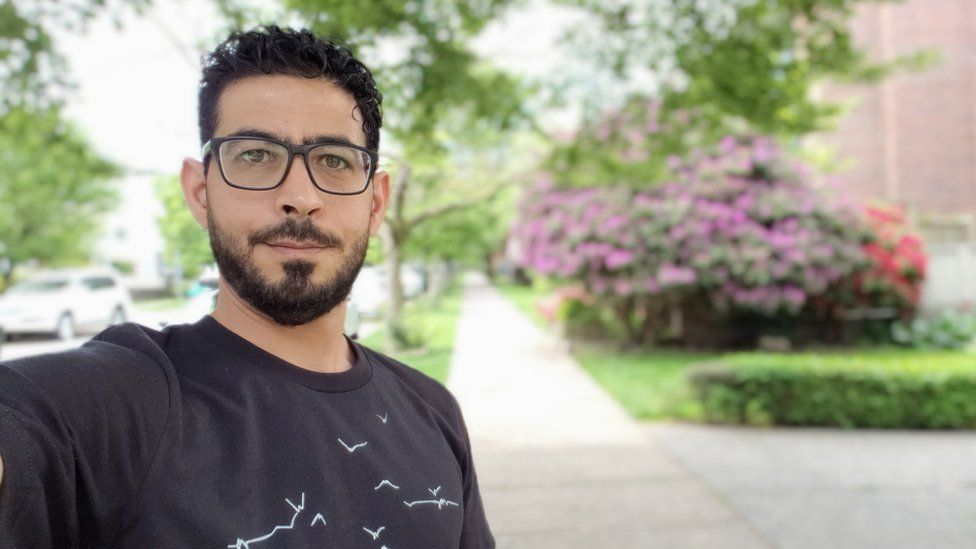 Last year, from his home in Canada, he was able to help his family move from Syria – where he said there was no medicine and no food – to Egypt.
But in the 15 years since he has been away, he missed the birth of his niece, and the death of his father in 2016.
"It cost me a father, I was not there to say goodbye to him when he needed me the most. So that is what this day means to me," he said of his naturalisation on Wednesday.
Mr al-Kontar previously told the BBC that, when he landed on Canadian soil, he knew he was home: "The minute I put a foot in Vancouver airport, I felt the difference."
Since then, he has continued to raise awareness for the plight of refugees around the globe, wrote a book about his ordeal, and began working for the Canadian Red Cross. During Covid, he helped with the province's mobile vaccination efforts.
"I think I saw more BC than a lot of Canadians," he said.
He has worked hard to better himself, taking dozens of online courses, and has been promoted to work in flood recovery, he said.
For four years, he was stateless, which made travel basically impossible. Now that he can apply for a Canadian passport, he hopes he can travel to other countries to help other refugees who are displaced.
"As a refugee, we are not only people who are trying, seeking help, powerless, hopeless people," he said. "We are actually trying to find an opportunity to prove ourselves."
COVID: Canada retaining Evusheld – CTV News
While Health Canada says it is "aware" of the U.S. decision to withdraw the emergency use of Evusheld, a drug by AstraZeneca used to help prevent COVID-19 infection— the agency is maintaining its approval, citing the differences in variant circulation between Canada and the U.S.
The U.S. Food and Drug Administration (FDA) announced on Jan. 26 that its emergency use authorization of the drug was pulled due to its inefficacy in treating "certain" COVID-19 variants.
The FDA stated in a release on its website that as the XBB.1.5. variant, nicknamed "Kraken", is making up the majority of cases in the country, the use of Evusheld is "not expected to provide protection" and therefore not worth exposing the public to possible side effects of the drug, like allergic reactions.
In an email to CTVNews.ca, Health Canada said the U.S. Food and Drug Administration pulled the drug as the main variant of concern in the U.S. is XBB.1.5.
"Dominant variants in the [U.S.] may be different from those circulating in Canada," the federal agency said in an email. "The most recent epidemiological data in Canada (as of January 1, 2023) indicate that BA.5 (Omicron) subvariants continue to account for more than 89 per cent of reported cases."
On Jan. 6 the FDA said in press release that certain variants are not neutralized by Evusheld and cautioned people who are exposed to XBB.1.5. On Jan. 26, the FDA then updated its website by saying it would be limiting the use of Evusheld.
"Evusheld is not currently authorized for use in the U.S. until further notice by the Agency," the FDA website states.
On Jan. 17, Health Canada issued a "risk communication" on Evusheld, explaining how it may not be effective against certain Omicron subvariants when used as a preventative measure or treatment for COVID-19.
"Decisions regarding the use of EVUSHELD should take into consideration what is known about the characteristics of the circulating COVID-19 variants, including geographical prevalence and individual exposure," Health Canada said in an email.
Health Canada says Evusheld does neutralize against Omicron subvariant BA.2, which according to the agency, is the dominant variant in many communities in Canada.
The drug was introduced for prevention measures specifically for people who have weaker immune systems and are unlikely to be protected by a COVID-19 vaccine. It can only be given to people 12 years and older.
"EVUSHELD is not a substitute for vaccination in individuals for whom COVID-19 vaccination is recommended," the agency's website reads.
Health Canada says no drug, including Evusheld, is a substitute for vaccination.
Alberta Justice spokespeople deliver duelling statements on prosecutor email review
An email probe into whether Alberta Premier Danielle Smith's office interfered with Crown prosecutors took a confusing turn Friday after two government spokespeople delivered duelling statements that raised questions over how far back the search went.
The review was ordered by Smith a week ago to respond to allegations in a CBC story that reported a staffer in the premier's office emailed prosecutors last fall to question decisions and direction on cases stemming from a blockade at the Canada-U. S. border crossing at Coutts, Alta.
The Justice Department said Monday it had done a four-month search of ingoing, outgoing and deleted emails and found no evidence of contact.
Two days later, Alberta Justice communications director Charles Mainville said in a statement that deleted emails are wiped from the system after 30 days, meaning the search for deleted emails may not have covered the entire time period in question.
On Thursday night, Ethan Lecavalier-Kidney, a spokesman for Justice Minister Tyler Shandro, responded to questions about Mainville's statement. He said while emails are deleted after 30 days, they live on in the system for another 30 and could have been checked that far back by investigators.
"For example, if an email was deleted on Oct. 17, 2022, the email would no longer be accessible to the user as of Nov. 16, 2022, but would continue to be available to our investigation team until Dec. 16, 2022," said Lecavalier-Kidney in his statement.
A 60-day search would have stretched back to late November, capturing all but the first six weeks of Smith's United Conservative Party government. Smith was sworn in as premier on Oct. 11.
But while Lecavalier-Kidney's statement said investigators could go back 60 days, it did not state that they did so, leaving confusion on how far back they went.
When asked Friday to clarify whether investigators went back 30 or 60 days on the deleted emails, Lecavalier-Kidney did not respond to questions while Mainville reissued the original statements in an email.
The government has also delivered conflicting messages on who was investigated in the review.
Smith promised that emails from all Crown prosecutors and the 34 staffers in her office would be checked.
However, the Justice Department later said emails between "relevant" prosecutors and Smith staffers were checked. It did not say how it determined who was relevant.
The Coutts blockade and COVID-19 protest at the border crossing last year saw RCMP lay charges against several people, ranging from mischief to conspiracy to commit murder.
Smith has said she did not direct prosecutors in the Coutts cases and the email review exonerated her office from what she called "baseless" allegations in the CBC story.
The CBC has said that it has not seen the emails in question but stands by its reporting.
The Opposition NDP said questions stemming from the CBC story, coupled with multiple conflicting statements from the premier on what she has said to Justice Department officials about the COVID-19 cases, can only be resolved through an independent investigation.
Smith has given six versions in recent weeks of what she has said to justice officials about COVID-19 cases.
Smith has said she talked to prosecutors directly and did not talk to prosecutors directly. She has said she reminded justice officials of general prosecution guidelines, but at other times reminded them to consider factors unique to COVID-19 cases. She has also suggested the conversations are ongoing and that they have ended.
She has attributed the confusion to "imprecise" word choices.
Smith has long been openly critical of COVID-19 masking, gathering and vaccine mandate rules, questioning if they were needed to fight the pandemic and labelling them intolerable violations of personal freedoms.
She has also called those unvaccinated against COVID-19 the most discriminated group she has seen in her lifetime.
Last fall, Smith said charges in the cases were grounded in politics and should be open to political solutions. But she recently said it's important to let the court process play out independently.
This report by The Canadian Press was first published Jan. 27, 2023.
Trudeau government dropped the ball on fighting abuse in sport, former minister says
A Liberal MP and former sport minister is again calling for a public inquiry into abuse in sport — and is accusing her own government of not doing enough to tackle the problem.
Kirsty Duncan said the government of Prime Minister Justin Trudeau failed to build momentum behind her efforts to prevent harassment, abuse and discrimination in sport in the years after she left cabinet — despite knowing a lot about the problem well before Hockey Canada's handling of sexual assault allegations exploded in the news last year.
Duncan said she even faced "pushback" from people within her own government when she made tackling abuse a top priority of her time as sport minister.
Duncan said she would not identify the individuals who resisted her efforts, or state whether they were in her own office or other government departments.
"It should not be a fight. I'm asking for the protection of athletes and children. There should never have been pushback," Duncan told CBC News in an exclusive interview.
"I will not stand idly by while there are athletes, children and young people hurting in this country. And I do not accept the status quo. And if I do not push for an inquiry, it means accepting the status quo. And I will not be complicit."
On Thursday, Duncan announced she's taking medical leave effective immediately on the advice of doctors to deal with a physical health challenge.
Duncan was not re-appointed to cabinet by Trudeau after the 2019 election. She was instead appointed deputy House leader for the government.
Trudeau dropped the position of sport minister from cabinet at the time and folded Duncan's responsibilities into the portfolio of the heritage minister, Steven Guilbeault.
Guilbeault's ministerial mandate letter — which outlined his key policy objectives — charged him with fostering a culture of safe sport.
'Other priorities'
In response to questions from CBC about the progress Guilbeault made on that mandate, his office pointed to a Sport Canada timeline of safe sport initiatives in the country.
The department launched a call for proposals to implement a new independent safe sport mechanism in 2020. In July 2021, Guilbeault announced that the Sport Dispute Resolution Centre of Canada (SDRCC) would receive up to $2.1 million to set up a new mechanism to oversee implementation of a new universal code of conduct in sport.
A senior government source with knowledge of Guilbeault's portfolio concedes "other priorities required more attention" when he was heritage minister. Guilbeault's legislative priorities at the time including confronting online abuse, digital streaming regulation and copyright reform.
The source, who spoke to CBC News on the condition of confidentiality, said the department's priorities shifted when the pandemic hit in March 2020, just four months after Guilbeault was appointed minister. The source said they "totally understand" Duncan's claim that more could have been done on safe sport.
"Since 2016, our government has worked with the sport community to advance a respectful sport culture and respond to calls for action," Guilbeault's office wrote in an email to CBC News.
Former sport minister and Liberal MP Kirsty Duncan says leaders in sports 'welcome scrutiny."
Duncan said she felt her safe sport initiatives were not given the attention they deserved after she left the office.
"There was nothing in place. There was literally nothing. There didn't even seem to be policies. Some had policies, some didn't," she said. "Where was the oversight? Where was the accountability?
"I think what we've seen over the last four years, and we've certainly seen this summer, is that there remains a hugely disappointing resistance to change."
Current Sport Minister Pascale St-Onge was asked about Duncan's claim that the government isn't doing enough to protect athletes in the country.
"I can tell you that we're taking it extremely seriously," she told CBC News.
"That's why we've invested $16 million in the last budget just to create the Office of the Sport Integrity Commissioner, because we felt it was so important to have that independent mechanism. I'm also making it mandatory for all nationally funded organizations to sign up with those before the next funding cycle.
"So any organization that hasn't protected their athletes by signing up with OSIC will no longer receive the whole funding. That's the strongest tool that I have. So yes, we are taking this extremely, extremely seriously."
Sports Minister Pascale St-Onge says her office made it mandatory for nationally funded organizations to sign up with the Office of the Sport Integrity Commissioner in order to receive government funding.
Just weeks after Duncan was named sport minister in January 2018, an investigation by CBC News revealed that at least 222 coaches involved in amateur sports over 20 years had been convicted of sex offences involving over 600 victims under age 18.
Duncan — a former gymnast who said she experienced emotional and psychological abuse herself as an athlete — said she was shaken by that report.
She introduced a number of measures — "broad strokes," she calls them now — such as a third-party investigation unit and a national toll-free confidential helpline for victims and witnesses of abuse in sport. She also brought territorial and provincial sport ministers together in February 2019 to sign a declaration aimed at tackling and preventing harassment, abuse and discrimination in sport.
"I knew I had to address the grassroots. That's where most athletes will spend their life," Duncan said.
"Safe sport needs to be on every federal, provincial, territorial meeting year after year after year, with real goals and deliverables. I talked a lot about numbers. How can we address a problem if we don't know what that problem looks like?"
Reluctance in government
In the 2019 federal budget, the government committed $30 million over five years "to enable Canadian sports organizations to promote accessible, ethical, equitable and safe sports."
But Duncan says there was a climate of resistance to policies she was introducing, both within and outside the government.
"I don't think people understood the problem. There wasn't a lot of interest in Parliament. I asked what we were doing and I was told that we had to stop this safe sport stuff and get back to what sport was really about," she said, referring to celebrating sporting achievements.
"My answer was, 'So not protecting children?'"
CBC News reached out to the Prime Minister's Office but they declined to comment.
Liberal MP Kirsty Duncan says there shouldn't be any "pushback" from organizations over investigating claims of abuse from athletes.
Duncan said a three-page letter sent by Hockey Canada to one of her senior policy advisers reflects the tone of the opposition she faced.
The letter, first reported by the Canadian Press, was written by Glen McCurdie, then Hockey Canada's vice-president of insurance and risk management. In it, McCurdie expressed concern about some of the policies Duncan was pursuing, including the third-party investigation unit.
Duncan said she never saw the letter four years ago and only read it for the first time this past summer, when the Hockey Canada controversy was playing out.
"Hockey Canada does not wish to be encumbered by a system or process that ties our hands and does not allow us to manage a situation as we deem necessary. We are simply asking that you keep this in mind as you continue to lead us in a collective Safe Sport strategy," McCurdie wrote in the letter, which was also obtained by CBC News.
Duncan said she was frustrated in 2019 by Hockey Canada's reluctance and remains just as frustrated today.
"Hockey Canada pushed back against a third party investigator and a safe sport helpline. Who would do that?" she said. "Who wouldn't want a child to be able to pick up a phone and say, 'I've had a problem'?
"I think people want to sweep this under the rug. I think people want to move on. And we can't."
In an email to CBC, Hockey Canada said the 2019 letter does not reflect the organization's current thinking or direction.
"Hockey Canada recognizes that we need to do more to foster a safe and positive environment for all participants on and off the ice," the organization wrote.
Hockey Canada said the organization participated in the government's safe sport helpline and hired third-party investigators to look into the claims it received. Hockey Canada became a full signatory in October 2022 to the Office of the Sport Integrity Commission, which is now responsible for overseeing and investigating allegations of abuse in sport.