The Best Public Art of 2021 – Artsy
"This fall, in the throes of the COVID-19 Delta variant outbreak in the United States, within a country struggling with the weight of an unfathomable collective grief and battling through pernicious anti–public health propaganda, artist installed her monumental In America project on the National Mall in Washington, D.C. The premise: Firstenberg and a team of associates planted small, palm-sized white flags en masse, each representing a life lost to the COVID-19 pandemic. The flags were placed on thin wires, installed by piercing the ground and in turn blanketed the north lawn around the Washington Monument.
"A year before, Firstenberg first carried out an earlier version of this project in the area surrounding RFK Stadium, an iteration that conjured the nearby Arlington National Cemetery. Just as Firstenberg had done in her previous iteration at RFK, passersby on the National Mall were invited to dedicate single flags to loved ones and friends killed by the pandemic by writing messages to them. In carrying out this project on the National Mall, Firstenberg elevated the stage of her work, focalized the scale and pain of the pandemic in the heart of the symbolic core of the nation, and created a place and archive of images necessary for mourning and connection in the midst of mass compounding loss.
"Sweeping views of the installation could be seen covering much of the grassy footprint around the Washington Monument, rising to over 700,000 flags by the end of the temporary installation. Sited at the edge of Constitution Avenue, between 15th and 17th Streets Northwest, the installation of flags was framed by nearby monuments and museums, the White House, and a large somber billboard on which the national death toll was updated each day. This feature was as photogenic as it was necessary to ground this artwork as part memorial and part indictment. Adding to this, for those seeing the installation from up close, you could find a small, pointed section of flags near the main sign highlighting the cumulative death toll of New Zealand (27), a country that took an early stringent approach to confront the pandemic, next to a collection of flags representing what the cumulative death toll 'could have been' if the United States had 'adopted New Zealand's approach' (1,809). These details pushed this temporary installation with enduring perspectives and sightlines, in grand and granular ways.
"One afternoon in September, I took my students from the nearby Corcoran School of the Arts and Design at the George Washington University for a tour of the Mall that closed with a visit to In America. We plotted our approach from the steps of the Lincoln Memorial, where we happened to see White House helicopters encircle the area above the installation. We later learned that it was President Biden viewing the memorial from above. Minutes later, when we approached the installation from ground level, we stopped to listen to the sound of the breeze working its way through the sea of flags, flapping and clamoring, harkening and haunting. We eventually split up, as my students moved through the massive installation. We all lost one another for minutes at a time, snagged by the handwritten note on a particular flag, ruminated on another viewer's reaction, or swept up in the entirety of the project and this pandemic. When we found one another again, just before sunset by the billboard sign, we gathered to pause and take in what we went through together. There, we could feel the rush and release of grief and glimpsed a prospect of accountability."
—Paul Farber
The art of Katherine McNenly: An enduring gift to generations – CTV Edmonton
In her Almonte home and studio, an artist sits face to face with the subject of her latest portrait.
It's a young girl. Her gaze is fixed and serious; her wide, dark eyes focused on the painter before her.
The girl isn't actually in the room, although the image on the canvas is so strikingly real, it feels like she could be.
In reality, she is a creation; a timeless treasure brought to life by the gifted brush of Katherine McNenly.
"It's something much more than a photograph. It's something that's going to endure," McNenly said.
"It's a piece of history. It's going to last. It could be in your family for generations."
McNenly is an award-winning portrait and still life artist. She is an ardent observer of the living and inanimate, capturing, on canvas, the people and things we love.
"I think it's trying to get people to stop and slow down and just look at something for a few moments and maybe think about the miracle of what you're looking at," she said.
"For me, it's the just the beauty of looking at these objects and people. You're bringing them to light. It's almost like magic."
The magic began for McNenly during childhood. A lifelong drawer and painter, she studied fine art in the 1980's at York University during the day, and took night classes with an English portrait painter living in Toronto.
"It was really amazing to get that foundation which is really what I wanted," said the artist.
McNenly typically paints from photographs she takes herself. Meeting subjects in person is often a valuable part of her process.
"I prefer that so I have an interaction with them and get to know them before doing the portrait. So, even though you're doing a likeness, you're also trying to capture something of their personality," said McNenly.
At International competitions, featuring works from thousands of artists, McNenly's pieces have received top honours from the Portrait Society of America.
She is frequently commissioned; her larger, more detailed requests often taking several months to complete.
McNenly's still life pieces are equally demanding. She painstakingly sets up each one, working to capture the seemingly ordinary, while elevating it to something worthy of our interest and focus.
"I like the challenge of painting these inanimate objects from life, usually with natural light, and trying to find all the variations in light and shape and form and colour. There's almost a feeling of air of movement, like it's vibrating," said McNenly.
McNenly is also a gifted landscape painter. In warmer weather, she loves venturing into the great outdoors to find her next piece.
"I like to do plein air. It's wonderful to be outside in nature and painting it.
Despite McNenly's years at the easel, and her commitment to excellence, the artist confesses to never being fully satisfied with the outcome.
"With every painting, I always feel disappointed in the end. I feel it's not good enough. I need to keep going."
And Katherine McNenly will, fuelled by the faces she's yet to meet, and the art she was born to create.
"I don't think I'll ever stop. Every time, it's something brand new again, so you're always feeling this passion."
The art of Katherine McNenly can be viewed on her website or at General Fine Craft in Almonte. Her work will also be exhibited, along with other artists, at a show on April 23-24 at the Mississippi Valley Textile Museum in Almonte.
City applying for grant to fund temporary downtown art exhibit – Energeticcity.ca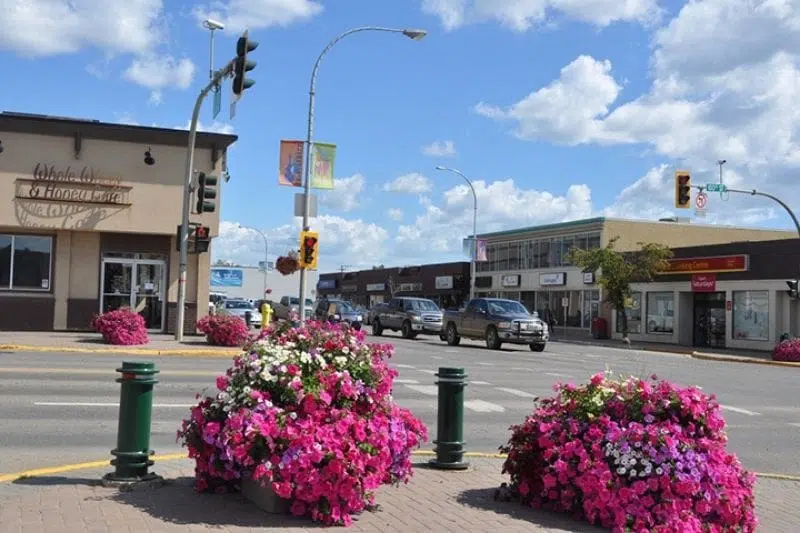 The city is hoping the exhibit will encourage more residents to go downtown and visit its businesses in the process while celebrating "the reconnection of our communities in the aftermath of the
pandemic."
"This project directly supports free, accessible delivery of arts and culture programming to the community while enhancing the downtown core," said a January 24th report for council.
The city can apply for up to $100,000 and must do so before the end of March 2023.
Council directed staff to apply for the grant on Monday, January 24th.
Collaborative art exhibition explores grief at GV – Grand Valley Lanthorn – Grand Valley Lanthorn
The Grand Valley State University Art Gallery hosted a brand new exhibition Thursday with "Sorrow/Fullness: A Reflection on Mourning." This is a metalsmithing showcase that takes a look at grief and loss through the lens of reflection and celebration. The exhibition was a collaboration between three metalsmith artists, including Sue Amendolara, Adrienne M. Grafton and GVSU professor Renee Zettle-Sterling.
Amendolara and Grafton were unable to attend but it was ultimately a success, with an extremely positive reception from those who attended.
"I just wish that Sue and Adrienne could have been there with me," Zettle-Sterling said. "I felt that people were receptive to the work and the ideas surrounding the show. I received a lot of questions and interest seemed to be positive."
The showing was a big deal for the artists, as it saw them return to a world where their work could be viewed by spectators in person. Zettle-Sterling said that the energy that surrounds a live show just does not compare to online showings.
"I am feeling very lucky that the show is able to be seen in a live setting," Zettle-Sterling said. "I have been in several shows that have been forced to be online exhibitions and it's just not the same. It reminds me of teaching online versus teaching in person; it's just not the same and lacks soul."
Grafton was happy to return to showing in person as well, as the coming together of artists to show and discuss efforts was her favorite aspect of pre-COVID exhibitions. She was also grateful for the precautions and actions taken by GVSU in order to best showcase the project.
"It was truly wonderful to be with friends and family again at our opening back in October at the Erie Art Museum," Grafton said. "When the pandemic hit, one of the things I missed the most was art openings and museums. I absolutely love gathering with artists and looking at and discussing work. With the latest rise in COVID-19, it again feels intimidating to get together, but, I'm very pleased with the online presence GVSU has created to showcase this exhibition."
"Sorrow/Fullness" explores the realm of grief and loss, with a special focus on celebrating the lives of lost loved ones and the experiences shared with them. The art pieces have a very personal connection to the artists, as they were inspired by the lost loved ones in their own lives.
Grafton's work was inspired by her mother, who passed away in 2014. The event was something that touched her deeply, ultimately inspiring the pieces shown in "Sorrow/Fullness."
"A few years after her passing I began using the grief as a source of inspiration for the body of work in the show," Grafton said. "The work for me is about the passing of time and memories. I use recognizable imagery to tell stories about my emotions and experiences. In my piece titled "Residue," I've taken my mom's old used makeup and dipped it in plaster. The fragile shell encases the things she touched every day that were an important part of her daily routine."
Amendolara's work for the project was also inspired by the loss of her parents. She said that her focus was to celebrate the experiences she had with them and to continue them with surviving family members.
"As a child, I spent a lot of time in my parent's interior design studio looking at fabrics, wallpapers, antiques, etc.," Amendolara said. "I loved talking with my father about projects he was working on, and it was these experiences that led me to become a craftsperson."
Working with different materials led Amendolara to create the piece she made for this exhibit. She took pieces that were personal to her and her loved ones to turn it into something else.
"I made a pair of upholstery scissors using cast flowers from my mother's funeral bouquet," Amendolara said. "The scissors are deconstructed, suggesting lingering grief or the inability to heal. The scissors rest on a small quilt made from silk from my wedding dress; a reference to family."
Coming together to work through grief collectively is a powerful and healing concept that really flourished with "Sorrow/Fullness." It brought people from all over to experience the grief of the artists as a way to get through their own. Each of the artists hopes all who come to view their work are helping to use it to cope with their personal situations and hopefully broaden the conversation surrounding grief and loss.
The exhibition will be on display at the Haas Center for Performing Arts Gallery until April 1, 2022. For more information on the project and each of the artists, visit the GVSU Art Gallery website here.