Toronto, Edmonton to serve as NHL hubs – Winnipeg Free Press
Lucky us, eh?
On a day we celebrated all that we love about the true north strong and free, it was fitting the National Hockey League decided the only way to hold the Stanley Cup playoffs this summer was to do so entirely here in the land of poutine, Beaver Tails and maple syrup.
COVID-19 is out of control in many American locales, including Las Vegas, which had been the runaway favourite to be chosen as a so-called hub city until the surging number of cases over the past week became impossible to ignore.
I don't care how tight the so-called bubble for teams is going to be, choosing to bring people into a pandemic hot spot would have been reckless at best and, at worst, criminally negligent.
The NHL can be truly ridiculous at times — see last week's draft lottery debacle as Exhibit A — but they're definitely not that dense. And so we're down to Edmonton and Toronto, which make a lot more sense than anywhere south of the border (Sin City, Los Angeles and Chicago were also on the short list, with the NHL initially wanting one hub in each country).
Both cities have checked off all the requisite boxes for both the league and its players. That includes getting the federal government to waive the mandatory 14-day quarantine for those coming from outside the country in a glaring example of how money talks and sports often calls the shots when it comes to policy and procedures that wouldn't apply to the rest of us lowly citizens.
A note of caution: Vancouver was the hub city of choice until Dr. Bonnie Henry, the provincial health officer, wouldn't kowtow to the league's demands regarding contact tracing. Good on Henry for refusing to budge, and shame on the NHL for trying to change what made B.C. a prime location in the first place.
That fact alone should have everyone's Spidey senses tingling about this whole process, which really boils down to the almighty dollar and stopping the financial bleeding.
All of this is the result of many long days, and nights, of negotiations between the NHL and NHLPA that spilled into Canada Day, which is always a marquee date on the hockey calendar reflecting the start of free agent frenzy, but took on an entirely different look this time around.
An announcement about a tentative agreement on all return-to-play protocols including training camp and the unprecedented 24-team tournament is imminent.
Expect some spirited debate, as many players are said to be less than thrilled at all of this. But the alternative is likely worse, which is why it should ultimately get approved once they vote, likely this weekend, and things can quickly ramp up.
Details on how this will play out have begun to emerge. Barring an unexpected, last-minute development, all Western Conference teams including the Winnipeg Jets will participate in empty-arena, made-for-TV games in Edmonton. All Eastern Conference teams will do the same in Toronto. There will be extensive health and safety protocols. Players will be allowed to opt out. Training camps should begin in all home markets by mid-July, with the puck dropping on play by the end of the month and continuing into early October.
Perhaps the most surprising development in all of this isn't that they've found a way to play, which seemed inevitable from the start. No, it's that a lengthy extension of the collective bargaining agreement is being wrapped in, including a new financial framework for players and owners and apparent Olympic inclusion in both 2022 (Beijing) and 2026 (Italy).
That's a significant step given the ugly labour history this century, especially in the midst of such uncertain times. And great news for those pining to see a return of best against best on an international stage, which was sorely missing from the 2018 Winter Games in South Korea.
Kudos to the league and players for putting aside past differences and finding common ground and a path forward. The last thing a sports fan wants to stomach is yet another lockout where wealthy players and wealthier owners fight over money. Been there, done that, bought the T-shirt. Wouldn't recommend. Zero stars.
So, yes, hockey is back. Almost. Kind of, even if the NHL of the immediate future will look nothing like the NHL of the recent past. Winnipeg vs. the Calgary Flames playing in August inside an empty Rogers Place in Edmonton, just like we all saw coming.
It's still hard to fathom we're at this stage, considering the global health crisis is much bigger than at the time sports paused in mid-March. Remember when one single NBA player, Rudy Gobert, got COVID-19 and that was enough to bring games across North America to a screeching halt?
Now we have 25 NHL players already testing positive during informal skates in June and most barely bat an eye. The one big difference, of course, is the bubble environment that will be created, in consultation with health experts, which the league believes can mitigate potential spread, including within the hub cities, which should at least get a modest economic boost by being hockey hosts for a couple months.
They better be right. To which I'd say good luck to all involved, as Edmonton and Toronto will be opening their doors to a great unknown. The last thing we want to see is the kind of inept bungling that has made our U.S. neighbours the epicentre of the pandemic. As much as I can't wait to cover live hockey for you readers once again, it can't come at the expense of public safety.
Oh Canada? Or woe, Canada? It remains to be seen.
mike.mcintyre@freepress.mb.ca
Twitter: @mikemcintyrewpg
Mike McIntyre
Reporter
Mike McIntyre grew up wanting to be a professional wrestler. But when that dream fizzled, he put all his brawn into becoming a professional writer.
Raptors' McCaw leaves bubble for treatment – TSN
LAKE BUENA VISTA, Fla. — The Toronto Raptors will be without guard/forward Patrick McCaw for the foreseeable future as he seeks treatment for a reoccurrence of a benign mass on the back of his left knee.
The Raptors said in a statement Friday that McCaw will leave the NBA's campus at ESPN's Wide World of Sports complex near Orlando, Fla., and will be seen by Dr. Riley Williams at the Hospital for Special Surgery in New York to determine a course of action.
McCaw saw Williams for the same condition in November.
The Raptors said there is no timetable yet for McCaw's return, and added an update on his status will be provided when appropriate.
Toronto is not able to replace McCaw on the NBA's campus with another player, so the team's roster stands at 16.
McCaw appeared in 37 games for the Raptors this season, averaging 4.6 points, 2.3 rebounds and 2.1 assists in 24.5 minutes. The 24-year-old had not appeared in any of the Raptors games since the team relocated to the NBA's bubble, where the league is playing out the remainder of its season in isolation due to the COVID-19 pandemic.
Toronto had not lost a seeding game in the bubble heading into a game Friday against Boston.
Game Preview 4.0: Edmonton Oilers vs Chicago Blackhawks (4:45pm MT, SNW) – Oilers Nation
The 2020 Stanley Cup playoffs are unlike anything we've ever experienced. The qualifying round isn't technically the playoffs, but the stats will be and the feeling of agony and elation after winning a playoff series will be the exact same.
Tonight, six teams face elimination on the same day. The Florida Panthers, Nashville Predators, Pittsburgh Penguins, Minnesota Wild, Toronto Maple Leafs and Edmonton Oilers need a win to force a fifth and deciding game.
How many will win? How many will lose?
.in-article-ad-container:after
content: "";
display: flex;
border-bottom: .0625rem solid #999;
margin: .8125rem .938rem 0;
.before-ad-text
font-family: Barlow Semi Condensed,Helvetica,Arial,sans-serif;
font-size: 11px;
line-height: 1.2;
text-transform: uppercase;
color: #383838;
letter-spacing: .008em;
display: flex;
flex-direction: row;
justify-content: center;
text-align: center;
margin: 0 0 .625rem;
.before-ad-text:after
background-color: #999;
content: "";
flex-grow: 1;
height: 1px;
position: relative;
top: 5px;
.before-ad-text:before
background-color: #999;
content: "";
flex-grow: 1;
height: 1px;
position: relative;
top: 5px;
We've seen this many teams on the chopping block on the same day before.
On April 12th, 1988 six teams faced elimination: Hartford, Washington and Toronto won, but the Whalers and Maple Leafs lost game six, while Washington defeated Philadelphia in seven games.
Chicago, Los Angeles and Winnipeg lost.
On April 12th, 1986 six teams faced elimination and all six lost — the day with the most handshakes in NHL history. All six were swept three straight.
.in-article-ad-container:after
content: "";
display: flex;
border-bottom: .0625rem solid #999;
margin: .8125rem .938rem 0;
.before-ad-text
font-family: Barlow Semi Condensed,Helvetica,Arial,sans-serif;
font-size: 11px;
line-height: 1.2;
text-transform: uppercase;
color: #383838;
letter-spacing: .008em;
display: flex;
flex-direction: row;
justify-content: center;
text-align: center;
margin: 0 0 .625rem;
.before-ad-text:after
background-color: #999;
content: "";
flex-grow: 1;
height: 1px;
position: relative;
top: 5px;
.before-ad-text:before
background-color: #999;
content: "";
flex-grow: 1;
height: 1px;
position: relative;
top: 5px;
Hartford defeated Quebec.
Montreal spanked Boston.
Washington beat the New York Islanders
Toronto swept Chicago.
Edmonton pounded Vancouver.
Calgary downed Winnipeg.
April 13th, 1985, had seven teams facing elimination and five of them lost. Only Calgary and Buffalo won, but they ended up losing in four and five games respectively.
Edmonton has never lost game four in a best of five series. However, this is only the second time the Oilers have played a fourth game in a best-of-five series. Of their seven previous five-game series, they swept five of them, were swept once and lost in five games to the Los Angeles Kings in 1982.
I know history has very little to do with tonight, but it is always fun to look back at past series.
The Oilers are 13-16 all time when facing elimination.
In 2006 they won game five and game six of the Stanley Cup Finals to force a game seven.
.in-article-ad-container:after
content: "";
display: flex;
border-bottom: .0625rem solid #999;
margin: .8125rem .938rem 0;
.before-ad-text
font-family: Barlow Semi Condensed,Helvetica,Arial,sans-serif;
font-size: 11px;
line-height: 1.2;
text-transform: uppercase;
color: #383838;
letter-spacing: .008em;
display: flex;
flex-direction: row;
justify-content: center;
text-align: center;
margin: 0 0 .625rem;
.before-ad-text:after
background-color: #999;
content: "";
flex-grow: 1;
height: 1px;
position: relative;
top: 5px;
.before-ad-text:before
background-color: #999;
content: "";
flex-grow: 1;
height: 1px;
position: relative;
top: 5px;
In 2017 they won game six against the Ducks to force game seven.
They are not concerned or focused on game five. It is all about tonight, and the Oilers core has been in this situation before.
In 2017 they crushed the Ducks 7-1 in game six.
Leon Draisaitl, Connor McDavid, Ryan Nugent-Hopkins, Oscar Klefbom, Darnell Nurse, Kris Russell, Matt Benning and Zack Kassian played in that game.
Draisaitl was an absolute force, scoring 3-2-5, while Mark Letestu chipped in with 2-2-4.
The Oilers crushed the Ducks and McDavid didn't have a point. I'm expecting McDavid to have a major impact tonight.
.in-article-ad-container:after
content: "";
display: flex;
border-bottom: .0625rem solid #999;
margin: .8125rem .938rem 0;
.before-ad-text
font-family: Barlow Semi Condensed,Helvetica,Arial,sans-serif;
font-size: 11px;
line-height: 1.2;
text-transform: uppercase;
color: #383838;
letter-spacing: .008em;
display: flex;
flex-direction: row;
justify-content: center;
text-align: center;
margin: 0 0 .625rem;
.before-ad-text:after
background-color: #999;
content: "";
flex-grow: 1;
height: 1px;
position: relative;
top: 5px;
.before-ad-text:before
background-color: #999;
content: "";
flex-grow: 1;
height: 1px;
position: relative;
top: 5px;
As long as Dave Tippett plays him more. McDavid is averaging 20:58/game thus far. That is 22nd among forwards in the playoffs.
Get him on the ice more often.
I realize he plays the first shift after penalty kills, but I'd even look at getting him out for the final 20 or 30 seconds of a kill. You can't tell me Kailer Yamamoto is that better of a penalty killer.
The Oilers need to stay out of the box, not only because it increases the chances they allow a goal, but it also decreases the ice time of their best player.
But ultimately Tippett must find ways to get McDavid on the ice more tonight. He played 21 minutes in game three. He can easily handle 23 or 24 tonight.
MOTIVATION…
The players shouldn't need motivation tonight. They know what is at stake.
But if they are looking for some humour and excitement to ease the tension, then they should watch some of the greatest motivational speeches in movie history.
Start with a laugh from John Blutarsky in Animal House.
Who can forget the late, great Herb Brooks' speech in Miracle. "Great moments are born from great opportunity…."
Or how about the legendary Inch by Inch speech from Tony D'Amato from Any Given Sunday.
Maybe McDavid should show this to Zack Kassian. Get him amped up.
And Tippett should end with this classic from Reggie Dunlop with some help from the Hansen brothers…"That's what were here for guys…To WIN."
Now you're ready.
LINEUP…
Oilers
The Oilers didn't have a media avail, but we know Tyler Ennis is out for sure. I'm told Adam Larsson is questionable again. Will Tippett make significant changes, or just a few and insert Gaetan Haas into the lineup? I believe Haas will play his first playoff game.
Possible options:
Neal-McDavid-Chiasson
RNH-Draisaitl-Yamamoto
Athanasiou-Sheahan-Archibald
Khaira-Haas-Kassian
I would consider Haas on RW and keep Khaira at centre as he's been better there than on the wing. I'd reunite the Draisailt line, and put McDavid with Neal and Chiasson, who have played well.
The other option is to just keep Athanasiou with Draisaitl and Yamamoto, insert Haas with Sheahan and Kassian and keep the first and third lines the same.
Nurse-Bear
Klefbom-Russell
Jones-Benning
Kris Russell played excellent on the right side last game. He was more effective than Larsson had been in games one and two. Klefbom, Russell and Nurse each have six shots on goal, while Bear only has two. I'd like Bear to get a few more pucks through, but the Oilers defence has 24 shots on goal in the series and the Blackhawks defenders have 25. The difference is the Hawks blueline has 3-8-11 while Edmonton has 0-4-4.
Smith/Koskinen.
I see reasons to start both. Smith is a gamer. He's highly competitive, brings energy to a somewhat quiet group and after a poor performance this season he played very well his next game. Except in December when he struggled for four consecutive starts.
October 27th. Pulled after three goals on 13 shots. .769SV%. Loss to Florida.
October 30th. Stops 23 of 24 shots (.958Sv%) in a victory over Columbus
November 12th…Allows six goals on 25 shots (.760Sv%) in loss to San Jose.
November 14th… Stops 31 of 33 shots (.939) in win over Colorado.
November 21st…Allows three goals on 12 shots (.750Sv%) gets pulled in loss to LA.
November 23rd…Stops 25 of 27 shots (.926) in win over Vegas.
Between November 30th to December 20th he had four starts and struggled posting a SV% of .868, .864, .769 and .840.
January 2nd…Allowed three goals on 26 shots (.885) in OT loss to Sabres.
January 4th. Stops 35 of 36 (.972) in win over Boston.
January 6th…Allows four goals on 36 shots (.889) in win over Maple Leafs.
January 9th…Stops 35 of 37 (.946) in win over Montreal.
February 25th..Stops 17 of 21 (.810) in OTL to Ducks.
February 29th…Stops 39 of 41 (.951) in win over Winnipeg.
Koskinen is calmer. Not as flashy or noticeable, but less likely for an awful game. Like Smith he struggled in December and early January when in five consecutive starts he posted a SV% of .885, .889, .833, .848 and .879.
But the rest of the season he only allowed three+ goals in consecutive starts twice.
He has played 149:37 minutes in this series while Smith has only played 26:32.
Whichever goalie gets the call, if they win tonight, I'm playing them again tomorrow.
Blackhawks
Kubalik-Toews-Saad
Debrincat-Dach-Kane
Nylander-Strome-Caggiula
Highmore-Kampf-Carpenter
Keith-Boqvist
de Haan-Murphy
Maatta-Koekkoek
Crawford
We don't expect any lineup changes. Head coach Jeremy Colliton switched Patrick Kane and Drake Caggiula last game, putting Kane with Kirby Dach. Dach played the most minutes against McDavid (5:19) and Draisaitl (4:25), while Jonathan Toews played 6:19 against Draisaitl and 3:57 against McDavid.
.in-article-ad-container:after
content: "";
display: flex;
border-bottom: .0625rem solid #999;
margin: .8125rem .938rem 0;
.before-ad-text
font-family: Barlow Semi Condensed,Helvetica,Arial,sans-serif;
font-size: 11px;
line-height: 1.2;
text-transform: uppercase;
color: #383838;
letter-spacing: .008em;
display: flex;
flex-direction: row;
justify-content: center;
text-align: center;
margin: 0 0 .625rem;
.before-ad-text:after
background-color: #999;
content: "";
flex-grow: 1;
height: 1px;
position: relative;
top: 5px;
.before-ad-text:before
background-color: #999;
content: "";
flex-grow: 1;
height: 1px;
position: relative;
top: 5px;
GAME DAY PREDICTION: Edmonton avoids elimination and skates away with a 4-2 victory.
OBVIOUS GAME DAY PREDICTION: Oilersnation is nervous. You will be pacing around the office or home. And you will watch the above videos at least twice to calm you down. McDavid scores for the fourth consecutive game.
NOT-SO-OBVIOUS GAME DAY PREDICTION: Nugent-Hopkins scores his first career playoff goal at 5×5.
Find out why so many people are using Dominion Lending Centres #1 broker in Canada. We are paid by the banks on the size of the mortgage, not the interest rate, so we try to get you as low as rate as we can. Whether it is a purchase, renewal or refinance, contact us to see what we can do to help!
Recently by Jason Gregor:
Ten things I like and don't like, including the most exciting nerd thing in the NBA – ESPN
Here are 10 things I like and don't like from the NBA restart:
1. The champs' defense: The most exciting nerd thing in the NBA
Nick Nurse's funky zones get the attention, but Toronto's base defense is one of the best night-to-night shows in the NBA. The Raptors in full flight are beautiful.
They make stuff like this look routine:
The Raptors give up the most 3s in the league, and the most corner 3s in NBA history. Opponents have hit a league-low 33.4% from deep. Toronto has gotten a little lucky, but the Raptors are also dictating the terms of engagement.
They sell out to make sure your best players do not get their favorite looks. That leaves shooters open, but Toronto is better than anyone at closing space. Pascal Siakam and OG Anunoby are long, fast, and hoppy enough to help and recover without requiring any rotations. When the Raps do toggle assignments on the fly, there are no hiccups. No one pauses to think. Each player knows what he should do, and has a deep, unspoken faith each teammate will shift accordingly. It is the rarest kind of team mind-meld — the sort of shared knowledge and profound confidence players, coaches, and GMs spend careers chasing.
They discriminate in real time between so-so shooters and those who require constant attention. They are willing to live and die with role players shooting semi-contested 3s late in the shot clock.
And just when you think you have them figured out, Nurse injects matchup chaos. Against Miami this week, he had Marc Gasol defend Jae Crowder on the wing — leaving Anunoby on Bam Adebayo, and Siakam on Jimmy Butler. Nurse picks defensive assignments by skill set as much as position. Gasol was fine chilling on the wing, waiting to pounce on drivers or jog at some Crowder non-corner 3.
That randomness can throw off opponents for two or three possessions — enough to swing a quarter. It's wild to you, but not to them, and great power lies in the difference.
The matchup juggling confuses opponents in transition if the Raptors get a stop: Do we find our normal assignments, or stick with this bananas setup? Any hesitation opens a window of space somewhere, and those windows are oxygen for Toronto's transition attack — the best in the league.
The Raptors are one of only two teams in Orlando — Dallas is the other — that entered the bubble in the same condition in which we last saw them: same health, same starting lineup, same rotation.
It shows. These guys are ready. They are real. They have emerged as the biggest threat to Milwaukee in the East, and they are a legit threat — not a token, cutesy one. They do not fear the Bucks.
At some point, they will have to prove they can score enough in a slowed-down game — they rank 15th in points per possession in the half court — but they face that question knowing their opponents must pass the same test against their own defense.
2. The bubble TV atmosphere
The bubble games look and sound fantastic on television. Watching the run of play, I don't register anything new or unusual. The virtual fans are fun, including the celebrity pop-ins. During one Miami Heat game, the video board running along the sideline flashed a recorded image of Miami fans chanting, "Let's go Heat!" with the chant itself pumped in — and it sounded like the real thing.
The NBA and its broadcast partners (hi!) have shown shocking restraint with gimmicky camera angles. Thank the basketball gods, there has been no SkyCam. The low corner angle they use in snippets allows for a clean-ish view of the floor, and a greater appreciation of how fast these guys jet around.
I've heard from players that the lack of a crowd feels awkward. The normal energy isn't there. That stinks. But the quiet has benefits for TV viewers: We hear every "Hell no!" from bench players mocking opponent shooters. Those shooters hear it, too; the bubble is producing record levels of mean-mugging and bad words directed at bench jokesters. A reminder for refs: Shooters who return taunts at yappy benches should be immune from technical fouls.
3. Jimmy Butler's 3-phobia
Butler's aversion to 3s is reaching DeRozan-y levels:
Butler's feet are straddling the arc before that pass arrives. He has zero interest in even looking at a wide-open bomb. Butler averages two 3-point attempts per game, his lowest figure since 2013, and has hit a hideous 25% of them — worst since his rookie season.
This hasn't been an issue for Miami — yet. The Heat rank seventh in points per possession and have drained a league-best 38% of their 3s. Butler is a bulldozing driver; he can pass up 3s and still find good stuff — layups, free throws, canny passes. (Butler is shattering career highs in assists and foul shots.)
But there is not always a better shot around the corner. (Adebayo was called for traveling in the above clip.) There might not be time on the shot clock to generate one. Butler has hit just 32% on long 2s and 40% from floater range — blah marks.
Miami's best lineups center on two players who do not shoot 3s — Butler and Adebayo. All three players around them almost have to be both willing and decent 3-point shooters, a construct that limits the combinations Erik Spoelstra can use. Two of Miami's other starters — Crowder and Kendrick Nunn — barely qualify. Their remaining starter, Duncan Robinson, is one of the best shooters alive, but defenses have already started paying him more attention. They are going to face-guard him everywhere in the playoffs.
Miami's two best reserve defenders — Andre Iguodala and Derrick Jones Jr. — are shaky shooters.
Butler was a league-average 3-point shooter over three straight seasons starting in 2016. He used to take, and make, a fair amount when defenders ducked under picks. The Heat would have a higher ceiling if Butler started doing that again.
4. Utah's ninth man problem
Another ripple effect of Bojan Bogdanovic's season-ending injury: The Jazz might not have any good options for their last rotation spot.
Emmanuel Mudiay got the first chance. Mudiay might grow into a solid scoring backup. He loves burrowing for floaters and long 2s, and has hit half his midrange shots this season, per Cleaning The Glass. He has the build to defend both guard positions.
But a dribble-happy type lacking a reliable 3-pointer is about the last thing Utah needs off its bench. Its top eight features four better ball handlers than Mudiay: Mike Conley, Donovan Mitchell, Joe Ingles, and Jordan Clarkson. At least two are usually on the floor. Mudiay provides zero spacing for them.
Quin Snyder pulled the plug in the second half Wednesday against Memphis and gave Rayjon Tucker a chance. I'd give Tucker a few games to earn that ninth spot. If he doesn't, the best and only option might be one Snyder appears not to like: an eight-man rotation. Utah should be able to craft one that doesn't stretch anyone's minutes too far.
5. Do not enter the Mikal Bridges vortex
Attacking Bridges one-on-one from a standstill is like exploring a black hole: It might be interesting for a few seconds, but nothing good is going to happen to you once you're in the vortex.
Bridges' arms are a menace to society. Devin Booker's buzzer-beater against the Clippers on Tuesday was possible only because one of Bridges' arms apparated into the path of Ivica Zubac's outlet pass after an initial Phoenix miss.
If Bridges keeps improving his 3-pointer — he's up to 35% — he will round into the perfect complement for Booker and Deandre Ayton: 3-and-D ace with just enough playmaking juice to keep the machine moving. He's one of the league's smartest off-ball cutters.
The Suns and Bridges are living proof that the process and results of team building don't always match. The Sixers won praise on draft night in 2018 for flipping Bridges (the No. 10 pick) for Zhaire Smith (No. 16) and an unprotected 2021 Miami first-rounder. In cold asset valuation terms, the Sixers won that deal.
Smith has played 143 minutes in 13 games. Bridges would be a snug fit next to Ben Simmons and Joel Embiid. Philly traded that Miami pick to the Clippers for Tobias Harris, and then re-signed Harris to a five-year, $180 million deal.
6. Devin Booker's passing
No, I will not sell you any of the Booker stock I purchased while corners of the NBA derided him as some empty-calories loser. (And, yes, Suns fans, I was one of the voices arguing Phoenix should not have been invited to the bubble. Even looking back today, I don't think I was wrong given what we knew then and what the NBA's priorities supposedly were — i.e., limiting potential viral hosts. The Suns entered with less than 1% chance of finishing ninth, let alone making the playoffs, per our Kevin Pelton! They have proven everyone and everything wrong: humans, math, machines. It is a remarkable story.)
There has always been a weird disconnect between Booker's reputation and reality. He entered the league known as a 3-point virtuoso — maybe the next Klay Thompson — but proved more scorer than shooter. He can get buckets in any style, from any spot. As soon as Phoenix gave Booker the ball late in his rookie season, he showed way more passing chops than anyone — including team higher-ups — knew he had.
"We saw him as a traditional shooting guard," Ryan McDonough, the former Suns GM, told me in 2016. "To see him run the pick-and-roll, and make plays at this level — that has surprised us."
Booker has dished almost seven dimes per game over the past two seasons. He navigates the pick-and-roll with a cadence that is somehow both smooth and unpredictable for defenses. Some ball handlers react. The best manipulate. Booker is a manipulator. He is a master at keeping options open, and disguising which one he prefers.
He has slung some passes in the bubble that make you think, "Wait, was that Luka Doncic? LeBron?"
When Booker picks up his dribble, the key help defender — Dorian Finney-Smith, guarding Cameron Johnson in the left corner — is just outside the paint: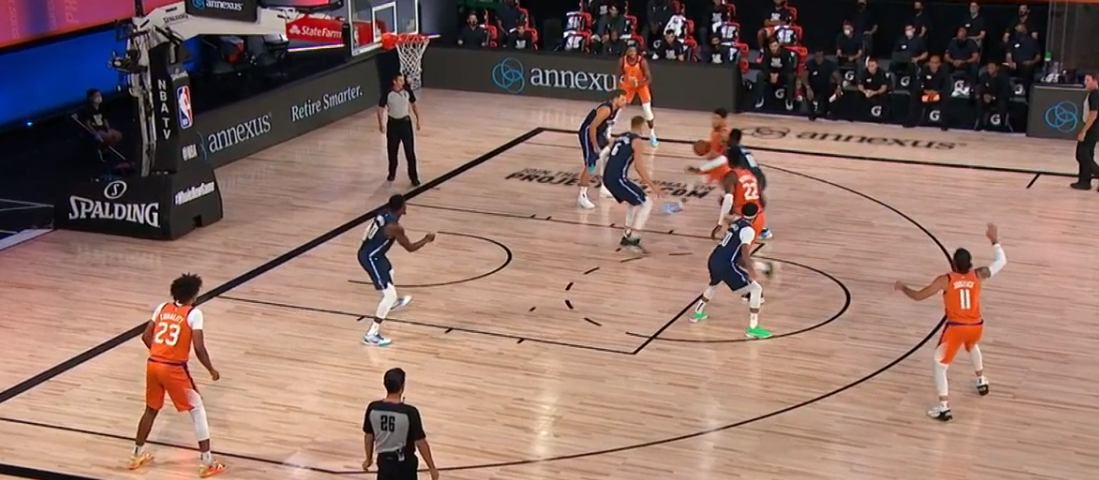 Booker suckers him with a glance at Ayton. Finney-Smith lurches there. Booker whips the ball to Johnson while Finney-Smith is leaning toward Ayton. Finney-Smith has no shot to recover.
Booker zooms around Ayton's pick and decelerates into a languid right-handed dribble. It's unclear if Booker is going to dribble again or gather the ball. (Booker can gather and flick layups without using his left hand — adding disguise.)
Booker also shifts to his right, hoping to drag Zubac a few inches that way — providing Ayton space to zip to the rim after Booker's nifty pocket pass. That's mean.
Look how quickly he digests that the correct pass out of this post-up from Thursday's win was not to the cutter — but to the shooter (Ricky Rubio) lurking behind that cutter:
By the way: Booker is 23.
Rubio is playing some of the best ball of his life. Phoenix also chased Malcolm Brogdon last summer, and he is a more obvious fit on offense next to Booker. "Phoenix was very serious," Brogdon told me in the fall. "That was definitely a possibility for me." But Rubio's good, and Phoenix needed someone good.
Booker might be Exhibit A in why the NBA should have included seeding games in awards balloting. He was a borderline All-NBA candidate, and he would have leapfrogged onto more ballots.
7. Caris LeVert, old-school triple threat
As the No. 1 option of a skeleton crew, LeVert has gotten to test his one-on-one game in new ways and from new places. He has gravitated to the left wing. He has a lethal first step going baseline, and he sets defenders up for it with twitchy jabs and fakes:
When defenders sit on that move, LeVert baits them with a head bob before bolting to his right:
LeVert has averaged about 15 isolations per 100 possessions in Orlando, up from 9.9 pre-bubble, per Second Spectrum. His efficiency has skyrocketed: almost 1.2 points per possession, a mark that would rank in the top five among players who have recorded at least 50 isos. LeVert has also drawn shooting fouls on 17.5% of those plays, which would just about top the league for the season, per Second Spectrum.
It's unclear how this translates to a world that includes Kevin Durant and Kyrie Irving — provided LeVert is part of that world next season. LeVert going Skinny Melo would be useful when one or both stars rest, but I doubt they'd be psyched about it becoming a huge part of Brooklyn's core offense. (Four efficient bubble games is not evidence it should be.)
LeVert has dished zero dimes out of his isolations in the bubble, and his assist rate on those plays overall is middling, per tracking data. LeVert has good vision and is smart using his arrhythmic off-the-bounce game to unlock passing lanes. But his playmaking comes and goes; he can be turnover prone.
More pressing for next season: LeVert has to prove he can hit catch-and-shoot 3s consistently. He's up to 36% from deep this season, but he has nailed about 40% of pull-up triples — and an ugly 31% on catch-and-shoots, a really unusual split. LeVert was only 18-of-66 on catch-and-shoot 3s last season and has never hit better than 37% in any season.
LeVert has back-end All-Star potential. His one-on-one prowess in Orlando is a great sign. But he has to be the right kind of third star in Brooklyn.
Holy god. Even after coming back to earth against the Suns, Warren is leading the bubble in scoring, averaging 34 points on a preposterous 59/54/86 shooting line — and, yes, there should absolutely be an official Bubble Scoring Champion, with a bubble-shaped trophy and everything.
He is jacking 3s off the dribble with zero hesitation when defenders skitter under picks:
Warren is 5-of-12 on pull-up 3s in bubble games. He had tried just 16 such shots in 61 games before the suspension of the season. He was 15-of-60 on pull-up triples combined over the first five seasons of his career. If Warren really has this shot in his bag, he will become a dangerous three-level scorer. He is shooting a career-best 74% at the rim, and walked into the league with one of its silkiest floater games. He never turns the ball over.
As I've noted before, Warren has bought in on defense in Indiana — against both wings and power forwards — after showing passing interest in Phoenix. Warren deserves a ton of credit, but so do the Pacers — and especially Nate McMillan — for building a culture that will not tolerate any less.
McMillan is a little Tom Thibodeau-ish in that his offenses have been stodgy and almost anti-modern, but surprisingly effective in some seasons. (He presided over two top-10 offenses in Portland.) Pending Victor Oladipo's presence, the Pacers are of the right collective age to take another mini-leap next season. It is fair to ask if reinventing the offense is a prerequisite to that, and if McMillan is the coach to do it.
What is indisputable: McMillan makes every player earn minutes on defense, and his teams make opponents earn every point.
9. The occasional Patrick Beverley record scratch
Everyone outside Oklahoma City loves Beverley's game — snarling, in-your-jersey defense, trash talk unfurled in every direction. After arriving in the Chris Paul trade, he helped the Clippers form an identity that appealed to Kawhi Leonard and Paul George.
One small nit to pick:
Yeah, that's a nice closeout from Dion Waiters. But that has be a 3 or an instant catch-and-go drive. Instead, the Lakers reset their defense. Beverley gets the ball to Zubac with almost no advantage, and the possession peters out into a shot-clock violation.
A lot of the Clippers can be over-deliberate, though that doesn't matter with Leonard. He can do what he likes. But their offense could use more flow against elite defenses. Beverley acting with consistent decisiveness would help.
10. Washington's striped socks
There was no reason for the Wizards to be in Orlando, but they've wrung something from the experience. Troy Brown Jr. and even Jerome Robinson are getting ballhandling reps that might prove useful next season, when Bradley Beal and John Wall return. Washington really needs Brown to develop into a starter-level wing, and his performance in the bubble has been encouraging. He has always been a smart cutter and extra-pass type.
Most important: I was reminded of how snazzy the Wiz look in their stars-and stripes uniforms, down to matching striped socks most of the players bust out: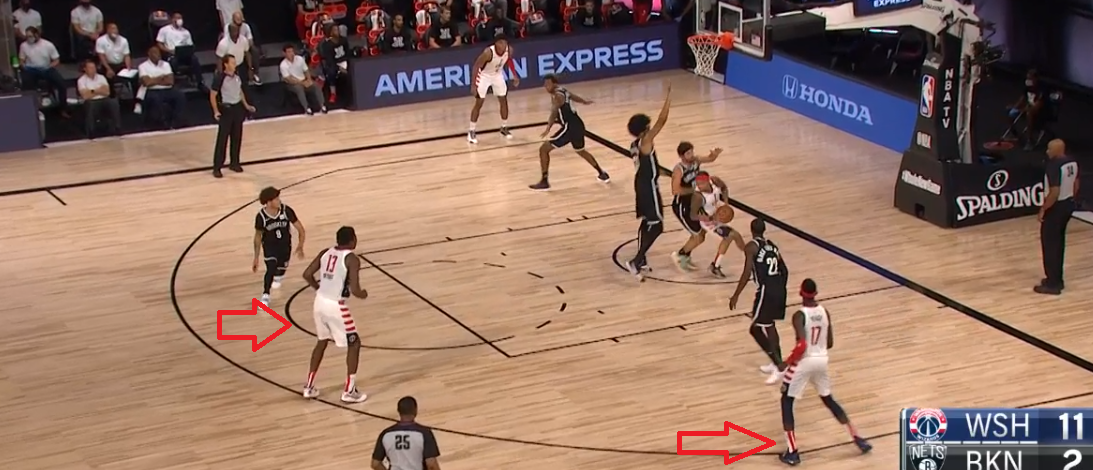 Washington has gradually excised Wizards-related images and wordmarks from its art — basically everything but the Wizards name itself. That has been pleasing. These socks rule.
MORE: Zach's picks for MVP, ROY and the major NBA awards